Visitors to Orlando's ICON Park, especially Florida residents, can take advantage of two seasonal specials at the big entertainment complex in the next few weeks.
Starting March 20, The Easter Bunny Garden Experience is offering its award-winning Easter Bunny and candid photo packages. The experience is located next to the new Museum of Illusions building and will run from 10 a.m. to 8 p.m. daily through April 3.
Meanwhile, The Museum of Illusions is providing Floridians with a stellar opportunity to vacation in their own backyard before the crowds return this summer, with three new ways for them to play in April and May, and at valuable savings.
Unveiling the Easter Bunny Experience, ICON Park president and CEO Chris Jaskiewicz said: "ICON Park is proud to not only offer the latest and greatest in attractions, restaurants, bars, and shops, but we're constantly working to establish seasonal events that can turn into beloved family traditions. The Santa Workshop Experience was a huge hit for our guests last December and we know they'll love this new, springtime option."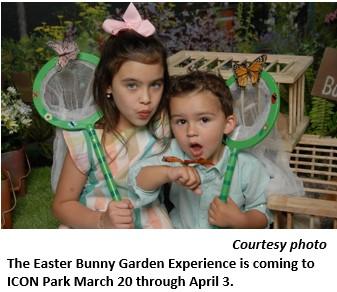 In addition to their beautiful photos, every child that visits the Easter Bunny will receive a special souvenir button they can display for a complimentary ride on The Wheel. Additional tickets can be purchased with a 50 percent discount for all of the Easter Bunny's guests.
The Easter Bunny Garden Experience is from the same group that presents The Santa Workshop Experience. Both of these long-standing experiences formerly hosted at a popular Orlando mall have been expanded and moved to ICON Park.
Reservations are now open. CLICK HERE.
To learn more about ICON Park, CLICK HERE.
Opened earlier this year, the Museum of Illusions Orlando offers more than 50 intriguing exhibits and more eye-fooling fun under one roof than any other destination in Central Florida. Guests can take enviable, share-worthy snaps they won't find anywhere else.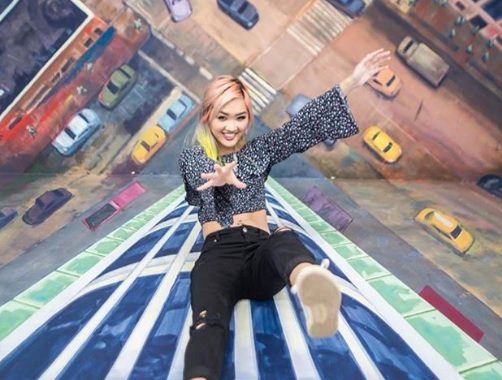 Florida residents can grab their smartphones, friends, and family for enviable shots at the special Florida resident price of $19.95 plus tax at any age (children two and under are free). The offer is available Mondays through Fridays in April and May and is a $5 per ticket discount off regular peak hours pricing.
Have more time to play? The Museum of Illusions + The Wheel at ICON Park® combo ticket is the ticket, any day of the week! The price is $37.95 plus tax for adults and $32.95 for children ages three and older, saving the buyer $15 if purchased separately.
The Museum's collection of interactive, immersive, and distinctly incomprehensible exhibits are based on math, science, and psychology. Visitors are prompted to learn about the tricks of perception and how the human brain works as they move through each exhibit. Imaginations can run free in the vast expanse of the Infinity Room, defy the laws of gravity in the Reverse Room, and shrink to miniature size in the Ames Room — all while capturing a coveted, baffling photo.
To support all of the region's family-owned businesses, be sure to Like and Follow CFTC's Facebook page, and enjoy a daily inside look at this wonderful destination.
#SupportCFLTourism #travel #Tourism #LoveFL