Disney's Animal Kingdom is an up-close look at the natural world and the 4th Disney park to be built.  It opened on Earth Day, April 22, 1998, and is dedicated to protecting the natural environment and animal conservation, themes that were very close to Mr. Disney's heart. The centerpiece of the park is the iconic Tree of Life - a 145-foot-tall,  50-foot-wide man-made baobab tree. a towering symbol of how all of us on planet Earth are connected.  It is actually the largest theme park in the world, covering 580 acres but in reality, for most visitors, it does not typically take as much time to see as Magic Kingdom or EPCOT.  When the sun rises over the Savannah you'd better be there! Animals love the cooler mornings, not the midday heat, so rise and shine. There are lots to see – over 1700 animals across 250 species!
Disney's Animal Kingdom Tickets
Photos of Disney's Animal Kingdom
Disney's Animal Kingdom New Attractions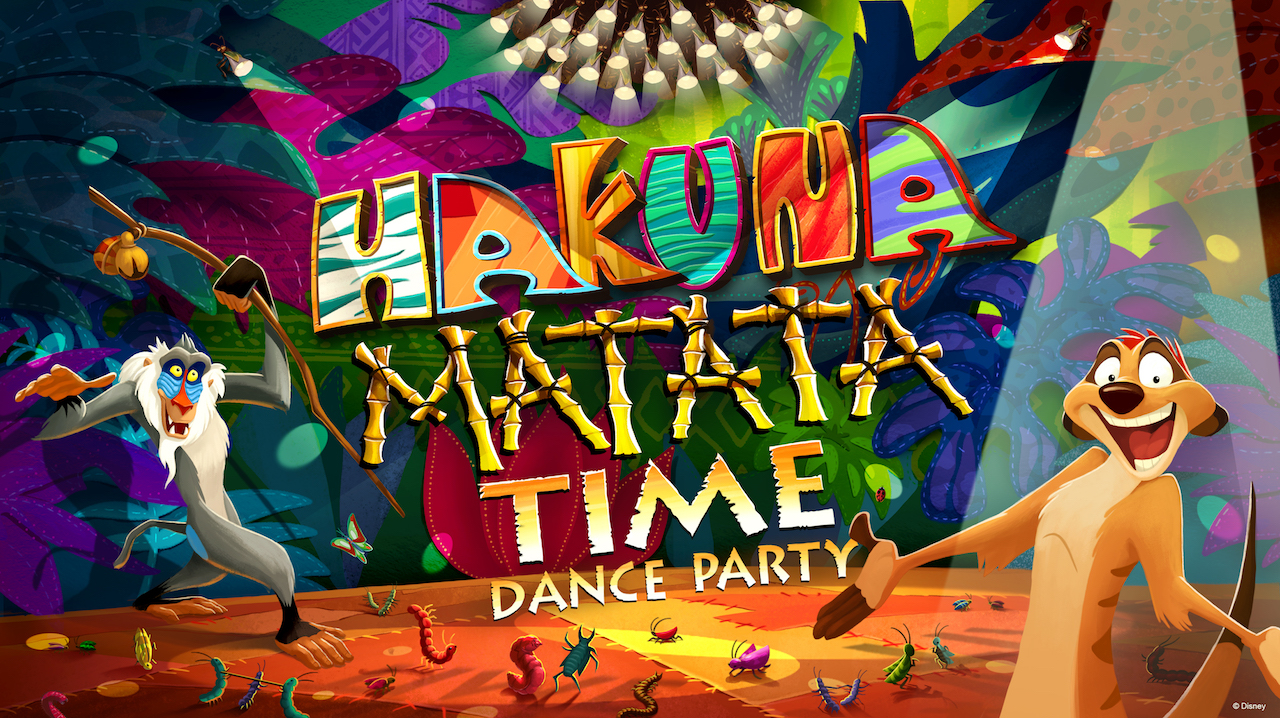 Celebrate the 25th anniversary of "The Lion King" movie along with Timon and Rafiki in the "Hakuna Matata Time Dance Party" on Discovery Island. Let your inner beast roam free on the dance floor at this raucous party! Have a ball posing in front of special 3-D photo opportunities re-creating some of the most famous scenes from the animated classic.
Navigating Disney's Animal Kingdom
Disney's Animal Kingdom is a zoological theme park that spans over 580 acres. Broken up into 6 themed areas, there are plenty of themed rides, restaurants and shopping.
Download Map for Disney's Animal Kingdom
Our Favorites
It's Tough To Be A Bug – a 3-D movie in scent and sense-o-round.
Tree Of Life – take the time to look at the amazing carvings.
Avatar Flight Of Passage – fly your own banshee around Pandora – stunning!
Kali River Rapids – you will get wet! (38″ height restriction)
Maharajah Jungle Trek – gibbons and dragons and tigers and things.
Adventurers Outpost – meet your favorite Disney pals
Dinosaur – 65 million scary years – lots of thrills! (40″height restriction)
Festival Of the Lion King – singalong with Simba and Co.
Expedition Everest – simply abominable (the Yeti that is!)
Kilimanjaro Safaris – a great way to interest kids in conservation.
Insider Tips
Rain Break – After a very early start you should have seen most of this 'kingdom' by the afternoon so consider a stop at the Rain Forest Café on your way out, the parks most popular 'watering hole'. Everyone should eat their lunch in a thunderstorm at least once!
Arachnophobia – Inside It's Tough To Be A Bug re-assure younger ones before the show that the spiders dropping from the roof are not real and you'll be fine!
Patience – If the hippos aren't in view when you arrive, wait a few minutes – it's worth it. The same applies to the gorillas and the tigers.

Rides
Discover the rides Disney's Animal Kingdom has to offer:
Avatar Flight of Passage
Get a banshee's-eye view of the beauty and grandeur of Pandora on a rite of passage you won't soon forget! Bonding with a mountain banshee is a crucial step in the life of a Na'vi hunter—and flying on the back of one of these powerful winged creatures represents an important rite of passage. Now, as a visitor to Pandora, you'll finally have the chance to test yourself in a similar way.
Expedition Everest
The biggest thrill on offer is Expedition Everest – enjoy a 'hairy' Himalayan encounter aboard this roller coaster ride to the top of the world! It's simply abominable (the Yeti that is!) and we love it. Board an old weather-beaten train and head up the "top of the world," for an unexpected encounter! Broken tracks, big-foot and a surprise backward exit away from danger keep riders guessing what happens next! Will you make it back to civilization safely? Or will the Yeti claim another victim?
Kilimanjaro Safaris
Kilimanjaro Safaris needs to be your first stop, so head all the way to the back of the park. There's tons of African wildlife on view and it looks, feels, and smells like the real thing – amazing! The ride definitely has the feeling of an actual African photo safari, with 'rough' roads and a myriad of animals everywhere you look – you'll see antelope, baboons, black rhinos, cheetahs, crocodiles, elephants, flamingos, gazelle, giraffes, hippopotamus, lions, okapis, ostriches, warthogs, white rhinos, wildebeests & zebras – all laid out in neat alphabetical order. (Kidding!)
Kali River Rapids
Kali River Rapids, is a river rapids ride along the Chakranadi River through a rainforest, past an illegal logging operation, and down a waterfall – all that in just 3 1/2 minutes! Your raft and consequently your entire family floats free in the current and is washed downstream through rapids and waves. A lot of attention has been paid to visual detail and also to make sure you get wet (read soaked) – great on a hot day but if it's 60 degrees when you visit don a poncho or a large trash bag!
Primeval Whirl
Primeval Whirl is, in fact, a spinning roller coaster  –  a 'steel wild mouse' coaster to be exact in the "Mild But Wild " category! Themed after old-fashioned carnival roller coasters, you'll enter your own personal  "time machine" and travel along one of two tracks with bells ringing and lights flashing. Each car spin in circles as you go, meaning that your ride experience will vary each time you ride. Isn't that the perfect excuse for doing it 2 or 3 times?!
Dinosaur
Located over in the Dino Institute, this is best described as a dark thrill ride featuring a harrowing trip through time to the Late Cretaceous Period – got it?  The walls of the queuing area are covered with life-size casts of real dinosaur skeletons and the very likable Bill Nye the Science Guy sets the stage for your adventure. This moving simulator ride is guaranteed to bump, bounce, and careens its way through a primeval forest where you'll encounter a number of superbly well done Audio-animatronic dinosaurs some really terrific special effects designed to keep your nerves jangling[/vc_column_text][us_separator size="small" type="default"][vc_column_text]
Lands
Discover the Lands of Disney's Animal Kingdom:
Discovery Island
Surrounded by the Discovery River, the Discovery Island is effectively the hub area of Disney's Animal Kingdom – a good place for friends and family to join up! Here you'll find the spectacular Tree of Life – it's visible throughout the park so again a great place to meet. Underneath the tree, you'll find It's Tough to Be A Bug a creepy crawly comedy 3D movie featuring loveable Flik, Hopper and a cast of millions. The Discovery Island Trail allows visitors to roam and admire the foliage and gaze upon even more exotic birds and wildlife. Adventurers Outpost is where you can get a face to face photo op with Mickey and Minnie before they head off on their next expedition into the wild! When the sun goes down the Discovery River is where you'll find the night-time show Rivers Of Light. The soundtrack pulls you in as fireflies come spectacularly to life, before a hypnotic procession across the water featuring live performers, floating lanterns, fountains, special effects, animal imagery and giant water screens – what a way to end your day!
Pandora – The World of Avatar
This 12-acre Orlando land – six years in the making – is set in an area of Pandora not seen in the movie. Disney "Imagineers" chose instead to create the Valley of Mo'ara, a stunning landscape packed with dense jungle, flowing streams, a cave teeming with bioluminescent life and those famous floating mountains – the effect is very clever though, gravity is a factor, even at the Most Magical Place on Earth! Avatar Flight of Passage is undoubtedly the crown jewel Pandora – a virtual reality thrill ride that evokes one of the original film's most jaw-dropping spectacles, hero Jake Sully's first flight on the back of a winged, dragon called a banshee. But this time around, you're in the saddle! When it's time to wind down after your flight, the Na'vi River Journey is a much gentler entertainment option for the whole family. This slow and steady boat ride takes you through an impressive cave where you'll see luminescent flora and fauna, hear a very hypnotic sound track and meet a Na'vi Shaman of Songs –  her huge yellow eyes will have kids wondering if she's real!
Africa
You'll enter 'Africa' through the village of Harambe – a Swahili word meaning "come together." You'll find a variety of terrific African style snacks and beverages and also the train station for the Wildlife Express. Be part of a nightly celebration when a host of singers, dancers, and musicians descend on the village – that's lots of fun. After your Kilimanjaro Safari Adventure that departs from Harambe you can tour the Gorilla Falls Exploration Trail and be entertained by some magnificent 'Silverbacks' and their family groups. For a break from the heat, check out Festival of the Lion King, an air conditioned explosion of colors, music and amazing singing, dancing and acrobatic talent.
Rafiki's Planet Watch
Rafiki's Planet Watch is an area dedicated to the care and conservation of resident animals, while also serving to provide educational experiences to guests. It's only accessible by riding the Wildlife Express Train and well worth the 1.2-mile trip. At the Conservation Station, you can experience live in-house veterinary treatments and animal wellness practices. Watch food prep in progress & discover the different diets of the world's animal populations. Also be sure to check out the nursery and see the nurturing and feeding practices for the Animal Kingdom's newest and often cutest residents. Right outside the Conservation Station, you'll find the Affection Section (yes that rhymes too!) — an outdoor petting zoo where you can enjoy hands-on interactions with sheep, goats, pigs, donkeys, cows, llamas, and other beasts of manageable size.
Asia
Disney's Asia is a melding of the landscape, culture, history, creatures, and architecture of some of the planet's most exotic and intriguing countries. Tropical vegetation, crumbling ruins, and ancient temples were replicated from countries such as Nepal, Mongolia, Indonesia, Cambodia, Thailand and India, and the mythical kingdom of Anandapur was the result! According to the "back story" of Anadapur, it was established in 1544 as a royal hunting reserve. The main village thrived, however, the reserve has found itself in a state of ruin and decay and has been turned by the current royal family into a conservation area. The Tiger Tree is draped with scarves, garlands, and bells as a tribute to the spirits for prayers that have been granted. The walkways are imprinted with leaves and palm fronds and are flanked by bicycles, rickshaws and other tropical transportation options. Check out dozens of very acrobatic gibbons performing for their 'captive' audience and bird lovers will be enchanted by the Flights of Wonder performances.  Meander over to the Maharajah Jungle Trek and see tigers and other exotic and endangered species and everyone needs to go check out Kali River Rapids and it's commendable efforts to publicize deforestation.
DinoLand USA
Arguably a little 'incongruous' in terms of 'fitting in' to Animal Kingdom's collection of lands Dinoland USA is an interesting combination of an anthropological dig and a quirky American roadside attraction. It's home to a children's play area, a nature trail, a 1,500-seat amphitheater, and of course the Dinosaur thrill ride. There's also a couple of kid-friendly type coasters there are also a couple of natural history exhibits including Dino-Sue, an exact replica of the largest, most complete Tyrannosaurus Rex ever discovered named after ace fossil hunter, Sue Hendrickson – it's 40 feet long and 13 feet tall so it will get your attention. Young paleontologists should also head over to The Boneyard where they can dig up a few old friends and please don't miss Finding Nemo – The Musical, a vibrant, sing-a-long adaptation of the 'fish are friends' hit movie.
Before You Buy Your Disney Tickets
Get the answers to the most frequently asked Disney ticket questions BEFORE you purchase.
What is Disney Genie?
Built right into the My Disney Experience and Disneyland apps, Disney Genie service will maximize your park time, so you can have more fun. It includes a personalized itinerary feature that will quickly and seamlessly map out an entire day. From specific attractions, foodie experiences and entertainment, to general interests like Disney princesses, villains, Pixar, Star Wars, thrill rides and more – just tell Disney Genie what you want to do and it will do the planning for you.
Here are a few more features:
Get Itinerary Updates from Morning to Night: Disney Genie will continue to update your itinerary throughout your day, so you can be more spontaneous and go with the flow.
Find Your Favorites at a Glance: Create your very own personal tip board to instantly see your favorites. It will display current AND forecasted future wait times, helping you predict when you might experience quicker entry to attractions.
Enjoy More Flexibility and Fun: Disney Genie brings existing planning features together in one place. Join a virtual queue at certain attractions, make dining and experience reservations, mobile order food at many locations, get help from a virtual assistant and more.
For even more convenience and flexibility, there are two other options for enjoying our theme parks, through a queue we are introducing called the Lightning Lane entrance that also saves you time in line:
Disney Genie+ service (available for purchase): For the price of $15 per ticket per day at Walt Disney World Resort and $20 per ticket per day at Disneyland Resort, choose the next available time to arrive at a variety of attractions and experiences using the Lightning Lane entrance. You can make one selection at a time, throughout the day – from classics like Haunted Mansion to thrill rides like Big Thunder Mountain Railroad and newer favorites like Millennium Falcon: Smugglers Run (attractions subject to limited availability). This convenient option is the next evolution of the fan-favorite Disney MaxPass service from Disneyland Resort. Disney Genie+ will also include Disney parks-themed audio experiences and photo features to capture your memories – augmented reality lenses for those visiting Walt Disney World Resort and unlimited Disney PhotoPass downloads from your day if you are visiting Disneyland Resort.
Individual attraction selections (available for purchase): Schedule a time to arrive at up to two highly demanded attractions each day using the Lightning Lane entrance – like Seven Dwarfs Mine Train at Magic Kingdom Park and Radiator Springs Racers at Disney California Adventure park (subject to limited availability; attractions not included with Disney Genie+). Pricing for this option will vary by date, attraction and park and will be announced closer to launch.
Lightning Lane selections will be made on the same day of your visit and can be used across multiple theme parks, great for those who love the Park Hopper option. Attractions continue to offer a traditional standby queue, or a virtual queue at certain attractions like Star Wars: Rise of the Resistance – to maximize flexibility.
While the FASTPASS, FastPass+ and Disney MaxPass services will be retired, we're incredibly excited about the flexibility and choices Disney Genie service provides. You can choose from all of our new options, a mix of them or none at all, and continue to have a great experience no matter how you decide to plan your best Disney day.
Disney's Animal Kingdom Park Hours
Open every day during peak times 8:00 am – 11:00 pm – call 407 824 2222 to check for specific days or go online.
Location & Info
Location: 1145 East Buena Vista Boulevard, Orlando, FL 32830
Telephone: (800) 934-7639 or (407) 824-2222