The Magic Kingdom Park was the very first of the 4 theme parks to open at the Walt Disney World Resort in Orlando way back in 1971. It combines the pure enchantment of childhood fairy tales with exciting entertainment, classic attractions, beloved Disney Characters and so much more. At least one very full day and a comfortable pair of shoes required! Arrive before the gates open to get ahead of the crowds. The Magic Kingdom Park is by far the busiest park so a plan of attack is essential. It's shaped like a giant pizza with seven lands (slices!) and that world famous castle in the center -   it's typically the most visited theme park in the USA.
Coming Soon To The Magic Kingdom Park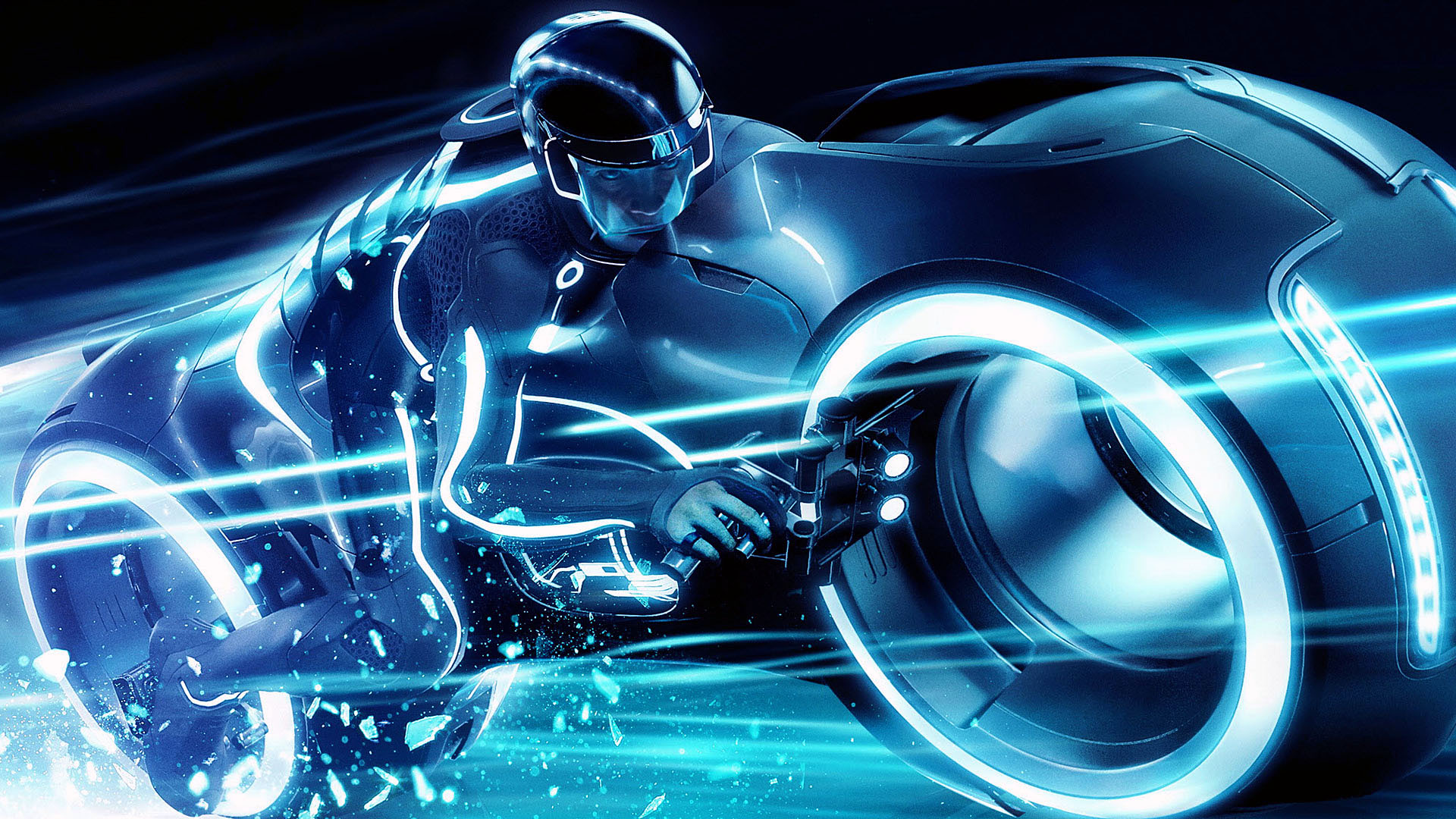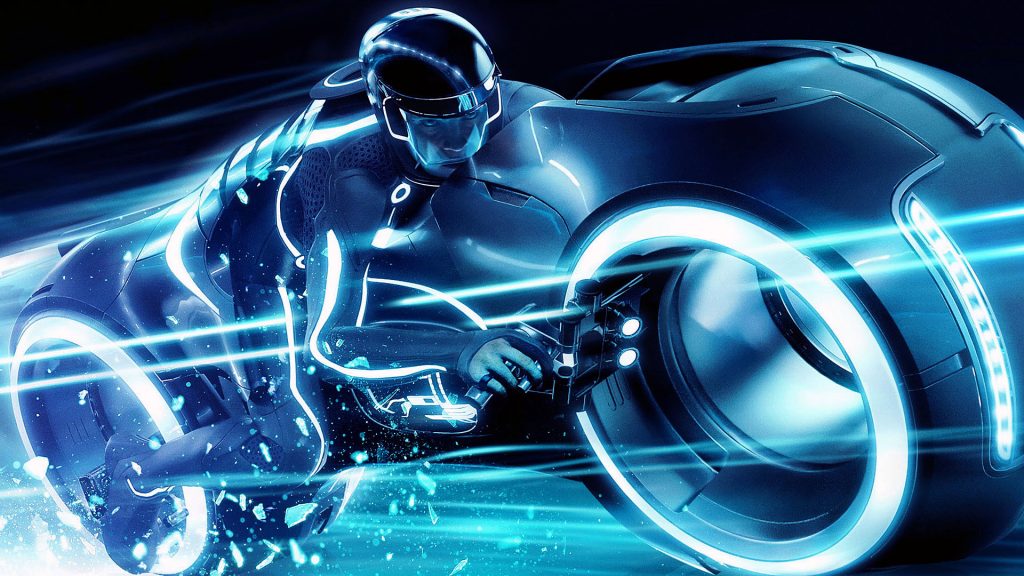 The TRON attraction is the next big name ride coming to the Magic Kingdom Park.
New Attractions At The Magic Kingdom Park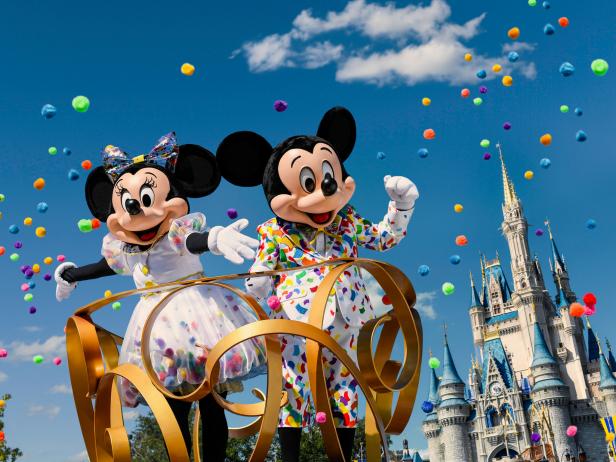 Mickey & Minnie's Surprise Celebration  brings new music, dancing and all sorts of high jinks to the Magic Kingdom Park. The new "Move It! Shake It! MousekeDance It! Street Party" at Magic Kingdom Park will invite you to dance with Mickey, Minnie and their pals in front of Cinderella Castle. Shake it along with live singers belting out brand new arrangements of classic "Mickey Mouse Club" numbers.
The Dapper Dans and the many other harmonious entertainers on Main Street, U.S.A. at Magic Kingdom Park sing favorite songs in honor of Mickey and Minnie. Look for special Mickey- and Minnie-themed merchandise and food at Magic Kingdom Park to make this party complete.
Because it's a Surprise Celebration you can also expect more Limited-Time Magic entertainment and other experiences to pop up periodically around Magic Kingdom Park.
Our Favorites At The Magic Kingdom Park
Head for the 'Mountains' – all three are must do's!(Height restrictions: Thunder Mountain 40", Splash Mountain 40″, Space Mountain 44″)
Mickey's Philharmagic – simply brilliant!
Monsters, Inc. Laugh Floor – very funny, you can even text message your own jokes for the show!
It's a Small World – that darn song!
Buzz Lightyear – junior space rangers will have a blast.
Seven Dwarfs Mine Train – heigh ho it's a winner!
Winnie The Pooh – a big deal for kids under 5.
Dumbo – the timeless appeal of the flying elephant!
Haunted Mansion – classic family fun with the spooks.
Pirates Of The Caribbean – come pillage with Captain Jack!
Celebrate The Magic Fireworks– worth staying late for 10 fantastic minutes
Festival Of Fantasy Parade – 15 minutes of nonstop photo ops!
Meet Mickey Mouse – it would be rude not to go say hello!
Insider Tips At The Magic Kingdom Park
FastPass – Wait times for the various rides are posted in front of Cinderella's Castle – avoid long lines by taking advantage of Disney's FASTPASS Plus system which gives you a designated ride time on the most popular rides. Disney resort guests can book up to 60 days out – 30 days out if you are staying off Disney property. Great idea either way!
Late Parade – If there are two night-time parades when you visit, plan on checking out the second one as it is a lot less crowded.
Busy Days – As most people arrive at the weekend Mondays are busier, though let's face it, when schools out every day are busy!
Height requirements – To avoid disappointments always double-check the height requirements on the rides. Forewarned is forearmed where kids are concerned – less drama!
Characters – Look out for character greetings around the park during the day. Character Breakfasts are also excellent for little 'Mickey Maniacs'.
Swapping Out – When you get to the front of the line utilize the 'child swapping' facilities (no it doesn't mean you get to choose someone else's better-behaved kids!) – couples with infants or young kids can switch out with each other so both mom and dad can enjoy the bigger rides.
Navigating The Magic Kingdom Park
Disney's Magic Kingdom is a special place divided up into 6 magical "Lands" ready for you and your family to explore. Over 107 acres, the journey through Magic Kingdom's Lands starts in front of Cinderella's Castle. It also features a Walt Disney World Railroad to take you to any point around the entire 1.5-mile perimeter of the park.
Download Map for Disney's Magic Kingdom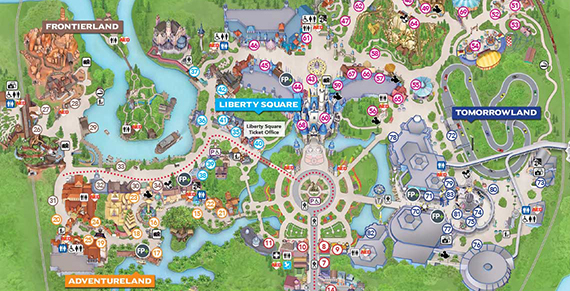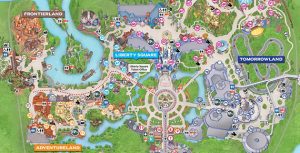 Main Street USA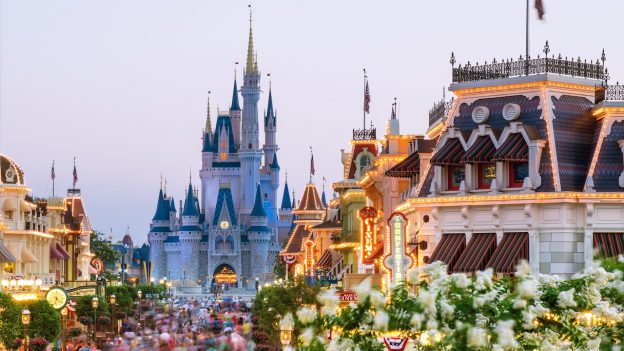 Main Street at Magic Kingdom is lined with shops selling lots of Disney merchandise and food. The decor is distinctly small-town America, apparently inspired by Walt's childhood memories. Right at the end of Main Street stands Cinderella Castle – this iconic structure is something children from all over the world instantly recognize – don't expect them to walk once they see it!
Main Street Vehicles
There are several notable types of old-time vehicles that add a splash of nostalgia and color to Main Street in Magic Kingdom. These include a Fire Engine, horse-drawn streetcars, a horseless carriage, and an Omnibus – that's double-decker bus to you and me. Hop on for a ride and enjoy a quite unique perspective from the top deck. Don't be surprised though if you get overtaken by pedestrians – it's fun not fast!
Walt Disney World Railroad
You can board the Walt Disney World Railroad at any of three Magic Kingdom stations: the main one is on Main Street right above you as you enter the park. The other two are in Frontierland and Storybook Circus in Fantasyland. You can also depart from any of these and stay on board for the full 1.5-mile circuit of the park, which takes about 20 minutes. A recorded narration describes what you're seeing as you speed along at a leisurely 10-12 mph!
Town Square Theatre
This is the place to meet the two and only Mickey and Minnie Mouse in person. Expect a longish wait, but when your turn comes around, your party will be escorted into a private room where you'll get some alone time with the famous duo. Naturally, there will be a Disney photographer there to take your picture. You can buy their photo of course, but they'll be happy to snap a shot with your camera or mobile phone as well.
Harmony Barber Shop
Here's a real working barber shop that offers haircuts for a fee. Whether it's your first haircut or your hundredth, the friendly and very experienced barbers in residence will entertain you while making sure you look terrific. You may even get to see/hear the Dapper Dans, Disney's very own barbershop quartet! Parents, please note there's a special My First Haircut package for children that includes commemorative Mickey Ears and a certificate – definite photo op!
City Hall
City Hall contains the Guest Relations lobby, where nattily attired cast members provide copious amounts if very useful information and assistance. They have info on everything in the park PLUS local transportation, lodging, attractions, and much more. Just think of them as your in-park concierge. They have maps in English and a variety of other languages, entertainment schedules, special assistance passes for guests with disabilities, and directions to just about everywhere! There is even a braille version of the park map here.
Chamber Of Commerce
After doing a little souvenir shopping who wants to have to tote a bunch of heavy bags all day? At the Main Street Chamber of Commerce, they will store your packages ALL day for you while you enjoy the park. As you leave simply stop in, scan your Magic Band (or hand them your ticket), and you're all set to go along with all of your merchandise. And, if your purchases exceed a certain amount, they will even ship your packages back to your room for you at no cost!
Adventureland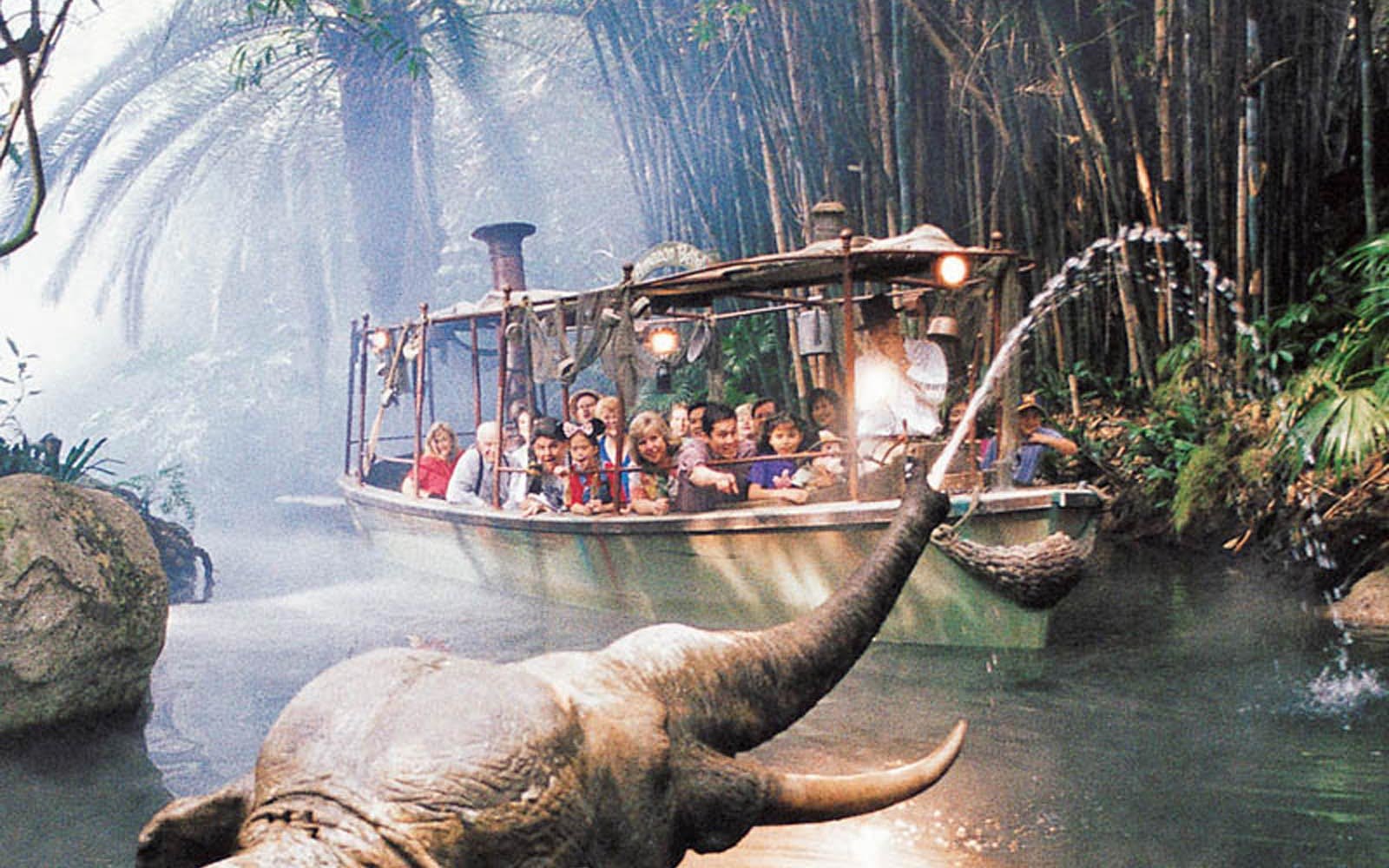 Adventure land is all about exploring exotic foreign lands and is divided into two main subareas, one being the Arabian Village and the other being the Caribbean Plaza. An adventurer/explorer vibe is pre-eminent throughout with the accompanying big band music and sporadic witty announcements. It blends together many different architecture styles from Middle Eastern bazaars and Polynesian tiki huts, to the colonial forts of the legendary Spanish Main. It's also home to Dole Whip, a pineapple soft-serve ice cream treat that you simply have to try!
Jungle Cruise
While they all follow much the same type of "shtick", the guides are of course what makes this attraction so much fun, especially when they throw in a few ad-libs. Even if you've heard the same corny joke a hundred times before, you can't help but chuckle. You'll traverse hippo infested waterways, but don't worry, they only attack if their ears are wiggling (which they always are…) On the shore, there's a rhino keeping the hunters "engaged," lions lounging lazily on a rocky outcrop, angry headhunters, cool zebras, slithering snakes and giant butterflies –  all amidst a tropical landscape that any jungle designer would be proud of. If you manage to stay dry by the waterfall, watch out for the elephants. Will they soak you or are you safe? You'll only find out once you're onboard!
The Magic Carpets of Aladdin
The Magic Carpets of Aladdin ride is based on the extremely popular Disney animated film starring the very talented Robin Williams. The story continues in a similar vein at Magic Kingdom Park as the lovable Genie conjures up an entire fleet of magic carpets—16 in all. It's been described as the Dumbo ride converted into throw rugs that can accommodate a party of 4 – little kids will, of course, love it, but maybe don't stand in line too long for this one.
Pirates of the Caribbean
Pirates of the Caribbean is generally considered to be one of the most spectacular attractions ever created for a theme park. It was originally conceived as a wax museum and a walk-through adventure but thankfully progressed way beyond that with the advent of audio-animatronics. It's a great way to tell a rousing pirate story with highly detailed environments, lavish special effects and tons of memorable character. It opened in 1973 in Orlando and has remained a beloved classic ever since, spawning a blockbuster film series starring the one and only Johnny Depp as Captain Jack Sparrow. See if you can spot him!
Swiss Family Treehouse
Inspired by the 1960 Disney 'Swiss Family Robinson' movie, the Treehouse is the first attraction you'll encounter when entering Adventureland from Main Street USA. It comprises of a single-file walkthrough of the very elaborate treehouse built by the castaways on the branches of an enormous Banyan tree. The treehouse is a great diversion for kids who know the Swiss Family Robinson story – the ingenious inventions and labor-saving devices the family came up with are cleverly portrayed.
Walt Disney's Enchanted Tiki Room
Often described as a sentimental favorite this was the first Disney attraction to exclusively use Audio-animatronics. The Tiki Room show has gone through a few changes over the years, most notably in 1998  when "The Enchanted Tiki Room- Under New Management."   was introduced.  Stalwart Disney Fans were not amused so in 2011, the show re-opened with the original 'feathered' format. The 20-minute show is not typically crowded and takes place in a fully air-conditioned (yay!) tropical pavilion full of flowers, tikis, and audio-animatronic birds singing and telling jokes.  There's even a tropical storm complete with thunder during the performance, so be sure to tell small kids it's not real.
Frontierland
In Frontierland guests can experience the American Old West brought back to life Disney style –  harkening back to the days of cowboys and Native Americans, it features old style stockade structures, pioneer props and a whole lot of yee ha!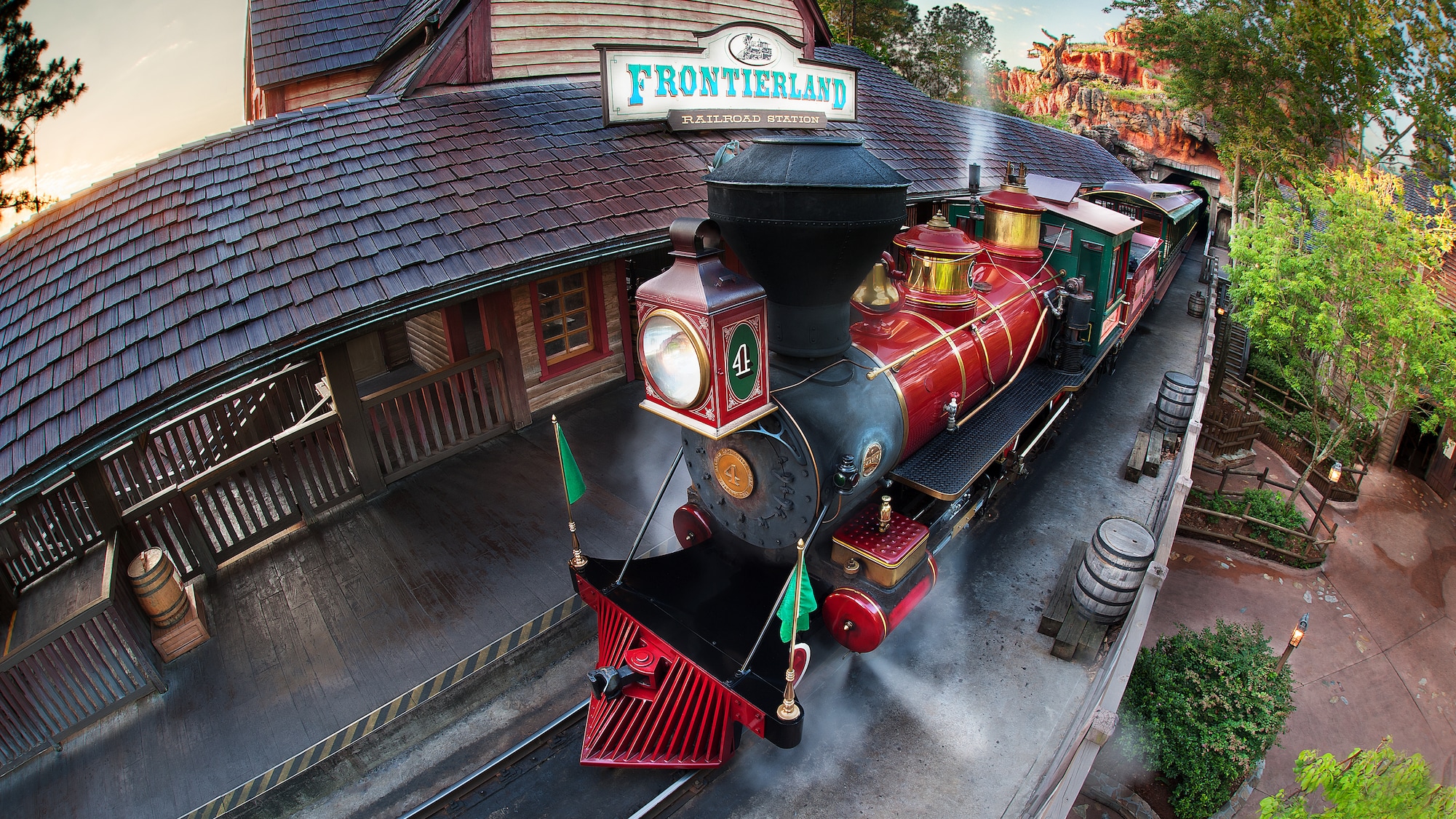 Big Thunder Mountain Railroad
Set during the gold rush days in the flooded mine town of Tumbleweed, this runaway mine car roller coaster is one of our favorites. A 197′ tall desert butte is the centerpiece of the Big Thunder Mountain Railroad landscape, littered with antique mining equipment and featuring a distinctive whiff of sulfur. In around 4 minutes riders will have to deal with being tossed around, falling rocks and an earthquake so, to be honest, this one is geared more towards adults and teens it's a height restriction of 40″. Thrill seekers should sit in the back of the train and pay attention or you will miss the great scenery and attention to detail.
Country Bear Jamboree
Based on a suggestion by Mr. Disney himself, the Country Bear Jamboree is essentially an old-fashioned hoe-down. This entertaining knee-slapping festival of family fun features 20 Audio-animatronic bears. Meet 7 foot tall Henry the Master of Ceremonies, fronting a show that offers corny humor and the singing talents of Five Bear Rugs, not to mention Teddi Barra the Tampa Temptation!
Splash Mountain
Splash Mountain is based on the Aesop's fable Br'er Rabbit, who goes off in search of adventure and finds it in large amounts! This "Zip-a-Dee-Doo-Dah" of a ride actually covers more than half a mile, splashing through swishy swamps, dark caves, and backwoods bayous before climaxing in a five-story plunge. Br'er Rabbit's triumphantly returns home and you'll be whistling that darn song for the rest of the day.
Frontierland Shootin' Arcade
One of few attractions not covered with your Magic Kingdom admission. The fun is entirely derived from target practice – no prizes to be won here. Trainee gunslingers get around 30 or so shots per $1 paid. Each one is followed by a short delay so small kids don't accidentally use all 30 shots in one burst.
Frontierland Hoedown Happening
Well, this was a pleasant and unexpected surprise! A lone ride operator from the Big Thunder Mountain just walked into the street and started waving his hat. pretty quickly he was joined by other residents of Frontierland, including the Country Bears. A whole bunch of music and twirling followed then when the last song ended the performers thanked everyone for joining in and went back to their business — that's all folks……until a Frontierland Hoedown Happening happens again.
Tom Sawyer Island
Based on Mark Twain's timeless stories Magic Kingdom's Tom Sawyer Island opened for mischief in 1973.  Guests of all ages can board a free-floating river raft and travel to the island where they can explore caves, bridges, Harper's Mill and other famous hangouts. Weird but you feel like you have left the hustle and bustle of the main park far behind. This is the domain of Tom Sawyer, Huck Finn, and Becky Thatcher so go ahead and let the kids get lost. There's no way off, save for the raft, so they aren't going anywhere.
Walt Disney World Railroad
Board an old-fashioned steam train for a 15-20 minute tour encircling the Magic Kingdom, with stops at Main Street, Frontierland, and Storybook Circus in Fantasyland. Walt Disney developed a love of trains at an early age and actually built a half-mile scale model railway in his backyard that he called the "Carolwood Pacific Railroad." You can board this particular 'choo-choo' at any one of three stations – you can also depart at any of these stations, or stay on board for the full 1.5-mile tour.
Liberty Square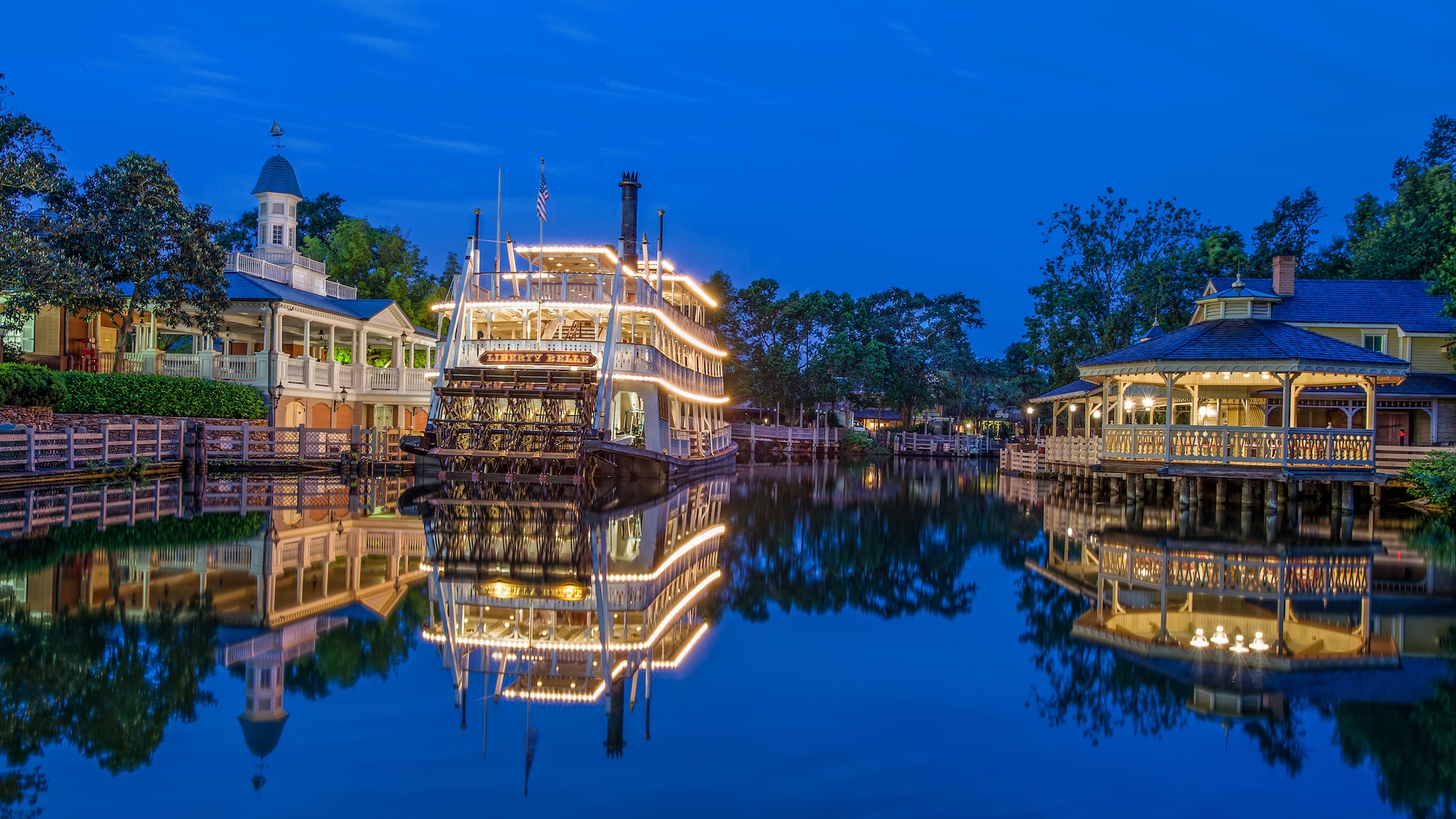 Tucked away in the back of the Magic Kingdom at Walt Disney World is Liberty Square a tiny land with many secrets. Take time to look around and you'll find a treasure trove of hidden detail. There is an area with a succession of buildings, each with a front door. The addresses on the doors are all two digits – simply put an 18 in front of the numbers and you get the timeframe of that particular structure – who knew!
The Hall Of Presidents
Since the Magic Kingdom Park opened in 1971, The Hall of Presidents has brought together a one-of-a-kind look at the office of the President of the United States through the magic of Disney's Audio-Animatronics technology. The attraction is getting a new participant in late 2017, and a complete theater upgrades including a new sound system, lighting, and high-definition projection system.
Haunted Mansion
Follow the wolf howls to the pale-faced residents and ghostly gags over at the Haunted Mansion – the sign actually says 999 happy haunts, but there's always room for one more! A moving walkway allows you to board your 'Doom Buggy' for your journey through the mansion. This spook-filled ride tells the story of a Black Widow Bride and her many luckless husbands.  The special effects are terrific, especially in the epic ballroom scene. In typical Disney fashion, attention is paid to the finest of details and you'll notice something different every time you go on this ride. While not seriously scary, you may want to think twice about bringing very young children with you.
Liberty Belle Riverboat
The Liberty Belle is an authentic replica of an old paddlewheel riverboat, the kind you might have seen on the Mississippi around the turn of the 19th century. It travels down the Rivers of America and circles the aforementioned Tom Sawyer Island several times a day. Taking to the water offers a short respite from the busy crowds. The boat holds approximately 450 guests and has 3 decks from which to view the passing scenery.
The Muppets Presents……Great Moments in American History
Kermit, Miss Piggy and all your favorites star in this live show located in the Liberty Square area at the Magic Kingdom. The show is performed daily and features the Muppets presenting abridged and somewhat questionable accounts of notable milestones in American history, primarily from the Colonial era. The majority of the show unfolds from the second-story windows of the Heritage House, so don't forget to look up!
Fantasyland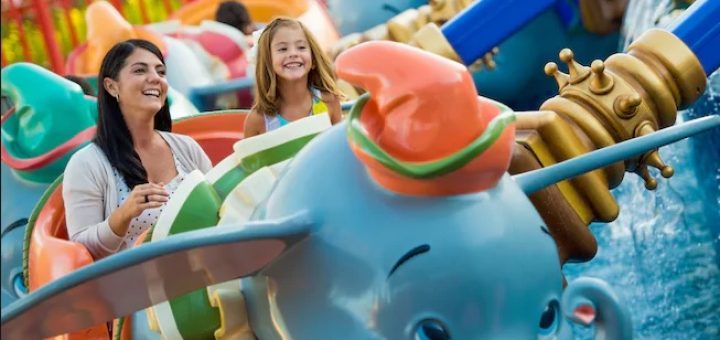 Fantasyland is reminiscent of a medieval-fair or an old-fashioned carnival. In the words of Walt Disney: "Fantasyland is dedicated to the young at heart and to those who believe that when you wish upon a star, your dreams come true." Welcome to a land full of adventure and excitement. A place where wild beasts roar, beautiful mermaids sing, candlesticks talk and elephants fly!
Ariels Grotto
Fans of the lovely Ariel won't want to miss seeing the Little Mermaid in her very own home at the Magic Kingdom. Located behind Dumbo the Flying Elephant, mermaid fans can meet Ariel and get her autograph. This is a great place for kids to cool off in the water play area, while adults can take some time in the shade.
Brave
Step inside a highland setting and join the very spunky Merida and her clan in an engaging "play and greet" experience. Inside Fairytale Garden brave lads and lassies can practice archery, color your own "tapestry" of Merida as well as her faithful horse, Angus, and spend some time with your favorite ginger!
Casey Jr. Splash 'N' Soak Station
The Casey Jr. Splash 'N' Soak Station is a great place to pass the time or simply take a well-earned break on a hot summer's day in Orlando. The water feature is arranged in a neat circular fashion, with Casey Jr. at the center. In case you were wondering he was the cheery little engine that played a crucial part in the original Dumbo film as he transported the circus along with all its various animals.
 Cinderella Castle
This Disney icon sits at the center of the park and serves as a majestic gateway to Fantasyland. It is ornately decorated with spires, turrets, a moat, and beautiful mosaics reminiscent of the German castle (a real one!) it was based on. Cinderella Castle is also home to Cinderella's Royal Table, where guests can dine with royalty (if they have a reservation). Bibbidi Bobbidi Boutique is princess makeover headquarters complete with dresses, manicures and big hair. The castle is also used as a projection screen during some fabulous fireworks shows and Magic, Memories, and You!
Dumbo the Flying Elephant
Dumbo the Flying Elephant is located in the Storybook Circus area of Fantasyland. The colors of this classic attraction are of course blue, red and gold fitting perfectly with the circus theme. The center of the carousels feature Baby Dumbo being delivered by the stork and if you look even closer you'll see the story of Dumbo from the classic cartoon unfolding in a set of artwork story panels. Around the bottom of the ride are water fountains that gush over colored LED lights, making this a spectacular attraction to ride at night.
Enchanted Tales with Belle
Beauty and the Beast is a timeless tale that never seems to get old for kids. Explore Maurice's delightful cottage and workshop— home to his various mementos and gadgets—before being magically transported to the Beast's library. Once there, you'll share some moments with Belle, and who knows you may even be invited to play a part in her famous story.
It's a Small World
Sing along to 'that song' during a delightful musical boat tour hosted by the children of the world. Climb aboard your flat bottom boat and set sail along the Seven Seaways Waterway on a 10-minute voyage around the globe. Float past a variety of international backdrops and enjoy a multicultural cast of almost 300 traditionally dressed, dimpled darlings from nearly every country you ever heard of!
 Mad Tea Party
The whole family can spin around and around in a giant pastel-colored teacup during this madcap music-filled adventure. … classic Disney magic combined with classic motion sickness in my case. You can even spin yourself some more by grabbing and rotating the circular 'control' in the center of the cup. The Mad Tea Party is of course inspired by the Mad Hatter's party sequence in Walt Disney's animated classic Alice in Wonderland – and if Alice is around it makes a great selfie!
Mickey's PhiliharMagic
With a nod to The Sorcerers Apprentice for those of a certain age, this is a reminder of what a tremendous musical legacy Disney has provided us with – and it's fun and air conditioned! Join Donald Duck on a very creative whirlwind tour of some of the most memorable songs in Disney animation history, including: "Be Our Guest" from Beauty and the Beast. "Part of Your World" from The Little Mermaid. "I Just Can't Wait To Be King" from The Lion King. "You Can Fly" from Peter Pan and  "A Whole New World" from Aladdin.
Peter Pan's Flight
Not sure why but skimming over the rooftops of London on the way to Neverland has never got old! Peter Pan's Flight is superbly well designed and a try classic. It continues to delight all ages with a timeless theme bringing together some of your favorite Disney characters, well-executed special effects, and a memorable musical score.
Pete's Silly Slideshow
Make your way to Pete's Silly Sideshow to meet some of Storybook Circus' biggest draws – essentially it's a large meet 'n' greet area for some of your favorite characters. Once inside the big tent, share hugs, receive autographs and snap pictures alongside The Astounding Donaldo & The Great Goofino – yes they've joined the circus and are now some of the Big Top's biggest stars. Enjoy Minnie as the beautiful poodle trainer Minnie Magnifique and Daisy as mysterious fortuneteller Daisy Fortuna!
Prince Charming Regal Carousel
The extremely popular and much photographed Prince Charming Regal Carousel (formerly Cinderella's Golden Carousel) is an authentic carousel from 1917 that was lovingly restored by master craftsmen. It was originally built by The Philadelphia Toboggan Company, one of the most prestigious carousel companies in the USA and what a bang up job they did! Who doesn't love a painted horse that goes up and down a la Mary Poppins.
Princess Fairytale Hall
She's definitely the  Princess with an Eye for Adventure. Delight in greeting Princess Elena in the enchanted setting of the Princess Fairytale Hall. As Elena readies herself to rule the enchanted kingdom of Avalor, she creates her own hero's journey—stopping along the way to meet Disney Princesses and Guests at Walt Disney World Resort. You'll see Cinderella, Rapunzel, and the rest – a whole posse of princesses in the house!
Seven Dwarfs Mine Train
The much discussed Seven Dwarfs Mine Train is a rocking family friendly coaster in what's referred to by Disney regulars as the New Fantasyland. The ride is naturally themed to the Walt Disney's 1937 film
Snow White and the Seven Dwarfs
, the first traditional animated feature film. It travels both indoors and outdoors features a new "tilting vehicle" system that simulates the swaying and tipping one would expect to experience in a mine cart!
The ride also features two on-ride cameras that provide videos and pictures for guests to buy through Disney's Photopass –  it is one of only two Walt Disney World attraction to provide videos.
The Barnstormer
Take flight above Storybook Circus with Goofy in his homemade stunt airplanes that turn out to be the perfect mode of transport for a thrilling, junior sized roller coaster ride …also great for 'chicken' parents or less adventurous seniors! Climb aboard a wacky stunt plane and become a part of The Great Goofini's daredevil act. On quieter days if the line is short your families littlest tykes can just run around to the front and do it again…and again.
The Many Adventures of Winnie the Pooh
This brand of Pooh is sunny, upbeat, and fun. You ride a Hunny Pot through the pages of a huge picture book into the Hundred Acre Wood, where you will immediately encounter Pooh, Piglet, Eeyore, Owl, Rabbit, Tigger, Kanga, and Roo as they contend in their own entertaining way with a typical blustery day. There's even a dream sequence with Heffalumps and Woozles! Magically make your way through a colorful, song-filled storybook and experience a real melange of kooky adventures. Tigger's 'Bounce' song was our favorite – it takes a lot of beating!
Under the Sea: Journey of the Little Mermaid
On the much-loved Journey of the Little Mermaid Princess Ariel and her friends take guests along on all their adventures – both under the sea and above! Board your very own clamshell and take a journey under the sea to relive famous moments from the classic Disney animated film. Your moving mollusk gently rolls from scene to scene in this dark ride that's great for every member of the family. Classic scenes and songs such as "Under the Sea," "Kiss the Girl," and "Pour Unfortunate Soul" are wonderfully recreated, and the Ursula animatronic is terrific. This great dark ride follows the classic Fantasyland tradition of being entertaining while appropriate for all ages.
Tomorrowland
Tomorrowland is reminiscent of a medieval-fair or an old-fashioned carnival. In the words of Walt Disney: "Fantasyland is dedicated to the young at heart and to those who believe that when you wish upon a star, your dreams come true." Welcome to a land full of adventure and excitement. A place where wild beasts roar, beautiful mermaids sing, candlesticks talk and elephants fly!

Tomorrowland Speedway
Take the wheel of a gas-powered car and strap yourself in for an exciting and scenic drive. As the checkered flag is waved, you're off! Accelerate around sharp bends and lush foliage. Spot iconic attractions visible from the roadway, and pick up the pace as you sprint to the finish line. Featuring a working gas pedal and steering wheel, your car can navigate up and down inclines and around turns. It's a nostalgic drive that will have you smiling for miles!
Dip and careen into the inky blackness as a futuristic soundtrack echoes all around you. Fly past shooting stars and celestial satellites. Roar past streaking orbs of light, wayward comets and migrant meteors. Feel the pull of gravity as you're drawn into a swirling wormhole!
 Astro Orbiter
Hold on tight as your retro 2-passenger spacecraft levitates high into the air, picks up speed and begins orbiting a galaxy of planets while the sights and sounds of Tomorrowland whirl by far below. Control how high you fly by pulling or pushing the lever inside your ship.
Buzz Lightyear's Space-Ranger Spin
Buzz Lightyear's arch-nemesis from Toy Story 2 is stealing batteries from helpless toys to power a new weapon of destruction. Become a Junior Space Ranger and help stop Zurg! Board your XP-37 star cruiser and voyage deep into the Gamma Quadrant, where you'll take aim at the glowing "Z" targets with your infrared laser cannon. Use your cruiser's joystick to spin a full 360 degrees, so you can blast all the targets in sight. Do you have what it takes to stop Zurg and his rampaging robot army before it's too late? The fate of the universe is in your hands!
A Monstrously Funny Show
Step inside the only laugh factory in Monstropolis and make your way into a comedy club hosted by Monster of Ceremonies Mike Wazowski. These scare-acters love to engage the audience. Don't be surprised if you become part of the show! Inspired by the Disney·Pixar animated films Monsters, Inc. and Monsters University, this attraction scares up some monster laughs.
Transit Authority PeopleMover
Board an elevated tram for a leisurely voyage through Tomorrowland. During your narrated tour, go behind the scenes of attractions like Buzz Lightyear's Space Ranger Spin, Space Mountain and Mickey's Star Traders retail shop. See architectural models of Progress City, the prototype for Epcot.
You'll enjoy amazing up-close views of the park from a unique vantage point. Always ahead of its time, the Tomorrowland Transit Authority PeopleMover accelerates magnetically using linear induction motors.
Walt Disney's Carousel Of Progress
Follow an American family over 4 generations of progress and watch technology transform their lives.During each era, learn how the technological marvels of the day made life more comfortable—and paved the way for unimaginable innovations. Discover how gas lamps, the hand-cranked washing machine and gramophone made the pre-electric era a breeze.
Watch the advent of electricity give rise to modern conveniences like the electric iron, the radio—and the simple, revolutionary light bulb. See how the automatic dishwasher and television set transformed the American household. Today's high-tech marvels include virtual-reality games, high-definition televisions and voice-activated household appliances. Imagine the wonders the next hundred years may bring!
Before You Buy Your Disney Tickets
Get the answers to the most frequently asked ticket questions BEFORE you purchase.
What is FastPass  Plus?
FastPass+ is FREE and included with your admission ticket

It is a Disney ride and attraction reservation system, similar to making a Disney dining reservation. With FastPass+ guests can make a reservation for specific attractions in the parks. When you make a FastPass+ reservation you choose a time slot to experience one of those attractions. When you arrive at the attraction within your 60 minute time slot you are allowed to use the the FastPass+ entrance to the attraction rather than the standby entrance. This significantly reduces your time waiting in line.
Each guests can book up to 3 FastPass+ selections in advance per day and then they can make ADDITIONAL FastPass+ selections using the in park kiosks or via the My Disney Experience (MDE) app on their mobile device. Just to be clear you MUST book 3 a day initially e.g. if you only book 2 you will automatically be offered a third which you MUST accept. You can cancel or modify your selection later.
Additional FastPass+ selections
The original three FastPass+ selections have to be used BEFORE you can get additional FastPass+ selections.
One additional FastPass+ can be made at a time. Once the additional FastPass+ selection has been used, or after the arrival time passes, another FastPass+ selection can be made at an in-park FastPass+ kiosk or via the MDE app.
Additional FastPass+ selection can be made at a different park than the original three selections.
There is no limit to the number of additional FastPass+ selections that can be made following the use of the original three selections.
In addition to FastPass+ attractions, you'll be able to choose from select Character Greetings, entertainment, and viewing areas for parades and fireworks. Again if your plans change you can update your selections at any time.
You can choose your FastPass+ experiences through Disney's website and My Disney Experience (MDE) app, up to 30 days in advance of each day of your theme park visit.
When you book a stay at a Disney Resort hotel, you can make your FastPass+ selections up to 60 days prior to check-in for the "entire length" of your stay for stays up to 14 days. The first 14 days of stay can be booked all at once 60 days prior to your first day. If you are staying longer than that you will need to return day by day at 60 days prior to the dates required to book Fastpass+ for the remainder.
Annual Passholder can plan 7 days of FastPass+ selections within any 30 day period for 1 park per day. Your 7 days don't have to be consecutive and you can plan for an additional day as soon as one of your existing days has passed.
All Guests can make FastPass+ reservations at the FastPass+ kiosks located in the theme parks.
 Linking your tickets, package or Annual Passes to your Disney account NOW
Make Your FASTPASS+ Selections NOW
Fastpass+ replaces the old paper style fastpass. The only way to get fastpass will be either online or at special kiosks in the parks.
Note: At Magic Kingdom guests can make 3 FastPass selections from any available attraction. At Disney's Animal Kingdom, Epcot and Disney's Hollywood Studios a tiered system for FastPass+ selection is used. This tiered system splits the attractions in to two separate groups and guests can choose one attraction from Tier 1 and the other two attractions from Tier 2 or just three from Tier 2.
FastPass+ Attractions
Choose three from the following:
"it's a small world"
Big Thunder Mountain Railroad
Buzz Lightyear's Space Ranger Spin
Dumbo the Flying Elephant
Enchanted Tales with Belle
Haunted Mansion
Jungle Cruise
Mad Tea Party
Meet Ariel at Her Grotto
Meet Cinderella and Elena at Princess Fairytale Hall
Meet Cinderella and a Visiting Princess at Princess Fairytale Hall
Meet Mickey Mouse at Town Square Theater
Meet Rapunzel and Tiana at Princess Fairytale Hall
Meet Tinker Bell at Town Square Theater
Mickey's PhilharMagic
Monsters, Inc. Laugh Floor
Peter Pan's Flight
Pirates of the Caribbean
Seven Dwarfs Mine Train
Space Mountain
Splash Mountain
The Barnstormer
The Magic Carpets of Aladdin
The Many Adventures of Winnie the Pooh
Tomorrowland Speedway
Under the Sea ~ Journey of The Little Mermaid
Park Hours, Parking & Transportation
Throughout peak months the park is open every day from 8:00 am until late –  we suggest you call 407-824-2222 for specific opening hours when planning your visit or go online.
Many guests don't realize that Disney's Magic Kingdom lies more than a mile away from the main parking lot, on the other side of the Seven Seas Lagoon. After parking (for which there is a fee) guests are taken by tram to the Transportation and Ticket Center, which as the name suggests sells tickets to the parks (no discounts here!) and provides connections to every corner of the Walt Disney World resort – all 28,000 acres! From the Transportation and Ticket Center guests can choose from a monorail or a ferry. The three hotels closest to Disney's Magic Kingdom, Disney's Contemporary Resort, Disney's Polynesian Village Resort, and Disney's Grand Floridian Resort and Spa, also offer either the ferry or monorail. Folks staying at Disney's Wilderness Lodge and Disney's Fort Wilderness Campground can ride a dedicated watercraft to the Magic Kingdom dock. The other Disney hotels use buses to get visitors to the park.
Disney Blog
Here's a great way to keep up with all things Disney – https://thedisneyblog.com