It's massive, it's magnificent! The Walt Disney World Resort covers over 47 square miles, hosts thousands of visitors each day and we're about to give you a crash course in finding your way around!
There are 4 major theme parks, Magic Kingdom® Park, Epcot®, Disney's Hollywood Studios™ and Disney's Animal Kingdom® Theme Park.
There are also 2 waterparks, Disney's Blizzard Beach and Disney's Typhoon Lagoon. On top of all this, there is also a fantastic shopping & night time entertainment complex Disney Springs. ESPN Wide World Of Sports™ Complex is 200 acres of sporting action.
Address: Walt Disney World Resort, Orlando, FL 32830, United States (Google Maps Link)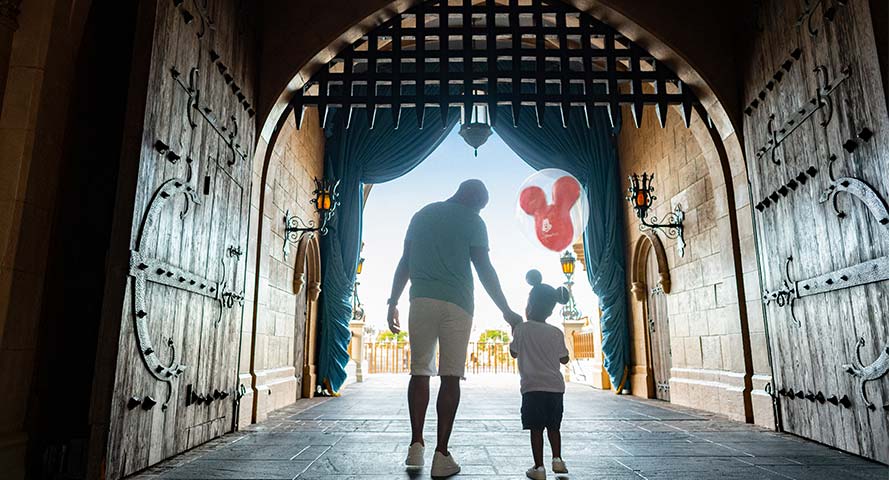 We have full guides on each individual park in the Walt Disney World Resort, click the links below to visit each one:
Disney Water Parks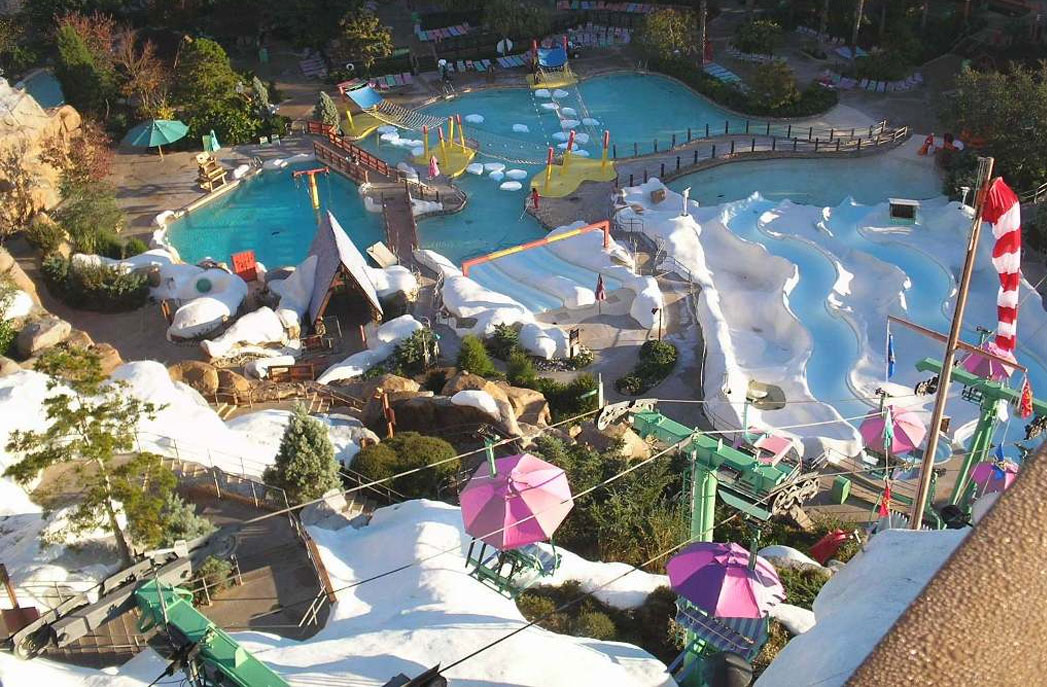 We also have great guides on the Disney water parks, which you can visit by clicking below:
Extra Disney Attractions
There are also several extra things you can do at the resort, including:
Disney Resort Hotels – Stay & Play
There are also several fabulous Disney Resort hotels catering to all budgets many of which offer great guest priveleges.
If you're interested in a holiday that includes Disney hotels, then contact our Disney hotel specialists here.
For reliable 24/7 transport to Disney Hotels from Orlando Airport check out MEARS CONNECT.
Disney Campgrounds
You can camp in the lovely surroundings of Fort Wilderness Resort, only a 11 minute drive from Walt Disney World Resort, at "The Campsites".
For more information, click here.
Travelling to Disney World On Holiday
Grab your passport, get on your flight and start your vacation!
Getting to Disney World is really easy, depending
Orlando International Airport
Most people will fly into Orlando International Airport, which is a great base with which to transfer to a Disney Resort hotel. It's full of shopping and hotels to help you negotiate your travel.
Mears Connect 24/7 Shuttle Service From Orlando International Airport to Walt Disney World Resort Hotels
This is a pre-booked transfer where you and your luggage will be taken to the location you prebook, helping to remove any waiting or hassle from your airport transfer.
Disney Cruise Line
There's nothing more beautiful than experiencing Florida by sea, where you can experience views and wildlife that'll take your breath away.
Disney offer a variety of options to suit your needs.
If you're interested in a Disney cruise from Florida, then you can find more information on this website.
Getting Around
Walking between the Disney theme parks is not an option due to the distance involved. Use of the Disney monorail, ferryboats, buses & the Disney Skyliner while on Disney property is included with your tickets so give those feet a rest! If you intend to go by car be sure to write down the name of your row (Goofy 5, Minnie 3, etc), as the parking lots at Disney are vast! Lockers are available so don't haul around lots of surplus items.
Shopping
When shopping avoid haulage altogether by utilizing 'Package Pick Up' and collect your purchases as you leave (Great idea!). Strollers and wheelchairs can be rented to speed your progress and definitely carry some water to avoid overheating.
Early Start
Always get to the big theme parks as early as you can – they call this 'rope drop'. Certainly in peak season you'll see more in the first couple of hours than you will all afternoon when the crowds reach their peak. Pick up a park map and entertainment schedule upon arrival.
Opening Hours
Opening hours vary from park to park and season to season – you can call 1 800-W-DISNEY or (407) 824 2222 for general Disney information or to be connected to any location on Disney property.
Disney Dining
For Disney Dining reservations, which we strongly recommend, call the Walt Disney World Resort  (407) WDW-DINE (407 939-3463).
Frequently Asked Questions
Here are some common questions we get about Disney World:
How much does it cost to go to Disney World?
It costs in the region of £4,400 for a family of 4 budget holiday to Disney World Florida, when you include plane tickets, transport, accommodation, Disney tickets, food, and other expenses.
How many Disney Worlds are there?
There are 6 Disney World Resorts located all around the world. The six Disney World parks are located in Florida (USA), California (USA), Tokyo (Japan), Paris (France), Hong Kong (SAR/China), and Shanghai (China).
Who owned Disney after Walt died?
Roy Disney owned the Walt Disney World park after Walt Disney died on December 15th 1966.
What are the 4 parks in Walt Disney World?
The 4 parks in Walt Disney World Resort are Disney's Magic Kingdom, Disney's Holywood Studios, Epcot, and Disney's Animal Kingdom. There are also 2 water parks, called Disney's Blizzard Beach, and Disney's Typhoon Lagoon.
What is the cheapest way to go to Disney World? When is it cheapest?
The best way to save money during a Disney World trip is to: visit outside of the peak seasons, use Single Day admission tickets, stay at non-resort hotels, bring your own drinks and snacks to parks, and make use of free dining passes and discounts.
Can you go to all 4 Disney parks in one day?
It is obviously possible to physically visit each park in one day, but you most likely won't enjoy them to the fullest. If you're short for time, then doing 2 parks in a day is perfectly possible, if you prioritise queuing for the big attractions and don't visit the smaller ones.
How many days do you need at Disney World?
The ideal number of days to do Disney World is one day for each park, allowing you ample time to enjoy the full experience that each has to offer. That may be 4 days if you're doing the theme parks, or 6 days if you're also doing the water parks.
How far is Universal Studios from Disney World?
It is 9 miles to get from Walt Disney World Resort to Universal Studios Florida, which takes roughly 13 minutes by car.
Here are the directions using Google Maps:
Can I bring a backpack into Disney World?
Suitcases and bags cannot be larger than 61cm long, 15cm wide and 46cm high. There are also lockers for storing personal items.
How old is Mickey Mouse?
On the 18th of November 2019, Mickey Mouse will be 91 years old, as it first appeared on screens in 1928.
Why do children love Disney world?
Children love Disney world because it captures the magic and imagination that can only come from young hearts and minds.
Which Disney Park is the largest?
Disney's Animal Kingdom covers 580 acres and is considered by most to be the largest Disney World park.
Are Disney taking on new employees?
If you want to check the latest job openings at Disney World, click here.