Planet Hollywood is serving up big dishes, treats, and smiles! With servings large enough for the whole family to share – everyone can satisfy their cravings! Planet Hollywood's menu features flavors from the tastiest side of the galaxy!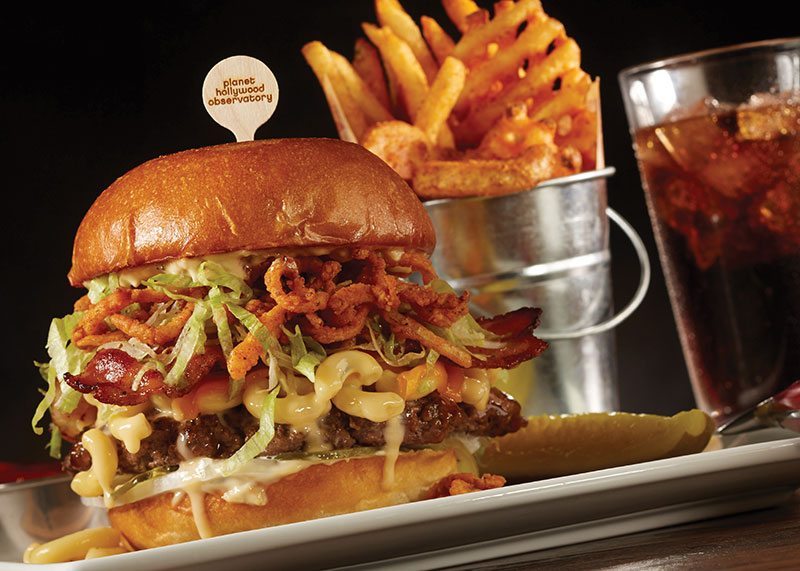 Start your meal off right with the perfect appetizer. Cheese lovers, Planet's Five Cheese Dip is for you. Featuring Swiss, Mozzarella, Provolone, Parmesan & Asiago cheeses with spinach, artichoke hearts & roasted tomato, and served with corn tortilla chips & toasted herb flatbread, this appetizer is oozing with flavor! If you are looking to share with the whole family, the Nachos Grande is calling your name! Piled high with chili, a special four cheese sauce, olives, jalapeño, pico de gallo, sour cream, and guacamole, the entire family can join in on the deliciousness! If you are having a hard time deciding, Planet's High Roller Sampler was made for you! Enjoy the Famous Chicken Crunch, Texas Tostados, Buffalo Wings, Five Cheese Dip, and Fried Jumbo Shrimp all in one delectable appetizer!
Take your flavor to the next level with one of Planet Hollywood's star-studded entrees! Have the best of both worlds with the tastiest Bacon Mac-N-Cheese Big Bite Burger. Curated by celebrity Chef Guy Fieri, this smash-grilled burger features applewood smoked bacon, sex cheese mac-n-cheese, cheddar, crispy onion straw, and Donkey Sauce on a brioche bun! If you are looking for a lighter option, the Hollywood Bowl is a perfect choice. With Thousand Island dressing, turkey breast, bacon, Swiss, egg, avocado, Roma tomato, cucumber, and croutons, this salad is out of this world! If you are looking to satisfy your grille cravings, Planet Hollywood has you covered! After 4 pm, enjoy the Roasted Prime Rib of Beef with roasted garlic mashed potatoes and a green bean blend! No matter your craving – Planet Hollywood has you covered.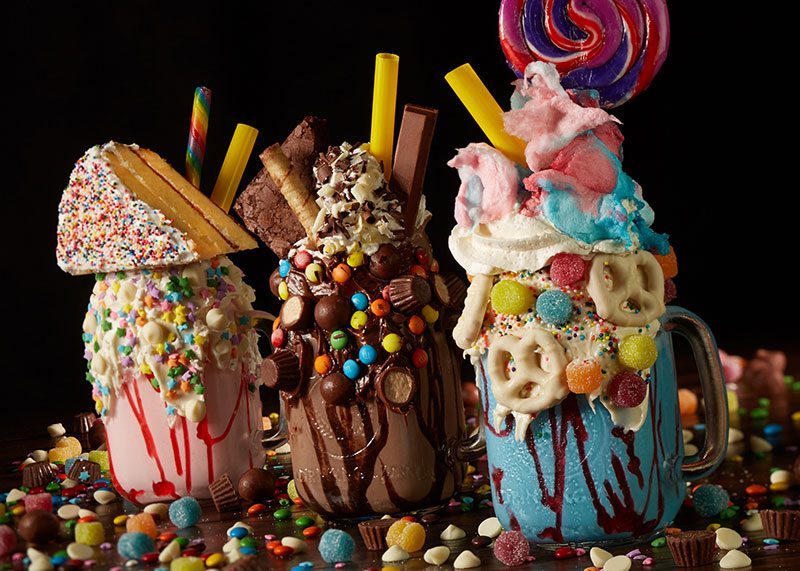 Make sure to save room for dessert because you are not going to want to miss Planet's sweet treats! The Brownie Sundae Martini with twelve chunks of freshly baked brownies and six scoops of vanilla and chocolate ice cream is the perfect dessert to share with the entire family! Planet's Super Nova Shakes are large, in-charge, and the tastiest! Each topped with its own special dessert, including an entire slice of cake or cotton candy, these milkshakes were made for the ultimate dessert lover!
Whether an intimate date night or a family event, Planet Hollywood is ready to serve the tastiest dishes on the planet! Visit www.planethollywoodintl.com to view their menu, get information on group events, or book your reservation today!