Aquatica Orlando is a whimsical, one-of-a-kind water park only the clever folks at SeaWorld could create – a fab combo of up-close animal encounters, flowing waters from serene to extreme, high-speed thrills and wide, sandy beaches. Aquatica guests essentially get to play in, over, and under the water! There are nearly 60 acres of lush landscape inspired by the vivid colors and carefree lifestyle of the South Sea Islands. It's little bits of New Zealand, Australia, and New Guinea, all rolled into one - good on ya mate!
New Attractions At Aquatica
An exhilarating new water slide experience, Reef Plunge, is now open at Aquatica!
Our Top Picks At Aquatica
Ihus's Breakaway Falls – oh boy!
Ray Rush – swoop like a Manta
Roa's Rapids – forget lazy rivers, this one rocks! Guests under 51″ are required to wear a life vest.
Taumata Racer – trust me, you're going down! Guests must be at least 42″ tall and wear a life vest. All guests under 48″ are required to wear a life vest.
Walkabout Waters – smaller kids can spend the day here!
Walhalla Wave – fun for the whole gang! Guests under 48″ are required to wear life vest and guests must be 42″ to ride.
Kare Kare Curl– if you've never seen your feet above your head!
Beach Area – big, clean and comfortable!
Insider Tips For Aquatica
I Ride Trolley – Guests staying on I- Drive can easily access the park using the I-Ride Trolley, which runs up and down I-Drive – I-Ride Trolley Tickets
Cabanas – The private cabanas are a great touch if you don't mind the extra expense.
Life Vests – Get the little kids a cool colored life vest (free) and put your mind at ease all day.
Riptide Race
Starting from the top of the 68' tower, riders will grab their rafts as they enter side-by-side racing lanes. Each racing lane can hold two riders per raft and feature low walls, ensuring you will always have eyes and ears on your competition. Dueling face-to-face, racers will navigate through tight loops and accelerations through indoor and outdoor sections. It's a race to the finish through nearly 650' of slide.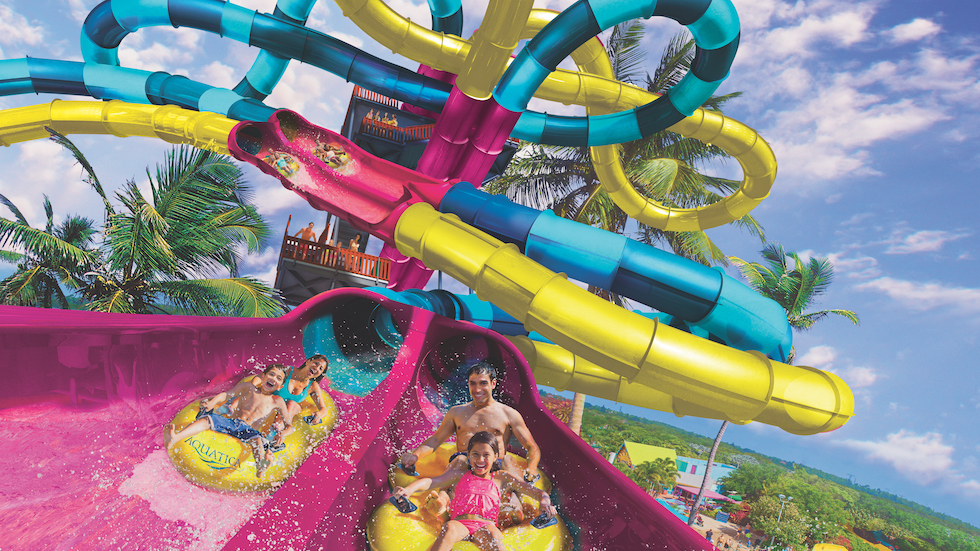 Ray Rush
Triple your fun with the three-in-one thrills of Ray Rush,  at Aquatica Orlando. Ray Rush is the fully-loaded water adventure with three ways to slide, splash and soar like never before. First, water jets launch your raft from zero to awesome in just seconds. Your adventure takes a twisting turn as you spin inside a colossal water sphere. Finally, dive into the giant manta wings, swooping up and down a different path each time. Fill your raft with family and friends for three times the thrills on the exciting Ray Rush at Aquatica.
Wave Pools
Cutback Cove & Big Surf Shores are giant, side-by-side wave pools offering gentle swells or ripper surf!

There are also ginormous beach areas to enjoy with loungers, umbrellas and tons and tons of clean white sand.
Ihu's Breakaway Falls
A recent addition is Ihu's Breakaway Falls an 8 story tower where riders face each other in transparent 'Breakaway' boxes waiting for the floor to disappear beneath them – the 'heartbeat' sound effect only adds to the anticipation!
Roa's Rapids
Roa's Rapids is a swift flowing adventure through a torrent of high tides, swirly whirlies, and gushing geysers – all at speeds that leave ordinary river rides eating this one's wake!
Taumata Racer
If you're looking for a bigger than big thrill meet the Taumata Racer, a high-speed competitive mat ride where eight racers rip down a really steep hill, head first!
Tassie's Twisters
Tassie's Twisters is one of the wackier rides and getting there is part of the fun. From the Loggerhead Lane of the lazy river, you'll make your way to the island in the center and climb to the tower. Once you get to the top, lightning fast tubes shoot you into a giant bowl, where you'll spin, and spin, and spin, until you're finally spun back out into the lazy river. You've never seen- or felt- anything quite like it.
Omaka Rocka
Experience Omaka Rocka, a water slide in which riders speed down flumes into massive funnels, sliding high up one side and then the other.
Walhalla Wave
Walhalla Wave is one the whole family can enjoy together, zooming you through a 6-story maze of twists, turns, and tunnels before surging back out into the daylight.
Whanau Way
Whanau Way is a quadruple slide tower offering riders four different high-speed experiences.In the isles of the South Seas, Whanau means extended family, which is what you'll feel like after diving down the slides on double inner tubes together. Look out below!
Walkabout Waters
With its whimsical character and a seemingly endless sea of fun, Walkabout Waters is the place in the park that younger kids just can't get enough of. This towering, 60-foot-tall rain fortress is bursting with color, excitement, and endless showers of water! The quadruple slide tower Whanau Way is one of the most popular rides in the park. In the isles of the South Seas, 'Whanau' means extended family, which is hopefully what you'll feel like after diving down the slides on double inner tubes together.
Location & Info
Location: 5800 Water Play Way, Orlando, FL 32821
Telephone: (888) 800-5447
Website: aquaticabyseaworld.com/en/orlando
Call for hours of operation during winter months
© 2023 SeaWorld Parks & Entertainment, Inc. All Rights Reserved.