Busch Gardens Tampa Bay is hidden gem - this African themed park is an easy one hour drive from Orlando's main tourist areas. It's a combination of terrific animal encounters and a superb collection of white-knuckle thrill rides and caters to a whole variety of tastes and age groups.
Transportation Changes For UK Guests
Since the outset of the covid outbreak and due to the high utilisation of the service by international guests, the Busch Gardens Shuttle Express service has been paused and is not running between Orlando and the park in Tampa Bay. We are hopeful that the service will recommence once international visitation returns to the parks.
Coming Soon
Iron Gwazi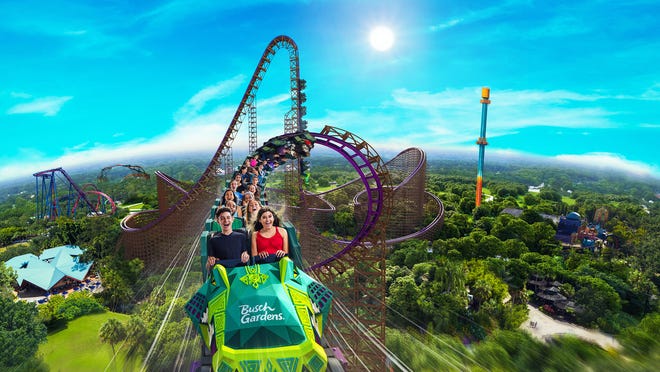 This new look coaster takes thrills to new heights, plunging riders from a 206 foot-tall peak into a 91-degree drop and reaching top speeds of 76 miles per hour. Riders on Iron Gwazi will experience a dozen airtime moments, including three inversions, as they sink their teeth into crocodile-inspired thrills.
New Attractions
Florida's tallest launch coaster Tigris is catapulting riders through an exhilarating array of looping twists with forward and backward motion & breath-taking drops. It starts with a 150-foot skyward surge, and an inverted heartland roll – all at more than 60 miles per hour and along more than 1,800 feet of steel track. Wow!
Our Favorites
Cobras Curse – a sizzling new spin on roller coasters (54″ height restriction)
Congo River Rapids – yes, you will get wet but who cares!
Sheikra – 90 degrees face down! (4'6″ height restriction)
Cheetah Hunt – one heck of a ride!
Falcon's Fury – face down all the way!
Kumba – it's Swahili for 'you must be nuts to ride this'! (4'6″ height restriction)
Montu – your legs dangle in the breeze! (4'6″ height restriction)
Myombe Reserve – Diane Fossey was right.
Free Beer – a real summertime treat!
Tigris – has definitely earned its stripes! (4'6″ height restriction)
Edge of Africa – budding zoologists will thoroughly enjoy this.
Insider Tips
So Worth It – Always worth the 60-minute drive from Orlando, and the perfect park to visit if you're staying in St. Pete Beach or Clearwater.
Water Play – If you have kids and the mercury is rising rapidly then consider a couple of hours across the street at Adventure Island, Busch's Water Park.
Check Out Quick Queue – Skip the lines once per ride at the most popular rides & roller coasters for one day. There's also an unlimited version. Not valid during Howl-O-Scream®.
Navigating The Park
Busch Gardens Tampa is a 335-acre African-themed animal theme park located in the city of Tampa, Florida. The park includes 9 themed areas, 4 animal habitats and hosts many events throughout the year.
Download Map for Busch Gardens Tampa!

Cobra's Curse
The park has put a new spin on family thrills with Cobra's Curse™ a  new multi-directional 'spin coaster'. This one-of-a-kind metallic beast features a menacing 30,000-pound snake king icon and a 70-foot vertical lift takes riders within inches of its 3 foot-wide eyes and 4-foot-long fangs.- it's a slithering good time guaranteed!
Cool Coasters
Rollercoaster buffs can also enjoy a topsy-turvy day pulling a few g's on Kumba, while Montu is an equally fearsome Egyptian thriller that will scare the pyramids off you! On Cheetah Hunt the speed will literally take your breath away……..all three of these are simply first rate!
Take to the air on Falcon's Fury the tallest thrill ride in the park that lets you swoop and dive like a plummeting bird of prey. Try the Congo River Rapids, an old favorite that seems to get wetter every time we ride it! SheiKra is a heart-stopping 'dive coaster' that swoops straight down at a mind-boggling 90 degrees and they've removed the floor so you can enjoy the full 70mph rush!
Jungala
Jungala, set in the Congo area, is a 4-acre attraction inviting guests to discover exotic creatures (like our favorite – the white Bengal tigers) and explore a village hidden deep in the jungle.  Connect with the inhabitants of the jungle with up-close animal interactions, and enjoy multi-story family play areas, rides, and live entertainment.
Edge of Africa
The very interesting Edge of Africa has some stylish animal habitats with hippopotami, hyenas, lions, and baboons while the Serengeti Safari Tour (an extra $20) takes you out onto the plains for an extremely close up look at giraffes, zebras, and rhinos.
The Trans Veldt Railroad also skirts the Serengeti and provides a good opportunity to rest those weary legs! Myombe Reserve is home to a group of endangered mountain gorillas – so human it's scary and a source of constant wonder, so take some time and enjoy them.
Sesame Street Safari of Fun
Sesame Street Safari of Fun is aimed at introducing children to the wonderful world of animals in a fun setting that is guided by familiar Sesame Street characters like Elmo, Grover, Ernie, and Bert. The area is full of interactive stage shows, meet and greets, playgrounds and rides specially designed for children.
Location & Info
Location: 10165 N McKinley Drive, Tampa, FL 33612
Telephone: (813) 884-4386
Website: buschgardens.com/tampa/
© 20121 SeaWorld Parks & Entertainment, Inc. All Rights Reserved