Orlando's Local Experts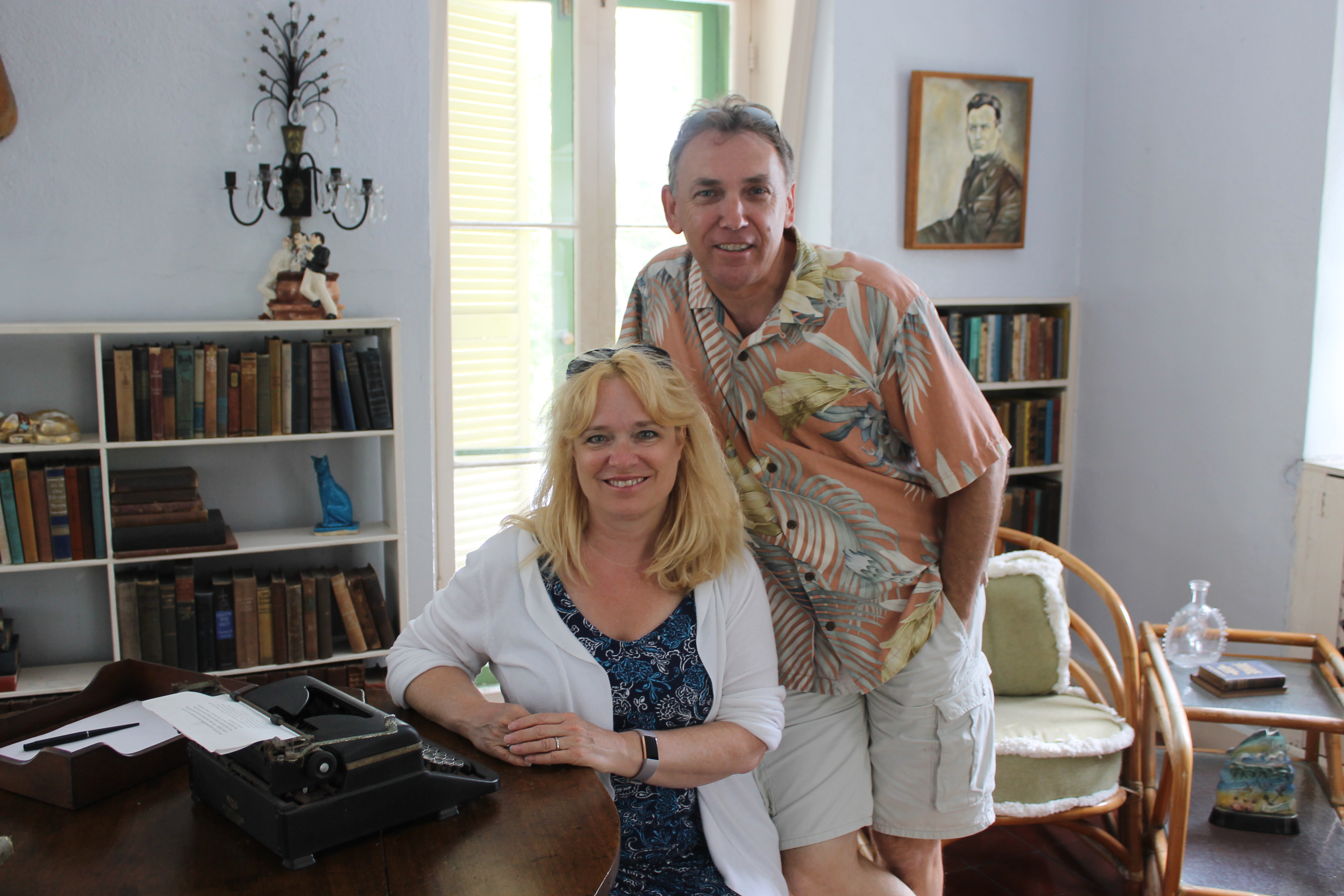 Simon & Susan Veness – otherwise known as Veness Travel Media, they are based full-time in Orlando, Florida (but with regular travels in the Americas and Europe), Simon (from the UK) and Susan (from America's Midwest) form a unique and insightful writing business, both individually and as a dynamic team. Their basic ethos is to lead readers by the hand into the varied and complex world of travel, to ensure everyone gets a full and valid perspective on their many subjects, and also to provide a positive and user-friendly destination insight. They can turn their hand to any written media, and have frequently been told their books and travel articles are "like having a good and knowledgeable friend take us around." Their Brit Guide titles to Orlando and Disneyland Paris have garnered numerous accolades (including Best Guidebook with the British Guild of Travel Writers) but, more importantly, has been the No 1 title on their favourite destination for many years with the people who count most – their readers. Separately, Simon and Susan have carved out distinctive and highly informative styles for themselves, while together they are among the world's most distinguished and prolific travel-writing teams.
You can contact Veness Travel Media at venesstravelmedia@yahoo.com
SUBSCRIBE TO THEIR YOUTUBE CHANNEL TODAY!
Simon Veness
Sports and travel writer Simon has been in the journalism business since 1981 and was the original founder of the Brit Guide travel book series with UK publishers Foulsham in the mid-1990s. He quickly discovered sport and travel were good companions as he developed the Brit's Guide series in tandem with his specialty for American sports coverage with several British newspapers. His acclaimed freelance writing has grown to include a huge variety of outlets, from major British newspapers The Sun, The Telegraph, the iPaper and The Independent to specialty publications like High Life magazine, BBC Travel and World of Cruising magazine (which he also edited from 1999-2014). He has featured on BBC TV's Holiday programme, various UK regional radio stations, and Fox 35 TV in Orlando.
Susan Veness
Susan Veness is an international travel writer, solo author of the hugely successful The Hidden Magic of Walt Disney World series and its two follow-up titles, the very popular Walt Disney World Hacks and Walt Disney World Trivia, and co-author in the Brit Guide travel book series, having decided that writing holds more fascination than her degree in Bioenergetic medicine. She was among the first (very young!) visitors to Walt Disney World in 1971 and has maintained a keen interest in Orlando, Disney and the theme parks ever since, giving rise to an encyclopedic knowledge of all things Mouse-like. Her eye for detail and Disney savvy led her to becoming a contributor to a major (unofficial) Disney website and discussion forum, which she then parlayed into a job with the Brit Guide travel series as principal research assistant on their Orlando title in 2001. Working with US-based author Simon Veness, their professional relationship developed into a fully-fledged partnership in every sense, and Susan has also expanded her writing horizons in recent years. She now contributes to a wide range of sources, from the Internet to magazines, and writes both individually as well as with husband Simon.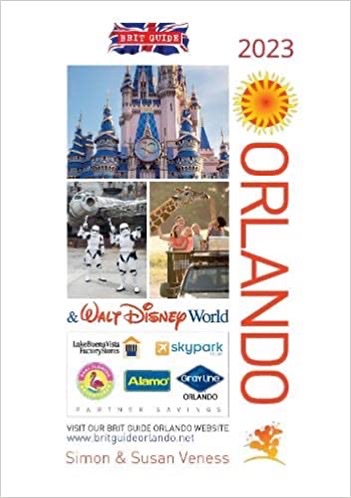 Brit Guide Orlando 2023  Authors – Simon & Susan Veness
Experience the magic of Disney World with the No.1 best-selling guide to Orlando. This all-encompassing, authoritative Brit Guide is packed with  exclusive 'Brit Tips' to help you get the very most out of your stay.
Let the Disney experts, Simon & Susan Veness, show you around Orlando. Ideal for first-time or seasoned visitors, the comprehensive coverage and unique 'Brit Tips' will ensure you see everything this fantastic destination has to offer. Whether you need advice on how to use Disney Genie+, where to stand for the best view of the fireworks or the ideal location for watching the parades, the
Brit Guide to Orlando 
and Walt Disney World 2023
is all you need to make the most of your dream holiday. 
BUY IT NOW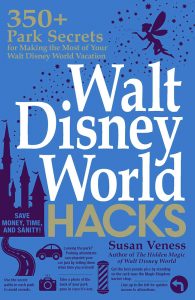 Walt Disney World Hacks: 350+ Park Secrets for Making the Most of Your Walt Disney World Vacation (Hidden Magic)
Authors – Simon & Susan Veness
There's adventure in every Disney story…now, experience your own adventure when you visit Walt Disney World! Let Walt Disney World Hacks show you how to meet your favorite characters, eat the best and most iconic food the park has to offer, and enjoy your favorite rides.
With helpful and practical tips such as starting at the back of the park to avoid crowds, planning your visit for January or September for lower prices, and waiting at Hollywood Studios to meet characters you might not otherwise see, you'll learn how to do Disney right – without spending the whole day in line, and going way over budget!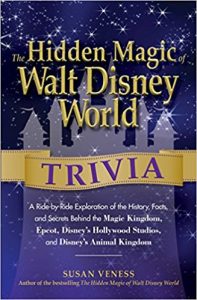 The Hidden Magic of Walt Disney World TRIVIA
Author – Susan Veness
You've been to Disney World hundreds of times and can rattle off the entire spiel for the Jungle Cruise from memory, but how much do you really know about these imaginative theme parks and their attractions? From the fastest rides and the tallest sculptures to the parks' enchanting history and hidden gems, this trivia challenge doesn't miss a single detail – no matter how small.
Full of Disney's best-kept secrets and facts, you will spend hours racking your brain trying to figure out answers to questions such as, "What is the name of the award Walt Disney created for special Cast Members?" and "What is so special about the dentures Dr. Winch is promoting at Country Bear Jamboree?" A treasure trove of challenging Disney World trivia, this book is guaranteed to stump even the biggest Mickey Mouse fan!
The Hidden Magic of Walt Disney World Author – Susan Veness
Over 600 Secrets of the Magic Kingdom, Epcot, Disney's Hollywood Studios, and Disney's Animal Kingdom. Your guide to Disney's hidden treasures–including Fantasyland and Storybook Circus secrets!
Whether this is your first or fiftieth visit, you'd be surprised at how much you miss during your trip to Walt Disney World. From where to find hidden Imagineer signatures to the secrets behind the carriage numbers in the Casey Jr. Splash 'N' Soak play area, learn all about the hidden magic that permeates these fabulous resorts in this tell-all handbook. You will also get the insider's take on:
The Disney family coat of arms standing guard at the entrance to Cinderella Castle
The surprise song that plays in the Seven Dwarfs Mine Train queue area
The mysterious concentric circles in the Temple of Heaven in Epcot's China pavilion
The lipstick stain on the champagne glass sitting on the table in the Tower of Terror
Complete with a whole new section on the Fantasyland and Storybook Circus expansion, The Hidden Magic of Walt Disney World, 2nd Edition will inspire you to relive the magic year after year!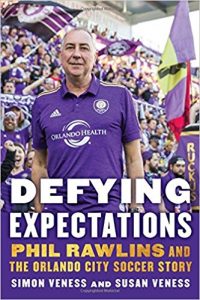 Defying Expectations
Authors – Simon & Susan Veness
As an expansion Major League Soccer team, the Orlando City Soccer Club marked the return of professional soccer to Florida for the first time since 2001, selling out the sixty-thousand-seat Citrus Bowl for its home opener and going on to have the second‐highest home attendance for the 2015 and 2016 seasons. It was the successful culmination of a nine-year process orchestrated by the team's owner, Phil Rawlins, who sold his successful sales consultancy company for a shot at sports ownership and a chance to tap into America's growing interest in pro soccer.