Discovery Cove limits admission to around a thousand people a day (advance reservations only) and those lucky enough to get in will without a doubt have the interactive experience of a lifetime. This tropical Oasis feels far away from the crowds at the big theme parks and provides some life changing one on one encounters with dolphins, fishes, rays and even some feathered friends.
The Verdict
This truly unique concept for Orlando truly is, in a word, 'superb' – a day you won't forget in a hurry. Everything is taken care of. You don't even need to know how to swim (but it does help). Overall they more than accomplish their mission of making the whole experience very special.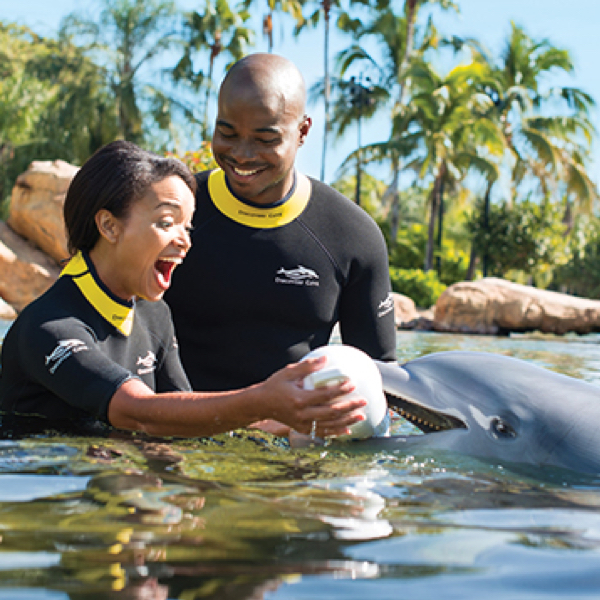 Guests staying in the I-Drive area should consider riding the I Ride Trolley to get there – I-Ride Trolley Tickets
Great Service
A very high staff to guest ratio ensures you get lots of attention and our undercover reviewers were made to feel very special despite the presence of several hundred guests spread around the park. First class changing rooms with towels, lockers, and showers are available for everyone as well as a convenient swipe card for any purchases.
Preparation
At the appointed time before anyone gets wet, you are introduced to the trainers who go over some dolphin anatomy, explain what your day will consist of and, show you a video on the lives of wild dolphins.
Dolphin Swim
Your prep-talk over, you then head across a white sandy beach, complete with sunbeds and umbrellas, to the main lagoon. There you are introduced to your dolphin hosts. After a kiss and a cuddle (don't be shy now!), you make your way out to deeper water (flotation jackets are provided) where you finally get to be towed around by one of these amazing creatures. Specially designed equipment is available for the disabled to enjoy this attraction with ease (call for details).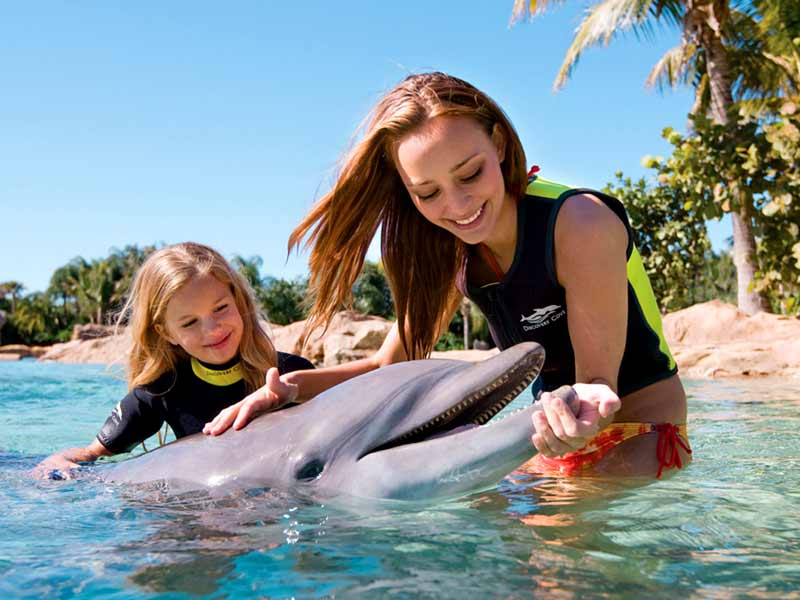 The official photographs of your big moment will cost you a few dollars more but hey, how often do you get to take a picture with something this cute!
Relaxing Day
Spend the rest of your day relaxing on the beach, cooling off under waterfalls, stroking some huge (and harmless) rays, and snorkeling alongside shoals of tropical fish. Grand Reef is a fabulous multi-level adventure with shallow water encounters and deeper water thrills, while the exotic bird encounters in the free flight aviary are quite something to experience.
Sea Venture
The Grand Reef's newest experience is the amazing SeaVenture,  an underwater walking tour you take while wearing a diving helmet. Absolutely safe, and so very well done that you'll feel right at home under the sea!

SCUBA certification is not required – a nominal fee is.
The Freshwater Oasis
The Freshwater Oasis has a rainforest canopy above and clear springs below. Wade into water-filled trails and discover face-to-face encounters with otters and marmosets.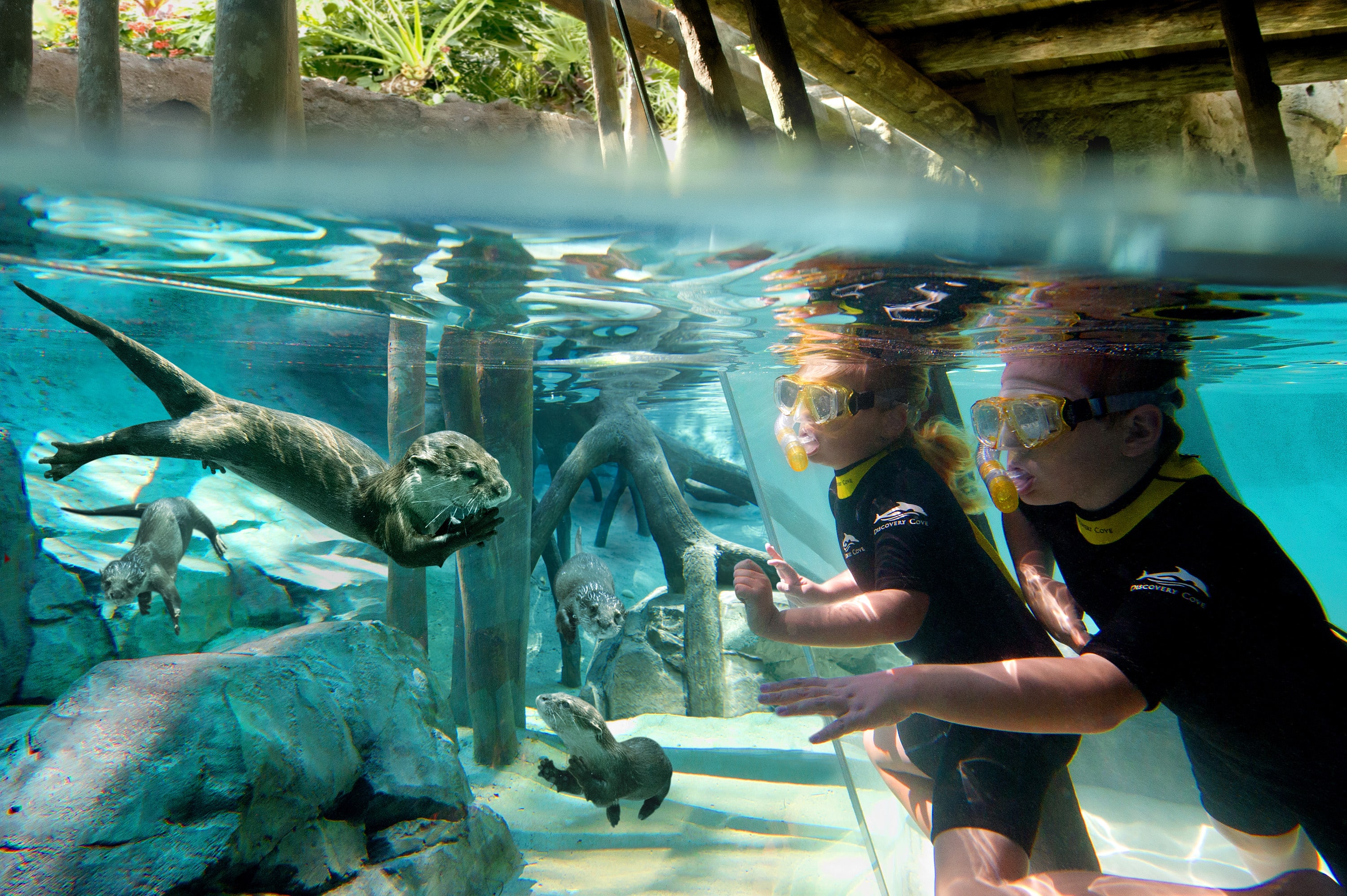 A 7-day admission pass for SeaWorld®  is also included.
Location & Info
Location: 6000 Discovery Cove Way, Orlando FL 32821
Telephone: (407) 370-1428
Website: discoverycove.com/
© 2022 SeaWorld Parks & Entertainment, Inc. All Rights Reserved.