Hang on tight. Your heroes are about to burst through the screen and yank you into the story. You're the star here and you'll disappear into one jaw-dropping adventure after another. Dodge evil villains. Defend the earth. Face a fire-breathing dragon. Wander into animated worlds where characters you love are suddenly right beside you. Go beyond the screen, behind the scenes and jump into the action of your favorite films at the world's premier movie and TV based theme park.
Universal Studios Tickets
Photos of Universal Studios
New Attractions At Universal Studios
Bourne Stuntacular – an all new cutting-edge fusion of stagecraft and film that makes it impossible for your eye to discern where the live action ends and the screen begins.
Our Favorites
Diagon Alley – fire breathing dragons, goblins and butter beer ice cream!
Despicable Me: Minion Mayhem – funny, frantic and small yellow people galore!
Hollywood Rip Ride Rockit – choose your sound track and they capture it all on video for you to share with friends! (4'3″ Height restriction)
Men In Black Alien Attack –a zapping good time!
The Simpsons Ride – what a Krusty old time you'll have, doh!
E.T. Adventure – make sure you re-assure kids there's a happy ending! (Small kids ride with an adult)
Revenge of the Mummy – The Ride – even if you didn't like the movies, you'll love it.
Insider Tips
Reservations – Save yourself a wait by making Universal lunch or dinner reservations at the desk as you enter through Universal's CityWalk.
Express Pass –  Universal Express may be worth purchasing just to beat the lines on busy days.
Fall Fright Nights – The totally gruesome Halloween Horror Nights is definitely worth a visit if you come in the fall!
Fast & Furious
Join the Fast & Furious family for a wild, full throttle, high-octane rush of adrenaline. You're invited to become a member of the crew but someone from the past shows up to crash the party. You're surrounded by non-stop action as Dom, Letty, Hobbs and the rest of the crew battle do what they do best on this heart-racing new ride.
The Wizarding World of Harry Potter – Diagon Alley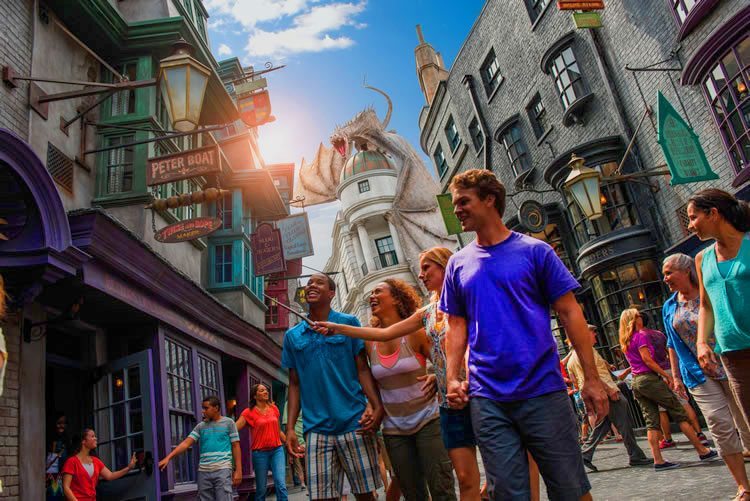 The Wizarding World of Harry Potter – Diagon Alley is still a huge draw – anchored by the  high tech 'Escape from Gringotts' ride guests can immerse themselves in all things Potter before boarding the Hogwarts Express over to Islands of Adventure and the other 'half' of this exquisitely themed attraction. Check out the new interactive wands for sale (of course!) that when waved near a variety of hot spots do all sorts of cool stuff – kids will lap it up! The fire-breathing dragon on top of Gringotts is quite the 'hot' addition!
Harry Potter and the Escape from Gringotts
Enter Gringotts™ bank beneath the massive fire-breathing dragon at the far end of Diagon Alley™. Inside, walk through the bank's grand marble lobby and see goblins hard at work. Then, get ready to take a journey through cavernous passageways that lead deep underground as you climb aboard this mind-blowing, multi-dimensional thrill ride.
You'll face the bank's stringent security measures while navigating perilous subterranean vaults. Along the way you'll encounter Harry, Ron, and Hermione. But you'll have to evade the wrath of malicious villains Voldemort™ and Bellatrix,  as well as trolls and other creatures that stand between you and a safe return to Diagon Alley™.
Hogwarts Express – Kings Cross Station
With a Park-to-Park admission ticket, you can board and ride the Hogwarts™ Express from either King's Cross Station in London at Universal Studios Florida™ and travel to Hogsmeade™ Station in Universal's Islands of Adventure™, or ride the other way around for a different experience. Onboard, you'll see characters and creatures featured in the films.
From the thrill of walking through Platform 9 ¾™ to watching the British countryside pass by your window, we can assure you—this is not your everyday train ride.
Race Through New York Starring Jimmy Fallon
Get a place in the Virtual Line™ and get your return time to be a guest at The Tonight Show! Experience the history and fun of The Tonight Show in Studio 6B. Send a "Thank You Note" at the interactive desks. See Hashtag the Panda and enjoy a hip-hop barbershop performance by the Ragtime Gals! Then, join Jimmy Fallon and all your favorite characters from The Tonight Show in a fun-filled race through, below and above New York City.Secure your Virtual Line™ Pass through The Official Universal Orlando Resort™ App (free download). You'll need to be on property to select a return time.
Despicable Me: Minion Mayhem
Despicable Me: Minion Mayhem is your chance to get close up with everyone's favorite villain Gru, his delightful daughters and of course those mischievous yellow Minions for a heartwarming and often hilarious ride.
The Rip Ride Rockit
The Rip Ride Rockit coaster is all about rocking out to the song YOU pick before strapping in – and the whole thing is recorded for posterity. Edit your adventure into a music video, and purchase a copy to take home or send to your friends. The ride features several exciting, "never been done" elements, including the world's first non-inverting loop – you won't be riding it just the one time that's for sure!
Transformers – The Ride 3D
On Transformers – The Ride 3D you'll find yourself on the front lines of an intergalactic war between the Autobots and Decepticons. Imagine that…fighting alongside Optimus Prime and Bumblebee, trying to keep the Allspark from falling into enemy hands. No pressure there then!
Men in Black Alien Attack
Men in Black™ Alien Attack™ is very popular with kids who just love to shoot at aliens, though adults may get a little confused by the scoring system! Groups of adults should use the 'singles' line to try to avoid a wait.  The new daytime must do is Universal's Superstar Parade where you can meet evrtyone from Captain Americ to Dora and Diego!  Smaller fans of the planet's most popular purple dinosaur will be entranced by A Day In The Park With Barney™.
Fievel's Playland®
Fievel's Playland® in Woody Woodpecker's KidZoneSM are also great places for the little ones to let loose and for you to take a breather. Pedal across the sky with E.T. Adventure® then head over to Animal Actors On Location® to see some amazing four legged feats while you rest yours a little more. Terminator 2: 3-D Battle Across Time™ puts you on the front line of an amazing cyber war.
The Simpsons Ride
The Simpsons Ride is a chance to join Homer & the gang on a hilarious visit to KrustyLand a low budget themepark operated by you know who!
Woody Woodpecker's Nuthouse Coaster
Who better to ease first-timers onto the track than that wacky woodpecker, Woody? This thrilling kid-friendly coaster gently swoops and turns through Woody's very own nut factory, filled with silly puns and corny jokes. It's all the fun of a classic coaster without any daredevil drops. The ups and downs may be small, but the smiles are huge for both kids and parents alike.
Kang and Kodos' Twirl 'n' Hurl
Calling all Earth-Humans: Kang and Kodos, those dastardly, domed, drooling aliens from The Simpsons™, have landed at Universal Studios Florida™ with a ride that'll send your stomach into the stratosphere. Pilot your very own flying saucer, swooping up and down as you circle one of the animated alien fiends from Rigel 7. You're starring in your own Treehouse of Horror alongside outer space's most famous slimy, green creature. And while you're spinning, say hello to many of your favorite Springfield citizens as you try to fry them with lasers. It's good ol' Questorian Radium Belt family fun.
E.T.Adventure
If you've ever seen the movie E.T. you've probably wished you could ride one of those flying bicycles across the sky. Now's your chance and there's no time to waste because E.T. needs your help. His home planet is dying and only you can help him save it.
Board your flying bike with E.T. in the front basket and take off on a thrilling (but gentle) ride through the sky. You'll have to dodge bad guys trying to track him down. If you do, you'll soar above the city and into the stars where his magical home awaits, filled with wondrous otherworldly creatures.
Revenge of the Mummy The Ride
The capper for any day at Universal Studios® has to be their dark and scary coaster ­ Revenge of the MummySM The Ride. Trust us, you won't want to let your fear of the dark, bugs or evil undead creatures keep you from lining up for this one!
Bourne Stuntacular
Through a cutting-edge fusion of stagecraft and film, you follow our hero Jason Bourne across three continents as sinister characters pursue him, hoping to bring him in. Forget what you know about stunt shows. Universal Orlando Resort isn't just pushing boundaries with The Bourne Stuntacular, it's re-inventing them!
Location & Info
Location: 1000 Universal Studios Plaza Orlando FL 32819
Telephone: (407) 363-8000
Website: www.universalorlando.com