Disney's Hollywood Studios
Hooray for Hollywood & Disney's Hollywood Studios– it's another full Disney day of movie classics, movie rides, and movie stars. Your big screen debut should start early as this working production studio has loads to offer. Step into the action with attractions based on all your favorite blockbuster movies. With the vibrancy of a bustling movie set, this park features Toy Story Land, Hollywood Boulevard, Echo Lake, Muppet Courtyard, Sunset Boulevard, Commissary Lane, Pixar Place and Animation Courtyard.
Disney's Hollywood Studios Tickets
Photos of Disney's Hollywood Studios
New Attractions At Disney's Hollywood Stdios
Star Wars: Galaxy's Edge the highly-anticipated Star Wars-themed attraction is the shining star at Disney's Hollywood Studios.
This new "land" allows guests to explore a spaceport on the edge of a universe far far away!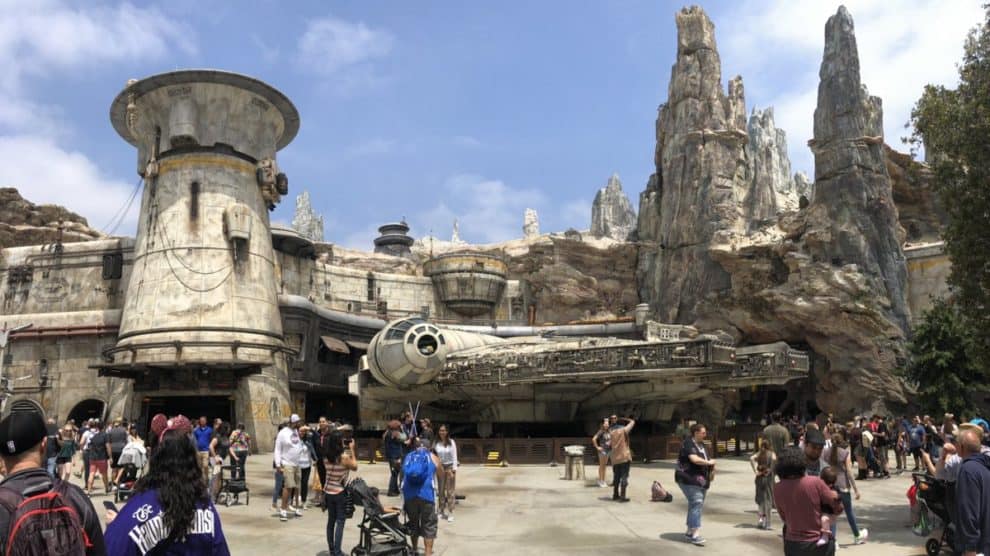 It's the place where Star Wars fans can meet up with some of their favorite characters including Chewbacca and BB-8. When hunger strikes, there's a wide range of Star Wars-themed food and treats available in the cantina. Gift shops galore also make it easy to score unique Star Wars merchandise and memorabilia.
Two major attractions are located within Galaxy's Edge:
Millennium Falcon – Smugglers Run  is an interactive experience, allowing Star Wars fans to jump aboard the legendary Millennium Falcon, piloting the ship from the cockpit and manning the blaster turrets.
Star Wars – Rise of The Resistance  allows guests to see what it's like to stand in the hangar bay of a First Order Star Destroyer in the midst of battle – so cool!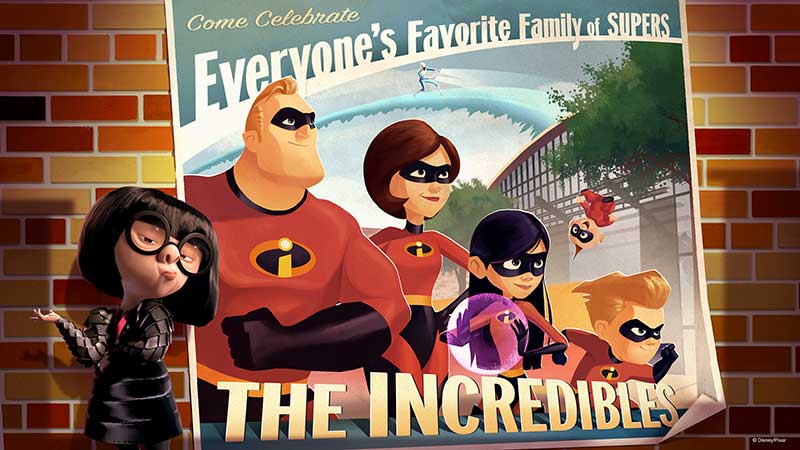 The Incredibles –  Pixar Place transforms into a Municiberg city block. At the end of the block, a party is held in honor of Mr. Incredible, Mrs. Incredible and Frozone to celebrate their super deeds.
Meet the one and only Edna Mode – the greatest super suit designer! She will set up a special location on Pixar Place showcasing some of her best creations (no capes!). Also on Pixar Place, look for clues to the whereabouts of the youngest Incredible, the mischievous and multi-powered Jack-Jack.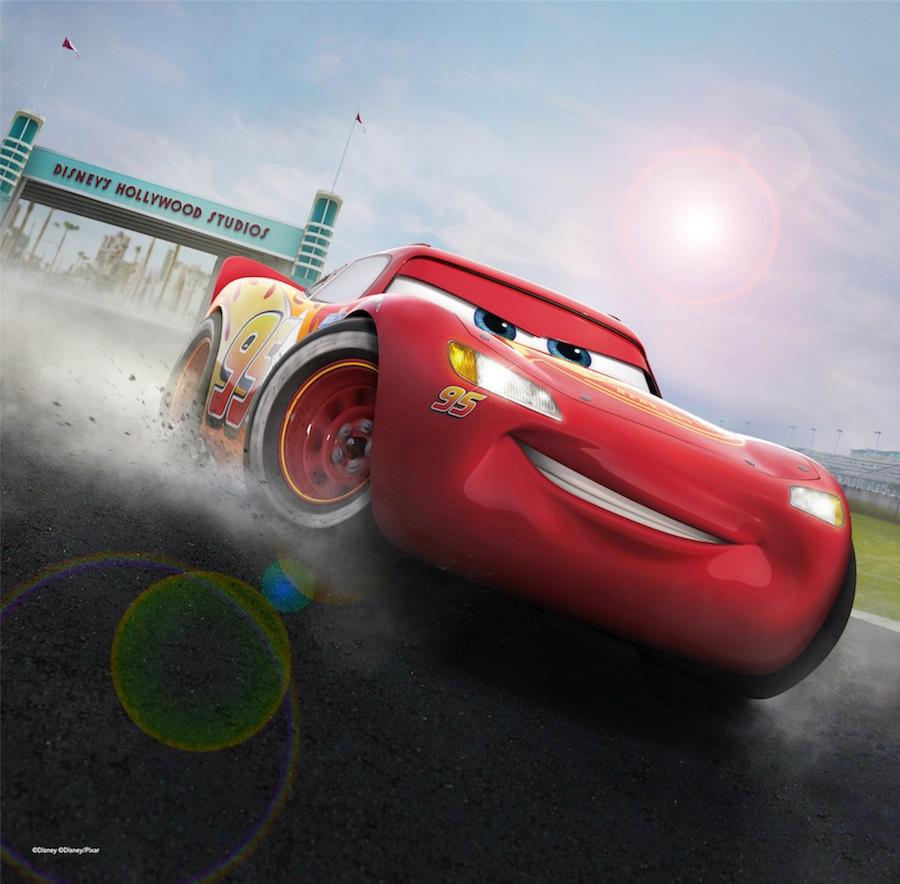 Lightning McQueen's Racing Academy –  Ka-Chow! In this new show experience, you'll come face to face with Lightning and learn from his years of experience on the track. Outside the Racing Academy, you'll get to meet Lightning McQueen's speedy pal, Cruz Ramirez.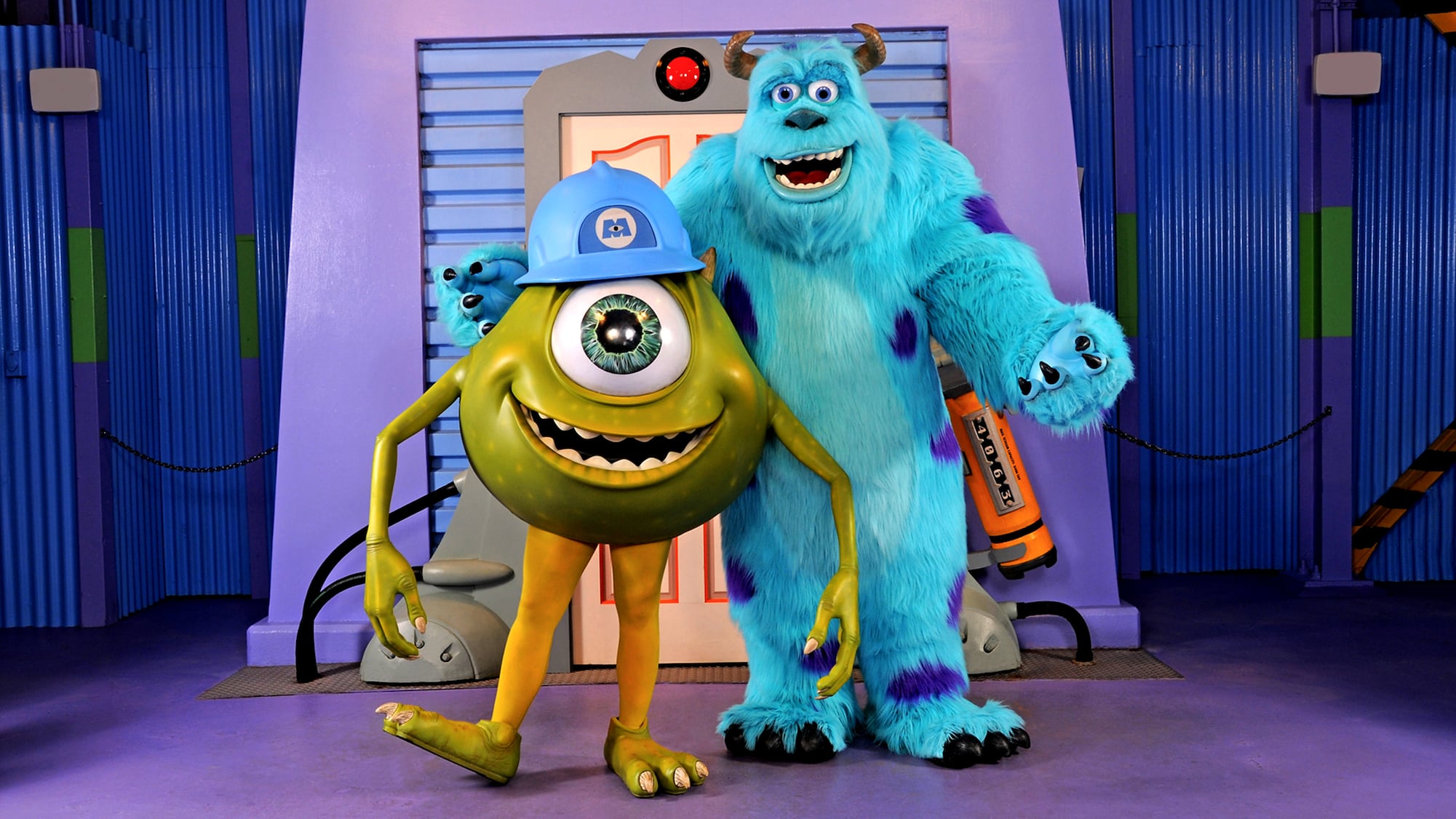 Elsewhere at Disney's Hollywood Studios, a door to the monster world will open inside Walt Disney Presents, where you'll have a chance to meet Mike and Sulley from Pixar's Monsters, Inc.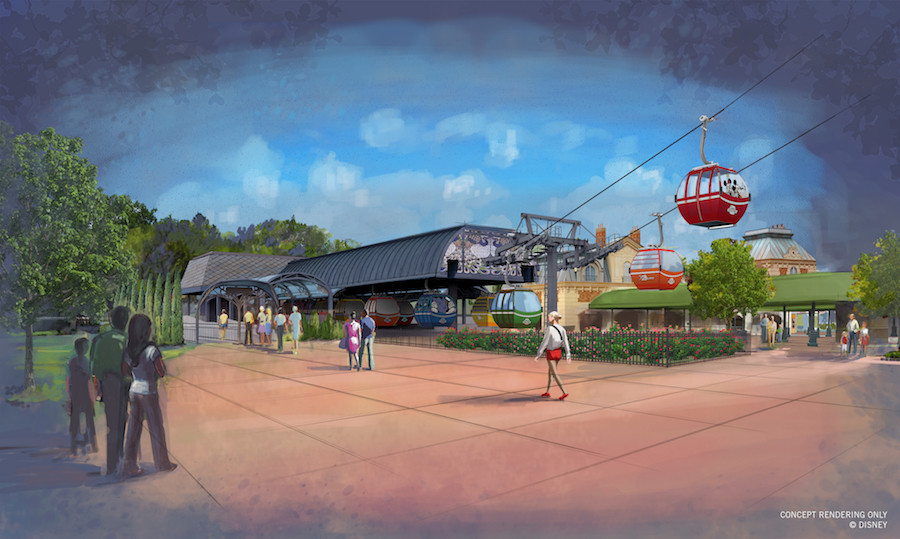 Disney's Skyliner is a brand new way for guests to travel around (or rather above) Disney parks. These gondola style lifts connect four Disney resorts, including the all new Disney Riviera Resort, to both Epcot and Disney's Hollywood Studios.
The gondola cars feature pictures of Disney characters on the outside of each window, making it seem like these characters are actually riding along in the car. From inside, passengers have a stunning view of the Magic Kingdom from above as they make their way to the parks from each resort.
Navigating The Park At Disney's Hollywood Stdios
Disney's Hollywood Studios features 7 sections:
Hollywood Boulevard, Echo Lake, Muppet Courtyard, Sunset Boulevard, Commissary Lane, Pixar Place and Animation Courtyard areas.
Download Map for Disney's Hollywood Studios!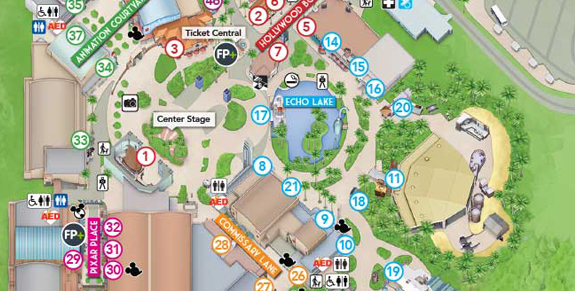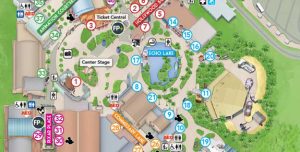 Our Favorites At Disney's Hollywood Stdios
Tower Of Terror – do it twice! (40″ height restriction)
Star Wars Galaxy's Edge – you know you want to!
Rock 'n' Roller Coaster – quite the road trip. (48″ height restriction)
Muppet Vision 3D – hats off to Jim Henson once again. Great for kids!
Fantasmic – fire, water, pyrotechnics and sorcerer Mickey.
Lightning McQueen's Racing Academy – Cars fans rejoice!
Toy Story Land – who can resist!
Rock 'N Rollercoaster Starring Aerosmith – deafeningly good!
Insider Tips At Disney's Hollywood Stdios
Cool Off – The stage shows feature excellent Broadway style production numbers as well as a chance to sit down for a while and cool off!.
Toy Story Land
Toy Story Land is the bomb for this fan – the eleven acre land based on the popular movie franchise gives lucky visitors a chance to be an honorary toy while exploring the whimsical world of Andy's backyard. Andy though is never seen, as according to the back story he has just been called inside by his mother, leaving his toys – and you – scattered all over the backyard!
Slinky Dog Dash
Andy's assembled his Mega Coaster Play Kit — and Slinky Dog is gonna take you on a wild, toy-filled adventure! Come along for a roller-coaster-style ride as he bends and twists and stretches his way all throughout this new land.
Alien Swirling Saucers
Inside a play set that Andy won at Pizza Planet, the Aliens have powered up their flying saucers—and they're ready to spin you on a wild ride into space! Hold on for some wild fun as your toy rocket takes off, all while electronic space music provides an intergalactic soundtrack. And if you're really lucky, you might just get "chosen" by the claw. Oooooo!
Toy Story Mania!
Zip through a virtual gallery of exciting carnival games based on the hit animated film series. Step inside Andy's room and wind your way through a toy treasure chest of classic playthings. Pass a Candyland® game box, Viewmaster® discs, crayon drawings and a Scrabble board before picking up a pair of special 3D glasses for the fun to come.
The Twilight Zone Tower of Terror
Hurtle up and down aboard a haunted, elevator-themed ride. You're about to enter… The Twilight Zone! Shriek in terror as you suddenly hurl down the abandoned shaft that unexpectedly changes direction and launches back up the hotel. Gaze out through a missing wall 13 stories high as the doors inexplicably open and close to reveal the hotel grounds. As if possessed by some unseen phantom, plummet down and speed upward over and over again, the sound of cables snapping and metal clanging overhead. Will you make it back to the real world… or will you become a permanent resident of the Twilight Zone?
Rock 'n' Roller Coaster Starring Aerosmith
A state-of-the-art sound system and a special soundtrack keep this ride jamming in the fast lane.Your ride to the Aerosmith concert is a super-stretch limo that comes decked out with a 125-speaker, 24 sub-woofer, 32,000 watt audio system. Each limo broadcasts different Aerosmith songs, so don't be surprised if your experience is a little different if you go to the concert more than once
Fantasmic!
See the forces of good and evil battling it out in Mickey's dream during this nighttime, outdoor extravagant musical. Witness a show that brings together favorite Disney heroes, princesses and villains! Fantasmic! takes you into the colorful imagination of Mickey Mouse as the Sorcerer's Apprentice.
A Frozen Sing-Along Celebration
Relive the magic and wonder of Disney's animated hit Frozen when 2 royal historians recount the windswept story of Anna, Elsa and the icy kingdom of Arendelle. Watch classic moments from the beloved movie play out on a large screen and sing along to some of the movie's most popular songs, including "Let It Go."
Indiana Jones™ Epic Stunt Spectacular!
Against the backdrop of temple ruins, Indiana Jones makes a grand entrance and the show swings into non-stop action. In pursuit of the golden idol, Indy and his companion Marion battle dangerous bad guys, leap from tall buildings and make other daring escapes as fake bullets fly and a moving vehicle bursts into flames. The edge-of-your-seat suspense comes to a climax in an explosive finale!
Voyage of The Little Mermaid
Enter a world where the ocean floor is full of fish and Ariel longs to stroll and dance with humans. Follow her adventures as the show recreates selections from the Disney animated classic, using large and colorful puppets, live performers, special effects and movie clips.
Star Tours
Star Tours – The Adventures Continue immerses you in the Star Wars mythology for an unforgettable intergalactic adventure. Blast off on a thrilling tour of the galaxy aboard a Starspeeder 1000. Voyage to alien worlds like Naboo or Coruscant—and come face to face with the likes of Boba Fett or Darth Vader. It features tons of state-of-the-art technology including a flight simulator, digital 3D video, Audio-Animatronics characters and "in cockpit" special effects and music.Young fans of Star Wars can sign up for the Jedi Training Academy, while the Symphony In The Stars is a great way to 'wrap' up this scintillating celluloid adventure – a nightly fireworks spectacular filled with Star Wars music and magic.
Rock 'N Rollercoaster
Check out the Rock 'N Rollercoaster Starring Aerosmith – it's rock and roll in the dark on your way to an Aerosmith concert, passing legendary landmarks along the way! This very popular inverted roller coaster also offers the popular FastPass option included with your ticket.
Muppets
Jim Henson's Muppet Vision 3D will be a 'pig' hit with the whole family. It's a zany tour of Muppet Labs for a demonstration of their newest, high-tech film process – as expected things quickly get out of hand!
Beauty and the Beast
Don't miss the Disney classic Beauty and the Beast Live on Stage – it's good enough for Broadway! The heartwarming tale of Belle and the Beast swirls comes to life with its colorful costumes and gorgeous scenery—and those songs you'll be humming all day!
Before You Buy Your Disney Tickets
Get the answers to the most frequently asked ticket questions BEFORE you purchase.
What is Disney Genie?
Built right into the My Disney Experience and Disneyland apps, Disney Genie service will maximize your park time, so you can have more fun. It includes a personalized itinerary feature that will quickly and seamlessly map out an entire day. From specific attractions, foodie experiences and entertainment, to general interests like Disney princesses, villains, Pixar, Star Wars, thrill rides and more – just tell Disney Genie what you want to do and it will do the planning for you.
Here are a few more features:
Get Itinerary Updates from Morning to Night: Disney Genie will continue to update your itinerary throughout your day, so you can be more spontaneous and go with the flow.
Find Your Favorites at a Glance: Create your very own personal tip board to instantly see your favorites. It will display current AND forecasted future wait times, helping you predict when you might experience quicker entry to attractions.
Enjoy More Flexibility and Fun: Disney Genie brings existing planning features together in one place. Join a virtual queue at certain attractions, make dining and experience reservations, mobile order food at many locations, get help from a virtual assistant and more.
For even more convenience and flexibility, there are two other options for enjoying our theme parks, through a queue we are introducing called the Lightning Lane entrance that also saves you time in line:
Disney Genie+ service (available for purchase): For the price of $15 per ticket per day at Walt Disney World Resort and $20 per ticket per day at Disneyland Resort, choose the next available time to arrive at a variety of attractions and experiences using the Lightning Lane entrance. You can make one selection at a time, throughout the day – from classics like Haunted Mansion to thrill rides like Big Thunder Mountain Railroad and newer favorites like Millennium Falcon: Smugglers Run (attractions subject to limited availability). This convenient option is the next evolution of the fan-favorite Disney MaxPass service from Disneyland Resort. Disney Genie+ will also include Disney parks-themed audio experiences and photo features to capture your memories – augmented reality lenses for those visiting Walt Disney World Resort and unlimited Disney PhotoPass downloads from your day if you are visiting Disneyland Resort.
Individual attraction selections (available for purchase): Schedule a time to arrive at up to two highly demanded attractions each day using the Lightning Lane entrance – like Seven Dwarfs Mine Train at Magic Kingdom Park and Radiator Springs Racers at Disney California Adventure park (subject to limited availability; attractions not included with Disney Genie+). Pricing for this option will vary by date, attraction and park and will be announced closer to launch.
Lightning Lane selections will be made on the same day of your visit and can be used across multiple theme parks, great for those who love the Park Hopper option. Attractions continue to offer a traditional standby queue, or a virtual queue at certain attractions like Star Wars: Rise of the Resistance – to maximize flexibility.
While the FASTPASS, FastPass+ and Disney MaxPass services will be retired, we're incredibly excited about the flexibility and choices Disney Genie service provides. You can choose from all of our new options, a mix of them or none at all, and continue to have a great experience no matter how you decide to plan your best Disney day.
Hours, Parking & Transportation
Throughout peak months the park is open every day from 8:00 am until late –  we suggest you call 407-824-2222 for specific opening hours when planning your visit or go online.
Location & Info
Location: 1145 East Buena Vista Boulevard, Orlando, FL 32830
Telephone: (800) 934-7639 or (407) 824-2222