Orlando International Airport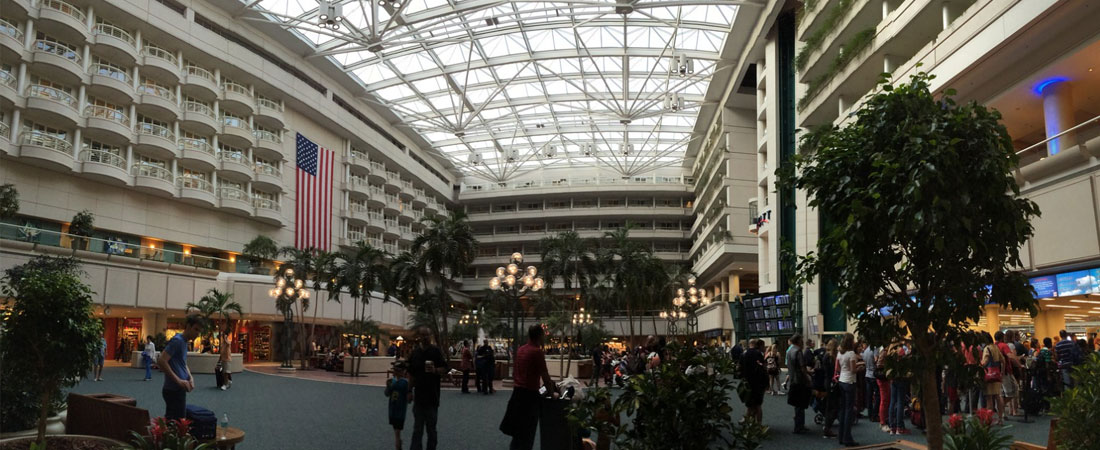 Airport Details
Airport Code: MCO
Location: 1 Jeff Fuqua Blvd, Orlando, FL 32827, United States
Distance from International Drive: 15 minutes in a Taxi (approximately via Google Maps)
Phone: +1 407-825-2001
Website: https://orlandoairports.net/
---
Orlando International Airport Guide
Orlando, Florida, is one of the world's most popular destinations. The reason, of course, is Disney World!
A lot of planning – and a little luck – always goes into a long trip, and when we add in the number of other people going to the same place, and the percentage of those that are excited children – let's just say that a little extra information can't hurt.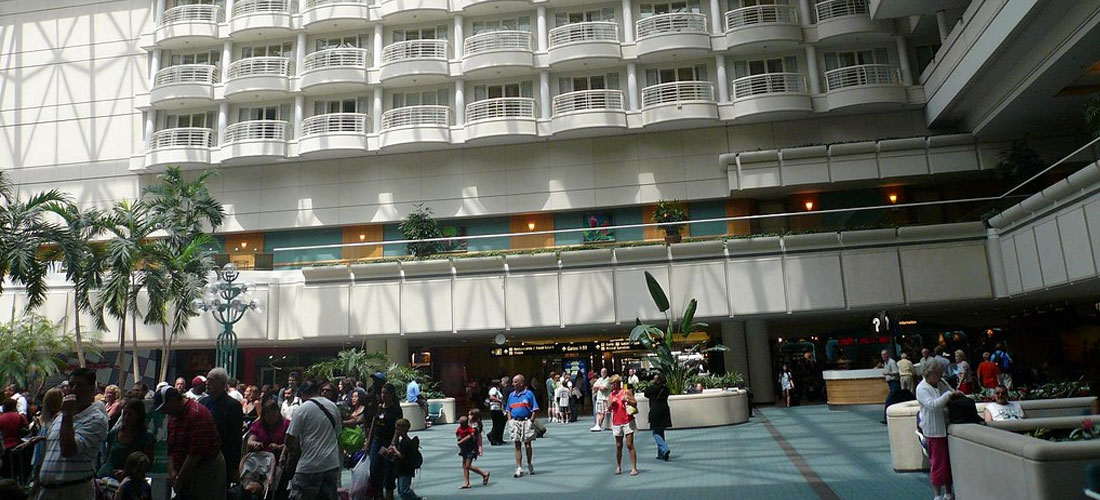 Since driving to Orlando is a choice limited to those within a few hours of the place, or those who love the challenge of a multi-day trip in a car full of wound-up children, knowing the ins and outs of the airport is a key tool to visitors.
Airport Overview
Depending on which airline you use, you will arrive at either Terminal A or Terminal B. Don't worry if you don't know ahead of time, as you will be able to follow the signs in the airport on arrival. You'll need to keep a good eye on these though, as there are 129 gates at Orlando International Airport, interspersed with some really great Disney-themed shops and displays.
Airlines That Fly from MCO
The airport is home to a number of airlines, including (in alphabetical order):
Aer Lingus, AeroMexico, Air Canada, Air Transat, Alaska, American Airlines, Avianca, Azul, BahamasAir, British Airways, Caribbean Airlines, CopaAirlines, Delta, Edelweiss, Emirates, Eurowings, Frontier, IcelandAir, JetBlue, LATAM, Lufthansa, Magni Charters, Miami Air, Norwegian, Silver Airways, Southwest, Spirit, SunCountry, Sunrise, Sunwing, Thomas Cook, United, Virgin America, Virgin Atlantic, Volaris, WestJet and World Atlantic Airlines.
With this many choices, you are sure to find a good deal that will get you there on time, in reasonably good shape, and ready to party Disney-style!
On the way home, your flight will leave from the same terminal you arrived at, in nearly every case, so you'll know where you're headed when you leave the hotel. Couple this with the fact that you can scoop up gifts for any overlooked loved-ones back home by stepping into one of the shops that were distracting you when you arrived!
Travelling with Children
Airports can be exhausting, confusing and frustrating places to navigate even when on your own, but add to the mix a few children, excited and tired, surrounded by shops and things that pull like super-magnets, and the attention sometimes needed to find your way is instead split between too many jobs.
Navigating The Airport
Not to worry too much though, Orlando International knows what you're going through and has taken steps to make it easier for you. Interactive kiosks can be used to find your gate, find a good restaurant, toilets, or whatever else you may need.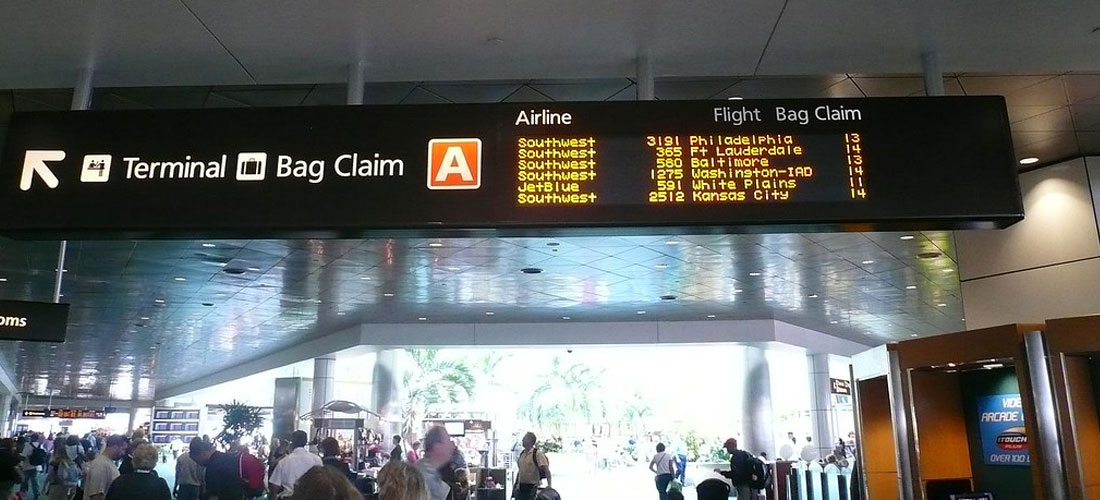 Signage is good too, for exits, gates, toilets and other airport features you may need. The design of the airport is also pretty straightforward, so information is easy to understand. Add to this the fact that the airport staff is aware of being the gateway to so many family tourist attractions, and they are very mindful and helpful when it comes to children and parents alike.
Shopping
Terminals A and B meet at a central hub, where the majority of the shops are located. There is the Universal shop with world-famous Harry Potter items, including chocolate frogs; the SeaWorld store with plush Shamus of various sizes; and two separate Disney shops with all of the princesses, princes, wicked villains, monsters and what-have-you to populate any fairy tale adventure during your stay, and on the flight home.
Other, lesser-known spots worth checking out include Natalie's Candy Jar. This is a classic-style candy shop with all the traditional and modern favourites. Next to this is the arcade, complete with exhausted-parent seating where you can sit and watch your little ones run around from game to game, burning off excess energy in preparation for the flight. If your children prefer a lower-key time, or you need one, stroll over to the 3000-gallon fish aquarium and watch the reflection of your children's wide eyes superimposed over the calming corals fish as they go about their aquatic business.
Grown-up Options
If you're there without your children, or you want to find something a bit more suited to most grown-up tastes and interests, there is something there for you too. Consider LUSH for a wide selection of bath bombs. There are bars for a relaxing drink, restaurants with grown-up sections to get some separation from the crowds, if needed, and the other, usual airport amenities.
When it's time to get the business of travel taken care of, there is a TSA Pre-Check Centre, general check-in kiosks that allow you to print boarding passes once your baggage is checked, and of course bank machines and shops for portable snacks can be found throughout the airport.
Dining includes fast-food outlets like Chic-Fil-A (a slightly healthier version of KFC) and nicer, sit-down restaurants like the Macaroni Grill. There are several options, so you and your children should be able to find something you'll all enjoy.
Airport Lounges – Saviour When Waiting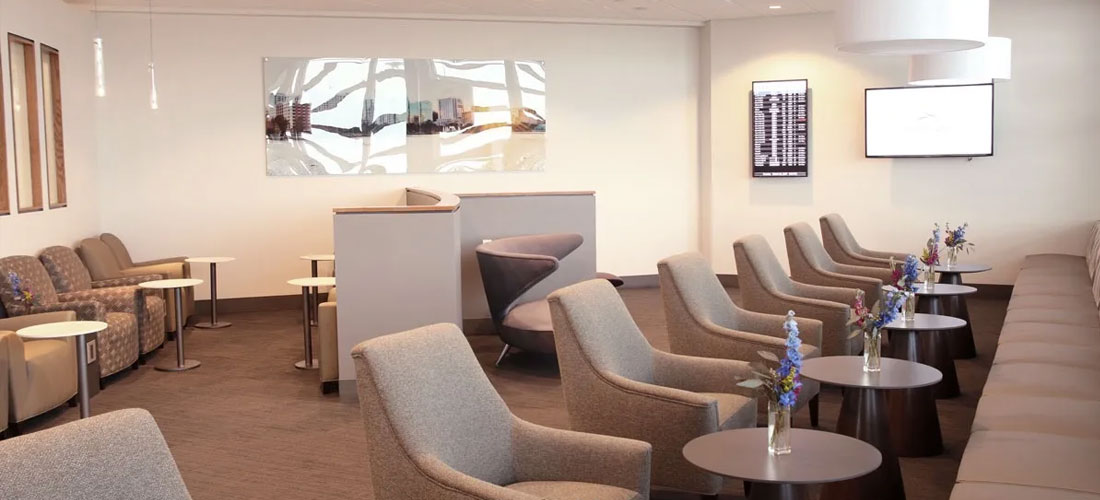 Source: Lounge Buddy
When it comes to waiting around, which is really unavoidable even in the best-run airports in the world, there is free public WIFI to keep you and the little ones entertained, and there are five lounges available for passenger use.
These include:
Quick Note: Orlando Sanford Airport (SFB) – Don't Get Caught Out!
Depending on your booking, you may not actually arrive at Orlando International Airport (MCO). There is another airport, a much smaller one, called Orlando Sanford Airport (SFB). Some airlines, such as the budget line Allegiant Air, us SFB instead of MCO.
SFB is an excellent airport, but it is about 30 minutes farther out from the centre of the Orlando action (Disney, Universal, SeaWorld and downtown) so you will have some additional cost and time expenditure if you go that way. Factor this in with your flight costs; sometimes a cheaper flight winds up costing more when combined with land travel.
Also note that Disney's Magical Express services Orlando International, but not Sanford.
Getting Through Security
Because it services some of the world's most popular tourist destinations, the airport itself in among the busiest in the United States. When you first see the length of the queues, your reaction may range from despair to rage – but don't worry. The staff is very friendly, very efficient, and even during peak times you are likely to get through it with a surprising degree of speed.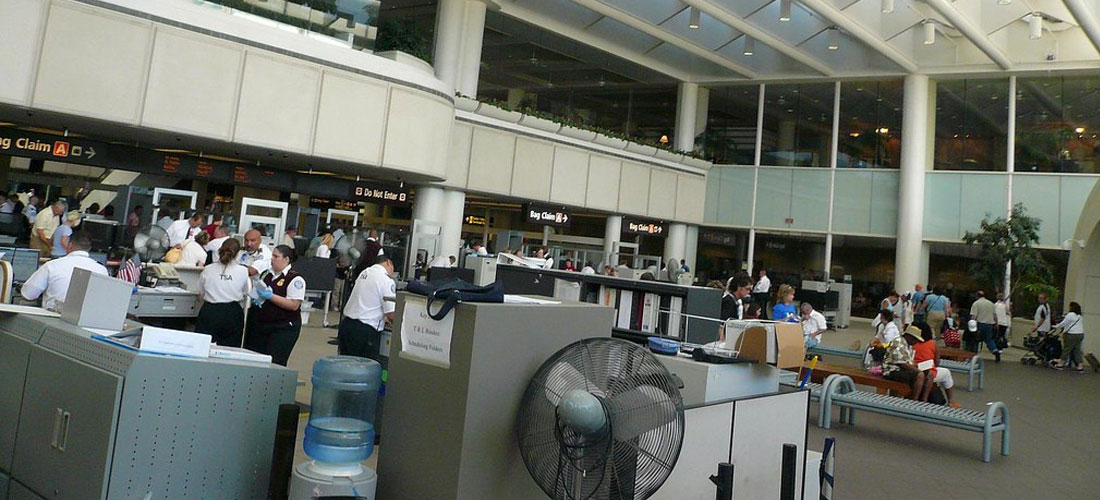 To minimise line waiting times even further, you might want to choose a flight that leaves earlier in the day. This makes getting there on time a bit more challenging, especially with children, but that is precisely the reason that the queues will be shorter.
In any case, an extra hour to get through – three hours before your flight rather than the traditional two – and in most cases you will be pleasantly surprised and be able to use the remaining time on the other side of security. The last thing you want is to miss your flight home because you didn't leave quite enough time; this can lead to very long delays as you wait for an alternative flight with room on it.
When you are going through security, you will experience the standard measures used at most other airports. You will need to remove all food and large electronic devices from your bags and place them in a separate bin, You'll benefit from wearing slip-on shoes, skipping the belt altogether, and keeping your change and other metal items in a bag pocket. No beverages are allowed through security, and though you may save money buying snacks beforehand, it is a lot simpler to pick them up on the other side of security. Same goes for certain souvenirs. Buy them and transport them in a checked bag, or buy something that can make it through security without raising any concerns. Something as seemingly harmless as a snow globe, for example, will not be allowed through and will have to be surrendered.
Milk for babies is allowed of course, but expect a further delay if you are bringing that through with you.
Trains to the Gates – Double Check!
Getting through security is the main bottleneck. Once through, you will be able to hop on a train that will take you to your gate. There are two to choose from, but if you have your gate number in hand it is simple to determine which one you need. It's worth taking the extra time to be certain, because if you take the wrong one, you'll have to take a departures train back and that means going through security – again!
Refuel Before Boarding
Once at the gates, you'll find Starbucks and other oases, shops, a food court, and really everything you'll need to pass the time while waiting to board. There is a spa (Xpresspa) at three of the four gates (and also at the main terminal), and various restaurants of surprisingly good quality. If you find yourself around Gates 100-129, scan the airside and check out Cask& Larder, set under a tree and serving farm-to-table, Southern-inspired dishes.
This is why we recommend taking the bare minimum through security with you and stocking up once there. Not only will it give you more to do while waiting, massively reducing boredom, it will also avoid potential hassles at earlier stages.
Traveling From The Airport To Walt Disney World Area Hotels
Mears is the preferred transportation service provider of Orlando International Airport and the local experts in Orlando Airport pick-ups.  The Mears Connect shuttle service has served well over 1 million travelers and offers affordable transportation between Orlando Airport (MCO)and Disney World area hotels – this is great news if you don't plan on renting a car upon arrival!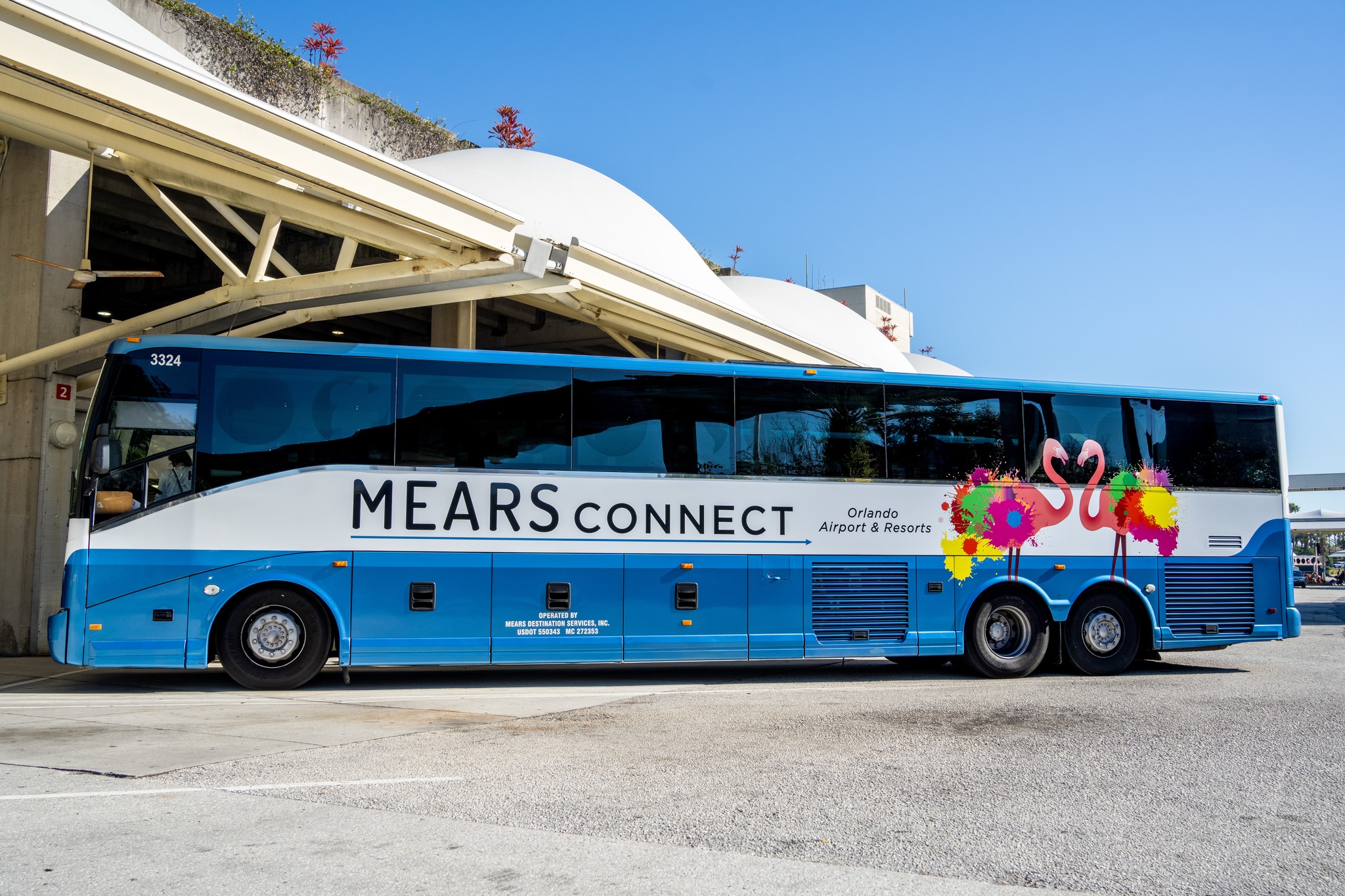 Kids under three ride free with Mears Connect standard service and your family can enjoy some educational in-ride video content about some Mears Connect animal friends featured on their buses –  namely Doc the Dolphin, Thomas the Sea Turtle, Maisy the Manatee, and Fran & Frank the Flamingos.
You can find more info on Mears Connect HERE.
Taxis, Car Hire, Ride Shares and Shuttles
If you plan to hire a car, make sure to book ahead of time. This airport is very busy and, though most people pre-book their cars, there is a significant number of people who decide to do so on-site. Some of these do get vehicles, but many wind up taking a shuttle to their hotel and having to make other arrangements from off-site car hire agencies. It sounds crazy, but often every single available car in every single agency has already been booked.
Car hire agencies (called 'rental agencies' in the US) can be found on Level 1, on both the A and B sides of the terminal. Signage is clear and frequent. Hire agencies with desks right at the airport include (in alphabetical order) Advantage, Alamo, Avis, Budget, Dollar, Enterprise, E-Z, Hertz, National, Payless and Thrifty.
Florida is notorious for bad drivers, and aggressive drivers, so if you hire a car, make sure it's something you're comfortable in, and that it has good visibility for shoulder checks, etc.  You'll be glad you did.
Lyft and Uber both operate in the area, and there are of course taxis – but don't expect anything like the quality you find in a place like the UK. Cars may be old, quite worn, and drivers have very little training in customer service, geography or, it seems actual driving. If you go with Lyft or Uber, you will meet your driver at Ground Transportation on Level 1. There may be an additional fee of something like $5 for airport pickup or drop-off. If you want to dish out a little extra cash, you can hire a more luxurious ride. This is known as 'car service' rather than 'taxi service' and will be a much better experience.
There are also shuttle services to most hotels, and these are often free, though they may have several stops before you reach yours.
Here are the driving directions from the airport to International Drive:
Airport Hotels
If you opt to reduce queue times by leaving early, or you find yourself arriving late, you may benefit from staying in a hotel next to the airport for the first or last night of your stay. There are a lot to choose from and they are very convenient. Having such a short travel time between the plane and the room is a really great way to reduce fatigue and tears among the little ones – and possibly the big ones too!
Hyatt Regency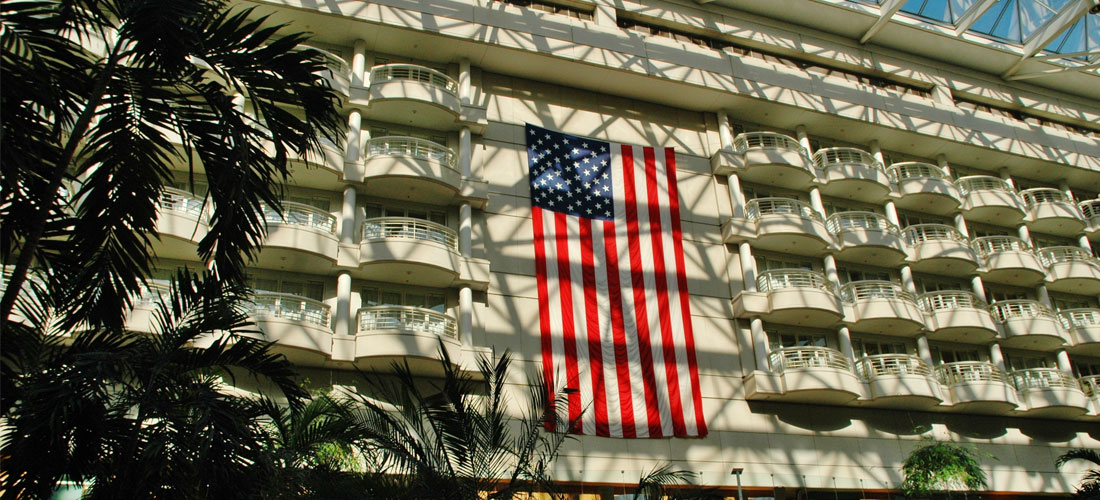 The Hyatt Regency is located at the centre of the Orlando International Airport itself, so you won't even need to shuttle to or from it. Nothing is more convenient than that option. The hotel is excellent, has an outdoor pool with runway views, and will set the tone for the coming vacation, or nicely end it with some relaxation and luxury.
Homewood
Homewood is very close to the airport, so shuttle or car rides will be very brief. It offers free breakfast, free shuttle to and from the airport, and is in easy walking distance of several restaurants. You can get a room with 1-2 bedrooms, a kitchen, and room for up to six adults.
Holiday Inn Express (a few miles from the airport)
Quick and easy, and just a few miles from the airport, is the Holiday Inn Express. It offers free hot breakfast, free WIFI in rooms and public areas, and unlike many of the other hotels, they allow for pets of nearly every description – so your share of the 101 Dalmatians can enjoy the vibe of Disney too!
Here are the Google Maps driving directions to the Holiday Inn Express near the airport:
Frequently Asked Questions
Here are the answers to the common questions regarding the airport.
What does MCO Airport Stand for? / Is MCO and Orlando International Airport the same?
MCO is the airport code for Orlando International Airport, and so yes they are the same thing.
How far is it from Orlando International Airport to Disney World?
The distance between Orlando International Airport and Disney World is 16.4 miles, and usually takes roughly 18 minutes to drive or in a taxi, 90 minutes on a bus, and 90 minutes to cycle. It is not recommended that you walk.
Here are the Google Maps driving directions from the airport to Walt Disney World Resort:
Does Orlando have two airports?
Yes Orlando has two airports. It has the Orlando International Airport (MCO) and the Orlando Sanford International Airport (SFB). SFB is the smaller of the two airports.
What is the best airport to fly into in Orlando?
If you're looking to go on a Disney holiday, then it's better to fly into Orlando International Airport (MCO), as it has the best facilities and transport options.
How busy is Orlando International Airport?
Orlando International Airport is the 15th busiest Airport in North America by the total number of passengers per year. Certain times of the year will be more busy than others, mainly around the peak seasons for Disney and then other theme parks such as Universal, Seaworld and Busch Gardens.
How much is Uber from Orlando International Airport to Disney World?
The cost to get an Uber or Lyft from Orlando International Airport to Disney World is around $38 or £30. Prices may vary during peak times.
How much is a taxi from Orlando airport to Disney?
A taxi from Orlando International Airport to Walt Disney World Resort will cost in the region of $38 or £30.
Which terminal is international in Orlando International Airport?
At Orlando International Airport, the majority of international visitors will go through Airside 4, with a smaller number going through Airside 1.
Who are we? OrlandoAttractions.com
This article was written by Orlando Attractions, the hub of all things to do in Orlando, including theme park tickets.
Click here to learn more about us.