Hello, summertime in Florida. If you've ever spent time in Orlando, Florida during the summer months, you know that summer rain showers and thunderstorms are par for the course. But International Drive never lets some rain get in the way of having a blast! So, take cover from the rain at one of these fun indoor attractions, and remember that the clouds will pass in no time!
A race to clear skies!

Let the races begin at Andretti Indoor Karting & Games where you'll forget about the rain as you speed around the world's largest indoor track, with the most elevation changes and banked turns! Andretti's not only houses an incredible race track and super-fast karts that will show you the ride of a lifetime, but they've also got a ton of other games that will keep you playing for hours! With a full arcade, laser tag, virtual reality games, and a sky trail ropes course that has a curved zip-line; you'll be sure to work up an appetite, so ask for a menu and enjoy some delicious grub while you're here too! Don't just wait out the rain, get in on some serious fun at Andretti!
Make like a bird and fly away from the rain!

iFLY Orlando is the perfect destination for an adventurer on a rainy day and is a thrilling experience that everyone in the family can get in on, fit for anyone 3 years or older, plus an observation deck so you can get tons of pictures to look back at! Step inside the wind tunnel and get ready to experience the sensation of freefalling without needing a parachute, plane, or any skydiving experience! Their world-class instructors are pros at making flying fun for everyone, even newcomers! So, throw on your rainy-day comfy clothes, and head to iFLY Orlando to take flight to sunnier skies.
Strike up some fun!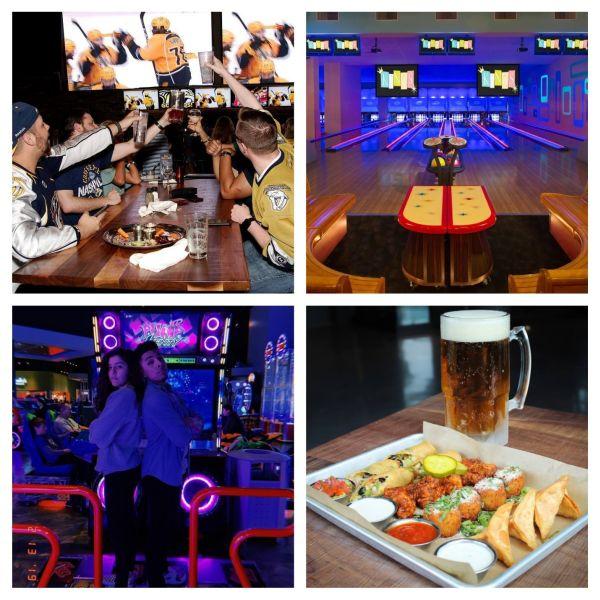 You're bound to strike up a great time at an indoor entertainment destination that's all about letting you indulge in your inner child! Luckily, we've got two of these destinations right here on I-Drive. These destinations are dedicated to showing you a good time, whether you're bowling, watching a game on the big screens at the bar while sipping on something delicious, biting into a hot meal prepared fresh just for you, winning a game of billiards against friends, or taking to the arcade to dominate at some of your favorite classic arcade games! If any of these things sound like a good way to spend a rainy day on I-Drive, Kings Dining & Entertainment and Main Event Entertainment are two locations you've got to check out! Each fitted with all the above and more while offering an indoor, child-free, haven for adults looking to indulge in some good times during the wettest season in Florida!
Work out that noggin!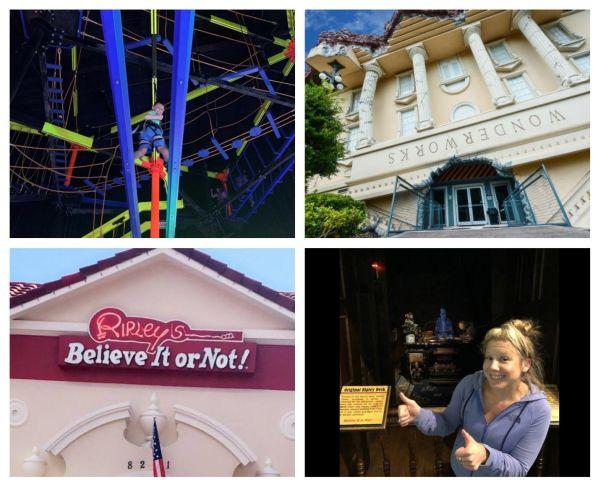 We've got the best places to put your mind to the test while making amazing discoveries here on I-Drive!
Ripley's Believe It or Not! is known as the weirdest place in Orlando, but don't just take our word for it, you'll have to see it to believe it! This is a destination where you'll be met with exhibits, artifacts and displays throughout 16 galleries that pay tribute to everything odd, bizarre, and unbelievable! You'll enjoy viewing weird and unusual relics and rare treasures that will really make you rethink some things you've believed to be true!
Or head to the legendary upside-down attraction, WonderWorks, for a day full of amazing experiences as you get to interact with over 100 exhibits that will blow your mind! From feeling a 5.3 earthquake, touching 100,000 volts of electricity and playing virtual sports to designing your own roller coaster, climbing a rope course that is three stories high, taking a ride in a 4D theatre and competing in a game of laser-tag… WonderWorks is what many call an amusement park for the mind, and is one of your favorite indoor destinations on route, making it an epic rainy day spot! Get Tickets HERE
Let the Games Begin!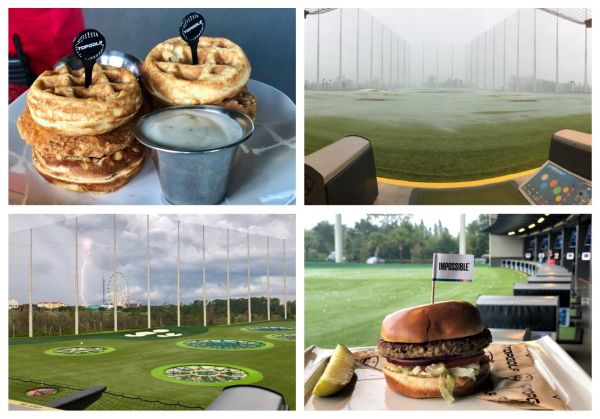 TopGolf Orlando is the place to be on a rainy day! With 100 climate-controlled hitting bays, rain or shine, your game time will always be well spent at TopGolf! Choose from over 8 different styles of play, and hit the range giving your best swing! But, once you're done swinging, take a seat in a comfortable lounge chair in your bay, and order up a delicious meal that has been put together by an accomplished Executive Chef! Their menu features twists on your favorite American classics and tons of unexpected creations, so your dining experience is sure to be as enjoyable as the games you play! Food, drinks, and golf… on a rainy day, what more can you ask for?
Summer showers are just a part of being in Florida during summertime, but while you're waiting for them to pass, be sure you check out one of the many indoor attractions on International Drive! Don't just find a place to stay dry, but rather seize the moment to enjoy a great time!