If you look beyond the castle turrets and a fantasy world of princesses and make believe you might catch a glimpse of some very real adventure options in and around Orlando. Many are action packed and adrenaline filled and provide a shot in the arm to any vacation that's threatening to be a little too prissy for its own good!
Revolution Off Road
So you're looking for something a bit different from your average theme park? It's time to experience the rugged side of Central Florida at Revolution Off Road. These guys have just taken delivery of a fleet of brand new Polaris ATV's that you can ride over 230 acres of winding tracks and wooded trails. These babies are state of the art and one sweet ride! Depending upon the weather the terrain may be very dusty or very wet  – but always dirty – sometimes VERY dirty!
The numerous trails include mud holes, dry sandy tracks, grass, and even some small hills (we do have SOME hills in Florida). It is a self-drive experience and as this company runs everything by reservation there is no waiting in line which is a refreshing change. They are also open 364 days each year, weather permitting so your opportunities for fun are boundless.After your 4 wheel experience why not check out the clay shooting experience – you instructor will walk you though a shotgun safety and skills demo then its over to you – just shout "Pull", try follow the moving target and squeeze the trigger. Bullseye!
Bass Fishing Adventure
Florida has some of the best large mouth bass fishing in the south. Aside from their 4 wheeled adventures Revolution Off Road (above) also offer a chance to chase a sporting fish famous for both its size and fighting capabilities. Guests of Bass Fishing Adventures get to fish a  60-acre private lake established over 30 years ago and stock with what are now trophy size bass. Your boat captain is an expert guide on these local waters and knows all the hot spots.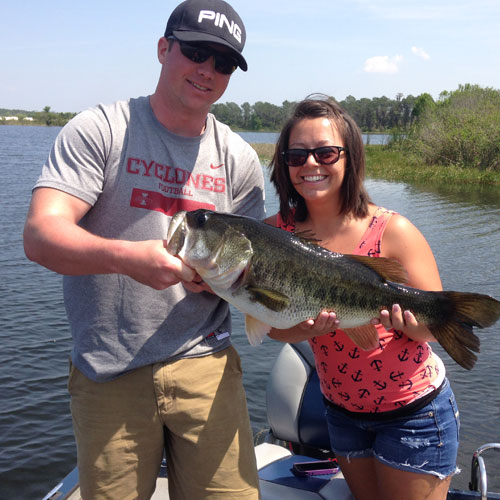 All your fishing equipment is included (Rods, reels, hooks and artificial baits along with life jackets and bottle water)  and your guide will happily give you as much assistance as you require. You can of course welcome to bring their own gear and favorite lures. CPR (Catch, Photograph, and Release) is practiced so that big one gets to fight another day.
Boggy Creek Airboats
Day and night Boggy Creek's custom airboats set out on some gnarly nature tours conducted by a crew of very friendly, extremely knowledgeable captains. Central Florida's wetlands are the headwaters of the Everglades –   they literally teem with alligators, turtles, hawks, and water fowl. Boggy Creek Airboat Adventures is a thrill for all ages – skimming over shallow water with the wind in your hair and a quite probably smile on your face! Choose from half hour or hour long tours (the time flies by, quite literally) – there's even a U drive option where you can try your hand in the captains chair!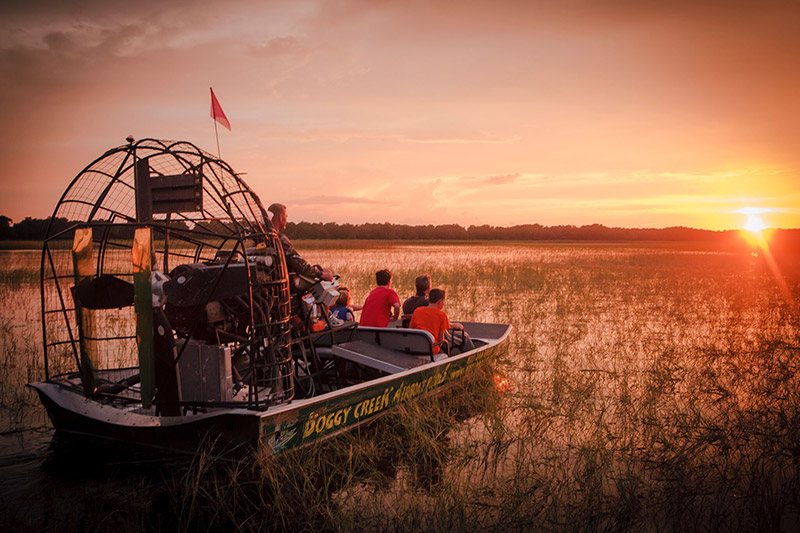 The sunset tour is our particular favorite as the colors at the end of the day are stunning. You'l get some wonderful photographs. After dark you may want to hang around as the still lake waters come to life with it's nocturnal residents – powerful spotlights are used to pick out anything that moves and there's always lots to see. Gator's guaranteed! If you arrive hungry Boggy Bottom BBQ is the place to fill up on some southern 'smoke'. The  replica native American village is also very cool – the 'Big Mountain' family demonstrate ancient hunting techniques and regale you with stories of their ancestors.
Gatorland
Gatorland offers a long list of adrenaline filled 'add-on' adventure options to your day out.  On the ground The Stompin' Gator Off-Road Adventure features 12-foot-high custom off-road vehicles and 15-minutes of rocking and rolling around the property. Up in the air the Screamin' Gator Zipline takes you along 1,200 feet of high flying, heart pounding adventure over some of the park's star attractions, including Cuban and Nile Crocodiles – keep your feet up!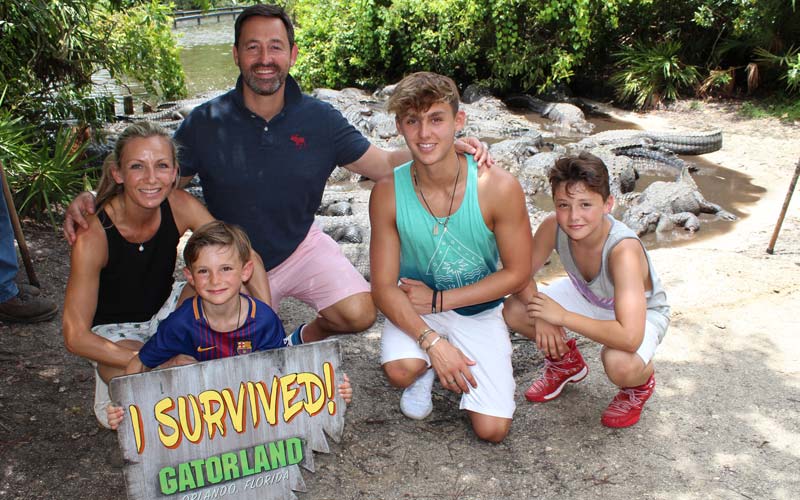 Adventure Hour is the opportunity to safely venture within a few feet of hungry, giant alligators and feed them – before posing for the cameras in front of your scaly dinner companions. Then after dark The Gator Night Shine adventure takes you out along the swamp walk with only a flashlight to see hundreds of glowing, red eyes slowly making their way closer! The Trainer For a Day Experience begins by meeting some of the smallest members of the Gatorland family. Then it's time to get up close and personal with some of the largest alligators and crocodiles – are you up for it? There's also a hands-on meeting with some of the reptiles and creepy crawlies and the grand finale is working with a Gatorland trainer in the Gator Wrestling Arena – tired yet?
Machine Gun America
Here's  a one-of-a-kind, bucket list experience you'll never forget! Fire real, fully or semi-automatic machine guns at Machine Gun America's 13,000 square foot facility in Kissimmee.  You'll find the team at Machine Gun America friendly, knowledgeable and very safety-conscious. Each live shooter is assigned a Range Safety Officer (RSO) who provides educational training on the weapons and stays alongside each guest throughout the duration of their live fire shooting time to provide ongoing instruction. Consequently all ages and ability levels can feel confident and enjoy an optimum shooting experience.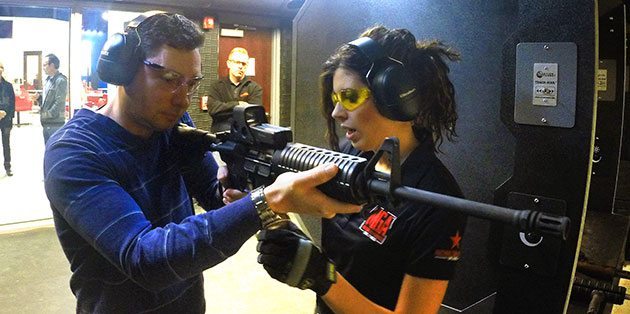 This location has one of the largest and most diverse arsenals in the country. Choose the James Bond 007 Experience or take on a Special Ops mission that will arm you with four of the exclusive weapons used by Navy Seal Team 6.  The 'Legends' option includes use of an AK-47 and .44 Magnum made famous by Clint Eastwood's Dirty Harry – so why not go on and make your own day!
I-Drive NASCAR
Here's a place that has everything you need to get your heart racing, adrenaline pumping & the competitive juices flowing among friends or family members. The kind of  karting offered by NASCAR I-Drive Indoor Kart Racing is just great because rain or shine, the excitement is always guaranteed!  These sleek state of the art electric race karts can reach up to 45MPH which feels extremely quick when your rear end is just inches off the floor.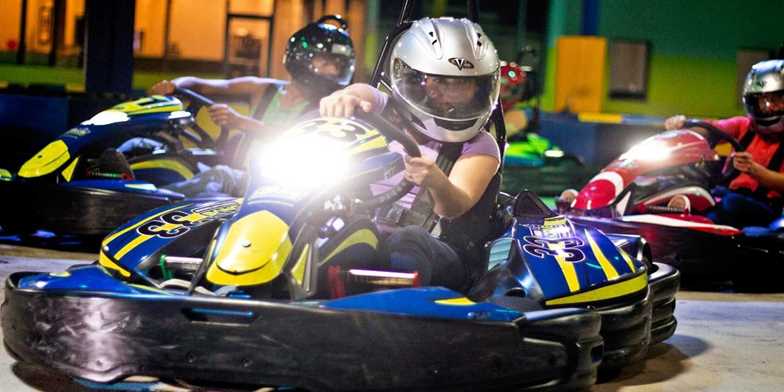 The neatly designed circuit has 12 turns, 3 hairpins, a fun chicane and the Senna 'S' bend. The quicker you go it demands some  driving skill and precision. There's also a family arcade area with over 60 games, 3 pool tables and a 4-lane bowling alley, a full-service restaurant and bar with happy hour specials that gives spectators a 180 degree view of the race track.
Wild Florida Airboat Rides & Gator Park
The boundless lakes swamps, & marshes surrounding Wild Florida Airboats & Gator Park provide a beautiful backdrop to this adventure. Whether it's your first time or your 50th, there's something about riding on an airboat through these Central Florida Everglades that makes you want to shout, "Again!" Wild Florida's experienced captains have a knack for being able to pick out alligators, eagles, and other wildlife that live out here and each time you head out onto the water, you'll see something different. Guests are provided with life jackets and ear protection and kids are well catered for (Children under 3 are free) You won't see any development out here so come see for yourself how good it feels to be in the middle of nowhere!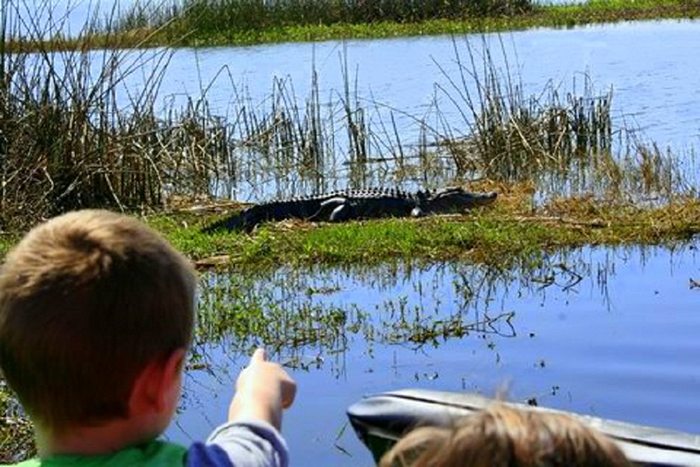 After your tour you can explore a wildlife park chock full of surprises – zebras, watusi, water buffalo , emus, lemurs, sloths, and other animals native to South America, Africa, and Australia. Visit the tropical bird aviary, hands-on alligator demonstrations,  and check out some very pleasant  nature trails. Look out for Wild Florida's new drive thru safari experience coming in 2019 – its the biggest expansion they've ever undertaken,
So what are you waiting for? Lets kick that vacation schedule up a gear!
Some of Orlando's Best Action Attractions 2019