Gatorland®, the "Alligator Capital of the World," isn't just a great place to see alligators, crocodiles, reptiles and other amazing animals, it's also Holiday Shopping Central with its award-winning gift shop where of course there's alligator themed gifts for all ages, and much more. Do the Holiday shopping at Gatorland for the Gator lover in your life.
Kids are king at Gatorland with popular plush alligators and crocodiles in every color and size, alligator hand puppets that look like the real thing, gator toys, chocolate alligators, and of course plush white alligators indicative of the park's new White Gator Swamp, home to the largest collection of rare leucistic and albino alligators in the U.S.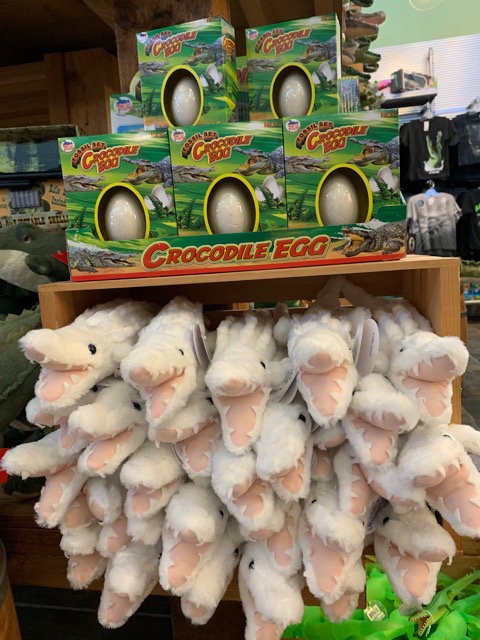 There's something for everyone with 70s, retro-style Gatorland T-shirts in tie-dye and neon colors for men, women, and children, ranging from $25.99 to $29.99 and an amazing sock wall with colorful socks for the whole family featuring gators, llamas, ducks and donuts in ankle socks, and even socks up to the knees. Men will love the Stetson hats and leather wallets, while ladies will adore an endless variety of purses.
"It's amazing how many people call us from all across the country requesting a specific item or wanting to replace a beloved stuffed alligator or other plush animals," said Alexis Lutz, Gift Shop Manager at Gatorland. "People recognize our merchandise and want more of it."
Alexis' inside scoop on hot items this holiday season includes sequin stuffed snakes for $13.99, the Swamp Juice red sangria from a Florida winery in Madeira Beach for $24.99 and local made red and white wines from Aspirations Winery in Clearwater for $24.99. Other local-made items that continue to be popular include the Saves The Bees Collection with candles, purses, shirts, and mugs supporting conservation of bee populations.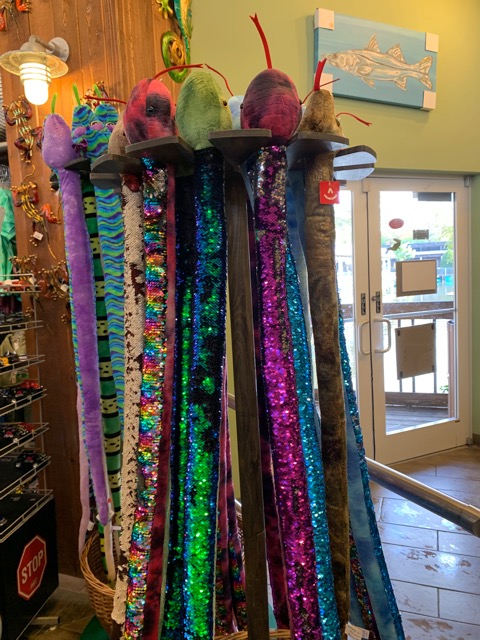 The Gatorland Gift Shop is open daily from 10 a.m. to 5 p.m. Admission to the park is not required to visit the gift shop.
Gatorland Annual pass holders receive 20 percent off merchandise year-round. "We have lots and lots of people every year who buy their annual passes during the Black Friday Annual Pass sale, just so they can receive the 20 percent discount to do all their holiday shopping. In addition, we can ship gifts for you anywhere in the country if you purchase them by mid-December," added Lutz.
To do your Holiday shopping at Gatorland by phone browse online HERE, and call Gatorland at 800-393-JAWS, extension 262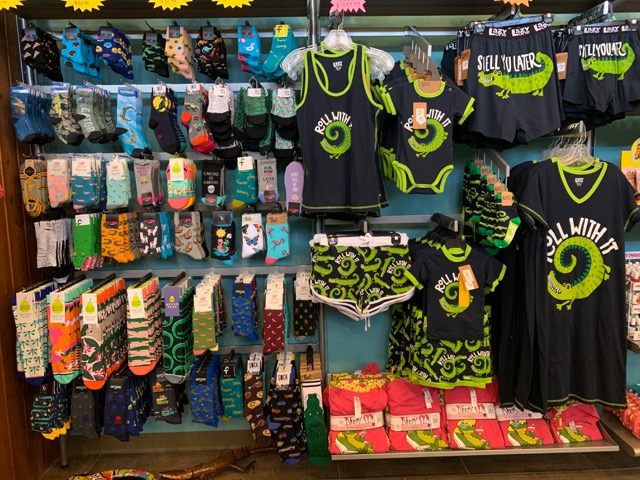 Gatorland is a 100-acre theme park combining Old Florida charm with exciting experiences, exhibits, and entertainment, including the brand new White Gator Swamp with the largest collection of rare leucistic and albino alligators in the U.S. Originally, opened as a roadside attraction in 1949, the park is celebrating its 70th Anniversary this year. Today, it provides affordably-priced family fun featuring thousands of alligators and crocodiles, breeding marsh with observation tower, free-flight aviary, nature walk, petting zoo, educational wildlife programs, award-winning gift shop, Florida's best train ride, Gator Gully Splash Park, on-site restaurant and one-of-a-kind shows including Gator Jumparoo and Up-close Encounters. Popular adventure experiences inside the park include the Screamin' Gator Zip Line and Stompin' Gator Off-Road adventure. BUY TICKETS HERE.