Orlando Attractions Update – According to the Orlando Sentinel Wet 'n Wild, the longstanding International Drive water park, will close for good at the end of 2016.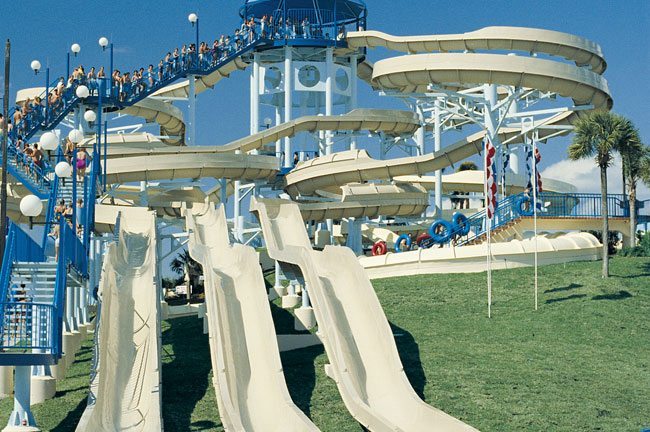 "We're grateful to our countless fans and team members for making Wet 'n Wild such a special place for so very long," Universal Orlando spokesman Tom Schroder wrote on Universal's official theme parks blog. The announcement comes less than a month after Universal announced it is building a new water park called Volcano Bay near the Cabana Bay Beach resort. That water park is expected to open in 2017.
Wet 'n Wild opened in 1977 and has been owned by Universal since 1998. The company was leasing the land until 2013, when it purchased Wet 'n Wild's 50-plus acres for $30.9 million. Schroder said it was too soon to discuss what would happen next with that land.
Wet 'n Wild was the 10th-busiest water park in the world in 2014, according to estimates in a global report from the Themed Entertainment Association. It attracted about 1.3 million guests last year, according to the report.
But that still made it the fourth-busiest water park in the Orlando market, lagging Walt Disney World's Typhoon Lagoon and Blizzard Beach, both of which topped the 2 million mark, and Aquatica, SeaWorld's water park, which attracted 1.6 million people, according to the report.
"Wet 'n Wild really was the first prototype of what you see today with all the water parks around the country," said Scott Smith, University of South Carolina assistant professor who teaches hospitality courses. "It is sad another piece of Orlando history that's going to be shuttered up."
Although Disney World's now-closed River Country predates Wet 'n Wild, the I-Drive park was a more intense experience, Smith said.
"River Country was more of a themed swimming hole. It wasn't built for efficiency and getting people through real thrilling water rides," Smith said. "It was kind of calm and sedate where Wet 'n Wild was the thrill park there."
The current version of Wet 'n Wild includes intense slides with freefalls (such as the Bomb Bay), enclosed "tornado"-style slides such as the Brain Wash, a lazy river and a wave pool. Recent editions include a children's play area called Blastaway Beach, built in 2012, and Aqua Drag Racer, a mat-slide attraction added last year.
Universal's 2013 purchase of the land where Wet 'n Wild sits totaled 52 acres on eight parcels. That included the park and a parcel under its adjacent lagoon, as well as its parking lot across Universal Boulevard and several smaller parcels that were vacant or held warehouses at the time.
Some experts expect the land to be used for hotel development. Executives with owner Comcast Corp. have talked about wanting to nearly triple their number of hotel rooms. With limited land available to do that, the Wet 'n Wild property provides an opportunity.
There will job opportunites for Wet 'n Wild employees at Volcano Bay and across Universal Orlando, Schoder said.
"It's our hope they will take on new roles across our destination," he said.