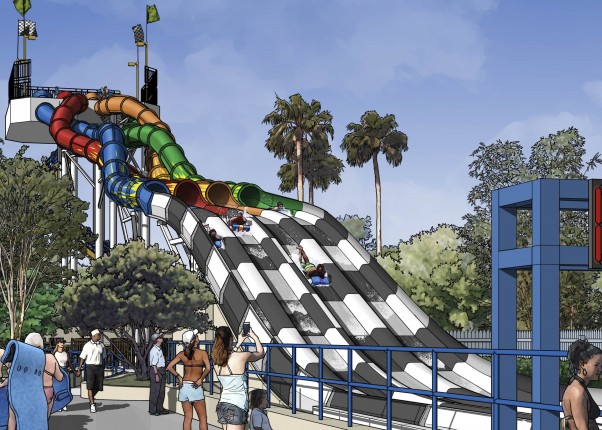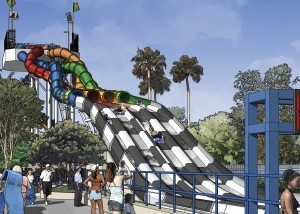 Orlando Attractions Update – Wet 'n Wild Orlando has opened Florida's tallest and fastest water-based racing attraction of its kind. The Aqua Drag Racer is six stories tall and propels guests through four lanes of head-to-head competition at fifteen feet per-second before splashing them across the finish line!
Guests take their mark, get ready for a full throttle adrenaline rush and then power through enclosed braided, twisting tunnels as they accelerate into four parallel racing lanes. They gain even more speed before rushing toward the finish line. The Aqua Drag Racer is designed to be the wettest and wildest high-speed drag race ever.
"The new Aqua Drag Racer pulls guests into a high-speed thrill ride unlike any other around," said Michael Black, Sr. Vice President & GM of Wet 'n Wild. "This ride combines friendly competition along with the excitement of sharing the rush with family and friends."
Wet 'n Wild, Orlando's premier waterpark, sets the standard for thrills and over- the-top excitement – offering world-class attractions to thrill-seekers of all ages. Families can share a wide variety of waterpark adventure, with more than fifteen themed rides and attractions and more multi-person rides than any other waterpark in Central Florida. Experience a deep space adventure that's light years from ordinary on The Black HoleTM: The Next Generation, encounter a splashing dose of group therapy on the Brain WashTM or boogie down on the retro raft adventure Disco H2OTM. At
Wet 'n Wild you'll find high-speed, seriously twisted, multi-person adventures that let you feel the fun and share the rush.