When rock singer John Mellencamp wanted to display his paintings in Central Florida, he skipped Orlando and brought his work to the Museum of Art-DeLand. In addition to the permanent collection, the museum is host to exhibitions, gallery talks and receptions, educational programming, master artist workshops and special events throughout the year. Discover West Volusia's vibrant cultural treasures at our numerous museums such as the African-American Museum, the Hand Art Gallery, and Gillespie Museum of Minerals or one of the largest private collections of minerals and gems in the Southeastern U.S. Come check out the many rotating collections at our museums or immerse yourself in the history of the state through the Legendary Florida exhibit located in the historic courthouse. West Volusia has arts, culture, and the rest is history.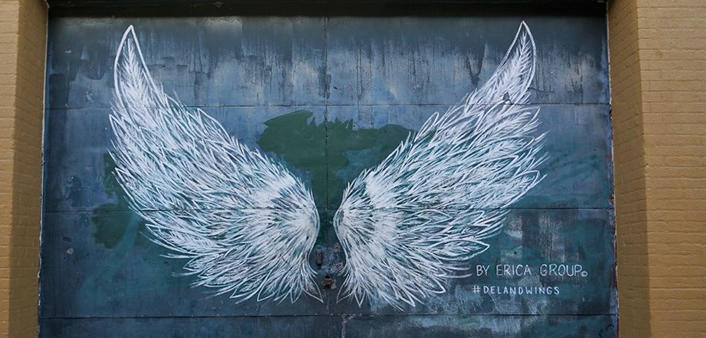 West Volusia County, Florida is where many visitors come to find what they consider the Real Florida. Then they come again and again because they love it!
The "Wings of the West" trail gives visitors a flight path to follow in seeing not only some of the most popular classic attractions of the area but also a fresh infusion of the kind of creative and quirky elements that make this destination unique.
The original DeLand Wings mural, created by DeLand native and artist Erica Group, has become an iconic photo spot in downtown DeLand. Now there are wings located throughout the destination at some of the area's most popular spots for visitors to West Volusia.
The downtown wings mural, located on Historic Downtown DeLand's Persimmon Lane, was the original creation in the series. What started as a chalk design used in a photoshoot for a local business has turned into the #DeLandWings social media sensation. There is a new vibe in this classic Florida downtown as artisans, retailers, brewers, and restaurateurs share their wares, creativity, and hospitality. It is home to art galleries, live theatre, and museums as well as a slate of annual events. Also home to Florida's first MainStreet program in 1985, DeLand was named "America's Best Mainstreet" for 2017 and has been ranked as Florida's best downtown outside Orlando.
Skydive DeLand (1600 Flight Line Boulevard, DeLand, FL 32724) – At one of the busiest drop zones in the world, many of the favorite selfies are being taken by visitors with their feet firmly on the ground. Nearly 100,000 people a year take the plunge here. Tandem jumps for beginners, Accelerated Free Fall (AFF) training and advanced jumps are all part of the program offerings. Near the on-site restaurant and gear store, Group's second set of wings, fittingly painted as biplane wings, can be found.
Barberville Pioneer Settlement (1776 Lightfoot Lane, Barberville, FL 32105) – This is home to one of Florida's premier living history demonstrations, a popular spot for history buffs and school groups and most recently, to a peacock wings mural. "Peacocks reside in the settlement and were the perfect muse for this set of wings," explained Group. "The scale of this set of wings falls somewhere between adult and child-size to please the generations that frequent the settlement." The village includes several structures set on its large grounds within a moss-draped oak hammock. On guided or self-guided tours, visitors learn of life in rural Florida in the late 19th and early 20th centuries.
Cassadaga (1112 Stevens Street, Cassadaga, FL 32744) – The Cassadaga Spiritualist Camp is a 122-year-old community of spiritually-minded people located in rural West Volusia. Visitors come for readings from resident mediums, for church services or just to take in the peaceful energy of the community. Many also attend tours, classes, workshops and, of course, visit the fabulous gift shop. Group's Cassadaga-inspired creation is a set of life-size fairy wings, free-standing in clearing at the end of the camp's Fairy Trail on Chauncey Street.
Lyonia Preserve (2150 Eustace Avenue, Deltona, FL 32725) – This 360-acre scrub habitat is home to nearly 100 Florida scrub jays, dozens of gopher tortoises and many other species that thrive in the Central Florida ecosystem. It is also home to the Lyonia Environmental Center, with its engaging and educational displays offering insight into this ecosystem, its flora, and fauna. A tour of the center offers an understanding of the county's environment, natural heritage, and ecological challenges. Visitors can also take to the three hiking trails of the preserve for a first-hand look. While there, they can also admire another of Group's creation, a mural of scrub jay wings, completed in October of 2018.
Lake Woodruff National Wildlife Refuge (2045 Mud Lake Road, De Leon Springs, FL 32130) – The 22,000-acre Lake Woodruff NWR, was established in 1964 as a migratory bird refuge, Bordered by the famed St Johns River on its western boundary, the refuge contains natural habitats including marshes, swamps, creeks, hammocks, and uplands. Manmade dikes form pools that attract waterfowl year-round and bald eagles, deer, marsh rabbits, otters, and gopher tortoises are common sights, as well. The final installment on the Wings of the West trail can also be viewed here. The swallow-tailed kite wings are tucked away at the very end of Mud Lake Road, park in the Live Oak parking lot. Past the gate and to the right, the wings are situated down the trail, under a big oak tree.
Other popular draws to West Volusia include the DeLand Mural Walk and the DeLand Sculpture Walk. Watch as West Volusia's past unfolds before you like a giant book as you stroll the DeLand Historic Mural Walk. More than a dozen murals portray scenes of the region's early settlement. It's a creative showcase commemorating the city's bygone days and beloved citizens. As you view the murals, take the time to search for hidden elements that artists have cleverly placed in them for you to find.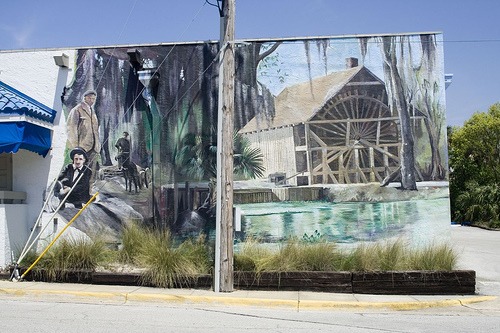 The DeLand Sculpture Walk brings interesting visual works of art to public spaces. Developed by the Museum of Art-DeLand, the exhibit of original outdoor sculptures depicts a variety of artistic styles and materials, which rotate annually. Stop into the Visitor Center today and pick up a hardcopy of the Sculpture Walk Map and Brochure.
Events to Remember
DeLand Fall Festival of the Arts – November 23rd and 24th – Woodland Boulevard blossoms into an artist's garden of color every November, as DeLand, Florida hosts the Annual DeLand Fall Festival of the Arts. More than 180 National Artists will display and sell their artwork in the historic downtown shopping district, just in time for holiday gift-giving.
Florida Arts Tour – February 22nd and 23rd – A free, self-guided driving tour through some of West Volusia's most popular artist studios and cultural venues.
ABOUT WEST VOLUSIA:
The West Volusia region is a destination with stories to tell, history to share and fun to have. Nestled between Orlando and Daytona Beach, West Volusia encompasses fourteen communities with an eclectic collection of accommodations and attractions. The authenticity travelers are looking for is here. From top-rated downtown DeLand to the scenic St. Johns River, this is real Florida. And what variety it offers! West Volusia has arts, culture, and the rest is history.