Is Winter Haven in Polk County, FL the Water Ski Capital of the World? For these international skiers, the answer is a resounding "YES!"
There is no gentle way around it – Florida is hot during the summer. With temperatures in the 90s and high humidity, a walk outside often feels more like a sauna than a stroll.

The best way to stay cool, of course, is to be in the water. Or on it.
Central Florida is blessed with beautiful lakes and gorgeous weather – the perfect combination when it comes to water skiing. In fact, water skiing is so popular in Winter Haven, the town has earned the nickname as "The Water Ski Capital of the World."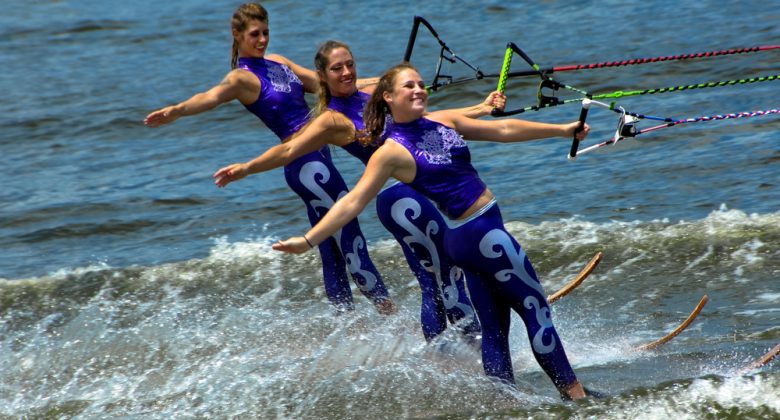 But don't take our word for it.
German natives Nancy Hirschfeld and Karsten Fahlbusch found Winter Haven through a water ski school recommendation. More than a decade later, they still return twice a year.
"We were part of a German water ski show team," said Nancy. "We visited a team in Fort Myers in 2004. When I asked them where I could learn swivel skiing, they directed me to Betty Bonifay in Winter Haven."
A visit to Winter Haven – and time on Winter Haven's Chain of Lakes later – they were hooked.
"We love the chain, and the ability to train from sunrise to sunset," she said, adding that waterway laws in much of Europe greatly restrict their ability to be on the water. "This is something we cannot do in Germany." Hirshfeld and her husband Karsten – along with a team of fellow Germans – trained last year in Winter Haven in preparation for the 2018 World Water Ski Show Tournament in Ontario, Canada.
"This is really a great place to bring a lot of Germans from all over Germany together," she said. "Many stay in a house together on Lake Winterset and practice swivel, barefoot and hydrofoil."
A testament to the family nature of the sport is German show skier Janine Herr, who brought her 10-month-old son, Mick, along while she trains in Winter Haven.
There is another bonus, however. "There are so many schools here for different show skiing skills," she said. "Plus they can give advice on building pyramids, doubles and anything else you can think of. The experts have schools in Winter Haven."
One of those schools is none other than the World Barefoot Center in Winter Haven. With an international cast of instructors, the center welcomes both amateurs and professionals.
"The vast majority of our customers come here for instruction," said Ben Groen, a native of New Zealand and a WBC instructor. "It's a proven method and proven success."
And a good portion of his customers are from out of town. "In just April we had folks from Canada, Australia, New Zealand, Italy, Germany, Belgium. Even Iceland," said Groen. "Part of it is that our staff of instructors is international as well, but certainly part of it is that Central Florida in general and Winter Haven, in particular, is the greatest place to water ski in the world."
Water skiing, explained Groen, has a history of giving back to the sport. "Everyone who waterskis remembers the first person who showed them something," he said. "So sure, sometimes we train people we compete against. Each instructor here is a champion in their own discipline, and Swampy Bouchard, he coaches all of us."
Located along Lake Conine, the staff includes numerous world champion record holder Australian Ashleigh Stebbeings, numerous title and record holder David Small of Great Britain, legendary instructor Bouchard from the United States and multiple medalist Groen. "We have so many champions, we have some folks who come here just to say they water skied with one," said Groen. "About 50 percent of our instruction is individuals."
And while they may be on the water, even water skiers prefer not to ski in the summer. "Springtime is when we get most of our Europeans," he said. "In October, we mostly get individuals, although we've had everyone down here from the French barefoot team to the Germans."
Another example of Winter Haven's dominance as a water ski training ground is the story of Belgian Caro Gilis. Gilis has traveled to Winter Haven for water ski training – specifically, swivel ski – numerous times.
"I keep coming back because you have the most opportunities to train and learn," she said. "And the weather is nice. In Belgium, the water is really cold." Gilis, part of Showteam Gierle, also competed in the World Water Ski Show Tournament in September of last year. During this visit to Winter Haven, she's training with fellow Belgians from other water ski teams to compete in the Youro-Kup, to be held at Roquebrune-sur-Argens in southwestern France, home to the French National Water Ski Training Site. "Winter Haven is, for us, the place to be if you are into waterskiing because the sport was born here," she said. "And everyone knows that most of the top skiers in the world live here."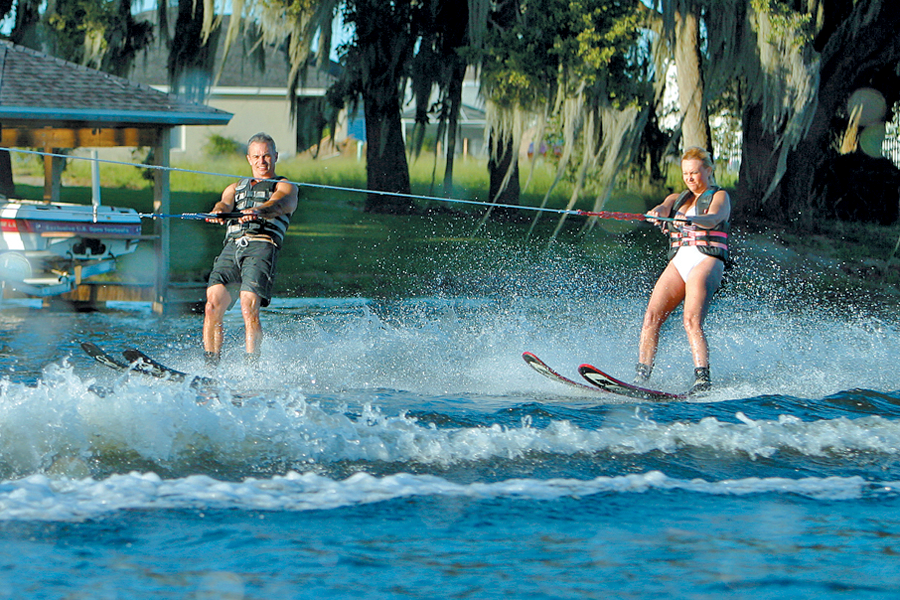 "We love all the lakes here and the beautiful nature," she said. "The only thing that Winter Haven needs is a cozy town center, where everyone hangs out, like the ones we have in Europe." Having grown up in a family of water skiers, Gilis took to the water young. "But I've become a fanatic about the sport for the past few years," she said. "So I keep coming back to Winter Haven."
So much so that she now has a network of friends and coaches. "Shauna Pasanen from Knotty Girl, Christy Anne Pentrice, Jac LeDoux Lyman, they have all been wonderful to work with," she said. "The kindness of the water skiers here and at the World Barefoot Center is fantastic."
It is a sentiment echoed by Nancy Herschfield. "Now, when the plane lands at the airport here, we say we are home," she said. "We're home again."
So if you are looking to expand your waterski skills, or try it for the first time, Polk County is the place to be!