Our friends at Revolution Off Road have introduced the Myakka Adventure Experience! This fun family ride takes place in a specially adapted Deuce-and-a-Half Army truck. This beast is actually an 8 wheeled truck with 20 passenger seats up top for a bird's eye view of the 220 acres of property including the crystal blue lakes, Florida woodlands, wetlands and there's a good chance you'll spot some local wildlife.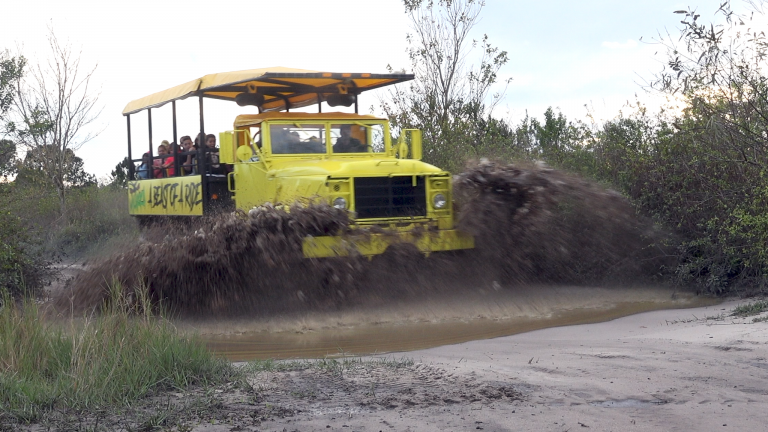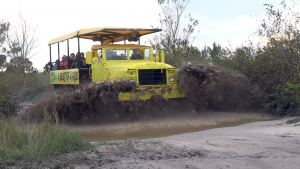 The Myakka has the ability to drive over all types of terrain. Although not designed for speed, it can handle the tracks and trails ease, even the hilly bumpy ones! As you travel around the trails, your guides will point out areas of interest, local critters if they are around, and keep an eye out for "Myakka Man's" favorite hideouts. Kids need to keep their eyes peeled for his bright red eyes shining, his footprints and his lair!
There is a canopy on the vehicle but the sun may get in your eyes so sunglasses are a good idea. The Myakka is fun for the whole family and a unique addition to a birthday party for all ages. Please note that to ride in the Myakka you must be able to sit upright unaided and will be required to wear a seat belt.
The session lasts around 2 hours including the safety briefing
You must be 16 years of age or older to drive and have some form of valid photo I.D.
All riders must have completed and filed a waiver release form prior to arrival. Safety equipment including helmet and goggles are included in the fees however you should wear closed toe shoes and old clothes