While there is much to do and see in Tampa, Florida, two attractions are a must-visit for animal lovers. Both are accessible at a discounted rate with the Tampa ZooQuarium ticket! So visit two iconic attractions with Tampa's Zooquarium experiences.
The Florida Aquarium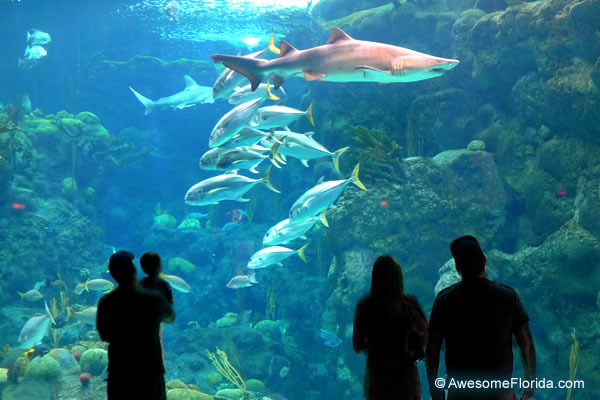 The Florida Aquarium is located in the scenic channel district of downtown Tampa along the trolley route and between 2 cruise ship terminals. This nationally acclaimed Aquarium is not only known for its groundbreaking conservation work but continues to thrill guests of all ages with its unforgettable exhibits and simulated wetlands and coral reef habitats. This year also marks the exciting 25th anniversary of its opening as it continues to entertain, educate and inspire stewardship of the natural environment!
In addition to offering guests a look at the thousands of species that call Florida and its coastal waters home, The Florida Aquarium also offers the opportunity to see several non-native species. One of the more exotic exhibits is Journey to Madagascar. This island country in the middle of the Indian Ocean just east of Africa is home to unique wildlife, over 80% of which cannot be found anywhere else! The Aquarium's tree-house themed exhibit includes chameleons, frogs, geckos, colorful coral and reef fish, plus Ring-tailed Lemurs.
Beyond the thousands of fish and animal species you can view at The Florida Aquarium are several notable interactive touch pools you can experience as well. The first of which can be found right in our main lobby at the Moon Bay exhibit where guests have the opportunity to touch Moon Jellies, a species that has been around for over 500 million years!
Other opportunities to interact with animals include the Stingray Beach exhibit where guests can touch the popular Cownose Rays that frequent the waters of the Gulf of Mexico and the No Bone Zone where guests can touch invertebrates such as Sea Stars and Sea Anemonies.
The fun doesn't stop at the interactive exhibits! Guests have the option to purchase additional premium experiences to make the most of their time at the Aquarium.
The Wild Dolphin Cruise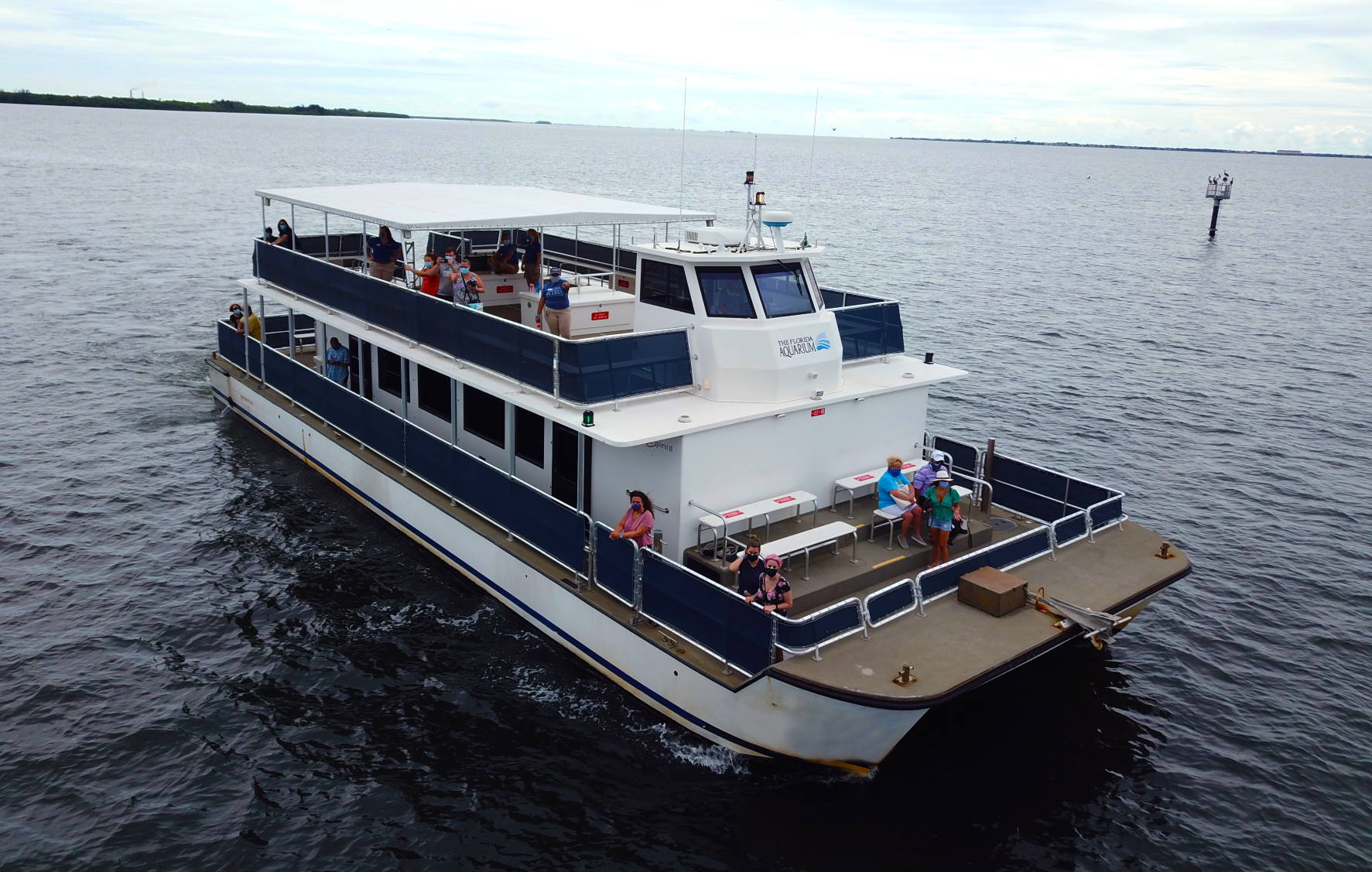 Welcome aboard the Bay Spirit II for an experience the whole family will enjoy! This 75-minute cruise on a 72-foot catamaran takes guests into the local waterways to view the incredible ecosystem of Tampa Bay and the abundance of wildlife that calls it home. The cruise experience is guided by one of the Aquarium's knowledgeable naturalists who will point out animals of interest, share Tampa's port history, and answer questions guests might have about the Tampa Bay ecosystem. There's a better than 80% chance of seeing dolphins in the wild!
Penguin Backstage Pass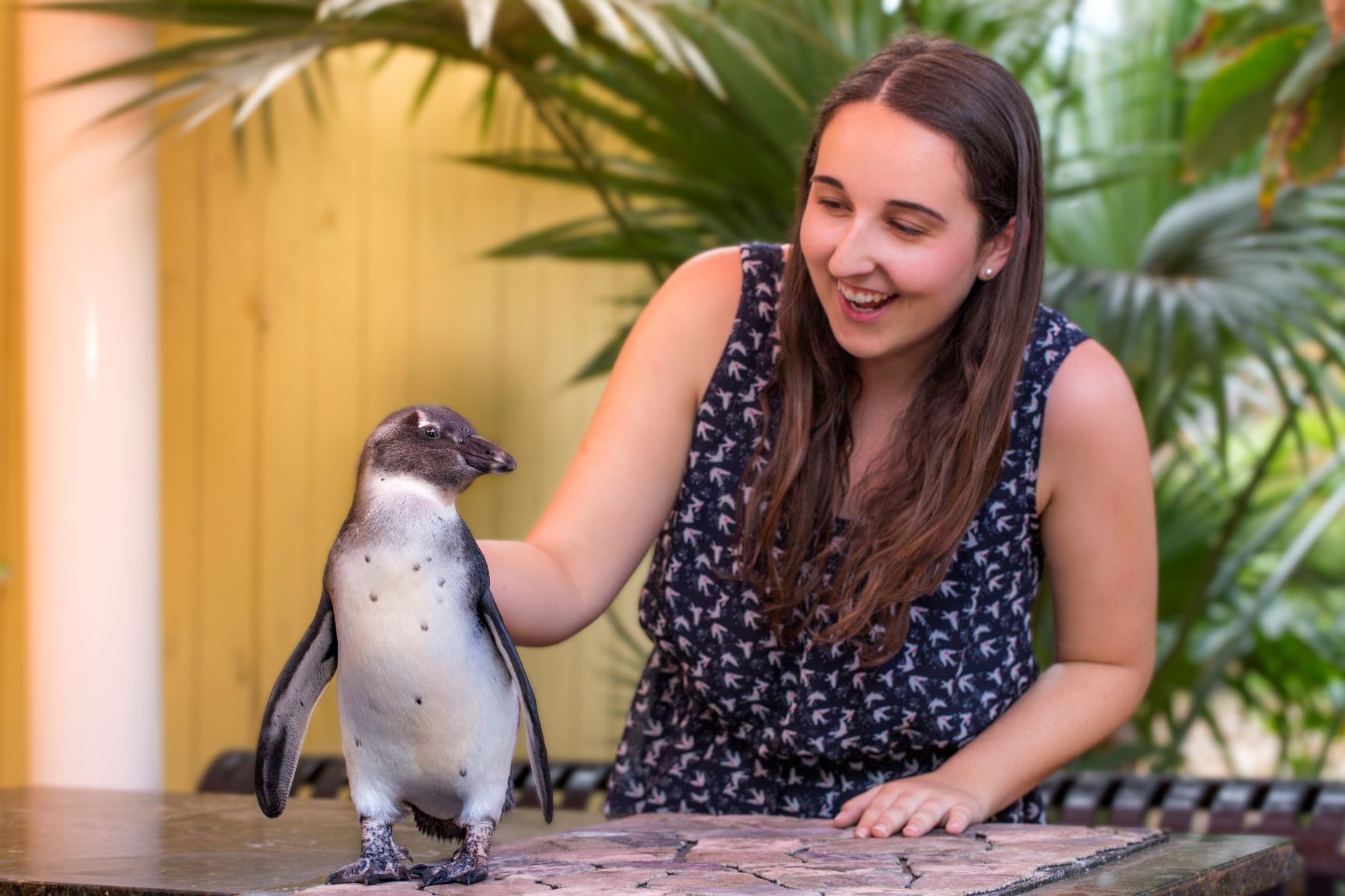 This is a private, educational experience for guests to interact up-close with endangered South African penguins! Led by a biologist, see penguins waddle, swim, shake their tails and jump in and out of their interaction pool. There's plenty of time to ask the biologist questions about these remarkable birds and their specialized care, plus take photographs!
Swim with the Sharks Program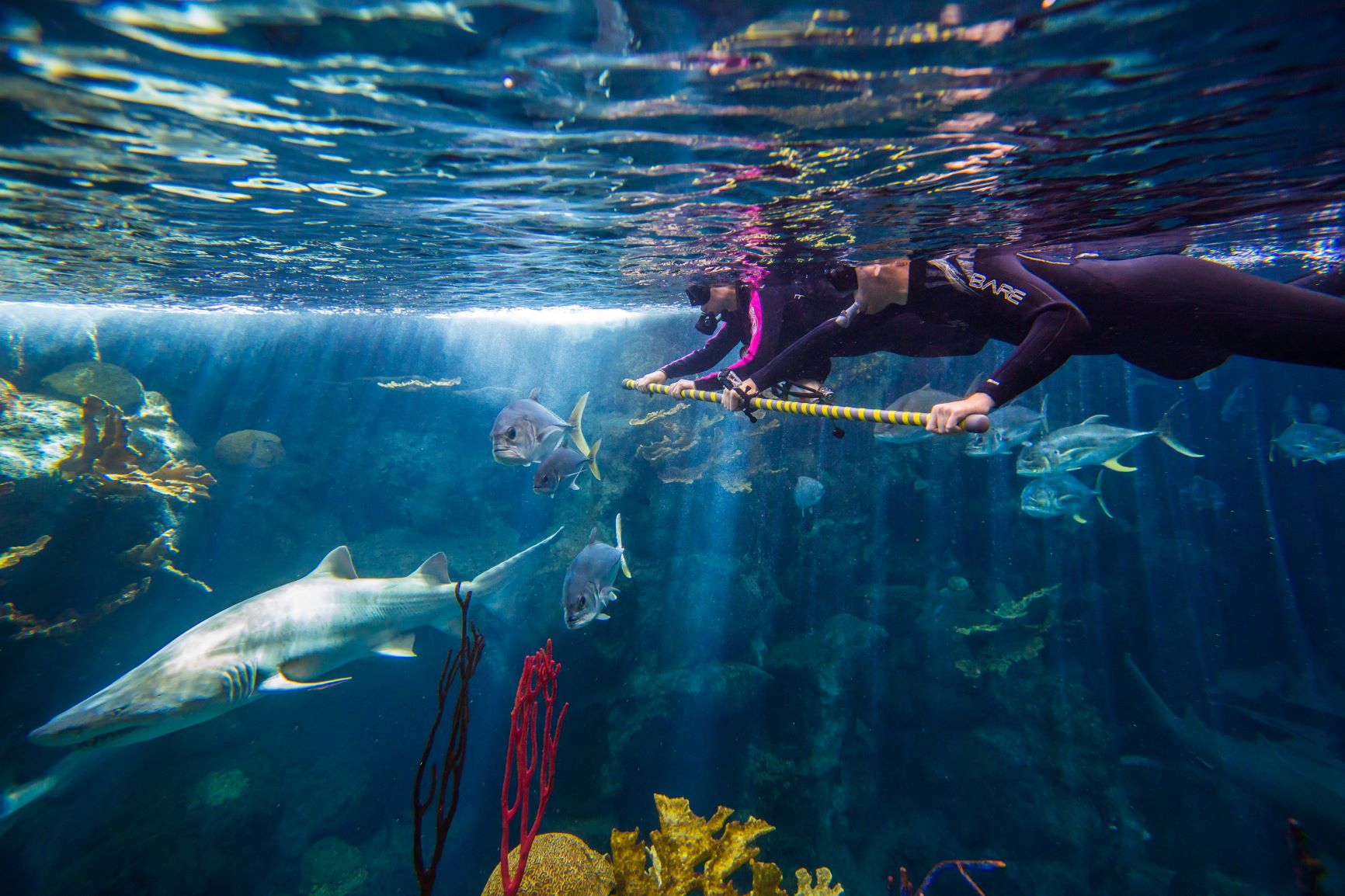 The Swim with the Sharks program allows guests to swim in the Aquarium's largest exhibit! Between 1 and 4 visitors are welcome to enjoy a snorkel-like adventure alongside more than 1,000 marine life including stingrays, barracudas, a sea turtle, and a sand tiger shark. This swim offers all the thrills with no SCUBA certification required. Guests age 9+ are welcome to jump right in!
Visit two iconic attractions with Tampa's Zooquarium ticket by heading off to ZooTampa next!
ZooTampa at Lowry Park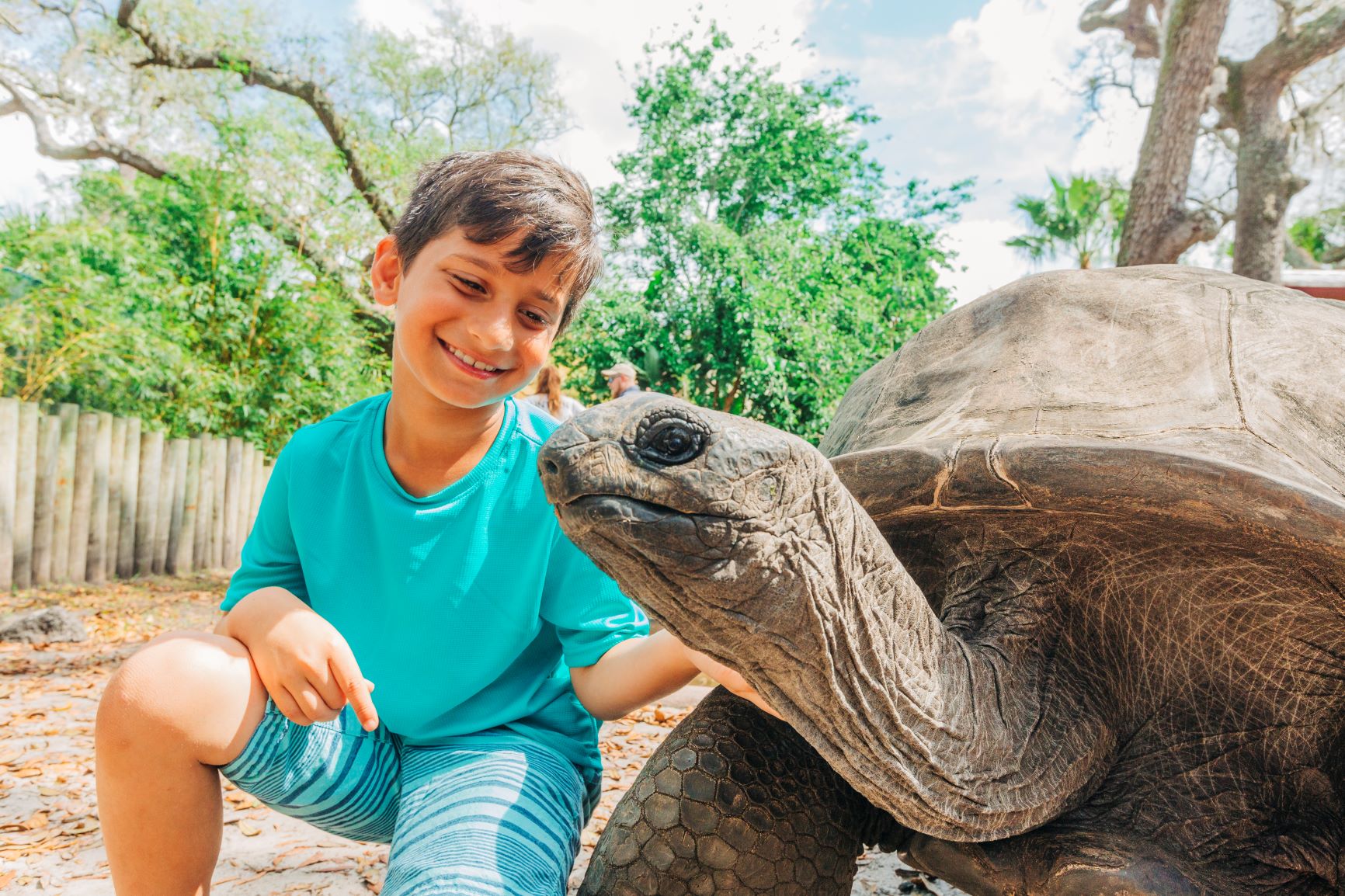 Connecting with amazing animals in an open-air environment is a prominent reason why people love visiting ZooTampa. There goal is to make an impact on every visitor that walks through the gates and to provide them with memorable experiences with wildlife that last a lifetime!
One of the most popular offerings is the Signature Encounters which give guests an opportunity to get behind-the-scenes and connect with many incredible species. From a meet and greet with the world's largest mammals (such as our elephants) to exploring the habitat of an animal that likes to take it slow (like our giant tortoises), each encounter offers a diverse and new way to interact with amazing wildlife and learn from the team of professionals that care for them every day. ZooTampa offers ten diverse Signature Encounters which range in price from $12-$25. Which adventure will you want to go on your next visit? Let's explore the options!
The popular African Penguin Backstage encounter provides a behind-the-scenes look at how we care for this endangered species and a tour of the penguin habitat. It is the perfect opportunity to learn about their colony and ask questions from an expert aviary caretaker.
The Koala Photo Encounter Presented by the Yob Family Foundation is perfect for the marsupial lover in your group. Tour the koala habitat and see them like never before. The fun doesn't stop there, this encounter comes with a commemorative photo with their koala so make sure you smile and say "eucalyptus!"
Learn about one of the largest animals in the world and get a chance to feed it? That is the experience at the Indian Rhino Feeding Encounter. Unlock your inner zookeeper and feed this rare species while learning all about their plight in the wild and the ways you can help to conserve them! Just be sure to watch out for the slobber!
If their rhino encounter just isn't enough! Don't miss the Southern White Rhino Backstage Encounter featuring their newest and cutest member of the crash, Kayin. Go behind-the-scenes to the Rhino barn to experience the massive presence of this important animal. You and your family will learn amazing facts from those who care for them at ZooTampa!
Get eye-to-eye with the world's tallest animal at the Giraffe Meet and Greet! Find out all about the amazing giraffes during a training session – where you're the assistant! You'll get up-close to these amazing animals, ask questions, and learn about the positive reinforcement techniques we use with all their animals. Then, strike a pose for an epic selfie!
Take things nice and slow at the Albabra Tortoise Encounter! Get up close to these gentle giants and experience the sensation of being next to animals that can live up to 150 years old! These tortoises love being around people and even enjoy a few scratches here and there too.
Did you know that ZooTampa is one of only four manatee critical care facilities in the state? On their Manatee Critical Care Center Backstage Encounter, you can tour ZooTampa's state-of-the-art facility and learn about the specialized care they give to sick, injured, and orphaned manatees. Plus, meet a member of the dedicated team who cares for them each day with the ultimate goal of re-introducing all "patients" back to their native Florida waters.
What's it like to care for the largest land animal on earth? Find out first-hand on our African Elephant Backstage and learn how our animal care team utilizes learned behaviors to ensure our African elephants are maintaining optimal health and welfare. Plus, watch a real training session and talk to the professionals who interact with these amazing animals every day.
Don't miss an unforgettable adventure with amazing wildlife on one of our ZooTampa Signature Encounters!
Health & Safety Information
The Florida Aquarium and ZooTampa at Lowry Park have adopted new safety requirements to help stop the spread of COVID-19. The Florida Aquarium has undergone a complete safety inspection from Tampa General Hospital and has earned its Infection Prevention Approval. ZooTampa has invested the time to create and implement a stringent and extensive modified operational plan that sets a new standard in the zoological industry for safety and sanitation protocols. Both attractions will continue to take extraordinary safety measures for as long as deemed necessary by healthcare professionals and local government. For a complete list of the safety guidelines and requirements implemented by these attractions, please visit the following links:
Make the Florida Aquarium and ZooTampa at Lowry Park part of your next Florida vacation and visit two iconic attractions with Tampa's Zooquarium ticket!