Brightline's new partnership with Sir Richard Branson's Virgin Group has revealed new details of the proposed train service from Orlando to Tampa, from the cost of building the route to ticket prices.
In a 200-plus page regulatory filing, the Coral Gables-based Brightline — which will be rebranded Virgin Trains USA in 2019 — provides insight on its financial standing and future plans, including what's to come with the Tampa route.
The filing dated states that Brightline anticipates commencing passenger rail operations for the Orlando-Tampa expansion in 2021 and that route, being served with Virgin trains, would only be an hour-long travel time for passengers.
The filing mentions multiple times that the planned Orlando-Tampa expansion and in Las Vegas both will be costly. The Orlando-Tampa expansion, according to the filing, will be funded through the net proceeds from the Virgin partnership, the concurrent private placement and/or future debt or equity financings.
The Orlando-Tampa expansion is expected to cost $1.7 billion, according to the filing. Brightline is roughly $625 million in debt and that figure is expected to increase substantially with the construction of the Orlando-Tampa expansion and others in the works, according to the filing.
"Our ability to expand, including the Tampa expansion and the Vegas expansion, is dependent on our ability to raise funds through various potential sources, including equity and/or debt financing. We will need substantial additional funds to meet our expansion plans, including construction of the Tampa expansion and the Vegas expansion, and we have not yet secured such funds," according to the filing.
Brightline doesn't disclose exactly where the Tampa station may be located, but did say it would be downtown and that "the Tampa expansion is contingent on our ability to obtain certain land rights, which requires that we demonstrate the financial wherewithal to complete our Florida passenger rail system. We have not yet acquired all real property interests necessary for the Tampa expansion or the Vegas expansion (some of which must be acquired from private parties), and our ability to acquire such interests may be adversely affected by many known and unknown factors."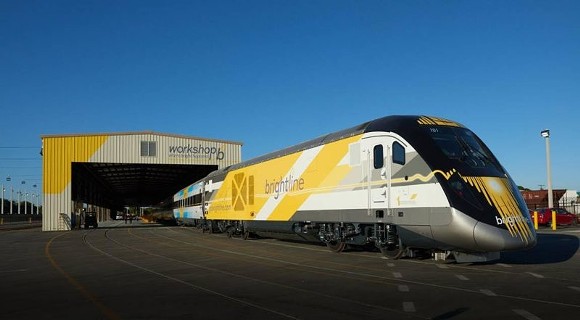 Brightline had also included projections of ridership that include the Orlando-Tampa route by New Jersey-based infrastructure consulting firm Louis Berger. The consultant estimated the total potential addressable market across the Miami to Tampa corridor to be approximately 413 million trips annually.
A request for comment from Brightline executives is pending.
When the Florida passenger rail systems are fully built out and operational between Miami and Orlando, Brightline said it expects to carry approximately 6.6 million passengers annually and that a fully built out and operational service between Orlando and Tampa would carry an additional 2.9 million passengers annually, which would result in fully operational annual stabilized ridership of approximately 9.5 million passengers.
The company anticipates the Florida passenger rail service to stabilize by the fourth quarter of 2023 or the first quarter of 2024 following an estimated two-year ramp up period, during which ridership is expected to increase as travelers become acquainted with the new rail service and adjust their trip-making habits.
The consultant estimated the service between Miami, Orlando and Tampa to generate approximately $810 million of total revenue in its first stabilized year. The ticket price for the Orlando-to-Tampa route will be $35 per passenger, although it's unclear if that price is for a one-way ticket.
To arrive at this estimate, Brightline's management applied a combined annual fare growth and inflation rate of approximately 2.8 percent to Louis Berger's estimates, projecting annualized ticket revenue of approximately $700 million by the fourth quarter of 2023 or the first quarter of 2024.