Orlando, Florida is a lovely place to spend Valentine's Day. The beautiful weather, abundance of parks and restaurants, and awesome atmosphere means that it is a place where you and your sweetie will surely love spending some quality time together.
With all of the choices you have available, which ones are the best for spending February 14th? This list has something for every couple to enjoy the special day together.
Propose with a dolphin at Sea World's Discovery Cove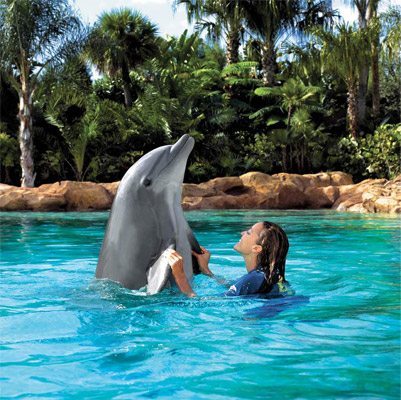 Embrace your sweetheart's inner mermaid and take them on tranquil date at Sea World's Discovery Cove. There are three celebration packages to choose from, and they all will delight the love of your life. One popular option is to have a dolphin deliver a special package, the contents of which you can choose. There are plenty of beautiful and romantic aspects of Sea World's Discovery Cove, including private cabanas, up close animal encounters, plenty of ways to relax, food and beverages included and sandy beaches.
Other theme parks in the Orlando area have beautiful and romantic opportunities as well.
Walt Disney World Resort
Walt Disney World Resort has horse drawn carriages that will take couples through Disney's gorgeous scenery. Take a step back in time on one of two routes.  You can a carriage ride through Disney's Port Orleans Resort area or Disney's Fort Wilderness Resort & Campground.
Another tour that is offers is a guided tour of Disney Springs with a Venezia Champagne Cruise. You can take a 30 minute or 60 minute edition. There is also a one hour Venezia Wine Tasting Cruise. Both of these are on a 40 foot Italian water taxi, which create a romantic atmosphere.
You can only take the wine tasting cruise on weekends, and you need to make reservations first. Making reservations are recommended for the daily champagne cruise.
Disney Springs has another water related activity. You can take an Amphicar tour, which is available every day. It lasts around 20 minutes, and you take a spin on a restored vintage Amphicar, which works on both water and land. All of these meet at The Boathouse restaurant if the weather permits.
Opera and Chocolate Dinner at Universal CityWalk
This chocolate infused dinner at The Toothsome Chocolate Feast Kitchen at Universal CityWalk is more than a box of chocolates. After your dinner, you can take a free ride aboard one of the water taxis at Universal Orlando Resorts. It travels between Hard Rock Hotel at Universal Orlando, Loew Royal Pacific Resort at Universal Orlando and Loew Portofino Bay Hotel at Universal Orlando.
At the Loews Portofino Bay Hotel when the sun sets, you can enjoy the live music series that features a blend of pop and opera called popera.On Februrary 15, the hotel is hosting "Harbor Nights Romantica," which is a special evening in the Harbor Piazza from 6:30 to 9 pm. It costs $65 for regular admissions and the VIP is $95.  The event will have unlimited foods and wines from each of the hotel's amazing restaurants as well as live music and dancing.
Kayaking For Couples
Get Up and Go Kayaking are offering a discount of $5 a person when you use the promo code ClearlyMine. It operates out of locations like Rock Springs in Apopka and Sunset Tours in Winter Park. They use kayaks that are clear so you can see the water better. Travel through three of Winter Park's beautiful lakes.
Hoop It Up With Your Valentine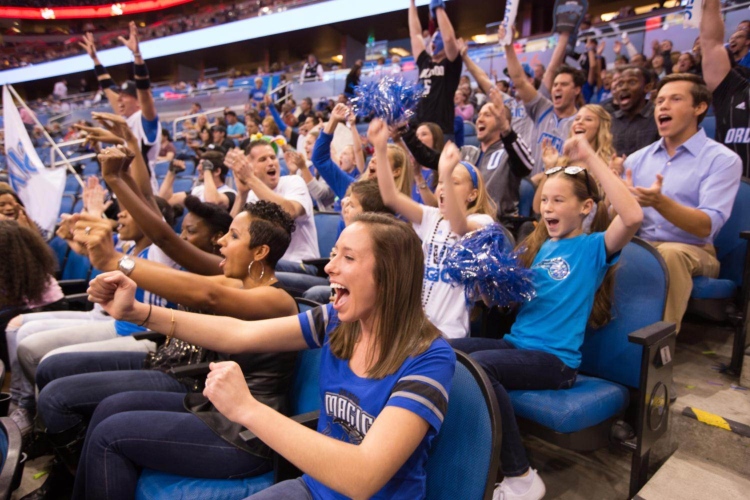 Sports fans can enjoy a basketball game. Orlando Magic is playing a match with Charlotte Hornets on February 14. Fans can get discounts with the code VALENTINE2019. They are playing at the Amway Center in downtown Orlando.
Forever Florida With Your Forever Partner
Adventurous couples can take a zipline tour with Forever Florida — Ziplines & Adventures in the Wild! Get 20 percent off its zipline adventures, with choices like Horseback Riding and Trail Buggy Nature Tour, 7 Zip Adventure or the Adventure Pack. When you are booking it, save with the code LUV2019
Free Valentine's Jazz Concert
A free event going on is DOWNTOWN WINTER GARDEN VALENTINE'S DAY CONCERT. The Breezeway Trio will perform an outdoor jazz concert for three hours in celebration of Valentine's day in downtown Winter Garden.
Love's In The Hood In Thornton Park
The Thornton Park District is putting on the Valentine's Day Thornton 2ndThursday Wine & Art Walk from 6:30 to 9:30. There is a two for one special love deal happening. You can take a walk and enjoy live music, art vendors, a card reader and stilt walkers as well as 22 places to stop for a drink.
A Laugh With Your Love
SAK Comedy Lab is having a special 90 minute Valentine's Day event. You can watch the popular Improv show performed with extra love. General admission is $22 a person. The couple's rate for the Sweetheart Special is $52 a couple which includes two free drinks and a popcorn they can share. The "extra" special is $72 a couple and it includes two free drinks, a popcorn they can share and also a message and photo for your date on the Valentine's Day slide show they show on the big screen.
Brews And Schmooze – Chocolate & Beer
Orlando Brewing is having an Annual Beer and Chocolate Pairing. You and your date can indulge in this self-guided beer and chocolate pairing which features four kinds of 5 oz beers paired with chocolates locally made from CayCakes Bakery.
Andrea Bocelli
Music fans can attend the legendary Andrea Bocelli concert at the Amway Center on February 13. If your loved one has a passion for music, this performer might be the Valentine's Day ticket.
Stringing Them Along
Well-Strung: A Night At The Movies is on Wednesday, February 13. The doors open at 7 pm and the show starts at 8 pm at The MEZZ. It features a New York City string quartet that delivers a combination of classic music with pop songs.
Whether you're trying to impress a new love or are looking for a walk down memory lane with your significant other, show your better half how much you love them by taking them out on a special date this Valentine's Day. Hopefully some of these ideas sparked your interest.