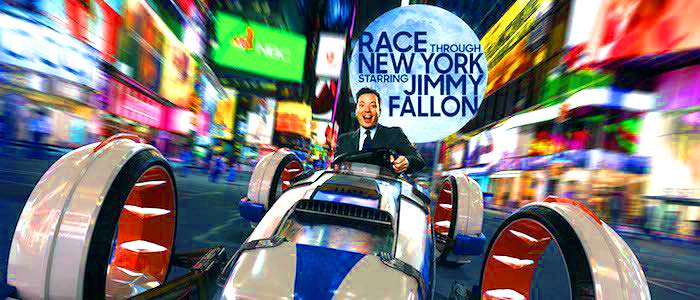 Universal Orlando has shared a few more fascinating tid-bits about Race Through New York Starring Jimmy Fallon, still under-construction ride at Universal Studios. The ride vehicle is being proclaimed as "the world's first-ever flying theater." seating up to 72 people.
Passengers will race 'Tonight Dhow' host Fallon through the streets of the city and see the Statue of Liberty, Empire State Building and other landmarks. Other Fallon-type activities within the attraction will include interactions with Hashtag the Panda, the opportunity to send the hilarious thank-you notes, or play a "Jimmy Drive" videogame.
Guests will also see also see props and set pieces from "The Tonight Show," including suits of hosts, cue cards and NBC cameras used to record the show, which Fallon has hosted since February 2014. The attraction, which is set to open sometime in spring 2017, will also include cameos by "Tonight Show" announced Steve Higgins and the show's band, the Roots.
An artists rendering from Universal shows a new big-city-inspired exterior with a glass corner and a marquis featuring a way-larger-than-life, full-length representation of Fallon and the ride's logo, which is similar to the moon-driven logo of the "Tonight Show."