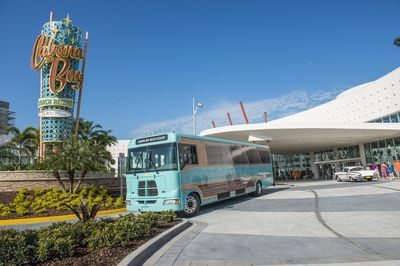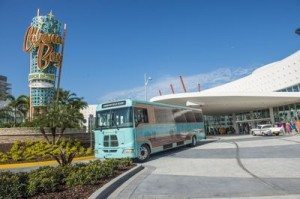 Orlando Attractions Update – It's open! Universal Orlando's retro-inspired Cabana Bay Beach Resort features a 10,000-square-foot zero-entry pool with iconic dive tower waterslide, 10-lane bowling alley, the Jack LaLanne Physical Fitness Studio, family suites that sleep up to six and much more. Remember when mom-and-pop motels dotted the Florida coast and "color TV" and "cold air" were a big deal? Universal's Cabana Bay Beach Resort, rewinds the clock to those happy days.
The colorful, retro-styled "moderately priced" resort opened Monday. When complete, Cabana Bay will have 1,800 rooms — half of them family suites that sleep six. (And, good news — the suites have kitchenettes, and the bathrooms have three sinks.) It's the fourth on-site hotel at Universal and about half the price of Loews Portofino Bay Resort at Universal.
This is a big year for Universal Orlando, since the new Harry Potter themed land opens this summer. Guests will board the Hogwarts Express train to get from The Wizarding World of Harry Potter Diagon Alley – the all-new, themed land opening this summer at Universal Studios Florida — to Hogsmeade, the Wizarding World of Harry Potter area in Universal's Islands of Adventure.
If you're short on magic, head over to Cabana Bay's Swizzle Lounge and enjoy a retro-themed cocktail. Or bowl at the 10-lane Galaxy Bowl. Splash around in the 10,ooo-square-foot zero-entry pool. Or grab a bite at Bayliner Diner, a massive food court. Cabana Bay is a destination resort determined to keep the kids busy. This summer, the resort will open Universal's first lazy river.
Universal's strategy mirrors Disney's: If you can keep vacationers an extra day or two at your hotels, you can make a lot more money. One in every five dollars made by Disney parks and resorts comes from Disney hotels, the Orlando Sentinel reported. That's a big deal — and even more snazzy than color TV.