Universal Orlando previously announced that an all-new Minion Land would be coming to the theme park. Now, even more details have been revealed about the "first-of-its-kind" attraction and what guests can expect when they walk into the all-new Villian-Con.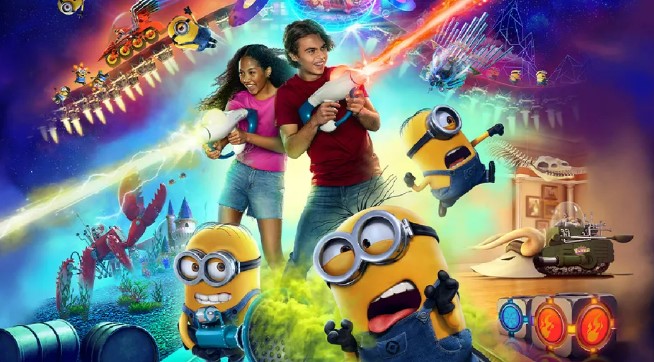 Illumination's Villian-Con Minion Blast wants to test the skills of guests of all ages. Do you have what it takes to become the newest member of The Vicious 6?  As guests make their way through the convention they'll see it stocked with the latest gadgets, vehicles, and fashion.
Then, they'll pick up an "E-Liminator X" blaster to compete against their friends, family, and maybe a few strangers,  aboard a moving pathway to prove if they are ready to join the super-villain team.
The blaster is equipped with Freeze Rays, Explosive Nunchucks, Banana Bombs (obviously), and other tools to "cause as much mayhem and destruction as possible." Guests will also encounter The Vicious 6, voiced by the original cast of the film. Do you have what it takes to join forces with the Vicious 6?
This is the first attraction at Universal to be connected via the Universal Orlando Resort App. Guests will be able to sync Blasters the app to track their scores, go on special missions and even unlock fun, exciting perks.
"The more guests play and the higher they score, the more perks and bragging rights they'll earn," Universal Orlando said in a news release.
Villain-Con Minion Blast's official opening date hasn't been released yet, but according to Universal's website, it's expected in Summer 2023.
The Villain-Con Minion Blast attraction will be located in Minion Land, a brand-new complex at Universal Orlando Resort. Inside Minion Land, guests can experience a unique dining location, several quick-service eateries, shopping, entertainment, and of course, a couple of attractions.
Here's what's on the horizon:
Illumination's Minion Cafe: An immersive dining experience with three themed dining areas, including The Kitchen, The Breakroom and The Dining Room
Bake My Day: The large pink cupcake shop will feature Minion-themed treats and merch
Pop-A-Nana: A kiosk featuring banana-flavored popcorn
Freeze Ray Pops: A walk-up window offering colorful popsicles inspired by Despicable Me characters
Illumination Theater: Meet some of your favorite characters and snap photos