Let's talk about Tampa Bay. How much do you really know about the beating heart of Florida's Gulf Coast? Tampa Bay is home to many award-winning breweries, world-class attractions like Busch Gardens® Tampa Bay, ZooTampa and The Florida Aquarium, and professional sports teams like the Tampa Bay Buccaneers (NFL), Tampa Bay Lightning (NHL), and Tampa Bay Rays (MLB). These, along with a beautiful downtown focused on the Tampa Riverwalk, have put the Bay Area among the ranks of Florida's top destinations. And while the secret may be out about the destination, there are still plenty of local favorites, hidden gems, and off-the-beaten-path experiences to uncover. Treasure Awaits as you uncover undiscovered Tampa Bay.
Play Like a Kid Again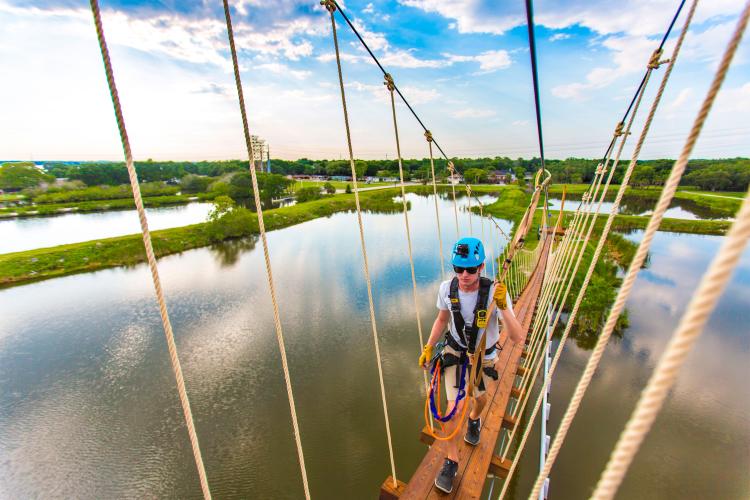 Active Activities
Challenge yourself with a way-up obstacle course at Empower Adventures Tampa Bay. Take on 3,000 feet of zip lines, conquer the 200-foot over-water suspension bridge, and move through other obstacles – all without ever touching the ground! Or, for a real adrenaline rush, head out to Adventure Family Motorsports (AFM) located just outside of Tampa Bay's urban core. AFM offers dirt bike tours for both beginners or experienced riders and personalizes their sessions to accommodate each family's needs.
For unbelievable mountain biking, Alafia River State Park, just east of downtown, is one of the most favored off-road biking choices in Florida, offering more than 20 miles of single-track trails. Tucked away in dense forests, Alafia River State Park is located on the site of a former phosphate mine. The jumbled landscape of the park provides hills, valleys, and a few jumps for riders of all skill levels.
Anglers Welcome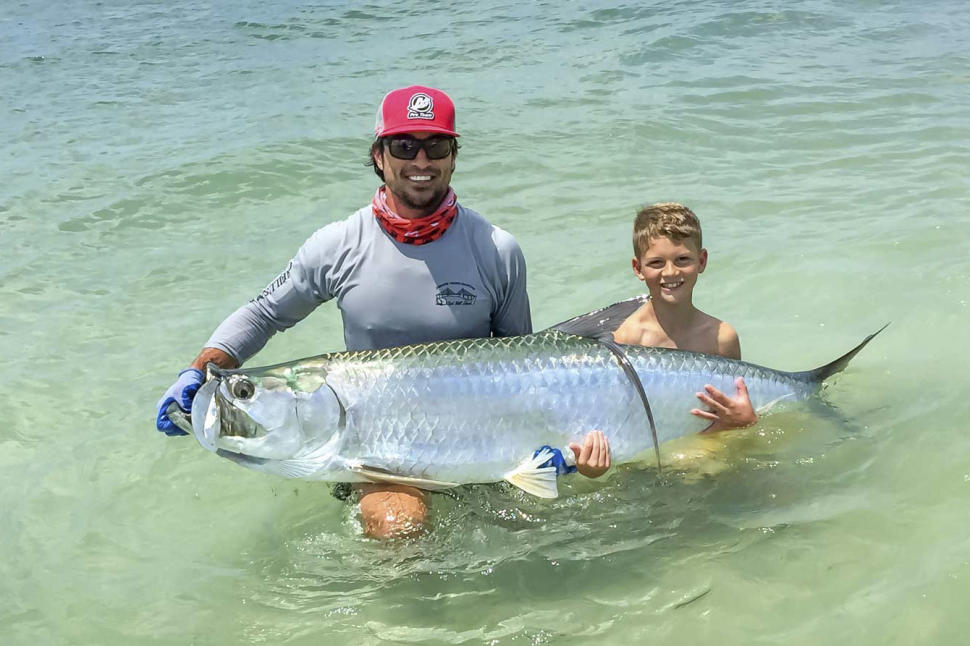 Fishing in Tampa Bay
Florida is known far and wide for its unbelievable sport fishing. In the Tampa Bay area, proximity to the Gulf of Mexico and a wide variety of species available year-round means fishing is a great option no matter what time of year you plan your visit.
Tarpon
Every Summer when the water begins to warm, thousands of fishermen set their sights on the Silver King. Due to their sheer size, tarpon are some of the most sought-after fish in the Tampa Bay area, some weighing up to 200 pounds! Taking on the tarpon is no easy task, but the thrill of facing off against these giants and seeing their aerial displays make for an unforgettable experience. The best time to visit Tampa Bay for tarpon fishing is in the warm summer months from April to August.
Redfish
Redfish are the go-to inshore fishing species in Tampa Bay. Often seen in the flats, mangroves, shorelines, or by underwater wrecks, these fish can be found year-round. Popular among locals as a delicious culinary fish, catch a few, and you've got the night's dinner. Seriously! Several Tampa Bay restaurants participate in what is called the "Hook & Cook" experience, where they will prepare your catch for you on-site. Fishing for redfish is fun for all ages, and while available all year long, the best time for red fishing is in the spring and summer, between April and September.
No Boat? No Problem! For the full Tampa Bay fishing experience, you can't go wrong with the expertise of local fishing charter captains like Captain Oliver O'Riordan (Tampa Fishing Charters, Inc.) or Stewart Ames (Gone Fishing Charters).
Row, Paddle, or Ride Down the River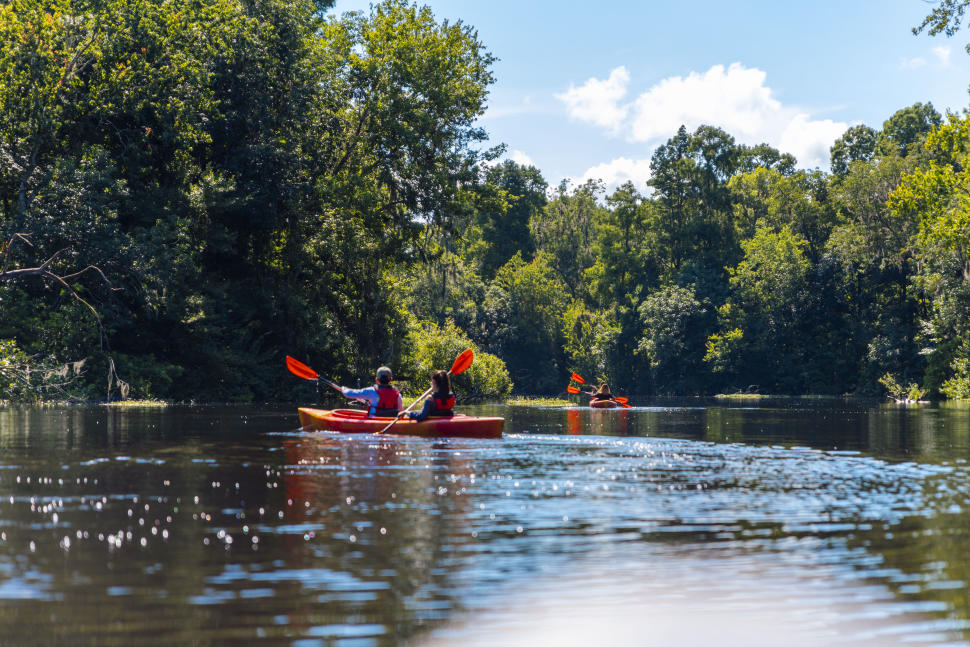 Discover Old Florida by visiting Canoe Escape on the Hillsborough River. On the journey downstream, beneath the shade of towering trees, you will encounter migrating birds, basking turtles, and even some sunbathing alligators on either a two-hour or full-day paddle adventure.
Canoe Escape gives visitors the classic Old Florida experience, but on the same river miles downstream, Urban Kai is getting people out on the water in a different way. Located at Armature Works in Tampa Heights, Urban Kai Stand Up Paddleboarding is an awesome way to get out and paddle (or kayak) right in the heart of downtown Tampa! There's nothing like the point of view from the water as you marvel at the skyline, parks, and museums lined along the Tampa Riverwalk.
Just want to get out on the water and not do all the work? There are electric vessels available to rent along the Tampa Riverwalk near the Tampa Convention Center. Head over to eBoats Tampa or Riverwalk Boating Co. to captain your own adventure.
Eat at an Everyday Favorite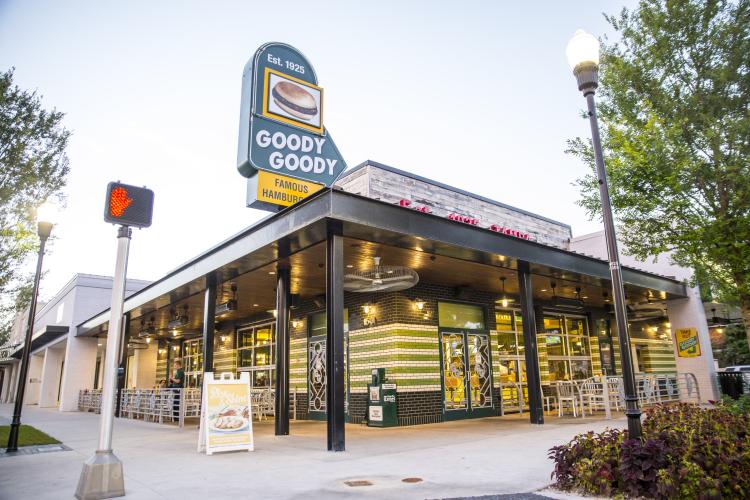 Go Where the Locals Go
Even though Tampa Bay is home to a booming culinary scene and the world-famous Bern's Steak House, there are some smaller spots where the locals go daily that you don't want to miss. For an authentic Neapolitan-style pizza, look no further thanBavaro's, which bases their entire menu around a traditional wood-fired brick oven. To really feel like you're in the middle of it all, Hattricks in the heart of downtown Tampa was established with every sports fan in mind, with mouth-watering classics like wings, burgers, and sandwiches. Tampa Bay Lightning fans will tell you that Hattricks is a neighborhood hockey tavern, but it's also a great place to grab a casual lunch or dinner.
Top it all off with something on the sweet side. The Dessert Spot at Toffee to Go has been enjoyed by thousands of customers and was even chosen as one of Oprah's favorite things! Wright's Gourmet is popular among the people of Tampa Bay for their deli sandwiches and giant cakes. Locals know about the legendary La Segunda Central Bakery, which is the largest Cuban bread distributor in the world and celebrating its 105th anniversary. Café con Leche can be found just about anywhere in Tampa Bay, but one of the best is tucked inside Tabanero Cigars on Seventh Avenue in Ybor City. To turn back the clocks, Goody Goody™ in Hyde Park Village is serving up classic diner favorites like butterscotch pie, milkshakes, and floats. The original Goody Goody restaurant was a Tampa Bay icon, opening nearly 100 years ago in 1925.
Stay Somewhere Different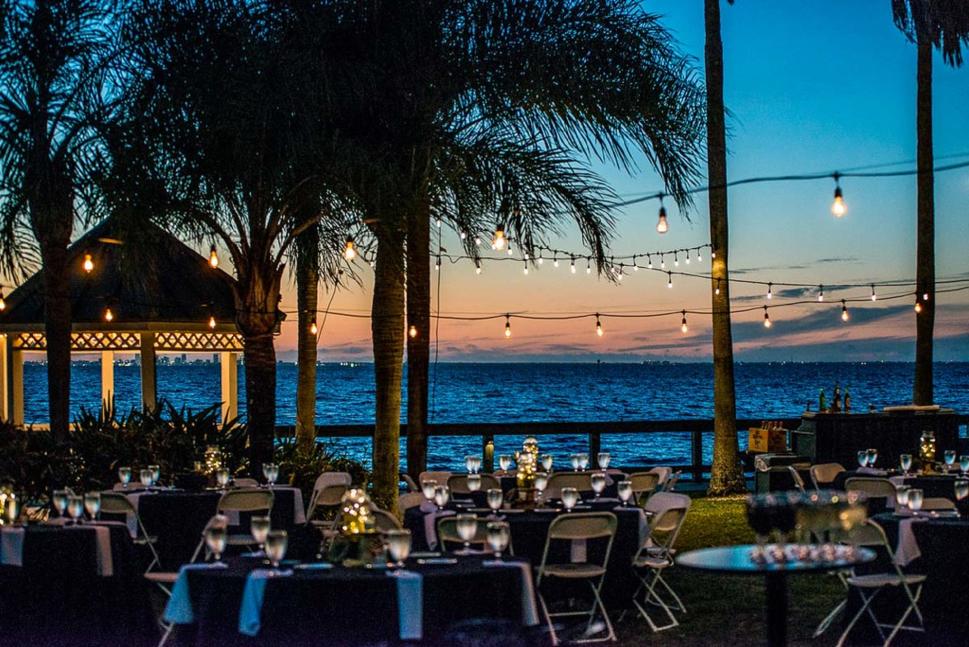 For a Unique Stay in Tampa Bay
Tampa Bay has several branded hotel properties near its airport and downtown, making for convenient business and convention travel. However, for travelers looking to get off the beaten path, Harborside Suites at Little Harbor is designed to look and feel like a second home on the Florida shore. This waterfront hotel in Ruskin is your own tropical hideaway complete with palm trees, a tiki bar, a private beach, and plenty of sunshine. For those in need of a more centrally located getaway, Sailport Waterfront Suites is Tampa's only all-waterfront, all-suite resort. Located just west of downtown on beautiful Rocky Pointe, this hotel provides all the classic feelings of Florida's Gulf Coast, while also being just minutes from Tampa International Airport and the bustling Westshore District.
There is so much to see. Be sure you spend the time to uncover undiscovered Tampa Bay on your next visit.