It's summertime in Orlando and that means that some days it's like walking on the surface of the sun, especially when you are walking to some of our favorite attractions on I-Drive.
Be chill! We've got you covered. Literally.
ICE CREAM!!!!!!!!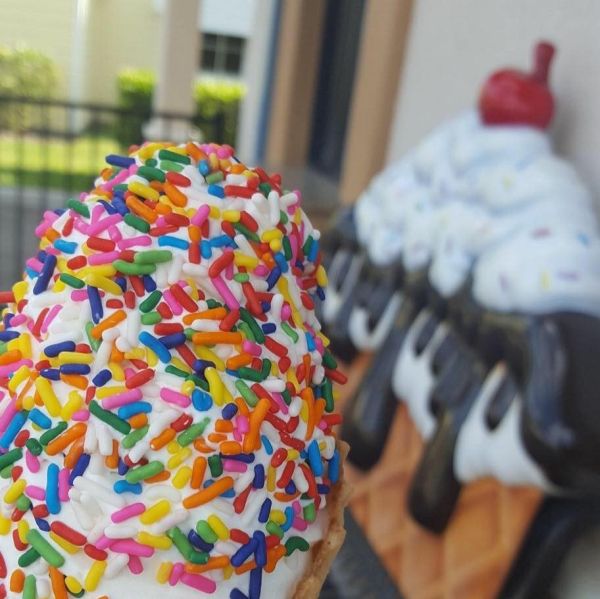 I knew that would get your attention.
Here's our Ultimate I-Drive Ice Cream Shop List 2018 (in no particular order)
1. Ginther's Swirls
A small family owned business located at 11036 International Drive (on the corner of Central Florida Parkway and I-Drive – behind the Wawa), this little ice cream stand packs a flavorful punch. Soft-serve in all the classic flavors which can be dipped, flavorbursted (just try it), sprinkled, topped or turned into milkshakes, malts, sundaes. We are talking classics here folks. AND, they now serve hand-scooped ice cream in eight popular tasty flavors: Butter Pecan, Cookies N Cream, Cookie Dough, Mint Chocolate Chip, Coffee Chip, Rocky Road, Salty Caramel Peanut, and Superman. Sit outside and enjoy a Florida summer evening!
2. Cold Stone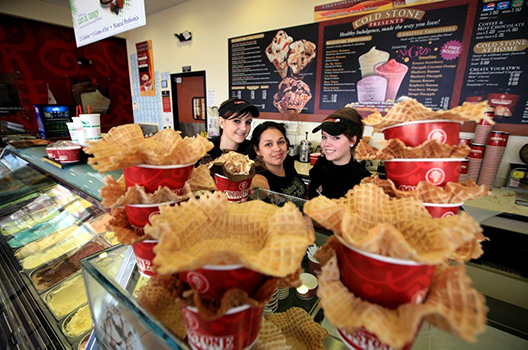 Now Cold Stone is a chain, but the feel of the place wouldn't make you think so.  Singing ice cream scoopers and handmade ice cream to die for. Now…here's the thing with cold-stone – it is all hand dipped, BUT you create whatever you want. You want Cookie dough ice cream with gummy bears and nuts. Done. The ice cream pro with "fold" your toppings into the ice cream so it's like it came that way! Indoor and outdoor seating available. Located at 8145 International Dr, Orlando, FL 32819 and open until 1 AM!
3. Ben & Jerry's
If you've only ever had Ben and Jerry's in a carton, do YOURSELF a favor, and stop in. Made entirely of natural ingredients (no preservatives, non-GMO) that makes it basically a health food. All hand scooped into waffle cones, waffle bowls, sugar cones, or cups, this is sure to delight everyone in the family. Located at ICON Orlando AND Pointe Orlando, there's no reason not to stop buy. They are basically begging you too. But there's no need to beg with ice cream this good.
4. Flint's Twistee Treat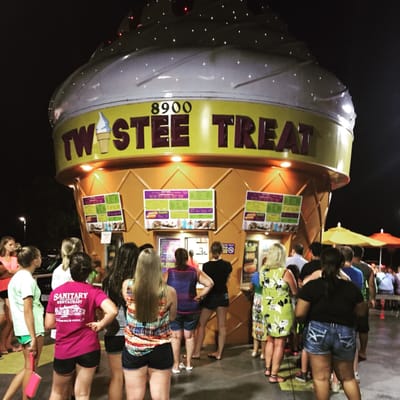 A Central Florida tradition, located at  6310 International Dr., will satisfy the kid in you. It's an old-fashioned walk-up ice cream shop. Shaped like a vanilla cone, you can't miss it. Soft serve dipped, topped, or made into sundaes, shakes, and mixed concoctions that will bring back the kid in you. It's even available in fat-free and sugar-free varieties. SO there's no need to feel guilty visiting this landmark. Located at 6310 International Dr, it's open til 11 PM. So play some putt-putt at Congo River Golf and then a treat of the twisty variety.
5. Mr. Cool Ice Cream and Boba Tea
Now here is a very unique Ice Cream joint. The only one in the Orlando area. You get ROLLED ice cream. You heard that right. They spread the ice cream out on a freezing metal area and then scrape it off after it flashes freezes into curled, beautiful slices of ice cream. Top it with anything from pretzels to fresh fruit, this is as unique as I-Drive itself. Located at 6550 International Dr #104, they had fro-yo and boba tea too. So try it all.
6. Andy's Frozen Custard
Frozen custard is basically heaven in a cone. This is my personal FAVORITE way to have ice cream. Try it is you haven't. Concretes, splits, sundaes, malts, milkshakes, cups and cones. This is like soft serve wrapped in a velvet hug. Just. Try it.  Located at 5381 International Dr and open until 11pm, they even have a drive thru…so is there even a question?
7. Haagen-Dazs
Located IN the Orlando International Premium Outlets, this is the perfect mid-shopping pit-stop. Offering ICe cream, sorbet, shakes, and smoothies it's a shopper's dream.  And you just burned all those calories, you are due for a treat. Open until 11 pm, stop by and try The Häagen-Dazs® Dazzler. It is the ultimate portable three-scoop sundae! Three scoops of ice cream, add a layer of topping between each scoop and put it into a large cup for a sundae that is truly decadent…and portable to continue that shopping adventure.
8. Dairy Queen
Now, this is the ice cream chain I grew up with. Dairy Queens famous soft serve, blizzards that are so thick they won't move when held upside down, and dilly bars!  We know this one speaks for itself. A real American classic. (And their fries are delicious too – you know, just FYI) Located at 6321a, International Dr., there is a small area to sit, but it's mostly a get that ice cream a go place. Open til 11 pm.
9. Baskin-Robbins
Need a lot of choices? How about 31. Flavors. Chocolate Chip Cookie Dough, Cookies and Cream, Pistachio. There's bound to be something for you at Baskin Robbins. Plus, they have a new flavor every month. So try something new, or have a polar pizza or an ice cream cake for the whole gang. I mean, it's vacation.  Celebrate! Located at 9898 International Dr. AND 7440-A International Drive, it's open until 12 AM.
10. J-Petal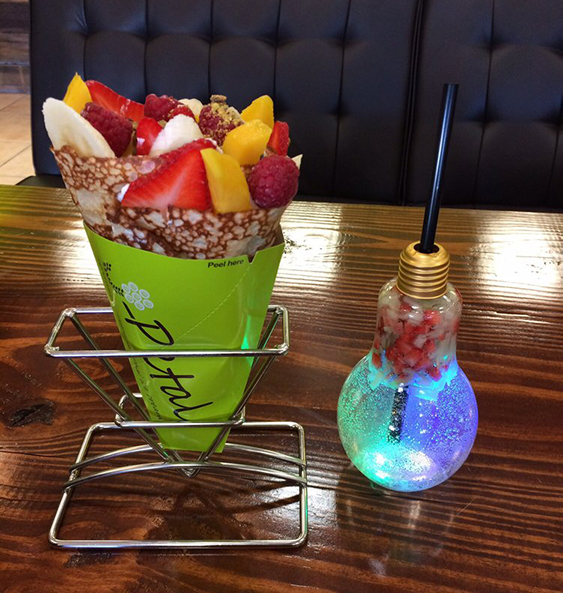 Looking for something more international on International Drive? How about Thai Ice Cream!? Thai ice cream is a unique frozen street dessert that originated in the country of Thailand. Thai ice cream rolls are made on an extremely cold steel pan and mixed with different types of fruits. Once the cream is mixed with the other ingredients, spread thinly, and has solidified, they roll it up. They also have drinks…served in light bulb glasses. So if the unique ice cream doesn't get you…I think that may. Located at  5135 International Dr suite 7, it closes at 11 pm.