Come be inspired and learn about the ongoing work of rescue, rehabilitation, and release at Clearwater Marine Aquarium. Not your typical aquarium, this rescue center is home to Marine Life featured, in the Dolphin Tale movies, filmed on location in Clearwater, Florida near the sandy shores of America's #1 Beach.
Clearwater Marine Aquarium staff and volunteers work each day to rescue marine life and provide the most advanced and effective care to maximize the opportunity to return sick or injured animals to their homes. In May, four lucky sea turtles were fortunate enough to return to the Gulf of Mexico after rehab at CMA, once being cleared by the Fish & Wildlife Commission for release. Here are their inspiring stories so you can discover the magic of CMA.
Shenandoah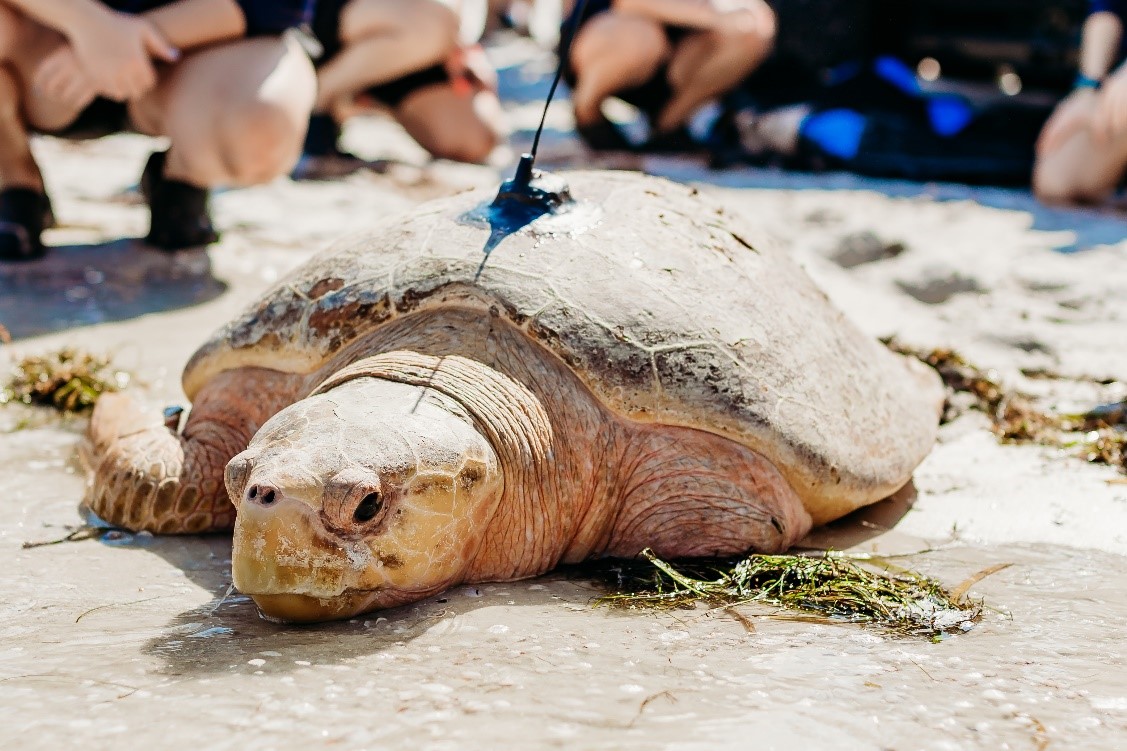 Shenandoah, this Loggerhead heavyweight champion clocked in at 250 lbs. and was rescued on Indian Shores Beach on February 28th suffering from the effects of red tide. Surprisingly, he also was missing his left front flipper which had already healed and not related to his injuries. Sea turtles with brevetoxin, which is a neurotoxin, exhibit a variety of symptoms such as lethargy, struggling to surface for breaths, uncoordinated swimming, and even seizure-like activity. Treatment consisted of fluid therapy and IV nutrition to assist in flushing out the toxins, and daily monitored swimming. Shenandoah's blood was rechecked over several weeks to monitor brevetoxin levels.
After a few months in CMA's care, Shenandoah no longer exhibited symptoms related to red tide. After a clean bill of health, Shenandoah was cleared for release by the staff veterinarian and Florida Fish and Wildlife Conservation Commission.
Voyageurs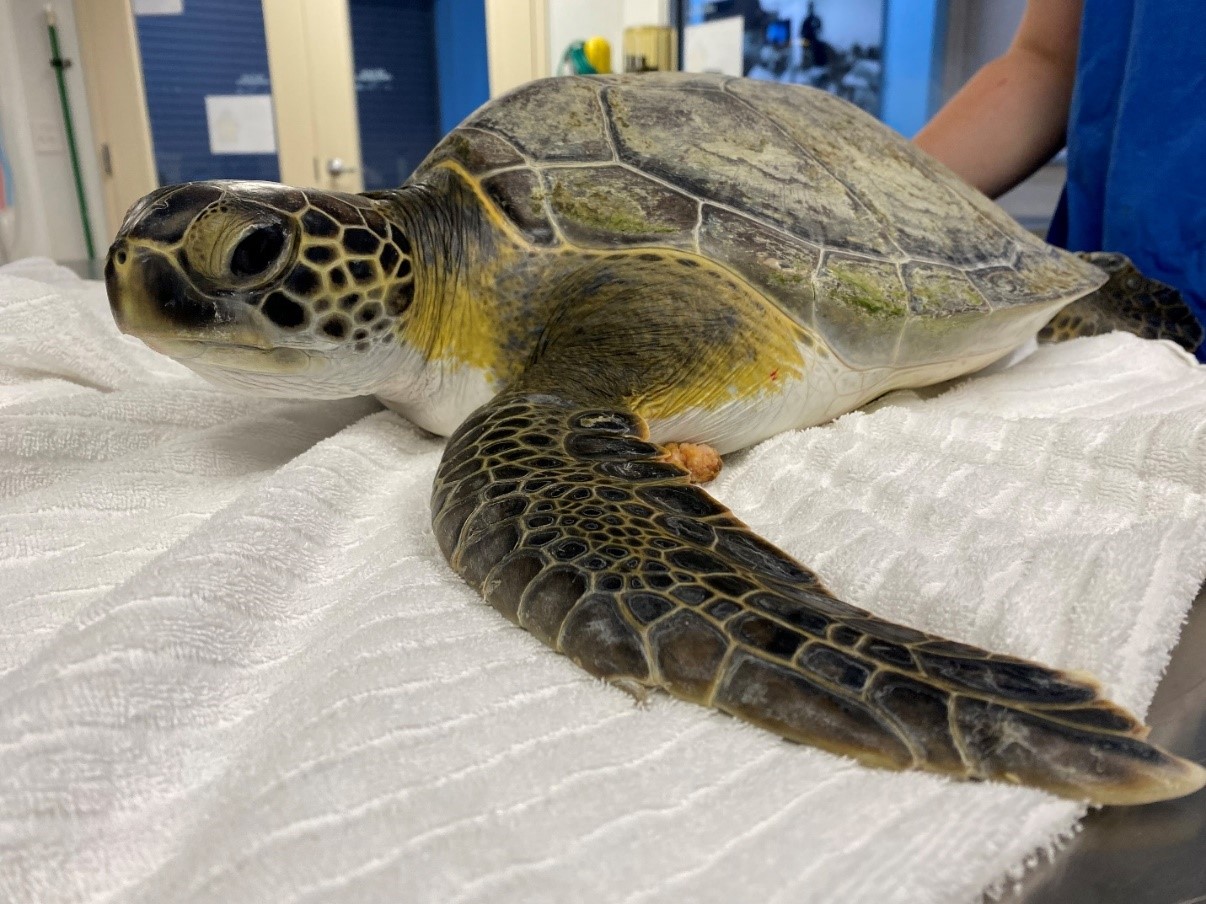 Shenandoah was also satellite tagged to help with research efforts related to male loggerhead migratory patterns.
Voyageurs a juvenile green sea turtle was found floating in Crystal River having issues staying submerged or diving to the bottom. Diagnostics indicated that Voyageurs had increased gastrointestinal gas which likely caused their buoyancy. After a period on medications and a healthy diet, Voyageurs' buoyancy soon resolved, and began resting on the bottom consistently! Voyageurs were cleared for release by both CMA's veterinarian and Florida Fish and Wildlife Conservation Commission (FWC) and are ready to return home.
Ciabatta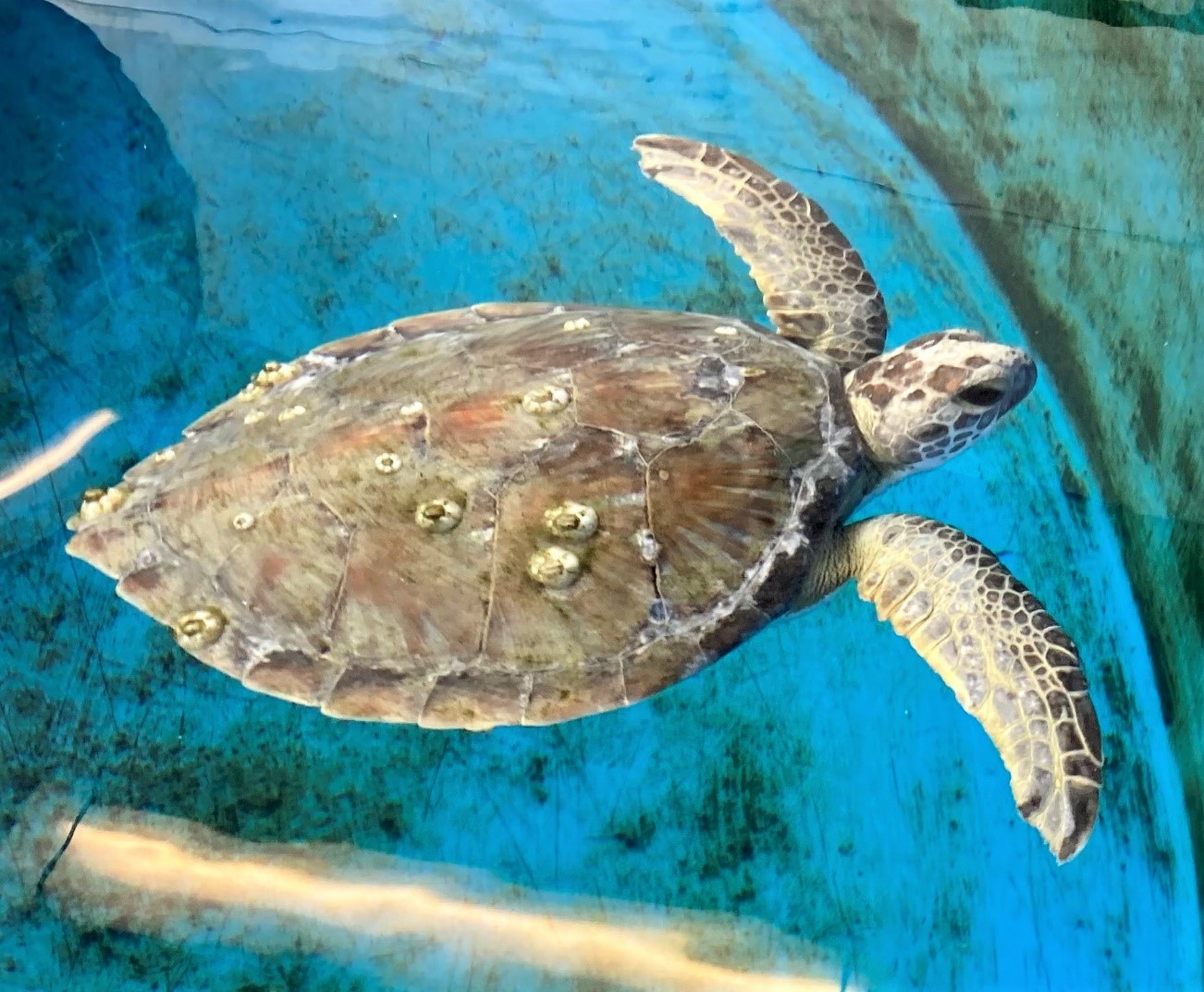 Ciabatta a juvenile green sea turtle was accidentally caught in a net in St. Pete on May 5th, 2023. Ciabatta's intake exam showed no external abnormalities and treatments included vitamin injections and fluids. Thankfully, with Ciabatta showing normal behavior and eating well it was a quick turnaround for this little one! Ciabatta has been cleared for release by both CMA's veterinarian and Florida Fish and Wildlife Conservation Commission (FWC) and is ready to return home.
Olympic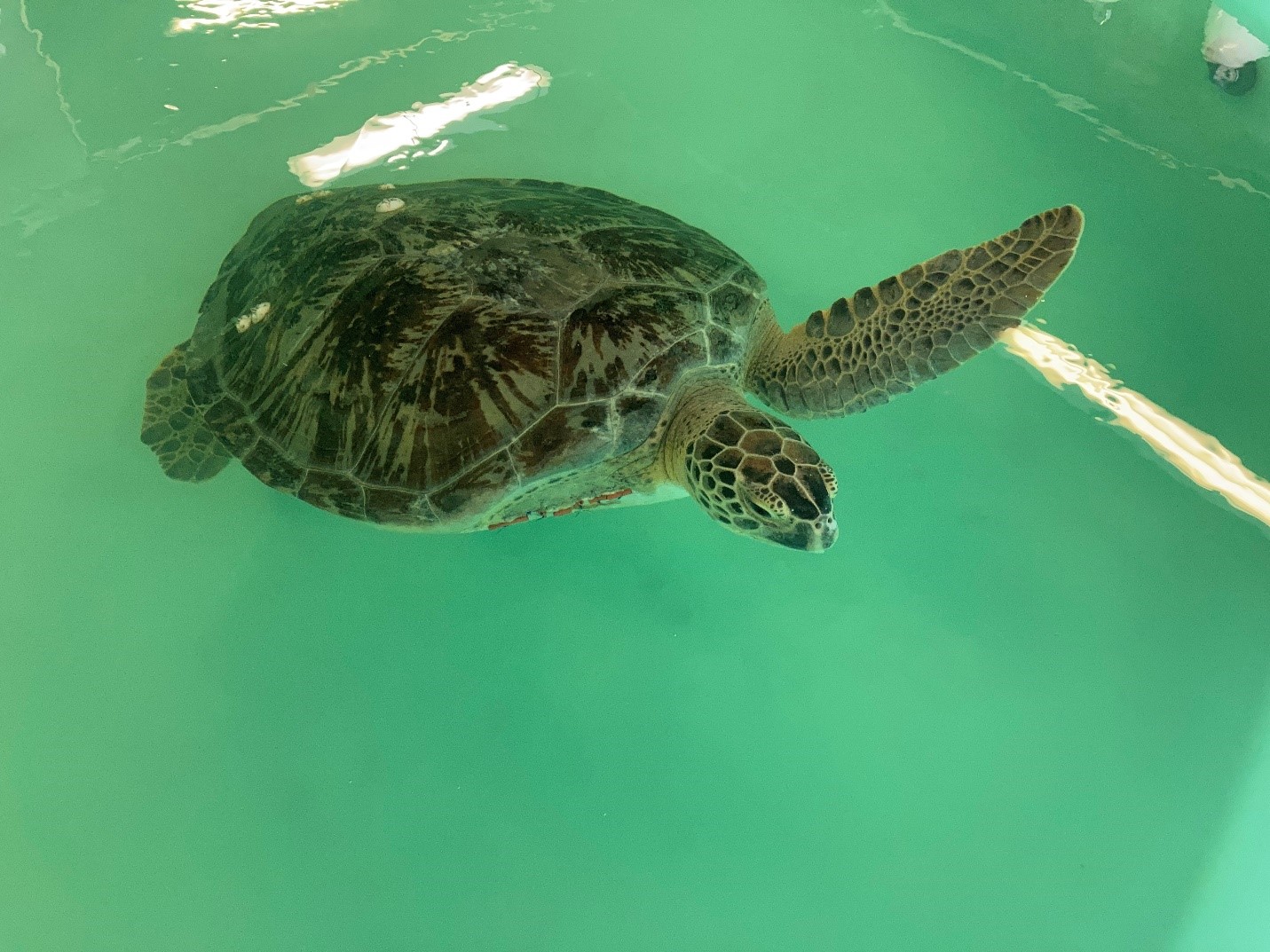 Last but not least, Olympic is a subadult, green sea turtle weighing nearly 100 lbs. Olympic was found by CMA's partners, the University of Florida Marine Animal Rescue team, entangled in commercial clam gear offshore and struggling to surface in Levy County. Upon further evaluation, Olympic's right front flipper had significant trauma caused by the gear, and it was determined that a complete flipper amputation would be needed. After a course of medications and a healthy diet, Olympic's surgical site healed nicely and it has been cleared for release by both CMA's veterinarian and Florida Fish and Wildlife Conservation Commission (FWC).
That makes two turtles both Shenandoah and Olympic, that were released in May missing their front flippers! Sea Turtles can be released with missing flippers, as long as the patient can show they can evade predators, dive and forage successfully on their own. Clearly, these two turtles were up for the task, and ready to swim home to the Gulf of Mexico, CMA staff were delighted to watch them return to their natural habitat.
Come see the rescue work in person and visit Clearwater Marine Aquarium during your time in Florida, best known for our rescued resident bottlenose dolphins they feature exciting events all summer long.
Audio Tour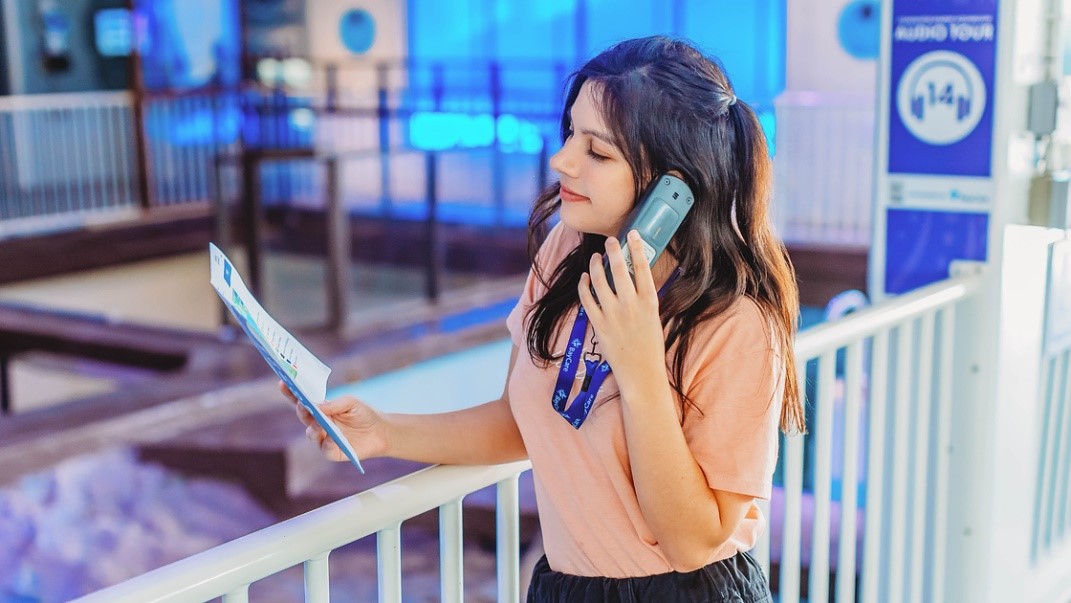 Get ready to hear firsthand about resident-rescued animals with the new audio tour! The self-guided tour is included with admission and has 26 curated stops which are marked throughout the facility. Guests also have the option to select a children's or adult version, sponsored by BayCare, while braille devices and headsets for individuals with hearing impairments are also available.
Upcoming Events
Friday-Sunday in June: Go Wild Weekends
Every Friday, Saturday, and Sunday from 11 am to 5 pm, you'll have the opportunity to meet our incredible animal ambassadors, brought to you in partnership with Amazing Animals Inc.
Get up close and personal with our friendly tortoises, where you can touch their sturdy shells and capture an unforgettable photo alongside our party parrots. It's a perfect opportunity to create lasting memories with your loved ones.
June 24: Lights by the Bay: Drone Light Show: 6:30PM TO 9:30PM
Prepare to be amazed as drones take center stage, painting the sky with breathtaking aerial maneuvers and captivating light displays, all set against the stunning backdrop of Clearwater Marine Aquarium.