Madame Tussauds Orlando Update – Donald J. Trump is moving to Orlando. It's the not the real Trump, the one who from today will make his home in the White House – it's a wax version that will be part of the lineup at Madame Tussauds Orlando attraction on International Drive.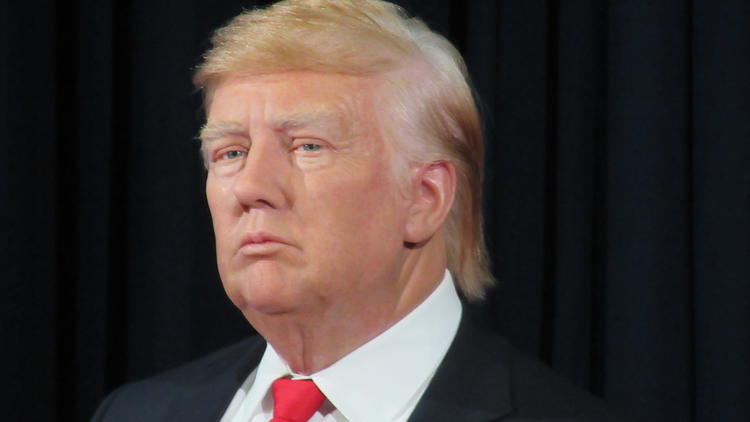 The Trump figure was unveiled to the public this morning. It is taking the place of the Barack Obama figure in the Oval Office set, just like in real life.
The figure was six months in the making, said Ashley Priselac, studio manager.  Although the flesh-and-blood Trump was measured for a figure back in the '90s, Tussauds artists also used references to update the president-elect's look.
"It's an accurate depiction of what he looks like now," Priselac said.
And that, my fellow Americans, includes the hair. Like all Tussauds figures, the hair is inserted individually with needles that have forked ends. It takes about 140 hours to get the hair complete, including eyebrows, Priselac said.
"Once the hair is all inserted, we'll wash it, cut it, style it, and the team on-site here, we have to maintain it. We do use products that we use on regular people." she said.
"You have to have it exactly perfect, so we have references that we follow, and we want to make sure it's the exact hair style that people have in their mind."
Trump's new figure wears a dark blue suit, red tie and American flag lapel pin.
Madame Tussauds figures are made in London. The company created four new Trumps, and they will be located in Tussuads locations in Orlando, London, New York and Washington, D.C.
Obama's figure is on the move, too, but not going far within the I-Drive 360 attraction. He's now straight across the room from Trump.
"He is one of our most popular figures," Priselac said.
Obama now stands where Martin Luther King Jr. was. King is now just around the corner, and that figure will receive a new backdrop soon, Tussaud officials said.
Trump is the third presidential figure in Madame Tussauds Orlando, following Obama and Abraham Lincoln. All 45 U.S. presidents have been created by Madame Tussauds, and all 45 can be seen at its location in Washington D.C., said James Paulding, general manager of Madame Tussauds Orlando.
No additional security has been added to the attraction, Paulding said.
"We've always had team members patrolling the attraction, and we'll continue to do that," he said. "I hope that people will continue to appreciate all our figures."
Tussauds figures require constant maintenance — including makeup touchups and fixes to chipped faces — due to wear and tear from visitors, Paulding said.
"We like people to get interactive and up close and personal," he said. "People often don't believe they're made of wax."
Another Trump wax figure currently stands in the lobby of the Ripley's Believe It or Not museum on International Drive, but eventually it will be moving to an attraction in Niagara Falls, Ontario, Canada.
The Hall of Presidents at Walt Disney World's Magic Kingdom theme park has been closed for refurbishment. It will include an audio-animatronic version of Trump when it reopens, the company has said. Disney has not announced what other changes will be made to the attraction,  which opened with the park in 1971.