With new attractions coming to Disney's Animal Kingdom, Hollywood Studios, and more than likely Epcot before Walt Disney World's 50th Anniversary in 2021, one park still seems to be missing out on the celebrations.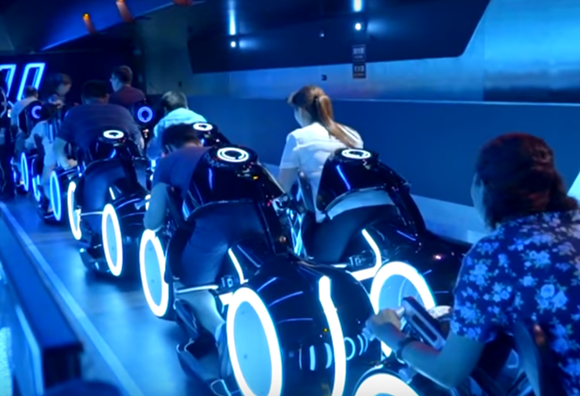 It's been pointed out by a few keen observers that Magic Kingdom, the original park has yet to see any major updates announced as we approach that milestone. It's interesting then that there are more than a few rumors about what Disney imagineers may have in store for Magic Kingdom's golden anniversary that seem to point towards a major redo of Tomorrowland with a new signature ride.
At Disneyland China in Shanghai, the new Tron lightcycle coaster has quickly become one of the most popular attractions in the park. Now, in typical Disney fashion, the company may be looking to emulate it in several other parks, beginning with the Magic Kingdom in Orlando.
This would line up with an older rumor of Disney finally closing the woefully outdated Tomorrowland Speedway. Another possible location, is rumored to be the Cast parking lot located between Tomorrowland and front of the park.
The Tron coaster would potentially share the spotlight with Space Mountain as the icons of Tomorrowland. There are few details on what the Tomorrowland Tron coaster would look like, but it's likely to feature an outdoor area, similar to the Shanghai one. This would also a tie in to the larger updates rumored to be happening in Tomorrowland that may include a Wreck-It Ralph attraction and an overdue update to the Carousel of Progress.
The Tron coaster, which features motorbike-style seats and a launch, is a bit more of an action-packed ride than what the Magic Kingdom park has traditionally offered, but then when Space Mountain first opened it was definitely considered a thrill ride. Currently, guests at the Magic Kingdom get their adrenaline pumping through Big Thunder Mountain, Space Mountain and Splash Mountain. With the 50th anniversary only four years away, Disney will have to begin construction on the new coaster very soon – and we'll be watching!