What if whilst on vacation a member of your group has a birthday or something to celebrate. You wish to make it special but not overly expensive and suitable for all the family to enjoy. Well, why not try "Trailor Made" celebrations at Revolution Adventures? There are a couple of options that may fit the bill whilst practicing the CDC policies and unique enough to be a stand out day amongst many.
"Trailer Made" VIP tour for adventurous adults over the age of 16 years. When you arrive for your adventure which will last around 4 hours a personal guide will escort you to your own gazebo, set up on a sandy white beach next to the lake. Your ATV's will be waiting for you under the palm trees and your personal safety gear will be delivered to you while you relax with a soft drink or coffee.
Included in the price of $350.00 (+ tax) per person are three sessions on the ATV's trails with your guide. You may if you wish to exchange one session for Archery or Clay Shooting activity.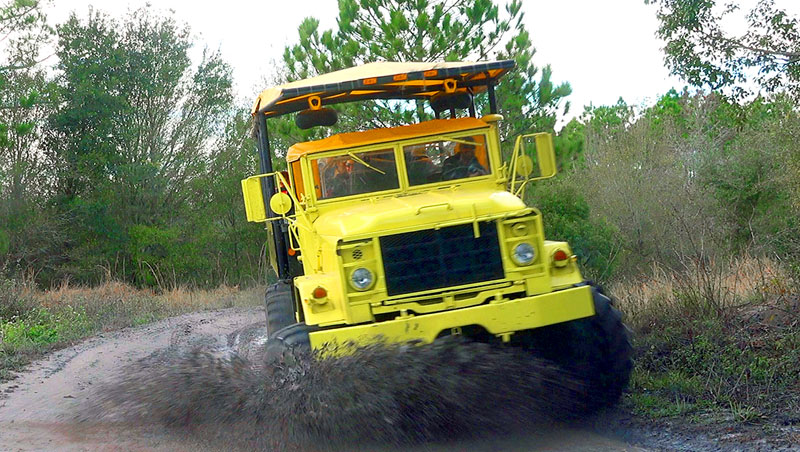 This is a truly magnificent way to celebrate in style with up to 10 guests. The adventure will last around 4 hours but you may use the Gazebo for the entire day. Included in the price is unlimited soft drinks, towels, snacks, BBQ lunch cooked on-site and served in your gazebo lakeside. Souvenir photographs on a takeaway USB and commemorative t-shirts for each guest.
"Trailer Made" MYAKKA Tour Revolution's "beast of a ride" is the centerpiece of this fun-filled adventure party suitable for guests from 5 years of age and up. Personal space is protected by individual parties of not more than 15 guests and of course, all CDC guidelines are strictly enforced.
This is a fun-filled action activity driven party that starts off on the beach lakeside. The "Myakka" is a (deuce and a half) converted army monster truck, which tours the property allowing the riders a treetop view of the countryside and lake. Along the way, your host will point out wildlife habitats and maybe some animals.
Onboard you can join in the scavenger hunt spotting for hidden animals and maybe the "Myakka" man with prizes for the winners. On the return journey, you will stop at the Archery Tag (like dodge ball with soft arrows) course for a 45-minute fun-filled battle to steal the opponent's arrows. Suitable for the entire family and all equipment is provided. The tour and tag take around 2 hours and you can enjoy your own refreshments for a further 1 hour of party time, back at the lake if you wish to do so. Prices start at $300.00 for a group of 10 guests. There is also a birthday souvenir for the Birthday Guest.
So stay safe and try something new with "Trailor Made" celebrations at Revolution Adventures.