Sometimes places become so ingrained in our culture that they come to represent a particular decade or a moment in time. As a kid Planet Hollywood was one of my FAVORITE places to go whenever I went to a new city –  when I moved to Orlando it became an everyday possibility! Then a few years passed, I was doing other stuff and so along with many other favorite memories it was put it in the recesses of my brain and forgotten about.
Then it closed.  Remolded.  Reopened.
Now, like a great sequel to a true Hollywood Blockbuster, Planet Hollywood at Disney Springs is having a resurgence, and this particular fan is reliving her childhood.
Here are the Top 5 Things to Love about the new Planet Hollywood, because it never goes out of style.
1. The Planet Hollywood Menu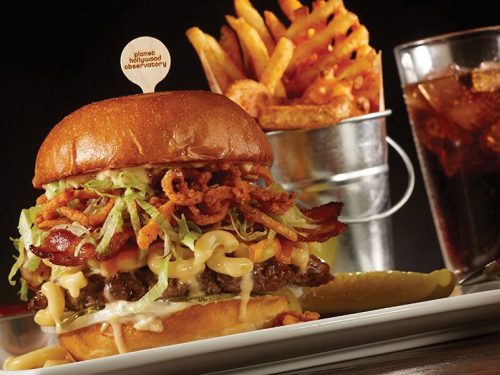 Dynamic celebrity chef and restaurateur Guy Fieri has created flavor-packed burgers and sandwiches exclusive to Planet Hollywood. With burgers topped with bacon and mac and cheese, to an actual sandwich filled with mac and cheese, there is nothing more American than this fare. But it doesn't stop there. Steak, chicken tenders, veggie burgers, lasagna, nachos, and DESSERTS! From the Cosmic Cotton Candy (a hand-dipped cotton candy milkshake with rainbow sprinkles, white chocolate covered pretzels, topped with cotton candy & a lollipop) to the Planet Meltdown (a chocolate sphere melted tableside by hot chocolate sauce to reveal double chocolate fudge cake, fresh strawberries, and whipped cream) there will be something that satisfies your sweet tooth.
2. The Memorabilia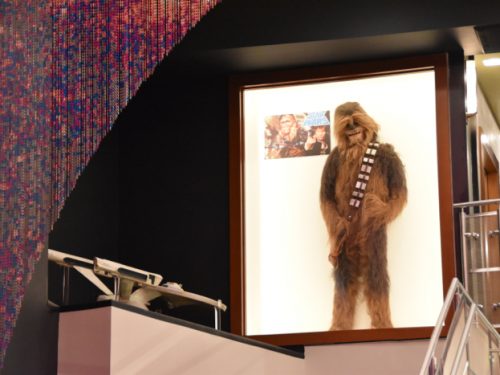 Always a staple of Planet Hollywood, the Orlando location just got an upgrade! When you walk in the door, you are greeted by costumes of Chewbacca, the furry hero from Star Wars, and the iconic red and blue suit worn by Christopher Reeve in the 1978 blockbuster Superman. More props line the entranceway including Chewbacca's robotic sidekick R2-D2 and Marilyn Monroe's dress from 1955 classic The Seven Year Itch. But action movie enthusiasts, have no fear! Deadpool's sword from the 2016 movie is now among the latest treasures.
3. The Atmosphere At Planet Hollywood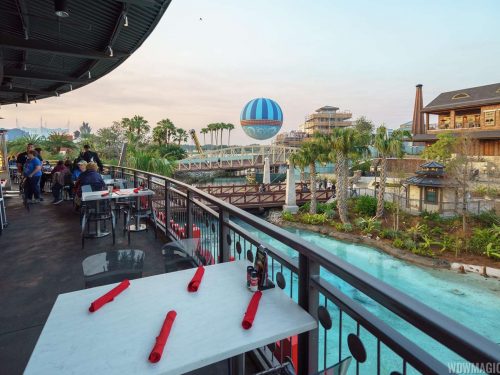 Sleek new furnishings and display cases are just the beginning of the newly imagined space at Planet Hollywood. Dine with a view and soak up Orlando's year-round warm temperatures while you indulge in the expansive menu on the upstairs terrace. Day or night there are fabulous views. Or relax under the stars at the Stargazers lounge, a 5,000 square foot walk-up bar and al fresco dining area featuring live entertainment. Top off the experience with a Stargazer cocktail made with Stoli Blueberi vodka, lemonade, fresh blueberries, and basil.
4. The High Tech Additions
New features at Planet Hollywood include a massive 4,500 sq. ft. immersive video wall featuring state-of-art sound and media including a live interactive DJ spinning music every night. The wait staff even breaks out into choreographed dances. They have incorporated four 70″ transparent LCDs into their entrance hall. So while customers wait, they can watch the incredible content that hides and then reveals the costumes with key information and clips of the outfits in action.
5. The Gift Shop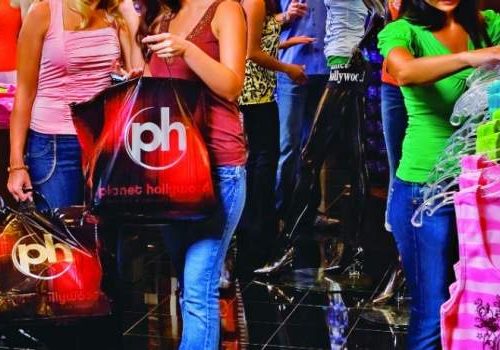 Bring home cool mementos to commemorate your out-of-this-world visit. Since the 90's are having a huge fashion comeback right now, we should all embrace the retro and grab a Planet Hollywood shirt. Inside this gift shop, you'll find a stellar mix of trendy apparel, jewelry, hats, drinkware, and even a little something for the family dog. Because no experience in Orlando is complete without a gift shop!