Come be inspired and learn about the ongoing rescue, rehabilitation, and release work at Clearwater Marine Aquarium. The marine life rescue center is home to Marine Life featured, in the Dolphin Tale movies, filmed on location in Clearwater, Florida — just 90 minutes from Orlando. Clearwater Marine Aquarium staff and volunteers work daily to rescue marine life and provide the most advanced and effective care to maximize the opportunity to return sick or injured animals to their homes.
Announcing a New Manatee Rehabilitation Center
Last month, Clearwater Marine Aquarium held a groundbreaking ceremony for a new Manatee Rehabilitation Center. The center will allow CMA to accept manatees recovering from the effects of food and habitat loss, red tide exposure, boat strike wounds, cold stress, and more. Conservation of this species is vital as manatees are vulnerable to extinction and serve an important role in maintaining the health of their ecosystems. This new center will offer manatee rehabilitation and care while giving guests the opportunity to learn more about the species and view stable rehabilitated manatees as they prepare to be released back into the wild.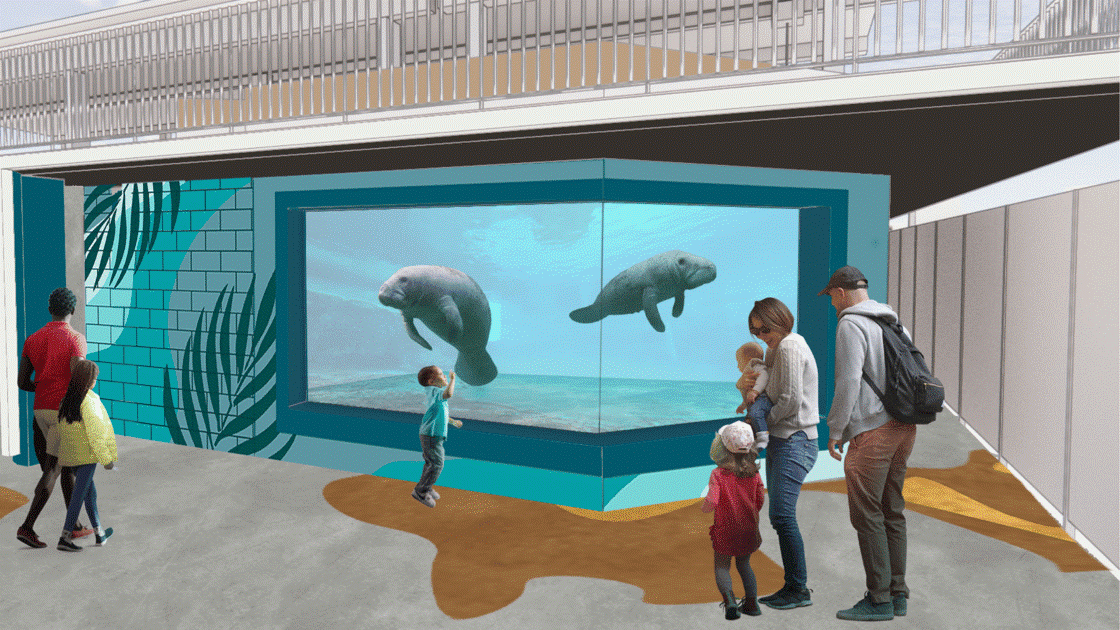 Funding for this project is made possible by the State of Florida, Florida Fish and Wildlife Commission, Duke Energy Foundation, John H. Prescott Marine Mammal Rescue Assistance Grant Program, and private donors.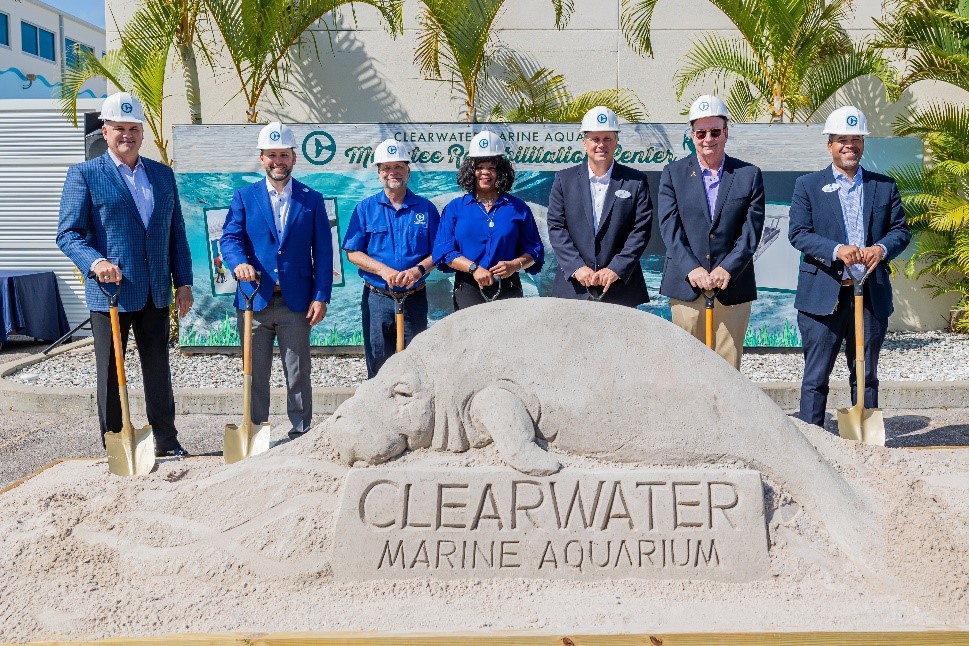 First Nest of the Season!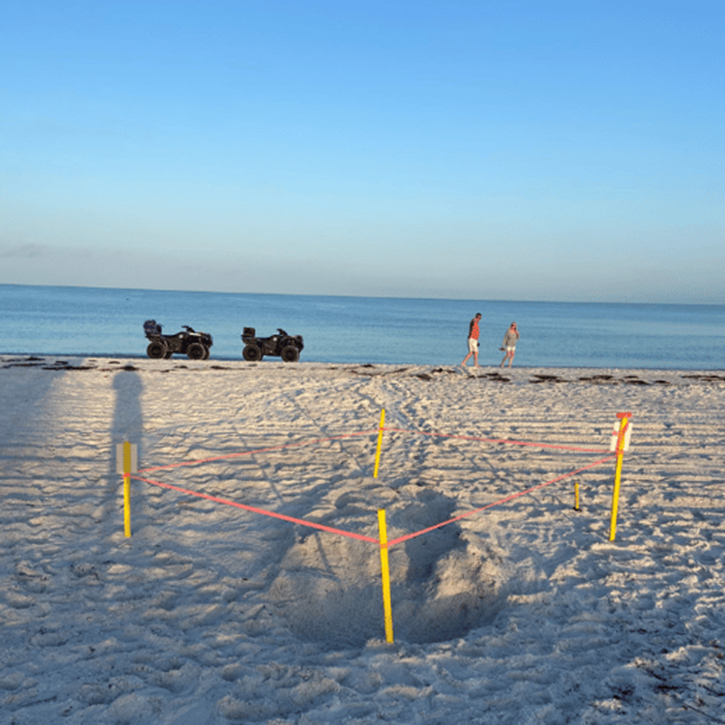 Last Month, the first sea turtle nest of the season was found before nesting season officially began! During nesting season, which usually begins on May 1, the CMA nesting team monitors about 21 miles of beach daily, before dawn, to help ensure our beaches are as safe as possible for the nesting turtles and their hatchlings!
Learn more about Sea Turtle Nesting Season and ways you can help!
Around 90% of all sea turtle nesting in the United States occurs on Florida beaches. Clearwater Marine Aquarium Sea Turtle Conservation Program patrols 21 miles of beach along the Gulf of Mexico. After hatchlings are born, they need to crawl their way into the water. Some scientists believe this journey helps the hatchlings imprint on their natal beach and could bring them back to lay their own nests. There are many ways we can help sea turtle hatchlings successfully make their way into the water.
Use Sea Turtle-Friendly Lighting.
Sea turtle hatchlings rely on celestial light (moonlight and starlight) to make their way into the water and are easily disoriented from bright lights from hotels and beachfront properties. During the season, use sea turtle-friendly lights! We are collaborating with Pinellas County Environmental Management, municipalities, code enforcement, FWC and the Sea Turtle Conservancy to offer sea turtle lighting consultations following FWC's sea turtle lighting guidelines!
These sea-turtle-friendly lighting guidelines ensure:
The lights are at a low height.
They are shielded.
The wavelengths are long.
Close your drapes or blinds and turn off all unnecessary outdoor lights. Switch other lights to sea turtle-friendly lights if your property can be seen from the beach. If walking the beach at night, please avoid using flashlights and cell phone lights. If using a flashlight is necessary, please be cautious of your surrounding areas and possible nesting mothers and hatchlings making their way into the ocean.
Clear Obstructions on the Beach.
Another obstacle hatchlings and nesting mothers have are obstructions on the beach. Please leave the beach surface flat. Knock down all sandcastles and fill in holes. By flattening the beach, you are giving hatchlings and mothers an easier route to the water. Hotels and beachfront properties should also be putting all beach chairs and other beach equipment away after the sunsets. Nesting mothers have been known to become stuck under chairs while trying to enter or leave the beach.
Don't Leave Food or Trash Behind.
The journey to the water isn't the only obstacle the hatchlings face. Predators such as raccoons destroy thousands of sea turtle eggs each year and are one of the biggest causes of sea turtle mortality on Florida beaches. When leaving the beach, be sure to remove all food and trash. These leftover food and food wrappers can attract raccoons to the beaches, ultimately leading them to nests full of eggs.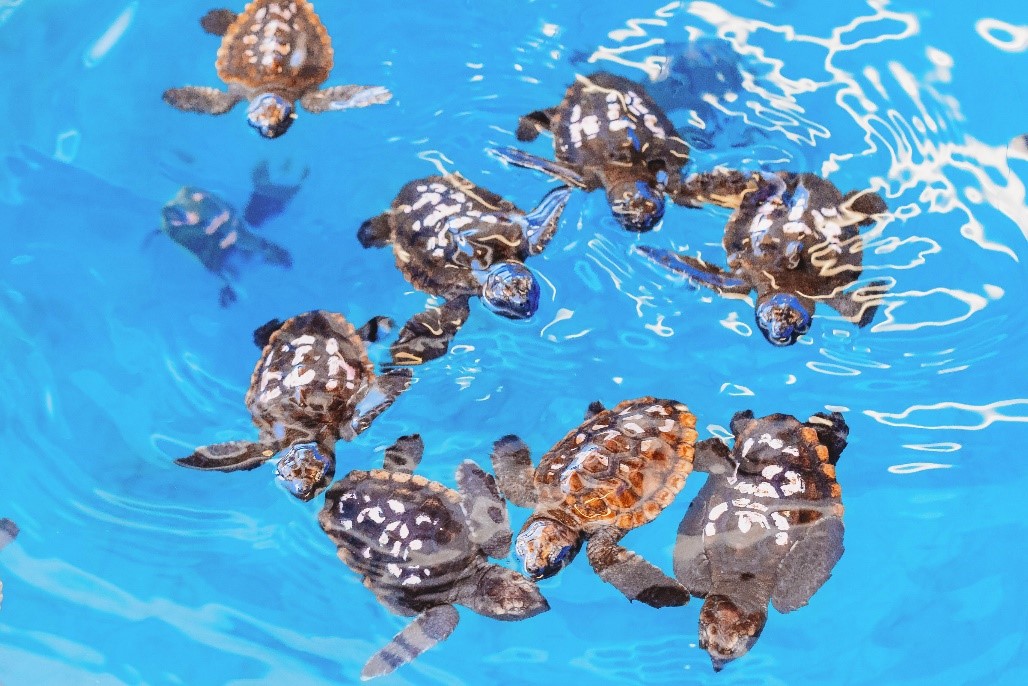 Leave Sea Turtle Nests and Hatchlings Alone.
Another way to help hatchlings during nesting season is to not interfere with any nests or hatchlings! There are federal and state laws prohibiting the touching of sea turtles. If you encounter a nest or nesting mother, please leave them alone and call your local stranding hotline or the FWC Wildlife Alert Hotline: 888-404-FWCC (3922). Do not take photos with a flash, do not walk the beach with a flashlight, and do not disrupt the tracks left by the mother! The tracks are pivotal to surveyors to know which species laid the eggs.
All marine turtle footage taken in Florida was obtained with the approval of the U.S. Fish and Wildlife Service and the Florida Fish and Wildlife Conservation Commission (FWC) under conditions not harmful to marine turtles. The footage was acquired while conducting authorized conservation activities pursuant to FWC MTP-19-263.
Check out all that CMA has to offer on your next vacation.