Central Florida's Polk County is considered Florida's Sweetest Spot for a variety of reasons, but a major factor is location, location, location. Situated nearly halfway between Orlando and Tampa, Polk is convenient to all the major attractions including LEGOLAND Florida Resort, the Gulf and Atlantic beaches, and the international airports in both cities. Also, about halfway between the two is Lakeland, Polk County's largest city. Lakeland has a vibrant downtown including restaurants and breweries, boutique shops, both new and historic attractions, multiple entertainment venues plus monthly and annual events, and of course, beautiful lakes.
They say April showers bring May flowers. In Lakeland, after April comes Mayfaire… or more specifically the Mayfaire by-the-Lake fine art festival, presented by the Polk Museum of Art and sponsored by Citizens Bank & Trust. Mayfaire is a Mother's Day weekend tradition, taking place May 13-14, 2023, along the shores of beautiful Lake Morton in downtown Lakeland. The free, two-day festival, which began as a small craft fair in 1971, has grown into one of the largest and oldest outdoor art festivals in Central Florida and includes plenty of food and drink vendors, merchandise, and ready-to-buy artwork. Mayfaire features more than 140 artist booths and has been ranked among Sunshine Artist Magazine's "200 Best Art Shows" for ten years in a row. Fun fact, Lake Morton is also home to the iconic swans of Lakeland. An original pair of swans was gifted to the City of Lakeland by England's Queen Elizabeth back in the 1950s.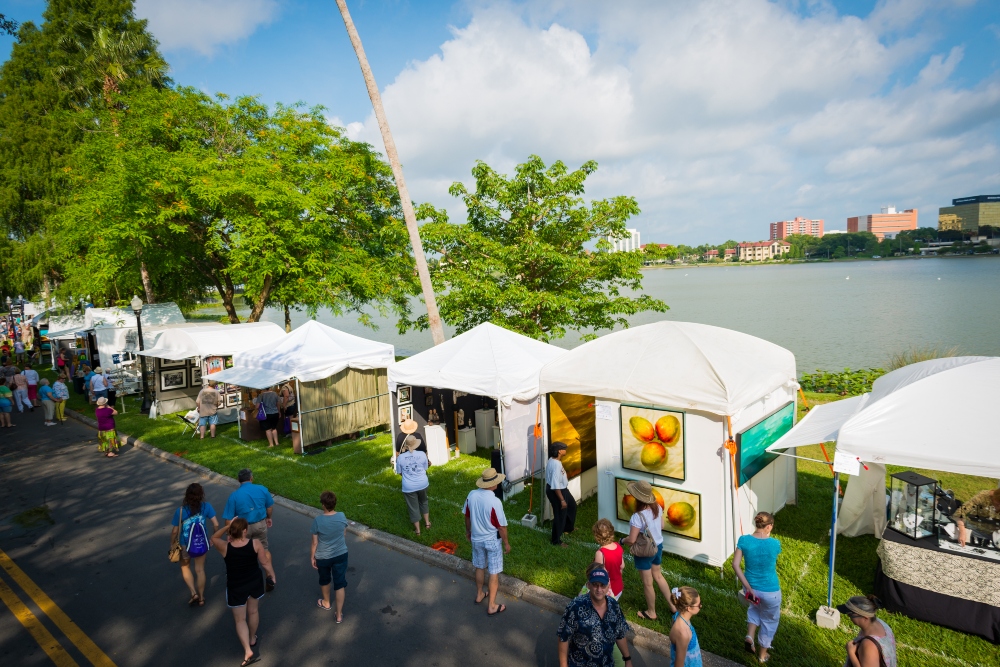 If you aren't able to make it to Lakeland for Mayfaire, you can still enjoy great art at the Polk Museum of Art at Florida Southern College (a Smithsonian Affiliate). The museum offers a permanent collection of Pre-Columbian artifacts along with various other collections and rotating exhibits on display in eight galleries and a sculpture garden – and thanks to great sponsors, admission is always free. The museum is closed on Mondays and major holidays.
Head two blocks south of Polk Museum of Art and you'll find the campus of Florida Southern College, designated a National Historic Landmark by the National Park Service of the U.S. Department of the Interior for being the largest single-site collection of Frank Lloyd Wright architecture in the world.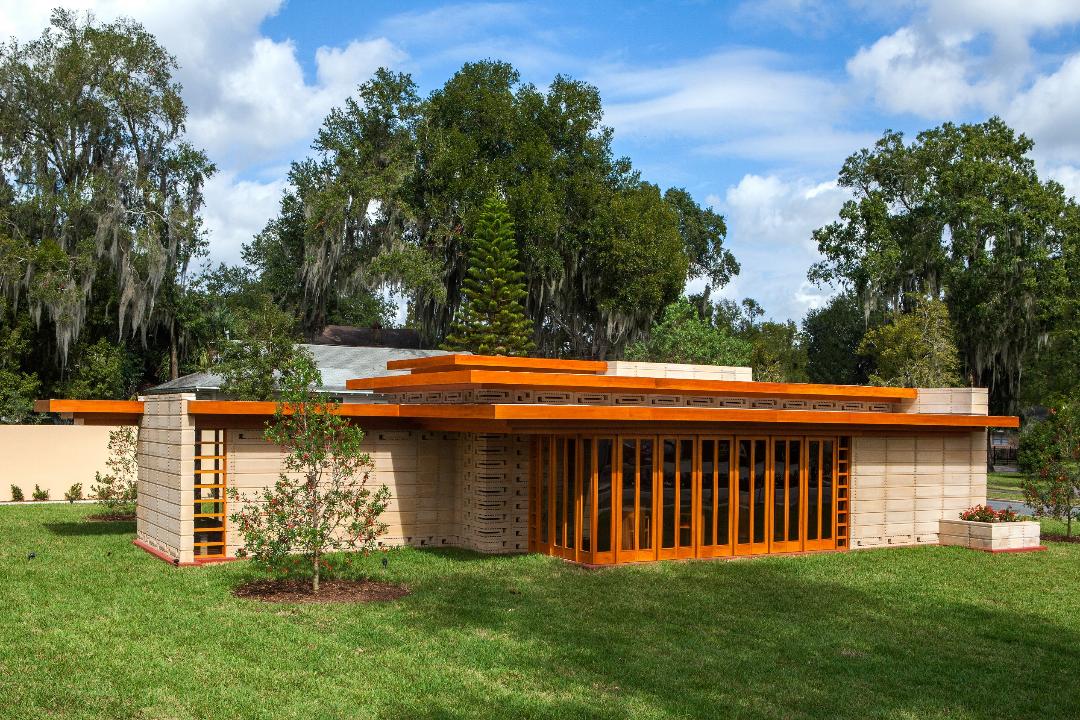 The fabled American architect designed more than 1,000 structures over a creative period of 70 years with his two most famous designs being Fallingwater, a private house in Pennsylvania, and the Guggenheim Museum in New York City. So, it is surprising to visitors to find his largest one-site collection is set atop a slight hill overlooking scenic Lake Hollingsworth in Lakeland. Wright's "Child of the Sun" collection consists of thirteen completed structures, including a library, a planetarium, a water dome, two chapels, and the Usonian House. Based on a 1939 design for faculty housing, the Usonian House was never utilized for that purpose, but a single house was built decades after the other structures, in 2013, as part of a new visitor center for the architectural collection. Both paid and self-guided walking tours of the "Child of the Sun" collection are available and advance reservations are recommended.
Across town from one of Lakeland's oldest attractions is the city's newest, Bonnet Springs Park. Just opened in October 2022, this magnificent regional park is situated on 168 acres of former railroad yards that underwent extensive remediation site work to restore and rejuvenate the property from the ecological impacts of the railroad's steam and coal era's transition to diesel locomotives. Ambitious in scale, Bonnet Springs Park is now a world-class park on a beautiful, flourishing property within walking distance of Downtown Lakeland that invites visitors to "Escape. Engage. Explore." Admission and parking are free, supported by an endowment, memberships, community partners, sponsors, and patrons. The mission of Bonnet Springs Park is to enrich the community through nature, culture, recreation, and education. Start your visit at the welcome center, which includes the history gallery, a gift shop, and a coffee shop. The park is designed as an oval, with tram service around the property, and features multiple stops including a playground, a butterfly house, a nature center, a greenhouse, a botanical garden, a treehouse, and the scenic treetop canopy walk. Visit the Depot Café for lunch or a snack, then spend some time enjoying the view across the park from the rooftop bar.
Another gem in Lakeland, located within Bonnet Springs Park, is the new Florida Children's Museum, which opened in November 2022. Visitors will find something for the whole family in this new, two-story state-of-the-art facility, spread across 47,800 square feet of hands-on exploration. The museum has several galleries full of interactive permanent exhibits including the Watermelon Seeds gallery for the youngest of children. The St. Christopher's Project City Play gallery is a child-sized version of a real city that allows children to explore a wide range of careers. They can transform into a firefighter, create their own TV newscast or take a shift as a cashier at the local supermarket. Coming soon is the Harrell Family Charities Front Yard, an enclosed outdoor space featuring a 100-foot climbable alligator named Blinky, after a famous one-eyed resident alligator who called Lakeland home in the 1970s. The museum will also host traveling and temporary exhibits as a way to present new and exciting learning opportunities. Florida Children's Museum also works in partnership with the Center for Autism and Related Disabilities at the University of South Florida to be Autism Friendly and families can check out a Sensory Kit at the front desk during their visit. Admission to the museum is $15 per person for those ages 2 and up. Parking is free, as is admission for children under age 2.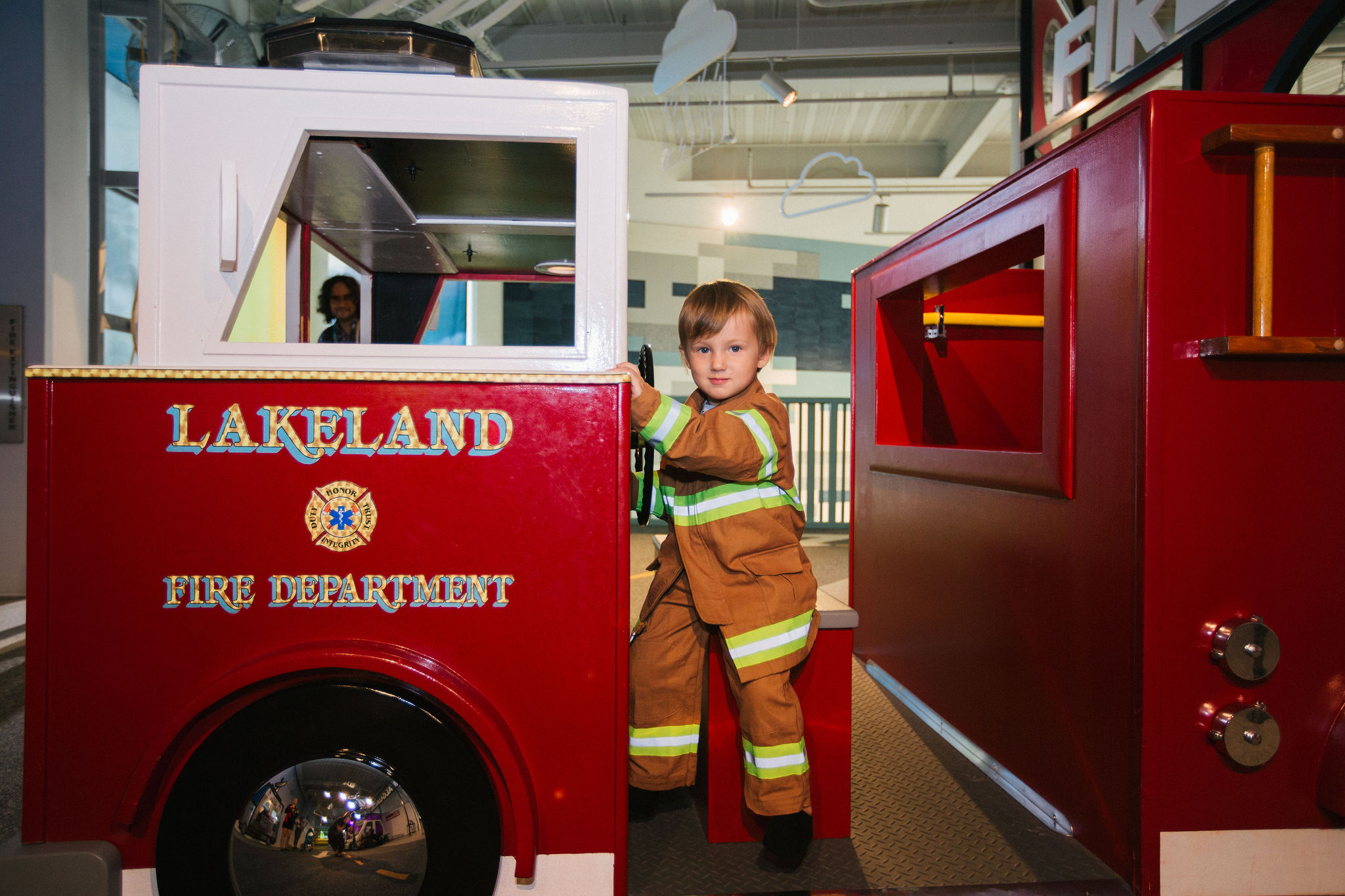 If you wish to see an alligator in its natural habitat, head over to Circle B Bar Reserve on the East edge of Lakeland. The reserve has been called one of the "Top 50 Places to see Wildlife" by USA Today. Once a functioning cattle ranch, the 1,267-acre Circle B Bar Reserve has been restored to its original natural state as one of the most impressive bird habitats in Central Florida. Birders, hikers, photographers, painters, and nature lovers come from all over the world to experience this natural treasure. The reserve, which is made up of freshwater marshes, hardwood swamps, oak hammocks, creeks, and lakes, is home to an assortment of wildlife, including waterfowl, ospreys, eagles, and alligators. For the best opportunity to spy a gator, don't miss the 1.2-mile Alligator Alley trail which overlooks Lake Hancock. The on-site Polk Nature Discovery Center helps visitors of all ages understand the delicate ecosystem of Central Florida with indoor and outdoor classrooms and numerous exhibits specifically designed to engage and excite young minds. Admission is free for both the reserve and the Discovery Center. The Discovery Center is closed on Mondays.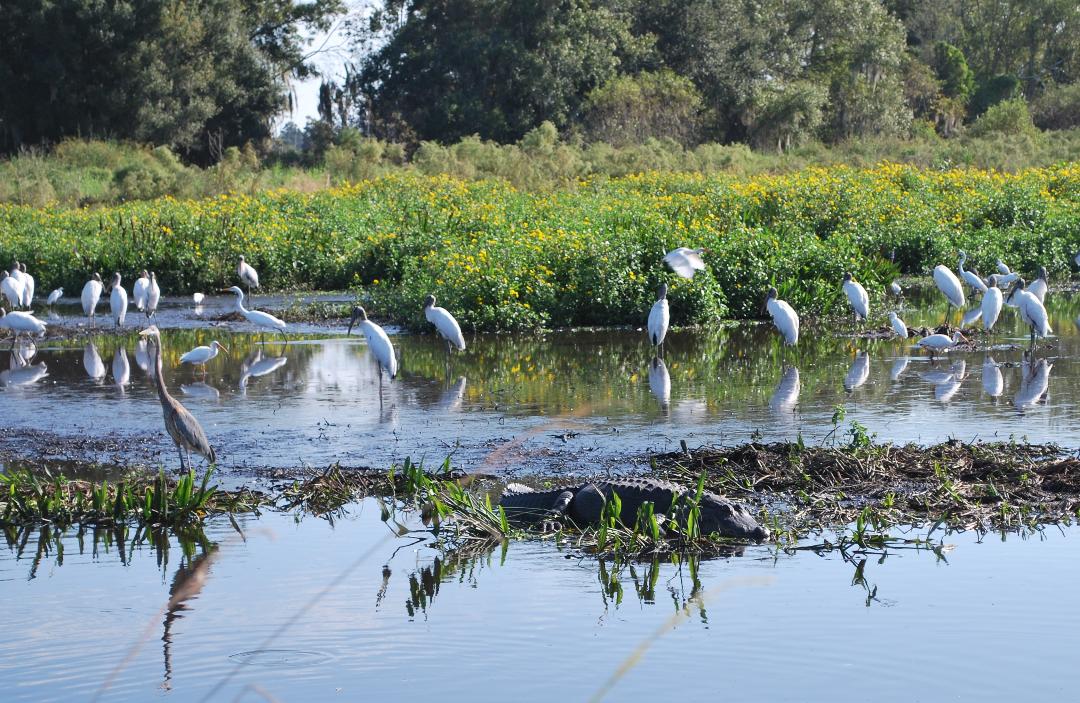 Another way to see wildlife is to take a tour at Safari Wilderness Ranch in North Lakeland. This attraction was named one of the "10 Best Safaris in the U.S." by Fodors.com. Here you can witness the dramatic landscapes of the Serengeti without setting foot on an airplane. You'll be guided through lush wetlands and open grasslands and enjoy spectacular close-up encounters with huge herds of exotic hoofstock. This 260-acre preserve is surrounded by Florida's Green Swamp, an 870-square-mile pristine watershed that is the source of five of Florida's finest rivers. Tours are available by safari vehicle, on camelback, on ATVs, and by kayak. One-hour drive-through safaris are also available (using your own vehicle) and optional extras include lemur and budgie feedings, plus cheetah and sloth encounters. Reservations are required. The attraction also offers seasonal safari camping.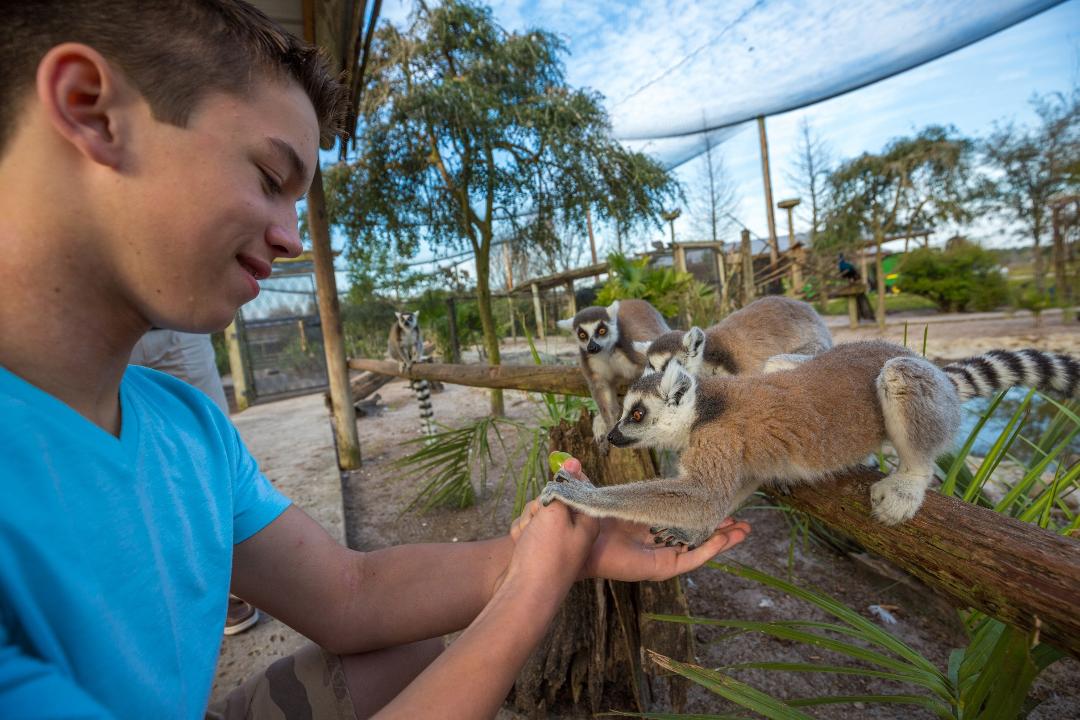 All this touring and exploring might work up an appetite and Lakeland offers plenty of dining options for hungry visitors. Try a freshly baked cruffin at Born & Bread Bakehouse on Wednesday or Saturday mornings, enjoy a fish sandwich from the casual walk-up counter at Mister Fish, grab a slice at Palace Pizza, sample Southern comfort food like fried green tomatoes and collard greens, buffet style, at Fred's Market Restaurant or sit down at the upscale Nineteen61 for Latin inspired cuisine. There are literally dozens of restaurants to please your palate.
If you also find yourself thirsting for a cold beverage in Lakeland, check out Swan Brewing, Brew Hub, or Dissent Craft Brewing Company. Look for special offers on the Adventure on Tap Central Florida Craft Beer Pass here.
Lakeland offers a variety of well-known and comfortable accommodations but if you are looking for something with an extra bit of history and charm, check out The Terrace Hotel Lakeland, Tapestry Collection by Hilton. And if you are going to stay over, do some shopping in the downtown boutiques, explore the interesting murals around town, and take the opportunity to see a show at one of the area entertainment venues such as the historic Polk Theatre (Elvis once performed here), the RP Funding Center and the Lakeland Community Theatre.
With so much to see and do in this sweet spot of Florida, plan your vacation in Central Florida's Polk County now.