Tampa's ZooQuarium Ticket provides access to two of Tampa's most loved wildlife attractions: ZooTampa at Lowry Park and The Florida Aquarium. Visitors discover animals and habitats from Florida and beyond. Continue reading to learn more about the caretakers who are dedicated to the wellbeing of the animal residents.
The Florida Aquarium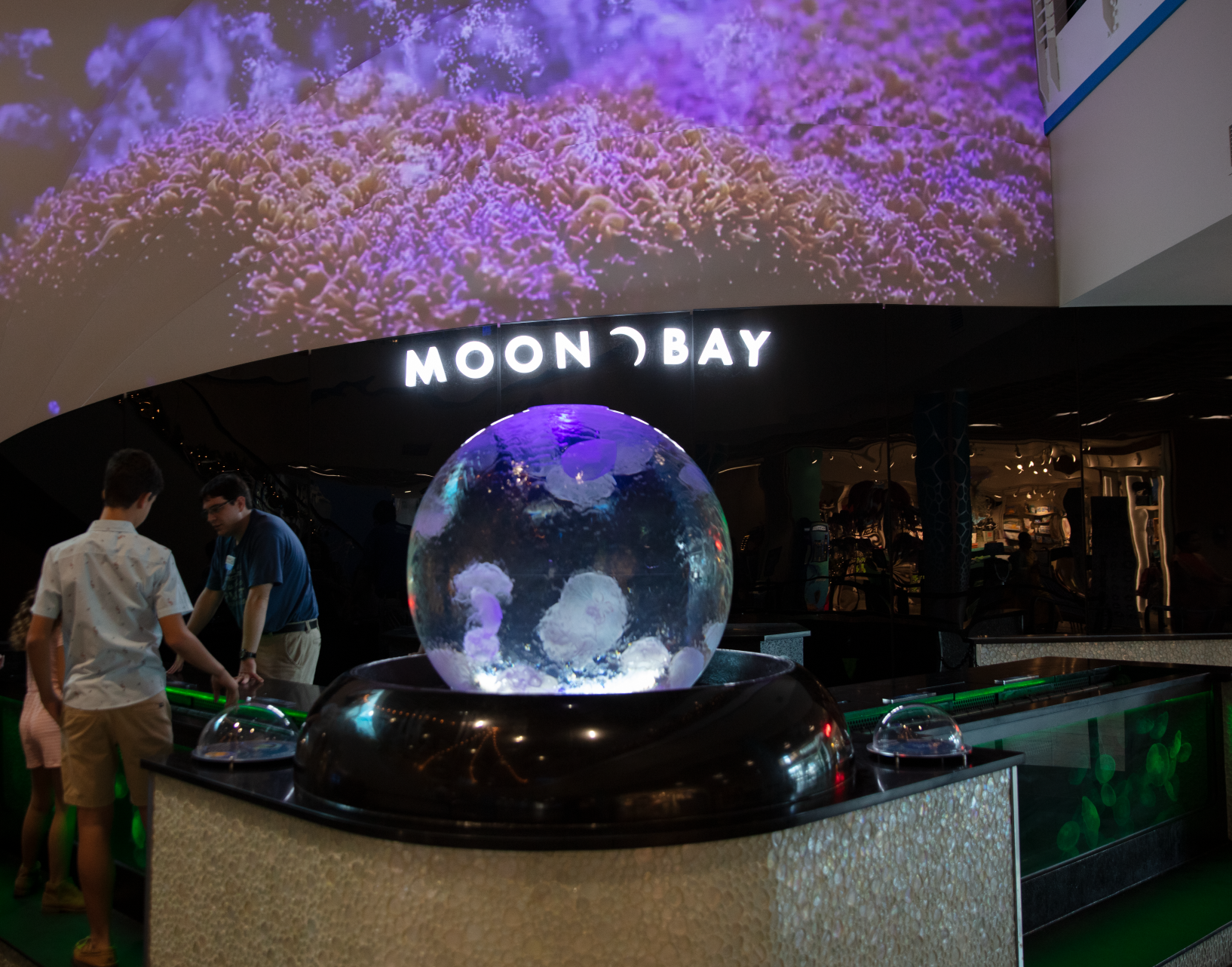 One of the first sights that greet you upon entering The Florida Aquarium is Moon Bay – a moon jelly touch experience. This gallery is one of only four of its kind in North America! It is met with delight from visitors – both young and young at heart. And, it's completely safe! While all ocean jellies have stinging cells, moon jellies do not have a strong stinging ability and the 'bell', located at the top of the animal, does not contain stinging cells. After touching a moon jelly on its bell, people are often heard describing the touch as squishy, soft, and smooth!
Behind the scenes of this moon jelly, touch experience is an experienced team of biologists that keep the habitats running smoothly. Team members Libby and Kayli work primarily with this habitat making sure that our bloom of jellies are healthy and cared for. Between them, this duo of animal care professionals has over 10 years of Aquarium experience. The world-class care they provide to our jellies includes feeding, monitoring water quality, reproduction, and general animal health.
"Working with jellies is challenging but rewarding work," says biologist Kayli. "I love seeing our younger visitors touch a jelly for the first time! Their eyes light up and you can see they are curious to learn more about these animals."
A 'day in the life' of a jelly biologist may start with checking the pH, salinity, and temperature of the systems to ensure they are in an optimal range. Next up is feeding. Our moon jellies can eat 2-3 times a day and their diet primarily consists of a small shrimp called a mysis. Once the jellies have been fed, you can see the brightly colored orange shrimp inside the jellies' 4 stomachs. Feedings are followed by water changes, as leftover food needs to be removed from the water to keep it clean. Not only are our biologists maintaining animal health and habitat quality for our jellies, but they are also doing additional work our guests don't see!
You may be surprised to hear that the Aquarium reproduces and rears moon jellies in our jelly lab. Biologists like Libby work to raise the jellies from microscopic larva to settled polyps, to swimming ephyra, to the final adult medusa stage!
Libby says, "The jelly rearing process can take months. It takes a lot of hard work and patience to ensure that these animals have the proper food, water quality, and growing conditions to develop into the adults you're used to seeing."
Moon jellies aren't the only species you'll see at the Aquarium. You may encounter sea nettles, blue blubbers, lagoons, or upside-down jellies to name a few.
The Aquarium hopes to educate its guests on the importance of jellies in the ocean ecosystem, as they are often an important food resource for sea turtles. Species like the leatherback sea turtle consume many jellies throughout their lifetime.
"It is so important for guests to make the connection between ocean jellies and plastics," said Kayli. "When something like a plastic bag enters our waters, sea turtles can mistake it for food. You can do your part to protect our oceans and sea turtles by reducing your use of single-use plastics. Making small changes can have a big impact on the environment. If every guest who came in stopped using plastic bags, we could keep thousands of them out of our oceans."
A Behind-the-Scenes Look at ZooTampa's Rhinos and Animal Care Team
With more than 1,000 animals in our care—including the greater one-horned rhino, also known as an Indian rhino, and the Southern white rhino—at ZooTampa, they're very excited about World Rhino Day on September 22.
A day dedicated to raising awareness of the plight of the world's five remaining rhinoceros species, it's also the perfect time to share some behind-the-scenes tidbits about the incredible rhinos who call ZooTampa home and the teams that care for them.
The Southern White Rhino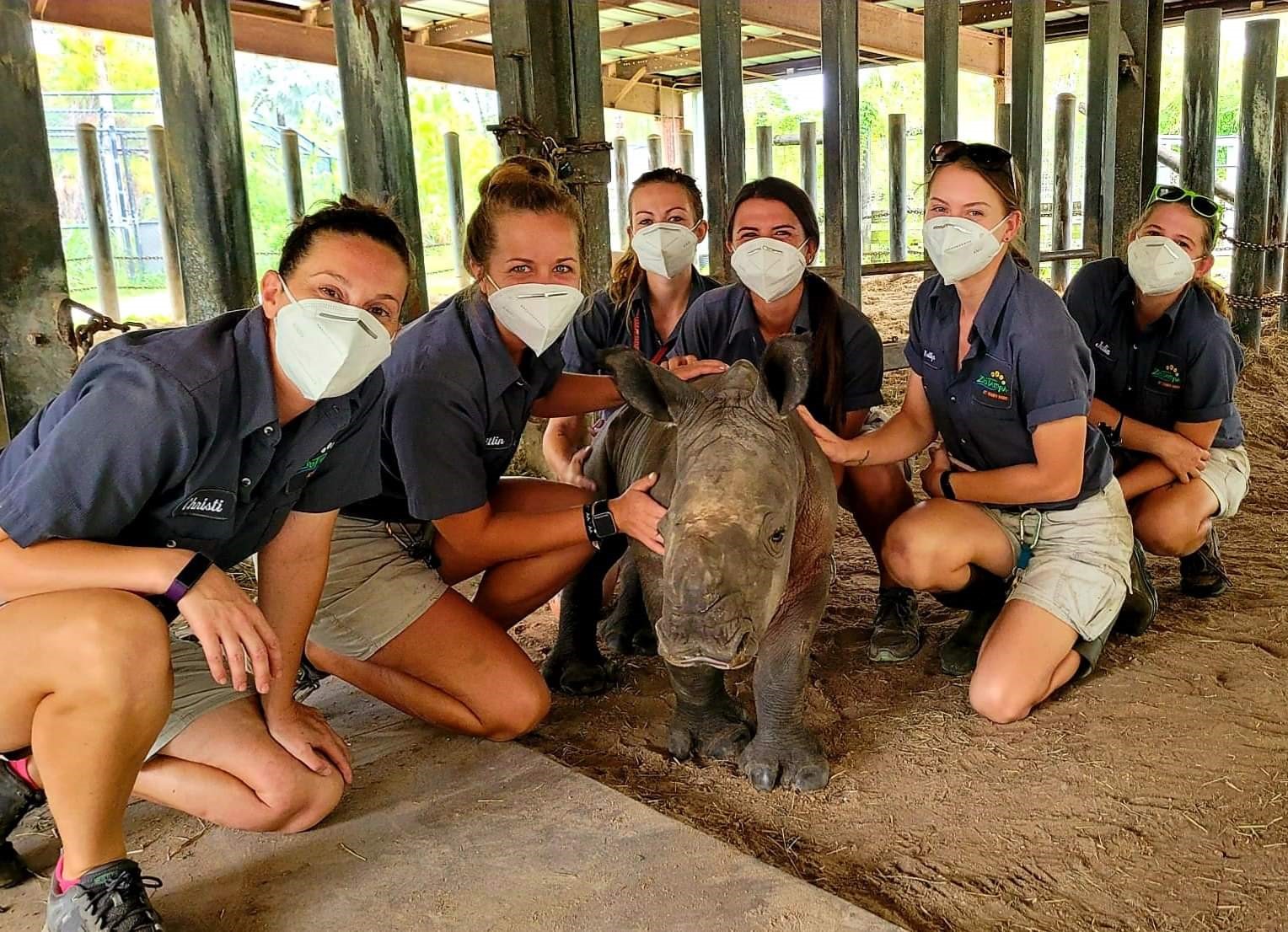 This near-threatened species is the only rhino species with broad, flat lips that enable them to pull grasses out of the ground. Considered the lawnmowers of the African Savanna, they can eat upwards of 100 pounds of food a day! ZooTampa's crash of Southern white rhinos includes Kidogo, Kayin, Alake, Amare, Ruby, and Fujo – and they certainly keep the care team on their toes with antics, including mud wallowing and spontaneous zoomies.
"Fujo, one of our adult females, is full of so much fun personality," shares Brandi Beatty, Animal Care Supervisor (Africa), who has been with ZooTampa for seven years. "She is always the first to investigate fun enrichment and anything out of the ordinary."
Christi Reiter, Animal Care Supervisor (Africa) and another seven-year ZooTampa veteran, says that the Zoo's Southern Whites are quite personable and gentle for their size. "They enjoy hanging out with us, even if we don't have food," she explains, "and they're all about the scratches."
Ruby, our three-and-a-half-month-old baby female in the crash, loves a good armpit scratch. "If you find just the right spot in her armpit, she will fall onto her side and fall asleep almost immediately," says Blayne Kirksey, Animal Care Associate (Elephant and Rhino), who has been with the Zoo for two-and-a-half years. "It is precious!"
Though the Southern white rhino is doing the best in terms of numbers in the wild, they're still facing threats to their environment and population. "The easiest way to help the species is through education," says Brandi. "Be an educated traveler and help spread awareness about the threats these rhinos are facing."
The Greater One-Horned Rhino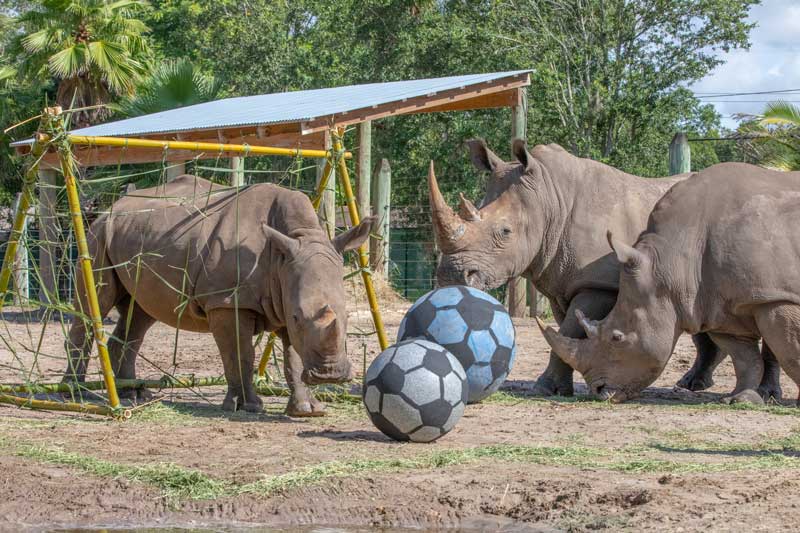 The largest of the world's rhinoceros species, Greater one-horned rhinos can weigh in at more than 4,600 pounds when mature. However, they are considered vulnerable due to poaching for their horn, which some cultures believe in having medicinal powers and used as status-defining dagger handles in others.
ZooTampa's crash of these enormous creatures includes Johnny (or Juanpur), Jamie, and their baby, Gronk, who was born last September and quickly captured the hearts of ZooTampa visitors as well as the Greater one-horned rhino care team.
"By far, the best part of working with these guys is getting to watch Gronk grow up and learn how to be a rhino," says Collin Beatty, Animal Care Professional (Asia) and three-year ZooTampa veteran. "He still gets the zoomies and startles at the most random noises."
Collin adds that Gronk's dad can be equally silly. "He loves to splash and blow bubbles in the pool! I have to stop and watch him every time. He loves the water, and seeing him that happy and having fun always brings a smile to my face."
Gronk's mom has a deeply rooted love of snacks, something Katie Sheppard, Animal Care Professional (Asia), says she relates with on a personal level. Katie started as a volunteer at ZooTampa in 2010 and has been on the animal care team since 2012. "She knows what she wants, and she knows how to get it," Katie adds.
Amanda Powers, an Animal Care Professional (Asia-Australia) at ZooTampa for five-and-a-half years, agrees. "Jamie is a diva!" she says. "Gronk is taking after his mother and becoming quite the diva himself. Watching his personality unfold this year has been so fun."
"Jamie is sassy and opinionated," adds Kristina Przystawik, Animal Care Supervisor (Asia-Australia), who has worked with rhinos at ZooTampa for seven years. "She's always up to interact with us and loves any snacks you have. Johnny is more of a quiet soul. He is incredibly patient and never ceases to amaze us with his willingness to voluntarily participate in all matters of his husbandry and veterinary care."
Though the number of Greater one-horned rhinos in the wild is increasing, conservation is still essential. "About 100 years ago, we only had about 200 individuals left in the wild," says Jayme Lee, Animal Care Professional (Asia-Australia) and a seven-and-a-half-year ZooTampa veteran. "Today, over 3,000 individuals are found in the wild. If we continue these efforts, be mindful of our purchases, and support our zoos and aquariums, we can help with the conservation of all rhino species."
ZooTampa supports the work of several organizations that work to protect rhino species, including the International Rhino Foundation. To learn more about rhinos and what you can do to make a difference, check out the International Rhino Foundation.
While visiting ZooTampa at Lowry Park and The Florida Aquarium, you are invited to engage with the dedicated animal care team (or any staff member for that matter) to learn more about their work!