When visiting new destinations, we often focus on the place itself—weather, location, history, fun things to do, etc. The thing that often sets a destination apart (and may even influence the success of a memorable holiday the most) is not the Where or What, but rather the Who. These are the people you encounter on our journey. Their welcoming smiles, assistance with even the smallest of needs, and willingness to share their time and/or knowledge make a difference. Additionally, the people who are behind-the-scenes can be just as impactful. Such is the case at Tampa's Zooquarium, two of Tampa, Florida's preeminent conservation organizations and animal attractions: ZooTampa at Lowry Park and The Florida Aquarium.
Unwavering Dedication to Animal Care: Introducing ZooTampa's Wonder Women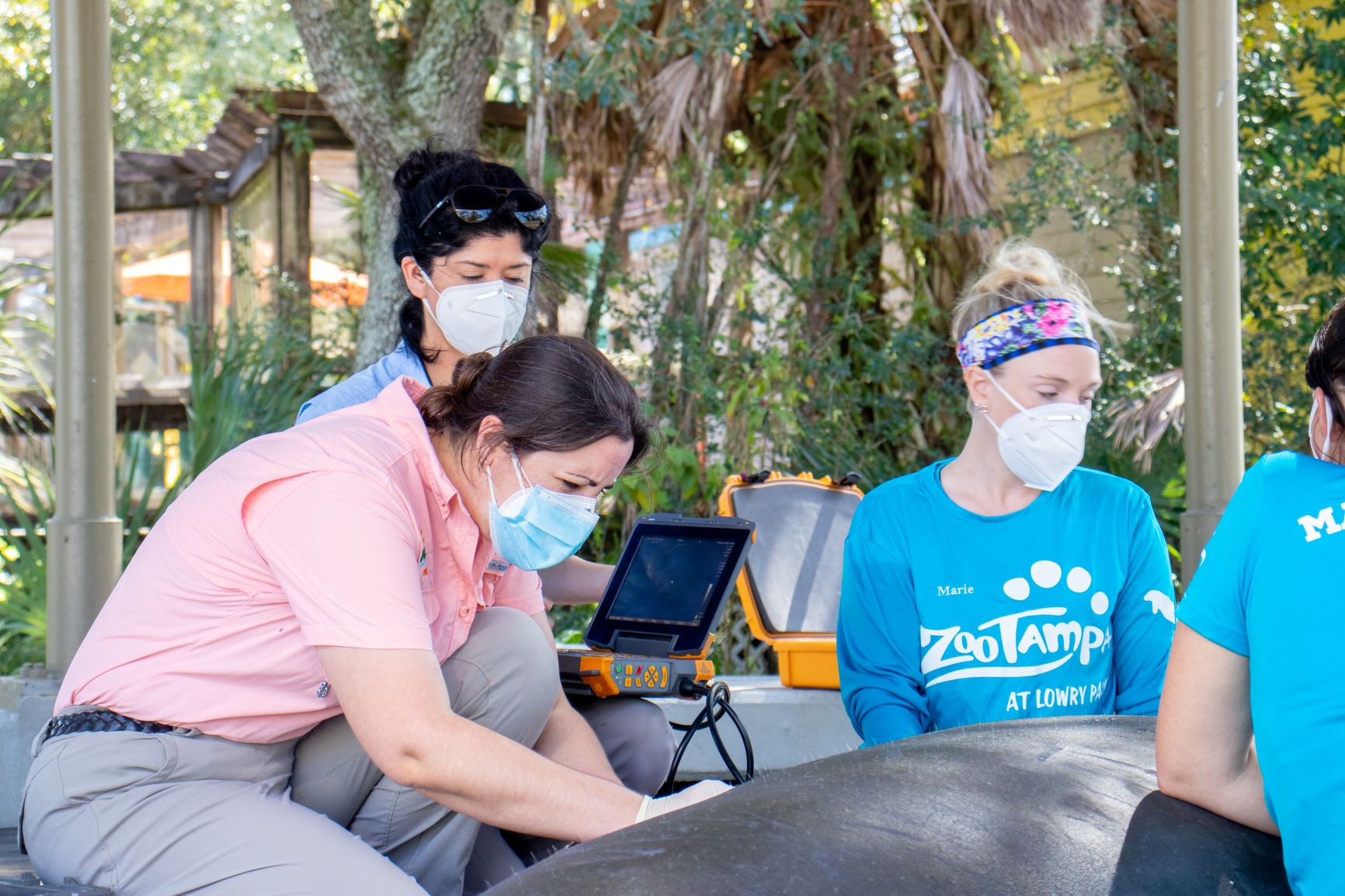 With more than 1,000 animals in their care—including Florida manatees and panthers, pygmy hippos, greater-horned rhinos, Southern white rhinos, and African elephants—ZooTampa at Lowry Park's modern 56-acre campus is an attraction worthy of inclusion in any Florida vacation itinerary.
Focused on the responsibility of caring for endangered, threatened, and vulnerable species, this award-winning zoo also rescues, rehabilitates, and cares for numerous species while creating enjoyable, immersive experiences for almost 1 million visitors annually. A dedicated, experienced, and exceptionally skilled staff is required to make the zoo's mission possible, and the animal care "wonder women" of the ZooTampa portion of the Zooquarium are integral to that task.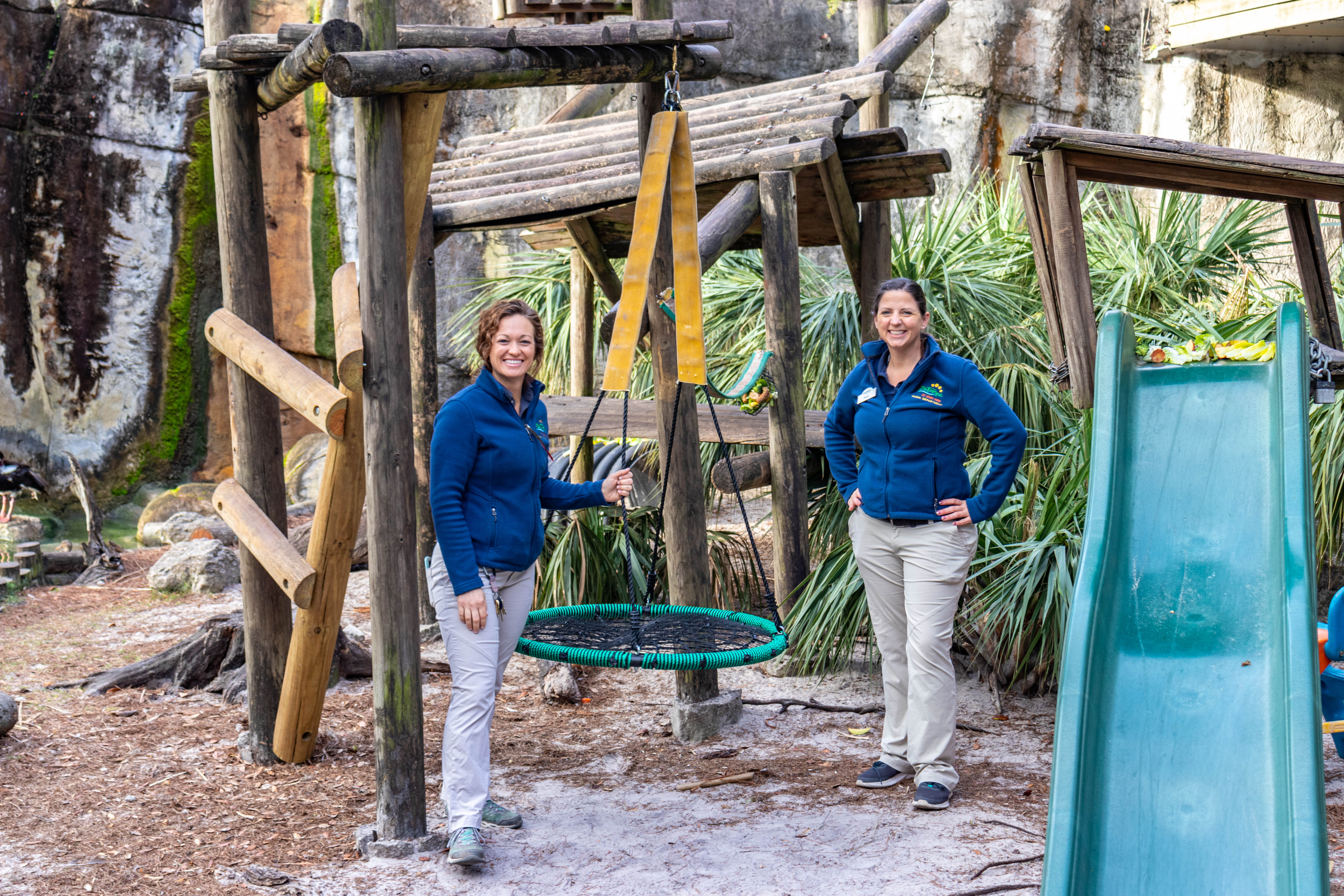 Tiffany Burns, Associate Curator (and Manatee Defender!)
With more than 15 years of animal-related experience, our "Manatee Defender" Tiffany has traveled the world to participate in marine mammal rescue and rehabilitation efforts. She began her career working with dolphins at the Mirage Hotel in her hometown of Las Vegas, Nevada, and has since visited wildlife sanctuaries in Africa to train staff on best practices and chimpanzee behavior. Now at ZooTampa, Tiffany leads the manatee care team, which focuses on the rescue, rehabilitation, and release of sick and injured manatees.
Over the years, ZooTampa has cared for more than 400 manatees, dedicating an average of 173 days to each injured animal at the David A. Straz, Jr. Manatee Critical Care Center. This facility is the world's first non-profit critical care center for sick and injured manatees and features three 16,000-gallon medical treatment pools, two underwater treatment pools, and a public observation area where visitors can watch the rehabilitation process.
Sue Pasquine, Associate Curator of Behavior (and Animal Welfare Wizard!)
Born and raised in Cleveland, Ohio, Sue discovered her passion for animals while volunteering at local shelters. She began her career at the Cleveland Zoo and moved on to work at the Miami Seaquarium training 16 bottlenose dolphins and multiple parrot species. Before joining ZooTampa, she also spent time at the Clearwater Marine Aquarium, where she worked closely with the animals who appeared in the movie Dolphin Tale 2. In her current position, ZooTampa relies on her training expertise to help staff with animal behavior and enrichment.
Cynthia Stringfield, DVM, Senior VP of Animal Health, Conservation, and Education (and Florida Panther Champion!)
Passionate about the care and conservation of animals throughout the world, Dr. Stringfield has more than 35 years of veterinary experience including positions as supervising veterinarian at the Los Angeles Zoo, part of the animal health team at the Santa Barbara Zoo, and a professor and department chair at Moorpark College. Dr. Stringfield also served 17 years as the veterinary coordinator of the California Condor Recovery Team before joining ZooTampa, where she is excited to be part of the Florida Panther Recovery Program. There are currently fewer than 200 of these beautiful cats living in the wild, and the zoo is proud to play a role in their critical conservation.
Lauren Smith, DVM, Director of Animal Health (and Protector of Manatees!)
Born and raised in Texas, Dr. Smith practiced as a companion animal veterinarian for several years before joining the University of Florida's aquatic animal medicine team. After working with a wide variety of species at several facilities across Florida, she joined ZooTampa in 2015. Dr. Smith is currently the lead manatee veterinarian, managing the care of the gentle giants at the heart of the zoo's decades of Florida wildlife conservation efforts.
Melissa Nau, DVM, Associate Veterinarian (and Animal Medicine Enthusiast!)
With a lifelong passion for zoo and wildlife medicine, Dr. Nau attended veterinary school at Ohio State University. Since graduating in 2013, she has completed several specialized training programs in zoo medicine including internships at SeaWorld San Diego, the National Marine Mammal Foundation, and Kansas State University, as well as fellowships at the San Diego Zoo and ZooTampa.
These featured wondered women are just a few of the more than 80 employees that dedicate their lives every day to providing exemplary care and top-notch medical attention to the amazing animals entrusted to our care. If you'd like to learn more about these "Wonder Women", don't miss the popular Nat Geo WILD television series, Secrets of the Zoo: Tampa, filmed entirely at Tampa's award-winning zoo. The series features many behind-the-scenes stories of the zoo's amazing animals and the dedicated team that cares for them.
When One's Lifelong Passion Becomes a Career: Introducing "The Shark Guy" of The Florida Aquarium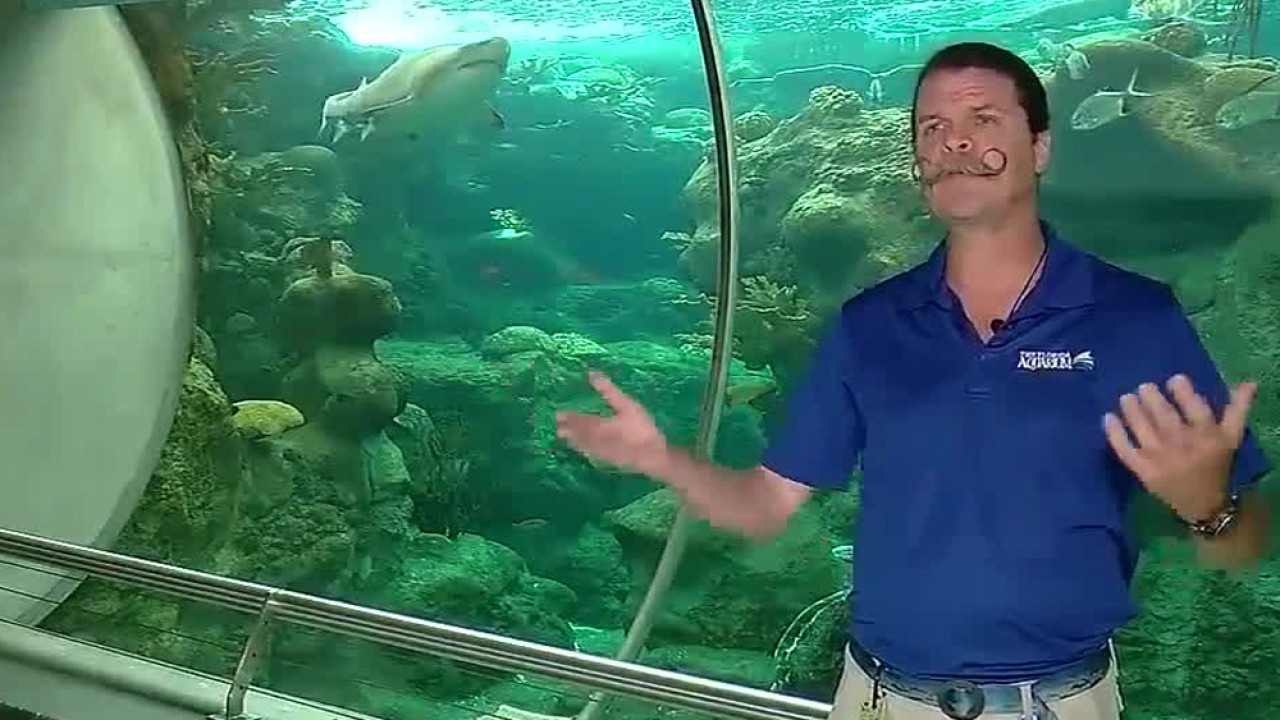 As the largest aquarium in the state, The Florida Aquarium (located in downtown Tampa), attracts world-class staff to care for the animals who call it home. One such team member is Eric Hovland, Associate Curator, who has been with The Florida Aquarium since its inception in 1995. Part of Tampa's ZooQuarium ticket, it's something you have to see to believe.
Eric's marine biology journey started long during his childhood in Minnesota, the state is also known as The Land of 10,000 Lakes. It actually has close to 12,000! Beyond playing in the water ecosystems in his backyard, Eric spent summers in Florida where his father frequently had Navy Reserve duty. Early memories include exploring the beaches of Jacksonville on the northeast coast of Florida. Additionally, watching wildlife television shows with Jacques Cousteau as well as Marlin Perkins of Mutual of Omaha's Wild Kingdom took Eric to fascinating places beyond Minnesota and Florida.
After various positions in marine biology, Eric found himself helping to successfully open the Corpus Christi Aquarium in Texas. When plans for the establishment of The Florida Aquarium came to fruition, Eric was asked to be part of that Start-Up team because he had become known as an industry expert. Twenty-five years later as an Associate Curator, he helps aquatic animals find a home in Tampa. With the current pandemic, his job includes managing the changes related to ensuring the animals' health and safety.
Shark Expert is also one of Eric's roles at the Aquarium. He is an enthusiastic advocate of these frequently misunderstood apex predators of the sea. Because of the public's fascination with sharks, Eric is often interviewed by media, and he proudly tells the sharks' story including their vital importance to the oceanic ecosystem.
The Florida Aquarium is currently home to three shark species: Sand Tiger, Nurse, and Bonnethead. Sand Tiger sharks are only fertile every other year and birth only one to two pups at a time; their vulnerable population is protected in the United States and other countries. Nurse sharks are one of the shark species with muscles that allow them to breathe by pumping water through their gills so they are often found remaining still around the bottom of reefs. Bonnethead sharks are a type of hammerhead and quite common in Tampa Bay. It has been recently discovered that Bonnetheads eat seagrass in addition to fish and crustaceans, so this omnivore quality makes them unique among sharks.
Eric appreciates that visitors to the Aquarium want to learn about sharks and Florida wildlife. From their visit, he encourages them to understand how they can help marine life thrive.
Eric loves to travel around the world and of course, many vacations involve the sea. Memorable trips include Guadalupe and Socorro Islands, where he dove with giant manta rays and great white sharks.
His passions are not limited to marine life. When not at the Aquarium, Eric's diverse interests include participating in international mustache and beard championships, riding a mountain unicycle known as Muni that he has even taken to the Arctic, and brewing his own beer at home. That enthusiasm for beer helped initiate a partnership with a local brewery, Coppertail, who craft select beers with a portion of their sales donated to The Florida Aquarium.
It seems that even Eric's hobbies naturally align with the aquatic world! His thirst to help people better understand and explore nature, including introducing people to new shark species, is truly life-affirming.
Visit The Florida Aquarium and ZooTampa at Lowry Park as part of the Tampa ZooQuarium pass, which gives you access to two of Tampa, Florida's top attractions. Both are non-profit and mission-based organizations that are accredited by the Association of Zoos and Aquariums for maintaining high standards in animal welfare, veterinary care, conservation, and education among other requirements. While at ZooTampa at Lowry Park and The Florida Aquarium, perhaps you will find yourself inspired by their animal residents as well as the dedicated and passionate people who help care for them!