We've all been waiting for the I-Ride Trolley services to resume, and your Christmas wish is coming true! As of December 17th, the green smiles we all know and love will again be making their way around International Drive. Just in time for the holidays, the I-Ride Trolley is back!
Due to COVID-19 guidelines, the Trolleys will be operating at a limited capacity, with service running Thursday through Sunday from 8 am to 10:30 pm. Due to a reduced fleet, and capacity, be sure you allow for possible longer wait times.
What to expect…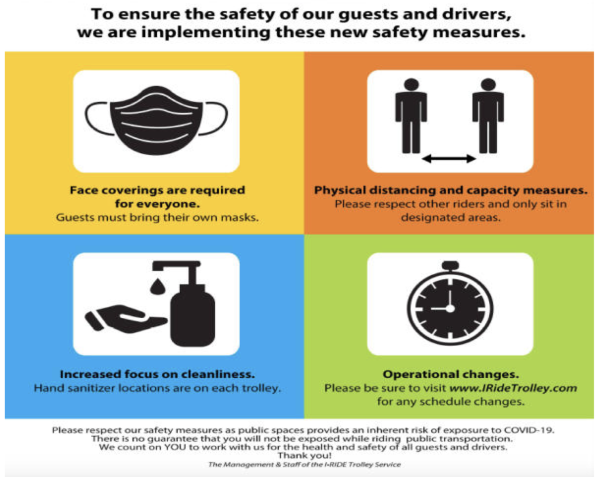 You'll notice some changes when you enter the I-Ride Trolley.
Masks will be required for all riders, upon entering you'll find a hand sanitizer station for use at the front of the trolley, and your driver will be behind a plexiglass wall. During this time, and only exact change will be accepted to limit physical contact.
Each trolley will be thoroughly cleaned every evening, while hand railings and other frequently touched surfaces will be cleaned regularly throughout the trolley's day of service.
Find comfort in knowing that our drivers will have their temperature checked each morning before departure, and will also be required to use face coverings.
Capacity in each trolley will be at no more than 50% at any point in time, and you'll find that the trolley seats have been marked off to ensure social distancing during your ride.
Want to learn more about what we're doing to ensure that your next adventure on the I-Ride trolley is safe? Check out this video below that provides more detail on what new safety measures have been put in place.
What is the I-Ride Trolley Service?
The I-Ride Trolley is the exclusive, convenient, and affordable transportation to hundreds of exciting destinations along International Drive and around the resort area.

How much does it cost?
Hop aboard! Single fare for adults on the trolley is $2.00 per ride, $1.00 per ride for children between the ages 3 and 9. Senior citizens 65 and older can enjoy the discounted fares at just .25 cents per ride. Remember, the exact change will be required.
If you plan on doing a lot of riding during your stay, be sure to check out our unlimited ride passes that come in one, three, five, seven, or fourteen-day options. These passes can be bought ahead of time and are activated upon first use. You can find pricing for each of the unlimited ride passes, as well as purchase the ride fit for you here. Note: Unlimited Ride Passes are not sold on the Trolley.
Join us in welcoming back the beloved I-Ride Trolley service to International Drive! Sit back, relax, and enjoy cruising up and down the miles of fun that make up the International Drive Resort Area in style. When you hop aboard the charming I-Ride Trolley, you'll save money while leaving the hassle of parking and driving out of your vacation. See you soon!