Gatorland's Gator Night Shine Exclusive Night-Time adventure takes you deep into the domain of Florida's most famous reptile, the alligator!
Visitors follow a guide for a private small group tour, starting at dusk, following a guide deep into the alligator breeding marsh to see the glowing red eyes of hundreds of alligators, follow their splashes and hear their bellows. Each guest receives a flashlight and hot dogs to feed the alligators.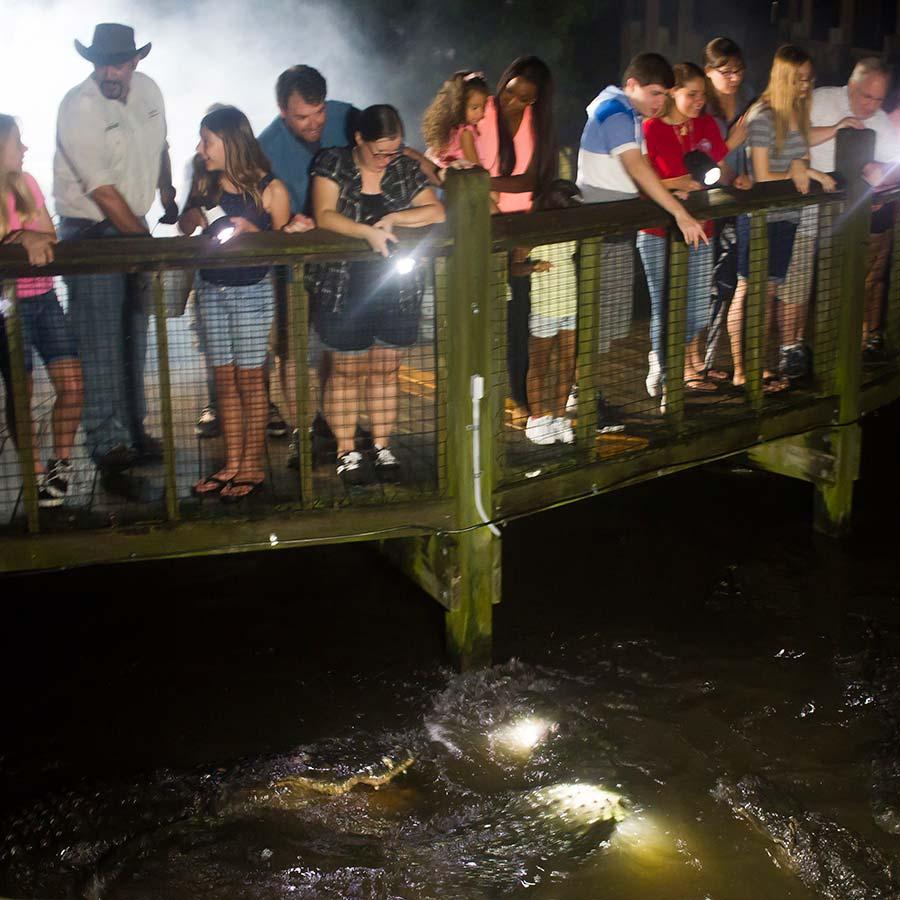 Visitors signing up for the 1 1/2 hour tour have the unique opportunity to see and hear Gatorland come alive after dark, with hundreds of wild birds and alligators all around them. They even have an up-close encounter with their guide to see other exotic animals such as boa constrictors, baby alligators, tarantulas, and much more.
· Tour Length: 1 – 1.5 Hours (Tour begins at dusk, please meet at the far south end of the parking lot)
· Admission Policy: This guided tour is an after-hours special Gatorland event and is restricted to Gatorland's Breeding Marsh. Gatorland will provide flashlights, insect repellent, and some alligator food.
For Scheduling & Information, Contact Adventure Tours!
Call (407) 855-5496 Extension 246 or e-mail AdventureTours@gatorland.com
Gator Night Shine Tour Times
Available every week on the following days: Tuesday, Wednesday, Friday, Saturday, and Sunday. Reservations are required and subject to availability.
January through March 10th – The tour starts at 6:30 PM. Guests should plan to arrive by 6:15 PM.
March 11th through April 1st – The tour starts at 7:30 PM. Guests should plan to arrive by 7:15 PM.
April 2nd through August 31st – The tour starts at 8:30 PM. Guests should plan to arrive by 8:15 PM.
September 1st through November 4th – The tour starts at 7:30 PM. Guests should plan to arrive by 7:15 PM.
November 4th through January 1st – The tour starts at 6:30 PM. Guests should plan to arrive by 6:15 PM.
**Times subject to change**