The City of Deltona is the largest city in West Volusia County, but did you know that they have miles of nature parks and trails for you to enjoy? In fact, Deltona was named a Trail Town by the Office of Greenways and Trails in 2019. Read on to find out more about the city of Deltona's cycling trails and nature parks.

The Lakeshore Loop Trail
At almost a mile in length, Deltona's Lakeshore Loop follows the north shore of Lake Monroe, linking the City's Thornby Park with the County's Green Springs Park. These two nature-based parks, and the lakeshore loop as a whole, are situated on the longer St. Johns River-2-Sea Loop and Spring-to-Spring Trails. The Lakeshore Loop Trail is lined with a centuries old oak tree canopy, home to wildlife which includes many birds on the life-lists of avid and casual birders
Green Springs Park
Green Springs is a small emerald green spring which has been an important landmark throughout the history of Volusia County from the time of early Native American settlements to the steamboat era when Enterprise, FL was the final destination on the St. Johns River. It's one of Florida's few sulfur springs, which Native Americans considered sacred and believed it had healing power. While swimming may be off limits nowadays, it's water is still a sight to behold for anyone making use of the nearby trail networks.
Thornby Nature Park
At the other end of the Lake Shore loop sits Thornby Nature Park. This park is an all inclusive "INSPIRATION PLAYGROUND" featuring a playground for children with disabilities. In addition to the playground, Thornby Park features a 1-mile nature trail with an outdoor classroom, and historical and nature features with signage. ADA accessible benches, ramps, boardwalks, and a bridge were recently added to the Trail.
Audubon Nature Park
Continuing along the trail from Green Springs Park, Audubon Nature Park is a nature lovers paradise. Accessible by vehicle from Doyle Road/Lush Lane and by bicycle from The Trail, the nearly 60 acres of Audubon Park's green space gently reclaims stormwater through a series of marshes. The Park also lets birders and hikers enjoy a quiet walk in the park's several distinct habitats.
Other Deltona Eco Parks…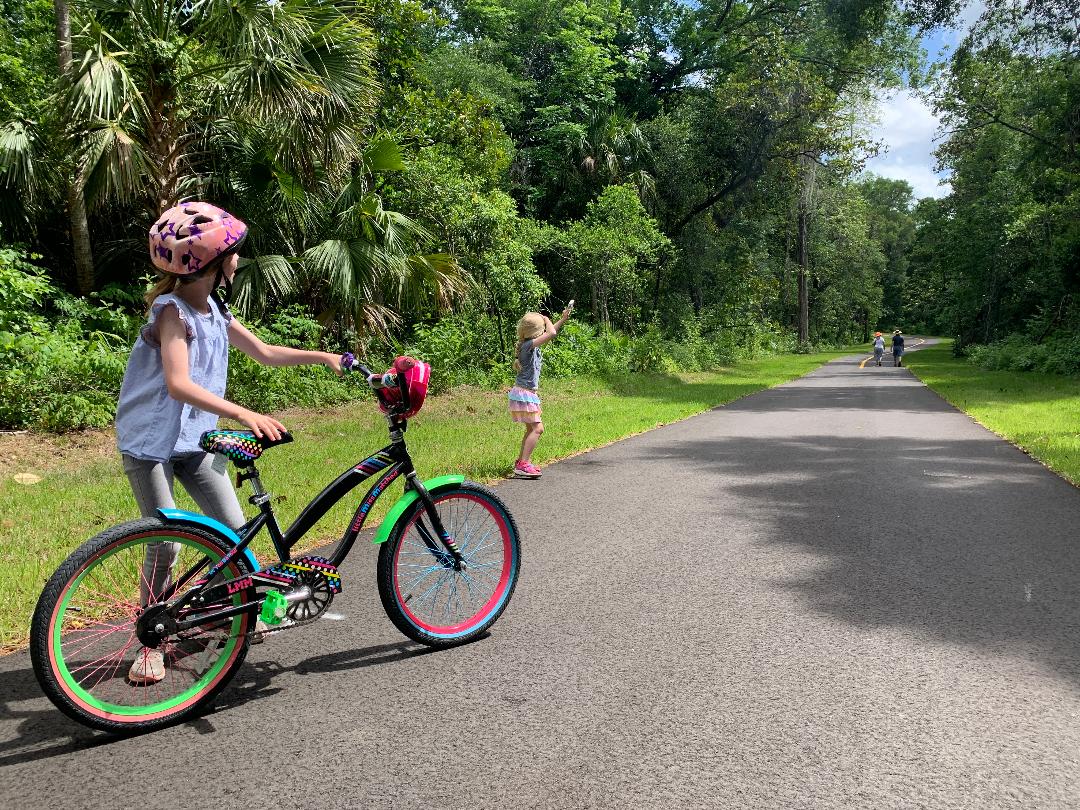 As previously mentioned only the former parks are presently connected to established trails. The following are just some of Deltona's Eco parks that will require you to share the road, stroll the sidewalks, or take a drive to reach them.
Lyonia Nature Preserve – Serving as a habitat for the Endangered Florida Scrub-Jay, Lyonia Nature Preserve is a 360-acre restored scrub ecosystem featuring a network of hiking trails, amphitheater, ecology exhibits, classrooms and gift shop. Although a threatened species, Florida scrub jays are curious and friendly birds, not shy about getting a closer view of human visitors.
Festival Park – Beautifully situated on the Lake Butler chain of lakes, Festival Park is home to large oak trees, green grass, and a fun playground, making it a favorite of anyone traveling with younger children! A kayak launch is also on site for those wanting to explore the lake.
Lake McGarity Nature Viewing Site at Campbell Park – Named after William H. Campbell, a member of one of Deltona's founding families, Campbell Park is situated on 14 acres and contains a floating dock and 2 fishing piers, waterfront boardwalk, 2 story gazebo overlook, walking trail, and a playground.
Community Gardens at Vann Park – Located within Vann Park, a 24-acre park with ball fields, the Community Gardens provides a learning environment for visitors and residents to meet and share their cultural experiences, and to enjoy the benefits of growing a garden by taking it from seed to table.
Brewster (Three Island Nature Park) – Located in North-East Deltona, Three Island Nature Park offers wooded trails which meander alongside Three Island Lake. View and experience large oaks and pines, the lakeshore water feature, and observation points dotted throughout the many trails.
Blue Heron Nature Preserve Park – A wonderful, adventurous place for families. An expansion, (East) Blue Heron Nature Preserve, is currently in development for visitors.
Lakeshore Eco Village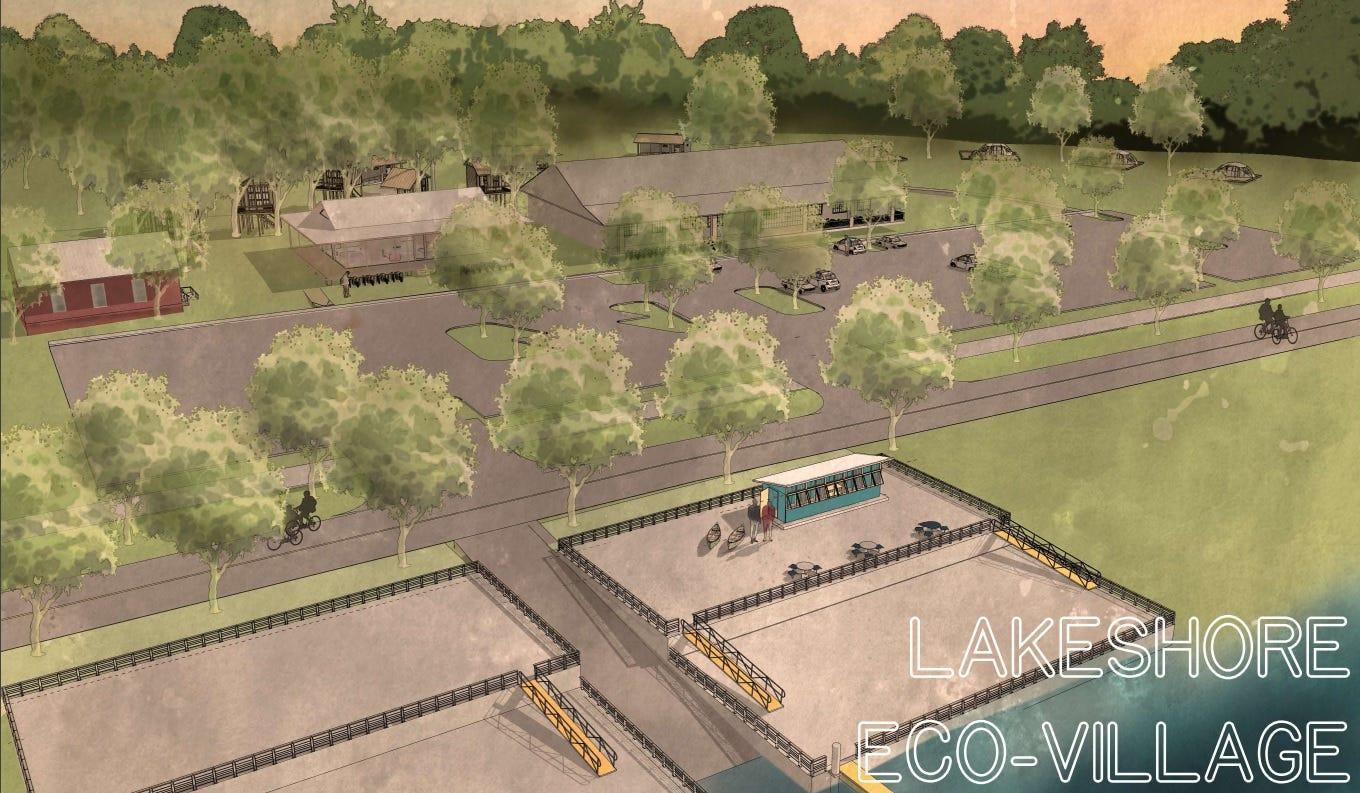 Circling back to the lake shore loop trail, something to keep your eyes on will be the development of the Lakeshore Eco Village, a city project with the goal of being Deltona's Trail Center. Named a State of Florida Trailhead by the Florida Office of Greenways & Trails, development of this eco village is still in its early stages, with the current plans including a multi-room lodge, mini-houses, and tree houses. The Eco Village plans to attract bikers and other trail users, boaters, fishermen, and nature enthusiasts to Deltona's slice of ecological heaven.
A bicycle shop is also planned to open in the Eco Village.
More information on West Volusia County can be picked up in the Visitor Center located at 116 W. New York Avenue in Downtown DeLand, FL or can be found online at www.visitwestvolusia.com. Please call 386-734-0162 for more information.