How long has it been since you took a bite out of a big, juicy burger? If you're still thinking, it's been too long! With May being National Hamburger Month, we're going to give you all the drool-worthy details on the best burger joints along International Drive!
Red Robin

If your best burger-eating experience is all about the toppings and fries – Red Robin is a delicious stop you won't want to miss! Established in 1969 out of Seattle, WA, Red Robin has grown nationwide and is now serving up its delicious gourmet burgers right here in Orlando! If you're looking for a fun, family-friendly, casual burger joint to dig into some delicious grub, Red Robin is sure to exceed your expectations.
Whether you choose one of their more than 2 dozen gourmet burger creations, or decide to create your very own using their over 100 different topping selections, we're sure you'll find the flavors you're craving at Red Robin. Oh, and did we mention they offer bottomless steak fries?! Need we say more?
MOOYAH Burgers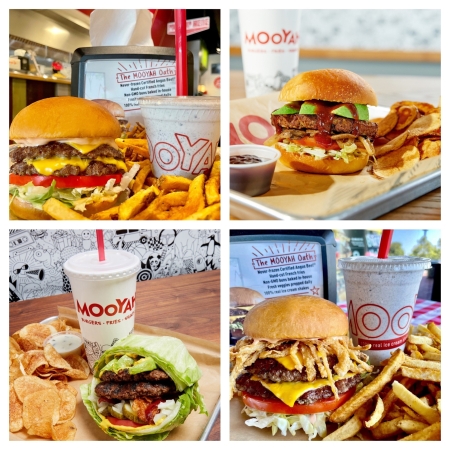 A place where "serious" and "fun" are one with the bun. Mooyah Burgers is serious about serving food that has been crafted with the highest quality ingredients, and you'll surely taste the difference! But also, what's more fun than digging into delicious, never-frozen beef patties, picking at hand-cut fries, and sipping on a shake made with real ice cream!? If you're looking for a true taste trifecta, Mooyah Burgers is the spot for you! Plus, if you've got someone in your group with dietary restrictions, they have healthy options too, including a black bean vegan patty, lettuce buns, and turkey burgers! With all of their Certified Angus Beef Burgers fully customizable, you'll find the perfect taste to satisfy your juicy burger craving.
Shake Shack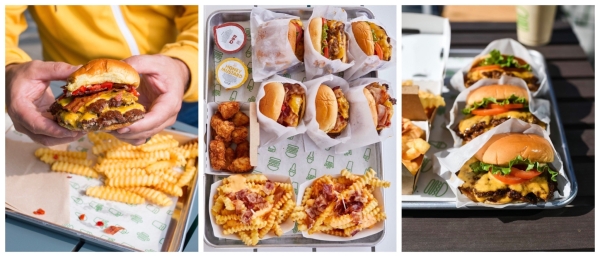 Your favorite modern-day "roadside" burger stand! Located in the beautiful ICON Park Orlando, you can dig into your juicy burger at Shake Shack with a view of The Wheel, and then head to one of the many exciting attractions that call ICON Park home.
If you're all about keeping it classic when it comes to a burger and fries, Shake Shack may be your dream burger spot, but grab a bite and let the burgers speak for themselves. Each of their burgers is made with their custom 100% Angus Beef blend, which has never been frozen, contains no hormones or antibiotics, ever, and is humanly raised beef, grazed right here in the US. Vegetarian? Don't fret, they have a delicious shroom burger option that even meat-eaters may opt for.
Order up a side of crinkle-cut fries, or maybe if you're really looking to go all out, their cheesy bacon crinkle cuts- and sip it all down with a shake (or frozen custard) made using soft, premium ice cream that they craft in-house every day using only the good stuff, like real cane sugar and cage-free eggs!
If you're looking for a sustainably sourced, drool-worthy, classic burger and fries joint – Shake shack is a must stop!
Thunder Burger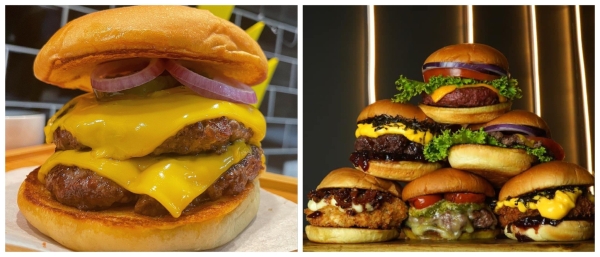 If a wood-fired gourmet 6 oz burger, made with certified Angus ribeye, on a brioche bun is calling your name, head to Thunder Burger next time a burger craving strikes! Dig into a delicious classic cheeseburger, or order up one of their unique creations, like their Poseidon Burger which has crispy collard greens and caramelized onions, their Hera Burger with mozzarella cheese, cherry tomatoes and pesto, or their Gaia Burger complete with a vegan bun and 6 oz. beyond burger! Enjoy a side of onion rings or Crispy Pork Skin and call this I-Drive burger joint outing a success!
Beth's Burger Bar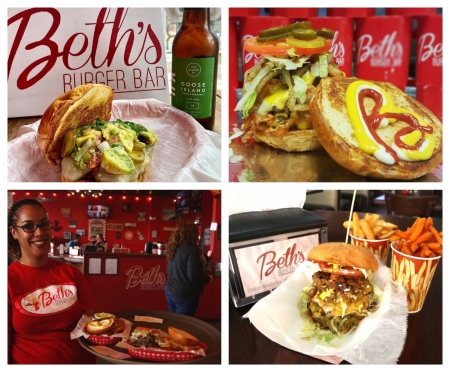 If a big, juicy burger and an ice-cold beer is what you're searching for, a trip to Beth's Burger Bar is in order. This late-night big kid's diner is complete with a highly customizable build-a -burger menu, fridges stocked with dozens of domestic and imported beers, board games, and overly satisfying food and drink deals! One look at the menu, and you'll see this is a burger joint boasting all of your favorite classic options, in addition to a variety of unique burger creations like a peanut butter burger, pizza burger, black jack burger, and even a breakfast burger with eggs and bacon – just to name a few!
See the full menu here, and get ready to dig in.
Five Guys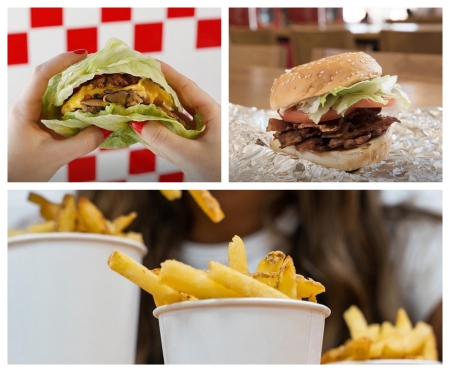 If you're looking for a quick juicy burger fix, Five Guys has you covered. This American fast-casual restaurant chain focuses on flipping classic burgers, and offers an abundance of fresh-cut fries offered in either Five Guys style, or Cajun style.
Each burger is hand-prepared and made to order using the freshest ingredients before being perfectly placed on soft, sesame seed buns to satisfy any burger lover's cravings.
When it comes to indulging in a juicy burger, International Drive has plenty of dining destinations to choose from! The only question is, which of these I-Drive burger joints are you heading to first?!