Will you and your family and friends be heading to International Drive for Thanksgiving this year!? Get ready to eat, drink, and give thanks in Orlando's Most Dynamic Neighborhood when you gather around the table at these special Thanksgiving feasts.
Thanksgiving with Rosen Hotels
If you've ever been to I-Drive, you know Rosen! Rosen Hotels and Resorts have a complete commitment to unwavering honesty and integrity, the security and well-being of associates, high-quality hospitality products, exceptional guest services, unmatched values, the continuing improvement of the hospitality industry, and ongoing betterment of the community. Let's just say – the Rosen difference is easy to see in all aspects of their operations, and this holds true for their holiday events too!
This year four of the Rosen properties on International Drive will be hosting special Thanksgiving Feasts!

When: November 24th from 3:30 – 9:00 pm
Price: Adults $25.95*
Children (6-10) $19.95
Kids (5 and under) Free with paying adults
(Limit one child per adult)
25% Senior Discount
What's being served: Head to Rosen Inn at Pointe Orlando to enjoy a Thanksgiving Feast that features all of your traditional Thanksgiving favorites, from the soup and salad starters to the entrees and sides. And of course, their bakery options ranging from freshly baked dinner rolls, pie, cakes, and a full ice-cream bar! See the full menu and reservation details here.

When: November 24th from 11am to 7 pm
Price: $58.95* Per Adult ($65.95 at the door)
$24.95* Per Child (Ages 4-11), Children 3 & Under Eat Free
Discount for Diners with Reservations
What's being served: Dig into a bountiful buffet at Rosen Centre! Savor a cornucopia of classic holiday cuisine paired with exotic new favorites! Give thanks for a perfectly roasted turkey, creamy mashed potatoes, and other timeless classics. Switch things up with various global food items like green-lipped mussels from New Zealand, fresh-made Sushi, warm tacos filled with savory marinated skirt steak, and many other global cuisine options available at this buffet. Save room for dessert and enjoy a dessert buffet featuring a smorgasbord of sweet indulgences like pumpkin cheesecake and apple streusel! See the full menu and reservation details here.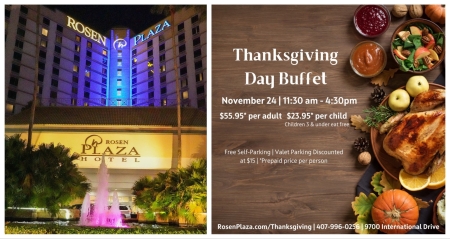 When: November 24th from 11:30 am – 4:30 pm
Price: Adults: $55.95*
Children (Ages 4-11): $23.95*
Children (Ages 3 & Under): Free
What's on the menu: Or you may want to ask what isn't on this buffet menu! Head to Rosen Plaza to enjoy an elevated take on your Thanksgiving favorites, each expertly prepared by talented chefs, from the classics to new and exciting dishes!
Bite into the tropical flavors of our pan-seared mahi-mahi and savor a dish of pasta with your favorite toppings. Return for seconds or thirds for another taste of Rosen Plaza's amazing seafood salad or grilled picanha steak. Save room for a dessert full of a variety of decadent cakes and pies that cannot be missed. Peep the full offering at this Thanksgiving buffet here.

Two renowned restaurants at Rosen Shingle Creek are hosting Thanksgiving Feasts, so whether you're craving a mid-day meal or dinner for your Thanksgiving fest this year – you'll find a delicious option at Rosen Shingle Creek this year!
Thanksgiving Brunch at Café Osceola
When: November 24th from 11 am to 6 pm
Price: Adults: $89.95*
Children (Ages 4-11): $37.95*
Children (Ages 3 & Under): Free
Features:
Unlimited Champagne and Mimosas (21+)
Complimentary Self-Parking
Valet Parking Discounted at $15
25% Discount for Florida Residents
Dig into a brunch you won't soon forget this Thanksgiving, with delicious food items ranging from apps like a bruschetta table, market displays, a seafood station, dim sum, Bao Bun Station, Paella Valencia, Banrai Sushi, Paella Valencia, a build-your-own pasta bar, a large selection of entrees, and of course all of your traditional Thanksgiving favorites, with roasted turkey served straight from one of the four different carving secretions, breakfast items, and so much more! Check out the entire offering to expect at Rosen Shingle Creek's Thanksgiving brunch here.
Thanksgiving Dinner at A Land Remembered
When: November 24, 2022, from 5:30 pm – 10:00 pm
Price: Adults: $75.95*
Children: $29.95
On the menu: Enjoy selecting items for your Thanksgiving Feast from a carefully crafted prix-fixe menu featuring three courses. Choose between a pumpkin soup or local beet salad to start, then for the main course choose a classic slow-roasted turkey dish or filet mignon, and finally, for dessert, enjoy a Spiced Apple Mousse for the perfect sweet ending to your feast. Get more details here.
When you celebrate Thanksgiving with Rosen, there's no doubt it will be a celebration for the books.
Thanksgiving with SeaWorld!
A trip to SeaWorld is always obligatory when visiting International Drive, and if you'll be visiting for Thanksgiving, they're offering two exciting Thanksgiving feasts this year!
Thanksgiving at Renaissance Orlando at SeaWorld

From 1 to 6 pm on Thanksgiving Day, Tradewinds at Renaissance Orlando at SeaWorld will host a Thanksgiving Buffet with a salad bar, charcuterie, artisan cheeses, salads, sushi, Thanksgiving favorites and more. Tradewinds Restaurant is known for offering tasty and filling meals using only the freshest, locally sourced ingredients! The buffet is $52 for adults and $23 for children 12 and under. Get all the details and book your table today!
A Thanksgiving Feast with Sharks!
Gather at SeaWorld's Sharks Underwater Grill where you'll enjoy a fascinating view in an upscale, signature full-service restaurant that puts world-class entrees on your plate and a window into the world of sharks before your eyes.
This year they'll be offering Thanksgiving specials with a-la-carte pricing, including Bourbon Vanilla Glazed Smoked Ham, Herb-Marinated Fried Turkey Breast, Three-Cheese Lobster Mac and Cheese, Donut Cinnamon-Sugar Bread Pudding, and more! (Note that admission to SeaWorld is required to dine at this venue.)
The skilled chefs, courteous staff, and mesmerizing sharks are sure to leave your family with lasting memories! See the full menu and make arrangements to spend Thanksgiving at SeaWorld this year!
Thanksgiving at Hyatt Regency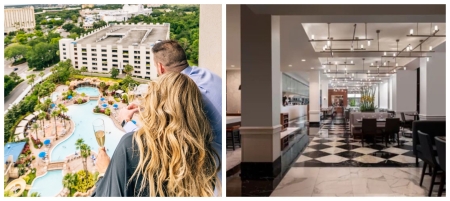 Two award-winning restaurants located at 
Hyatt Regency Orlando
 will be hosting Thanksgiving feasts this year!
Thanksgiving Cena: A modern Italian steakhouse, Fiorenzo will have several holiday specials, including Seared Diver Scallop ($22), Mixed Winter Greens ($13), Sous Vide Cornish Game Hen ($34), and Caramelized Apple Tart Tatin ($12).
Thanksgiving Dinner: B-Line Diner is serving Oven Roasted Turkey Breast with traditional fixings for $24 per guest as well as two special desserts priced at $7 each.
Get more details about feasting at the Hyatt Regency on I-Drive for Thanksgiving 
here
.
Unique Thanksgiving Dining
Looking to swap the roasted turkey for something a little different this Thanksgiving? There are many less traditional Thanksgiving feast being offered by some of our favorite dining spots along International Drive. If you're looking for different flavors at your Thanksgiving feast this year, be sure to check these options out!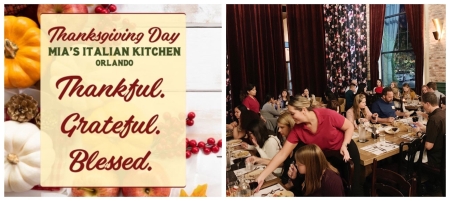 On Thanksgiving Day this year, Mia's Italian Kitchen will offer a three-course, prix-fixe Thanksgiving meal with a choice of starters, entrees and desserts. There will also be a kids' meal option available.
Choose between butternut squash soup or a fresh beet salad for your starter. Then order an entree of oven-roasted and cider-brined turkey, Bistecca Alla Siciliana NY strip, or pan-seared halibut. Finally, finish your feast off with a slice of brick oven apple crostata or pumpkin cheesecake.
This special Thanksgiving meal will be offered at Mia's between 11 am and 10 pm on November 24th. Get all the details today!

If your idea of the ideal Thanksgiving feast is a bottomless brunch that lasts all day long, gather around the table at Cafe Tu Tu Tango this Thanksgiving.
Enjoy a Thanksgiving Day Bottomless Brunch with a carving station and bottomless sides! Choose a meat from one of their carving stations offering roasted mojo turkey or pineapple glazed ham, and then head to the sides where you'll find delicious takes on your favorite Thanksgiving items like a candied sweet potato and plantain casserole, rustic garlic mashed potatoes, jalapeno mac and cheese, and truffle scented wild mushroom stuffing!
This bottomless brunch is $29.22 per person and will be available from 11 am to 4 pm on Thanksgiving Day. Not feeling brunch but still want to enjoy the unique app-style bites served at Cafe Tu Tu Tango? Don't worry, they'll be open from 4 to 10 pm serving up their popular dinner menu as well! Get all the details here.
With so many unique, fun experiences for the whole family and delicious Thanksgiving Feast specials – International Drive is the perfect place to celebrate Thanksgiving!
Eat, drink, and be thankful in Orlando's Most Dynamic Neighborhood this year! See the calendar of events for a full list of events happening on I-Drive this Thanksgiving.