The Florida Aquarium and ZooTampa were overjoyed to be able to announce reopening. The long two months of closure were tough on the Zoo and Aquarium staff, the Tampa community, and many traveling visitors anticipating a visit to the cultural attractions. The Zoo and the Aquarium did much to entertain its fans during this time of closure, both attractions were able to keep a strong social presence. The Aquarium introducing SEA-SPAN, a daily live show that kept fans engaged with Aquarium happenings, but even with all of that, we are all ready for the real thing! The reopening of the Zoo and Aquarium invites the community to visit with open arms and are ready to provide its guests with some much-needed relief from a long stay at home. Tampa's ZooQuarium welcomes you back!
Excited to Open the Doors To Finstastic Guests!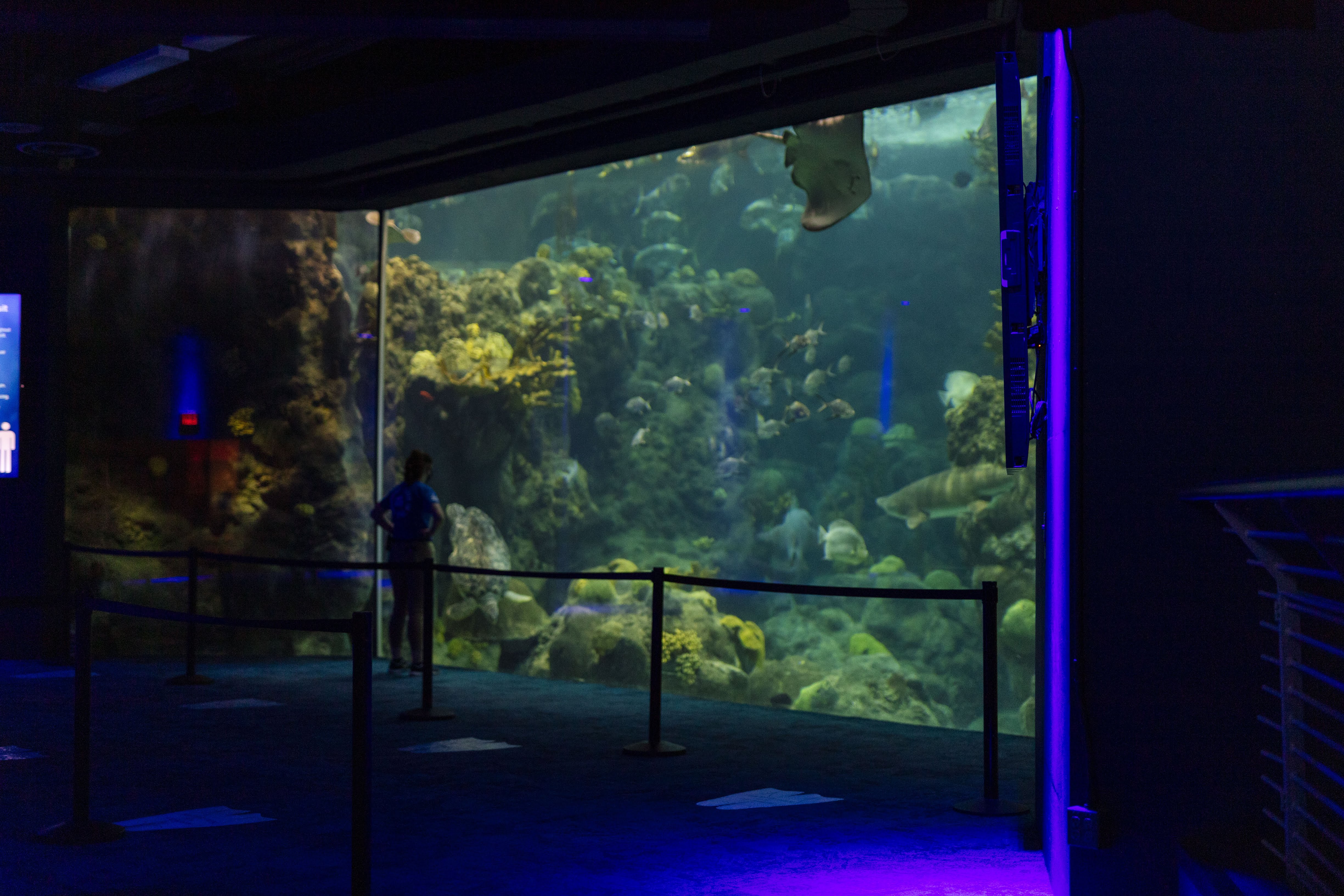 The Aquarium reopened on Sunday, May 10, in time for Mother's Day. Before opening, the Aquarium provided a VIP experience to its Members for a private visit. The Member days were followed by community hero days, the Aquarium providing free admission to hospital workers, Tampa's armed forces, and essential workers. The Aquarium reopened with a myriad of new procedures to keep guests safe. The Aquarium now requires both staff and guests to wear masks. The Aquarium worked closely with Tampa General Hospital to provide our guests with the utmost safety and cleanliness when it came to a visit. The Aquarium also implemented plexiglass shields at touch habitats and at Guest Services and are able to offer touchless transactions for tickets. The Aquarium journey will now take you on a one-way pathway through the facility and physical distancing is encouraged throughout with visual reminders, to keep the distance of the length of a sand tiger shark between you and others, and distancing stickers on the floor, some in the shape of sea turtles and others swimming fins. The Aquarium has staff that is roaming cleaners, sanitizing surfaces after they are touched to make sure the building remains clean throughout the day.
Important details to note regarding your visit, tickets must be purchased online before your visit. You will pick a "time slot" for your visit, which gives you a window for arrival to space visitors out throughout the building. Once you purchase your ticket, you will receive a confirmation email, and in that, you will find a link to purchase parking. Parking is $10 per car, and we encourage pre-purchasing parking before your visit. Once again, masks are required, but if you are a visitor who forgets their mask, one can be provided to you. Children 2 and under are not required to wear a mask, and those with disabilities preventing them from wearing a mask will receive a bracelet indicating the exemption. The Aquarium's added experiences are currently closed including The Wild Dolphin Cruise, The Splash Pad, Behind the Scenes Tours, and others. The Aquarium's Café Ray is currently open with grab-and-go items for purchase.
The goal of The Florida Aquarium's reopening was to provide a safe haven for locals to get out of the house, stretch their legs, and enjoy the serenity of the Aquarium. It is our goal to make guests feel safe, happy, and healthy and enjoy their Aquarium trip. While we are entering a time of creating a "new normal", it's important to know that under our masks, our Aquarium staff are smiling, excited to welcome you to a journey underwater. The reviews are in on the Aquarium experience, many noting how safe and comfortable they felt at the facility, others commenting on the cleanliness. The Aquarium has taken all of our customer feedback and has worked to become better and better because this experience is in fact uncharted waters.
A New Beginning at ZooTampa at Lowry Park!
As Central Florida's community gradually reopens and eagerly seeks ways to reconnect, ZooTampa is humbly reminded of the importance they play in providing Tampa Bay with outdoor family experiences with nature which boosts mental health and provide comfort.
ZooTampa is now open and as they look towards welcoming you back, rest assured that their commitment to the safety of guests, staff, and animals has never been stronger. They have invested the time to create and implement a stringent and extensive modified operational plan that sets a new standard in our industry for safety and sanitation protocols. Limiting not just who and how many guests may visit, but the manner in which they enter, traverse the paths and enjoy animal interactions in an expansive fresh air environment. The enhanced protocols also apply to all staff who will be required to wear facemasks and other personal protection equipment as deemed appropriate by their job responsibilities. Guests will be strongly encouraged to wear masks, which if needed, will be provided free of charge. It is recommended that you visit their website to review their full 19-page Modified Operations Plan.
Certainly, a new chapter in the 60-year history of ZooTampa is about to commence. While some things may look a bit different than you are used to, they take seriously the responsibility of being a place where the community can safely come to connect with family and wildlife.
ZooTampa is excited about the future and the important role they play in the resumption of leisure activities in Tampa Bay. The unwavering commitment of their remarkable employees, along with the steadfast support of the board of trustees, foundation, donors, and the Tampa Bay community cannot be overstated as they embark on this new beginning. To that end, the safety of the diverse Zoo family, including the animals in their care, will indeed always be their highest priority.
Tampa's ZooQuarium Welcomes You Back!
The Florida Aquarium and Zoo Tampa have always been community partners, and the two organizations share the same sentiment regarding a visit, to provide a safe escape to our guests, members, and community.
They hope to see you soon at Tampa's top cultural attractions to see life above and below the surface. Tampa's ZooQuarium welcomes you back with open feathers and fins! Visit www.flaquarium.org and www.zootampa.org to make your reservation today and to learn more about the Zoo and Aquarium's reopen policies and procedures. Tampa's ZooQuarium welcomes you back for all the fun in a safe environment.