With blue skies and beautiful weather, now's the perfect time to take Tampa Bay on two wheels.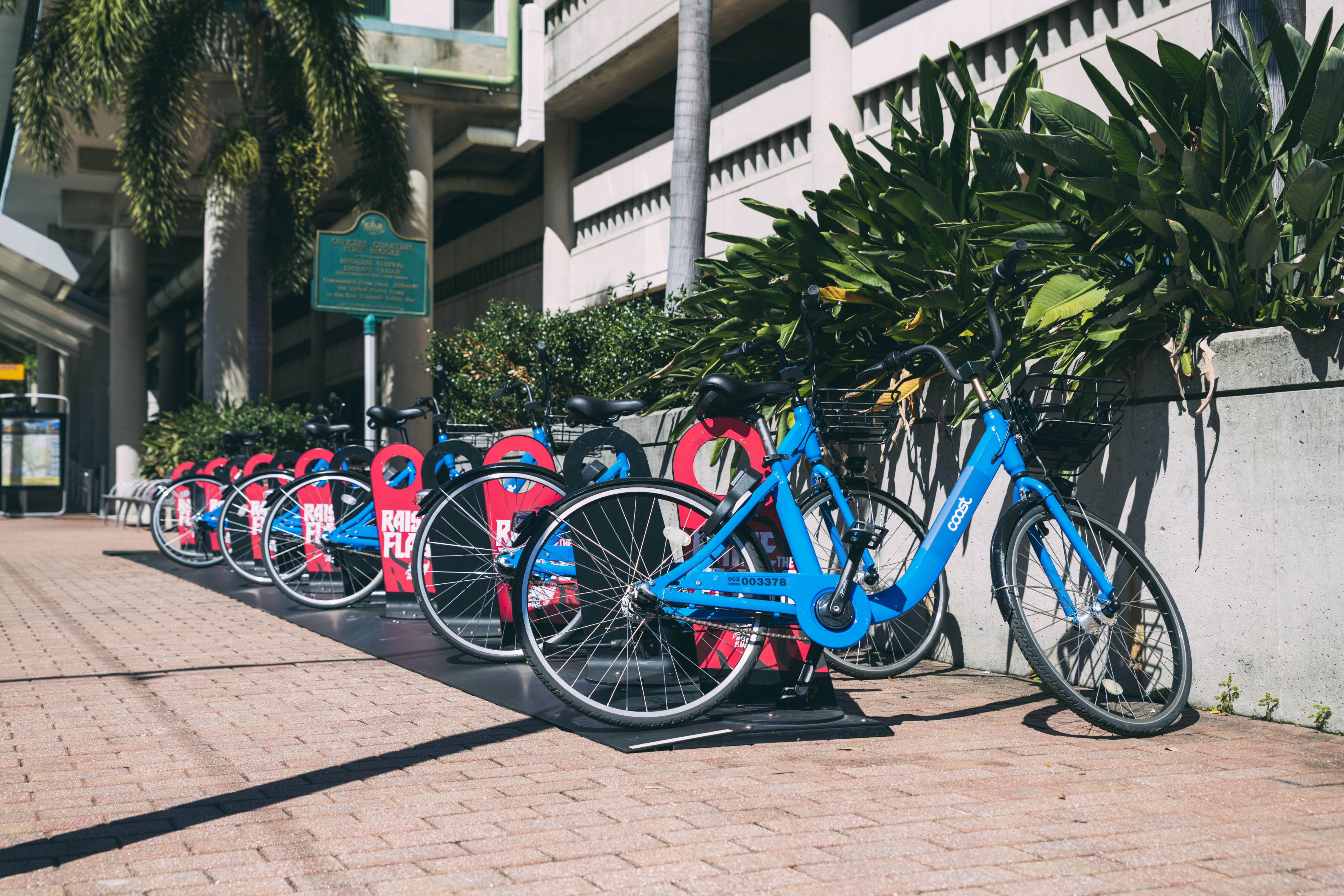 Tampa Bay has won praise from bicycle advocates for its work creating an urban environment that's friendly and safe for cycling. People for Bikes specifically lauded downtown's Cass Street bike corridor, which runs through the north side of downtown toward Ybor City. A matching corridor now runs along Jackson Street on the south side of the urban core. Both corridors are sheltered two-lane courses that keeps bikes separated from car traffic while giving riders the same access to downtown's best assets. According to the site:
Biking has vast potential in the nation's third-largest state, and this connection between the Ybor City district and the north side of Tampa's downtown shows a Florida city building its most important bike routes first.
With year-round sunshine, more than 100 miles of bike lanes, and flat-to-gently sloping terrain, Tampa Bay is a natural place for pedal-pushing. Don't have your own bike? Don't worry. The Epicurean Hotel and Le Meridien Tampa both offer free bikes to their guests. Or, with a smartphone and a credit card, you can rent one from Coast Bike Share and be riding in a few minutes. Just remember: Helmets are required for kids. You can find those along with rentals at City Bike Tampa across from the new bike lane on Cass Street.
So saddle up and put your mettle to the pedal to explore Tampa Bay by bike. Here's how:
Tampa Riverwalk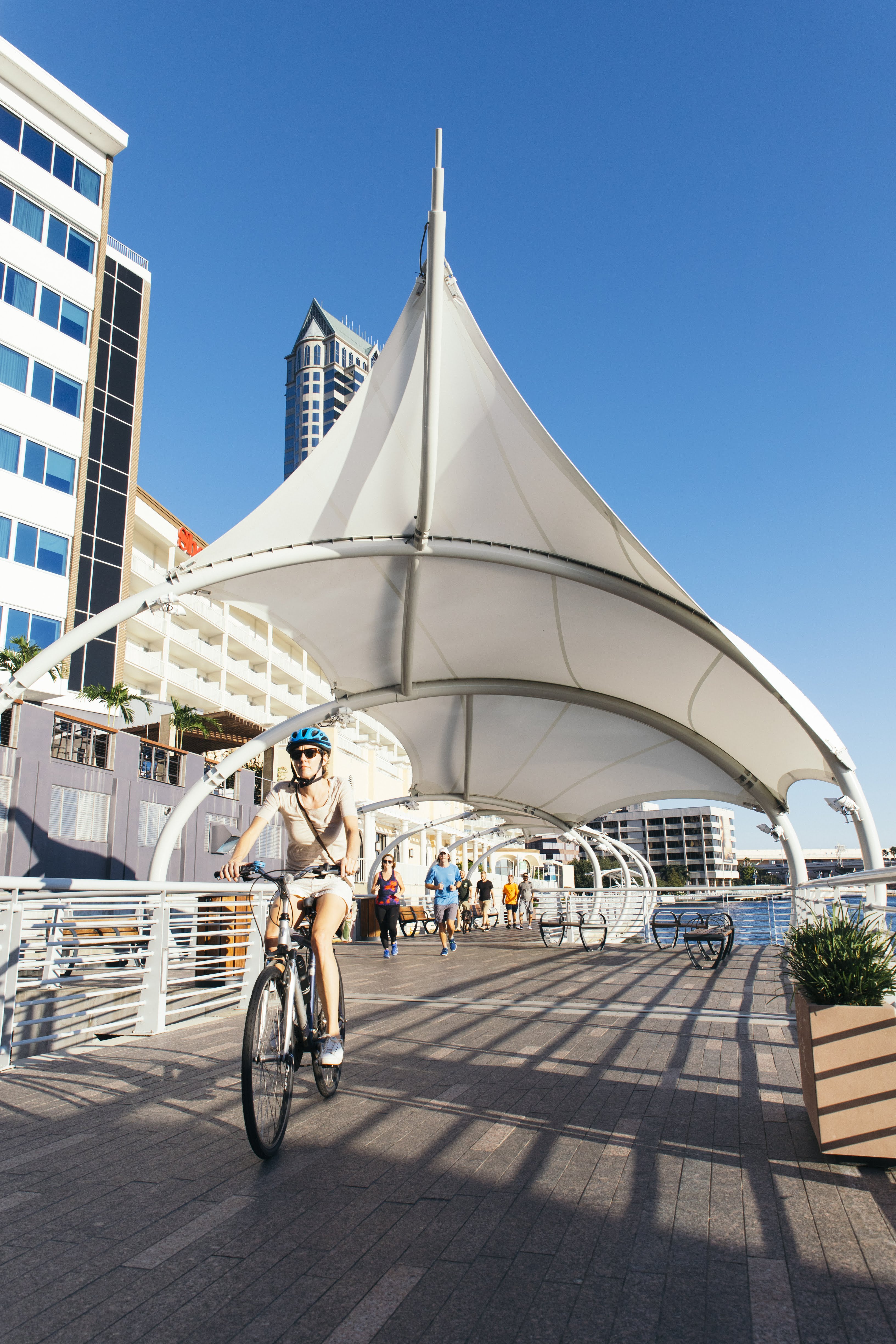 The Tampa Riverwalk runs for 2.4 miles (4 km) along the Hillsborough River and Garrison Channel, linking downtown's favorite attractions like gems on a string. It's a pedal-friendly pedestrian pathway running from The Florida Aquarium and Sparkman Wharf to Water Works Park and Armature Works. Coast Bike Share has multiple rental spots along the Riverwalk, with the biggest ones outside the Glazer Children's Museum and Tampa Convention Center. Need a quick fix? You'll find bike repair stations at the waterfront and just north of the Straz Center.
Beware: Bikes are limited to 5 mph on the Riverwalk, which can be crowded with pedestrians at certain times of the day. So take it slow.
Bayshore Boulevard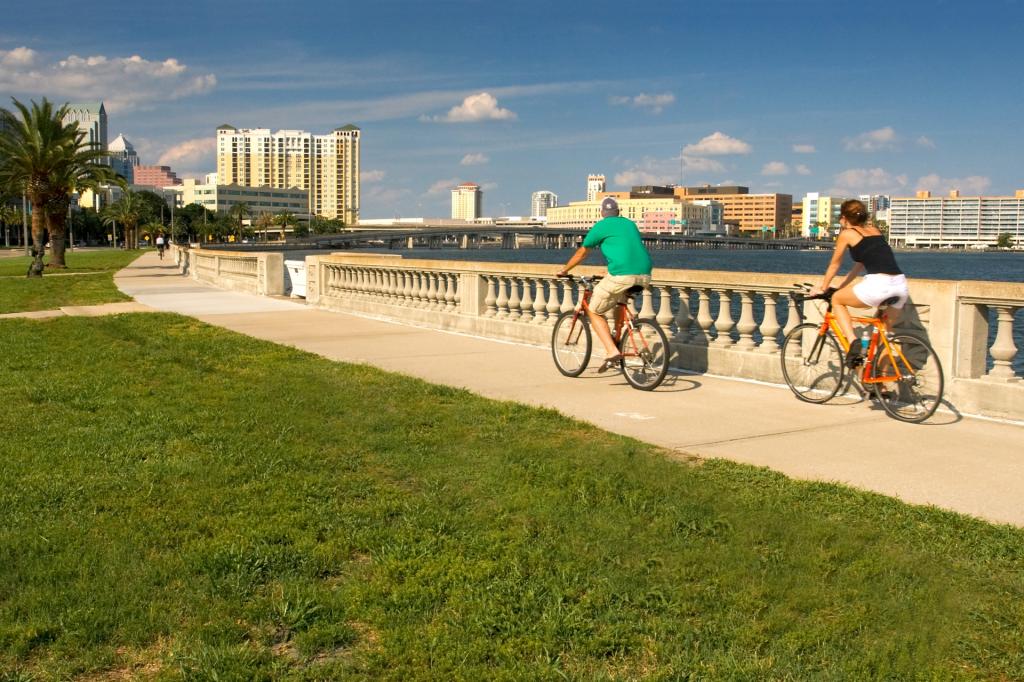 Downtown's original waterfront pedestrian course, 5-mile-long Bayshore ranks as the world's longest unbroken sidewalk. The curving path starts at Platt Street (the bridge links Bayshore with the Tampa Riverwalk) and runs to Gandy Boulevard, passing some of Tampa Bay's most dramatic scenery and most impressive real estate along the way. Keep one eye out for dolphins, diving pelicans and maybe the occasional manatee just over the balustrade.
The path is very popular with walkers, joggers, and other cyclists, so be courteous. You'll find an ad hoc single-track path worn into the grass just to the inside of the concrete path. You'll also find a striped bike lane on the northbound side of the road itself.
Bayshore provides easy access to fashionable Hyde Park Village shopping district (between Dakota and Howard avenues), as well as the Epicurean hotel, Bern's Steak House and other dining options on Howard Avenue. The boulevard's median is an unofficial open-air art gallery inviting passers-by to stop and ponder the creations.
Selmon Greenway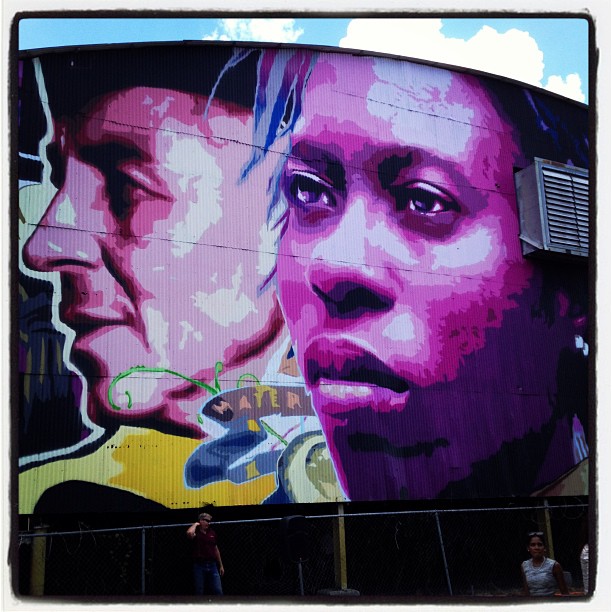 Connecting to the Tampa Riverwalk at Brorein Avenue, this bike path twists and turns across downtown in the shadow of the elevated Selmon Expressway. The ultimate goal: Historic Ybor City. The recent addition to downtown's bike network makes use of existing streets, sidewalks, and parking lots to wend its way through town. It's a little more complicated than the Riverwalk or Bayshore, so keep an eye on the signs. Twin rewards are waiting at the end of the path: a view of An American Journey, a sprawling mural depicting the immigrant history of Ybor City, and Coppertail Brewing Co., among Tampa Bay's best craft breweries.
Miles of Bike Lanes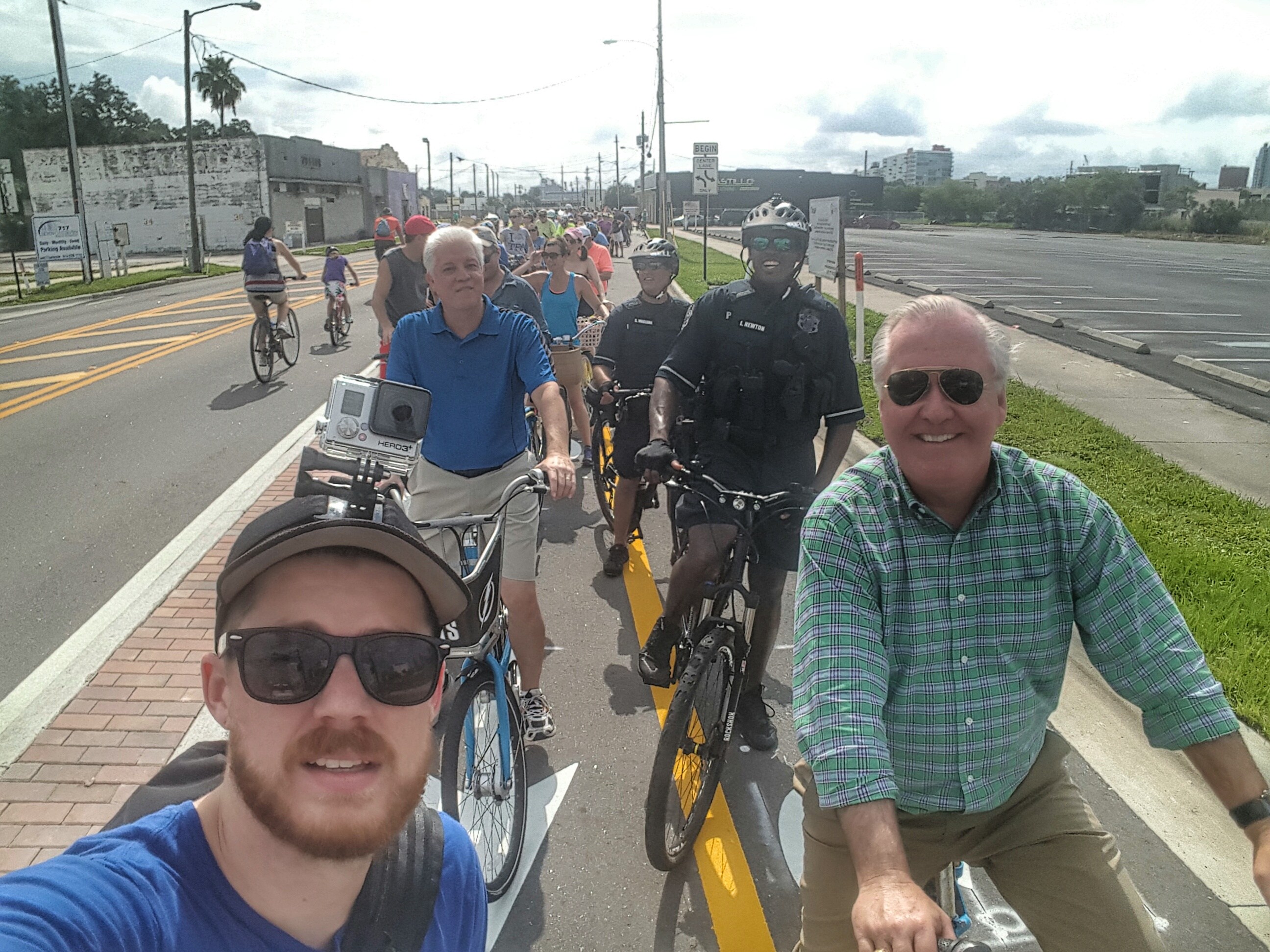 Over the past few years, city leaders have expanded opportunities for cyclists in downtown and the surrounding neighborhoods, largely by adding striped bike lanes wherever possible. Additionally, every street repaving includes the addition of new bike lanes or wider sidewalks that like bikes and walkers co-exist. Bike tours and meet-ups bring bike-enthusiasts together for regular rides.
Get Out of Town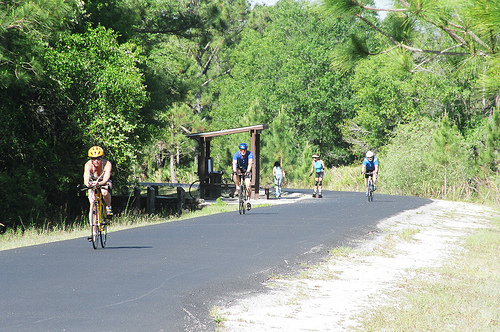 A few miles from downtown's bright lights and paved bike paths, you'll find plenty of great cycling in Tampa Bay's wilderness parks and green spaces. A few to consider:
Flatwoods Park Trail: Located in the suburbs north of the University of South Florida, the sprawling park is popular with weekend riders looking for a few hours of fun and exercise. The seven-mile loop has a two-mile connection to the most popular entrance off Bruce B. Downs Boulevard (bring $2 to pay for parking). A gravel-topped levee connects Flatwoods with other parks farther south.
Courtney Campbell Trail: This trail runs parallel to the Courtney Campbell Causeway, which links Tampa Bay with Clearwater. The 10.5-mile ride spends most of its time over the water, providing great views of the bay, boats, and wildlife that make this region special. On the Tampa Bay end, you can connect with several smaller parks.
Upper Tampa Bay Trail: A converted railroad bed, this trail winds through suburban Citrus Park and a rural landscape filled with grazing cows, with plenty of access to water and bathrooms. Recent extensions have linked this trail with the 42-mile Suncoast Trail in the suburban community of Lutz.
Suncoast Trail: Opened in 2001, this trail parallels the Suncoast Parkway, a toll road that connects with the Veterans Expressway in suburban Northdale and runs north across Pasco and Hernando counties nearly to Homosassa. The trail takes you from the suburbs through some of the most remote country in the area. Be warned: Water, restrooms, and shade are limited. Also, the trail does not loop, so you'll have to ride back or arrange a pick-up at the end. This is for the serious cyclist.
Off the Beaten Bike Path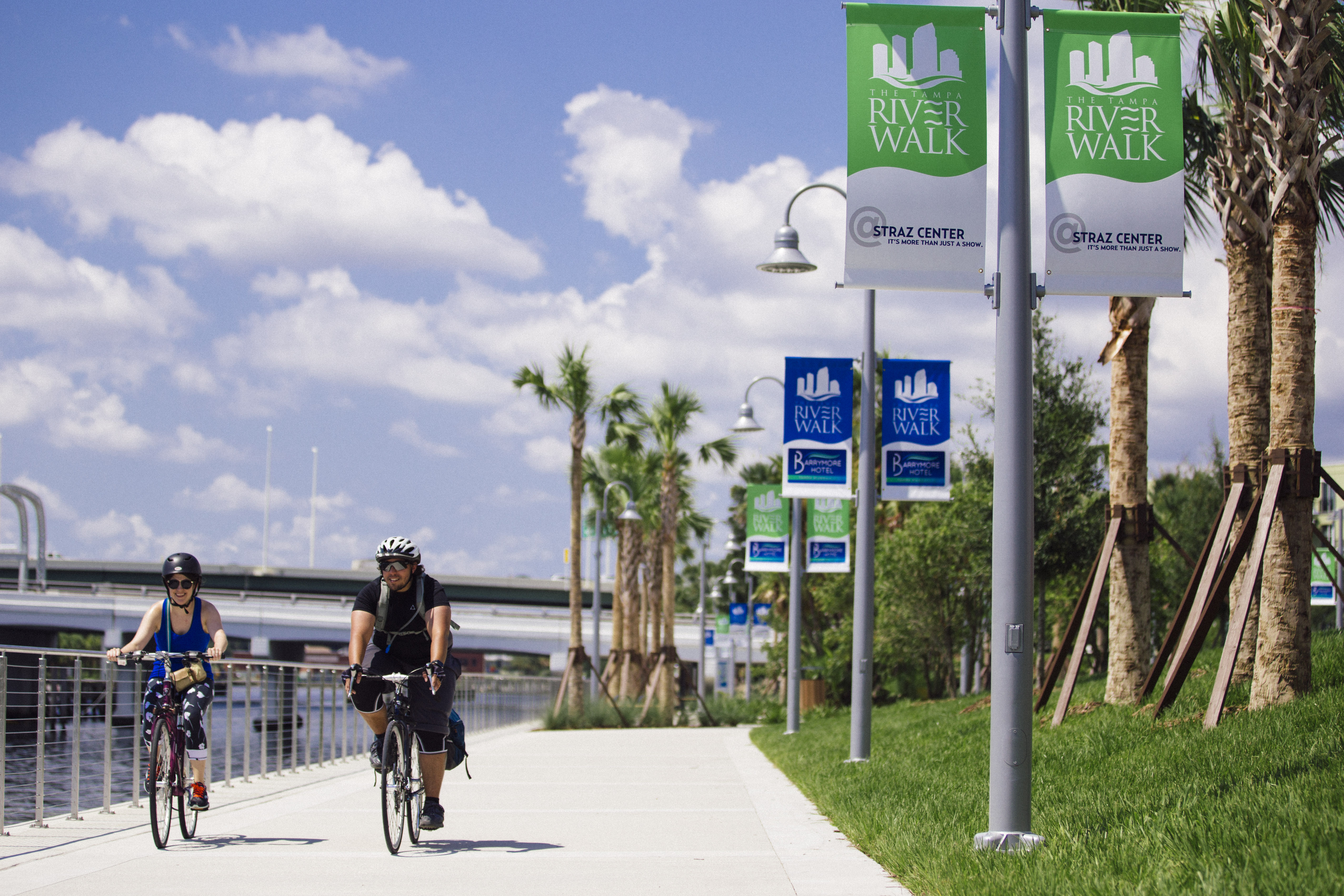 You can also pedal your way around Tampa Bay way off the beaten bike path — and on the water. Located on the waterfront by the Tampa Convention Center, Tampa Bay Water Bikes rents pedal-powered, pontooned vehicles that give you a chance to see downtown from a whole new angle. The crafts function just like bikes but have rudders in place of the front tire and a propeller where the back tire ought to be. Take one for a spin.