Tampa Bay is a melting pot of people, cultures, and backgrounds. Nowhere is this diversity more prominently displayed than in its murals and public art scene. With beautiful murals spread throughout downtown and several other neighborhoods, you're sure to find the perfect backdrop for your next photo op. Take a stroll, by foot or by bike, and be inspired by the Tampa Bay murals.
STAY CURIOUS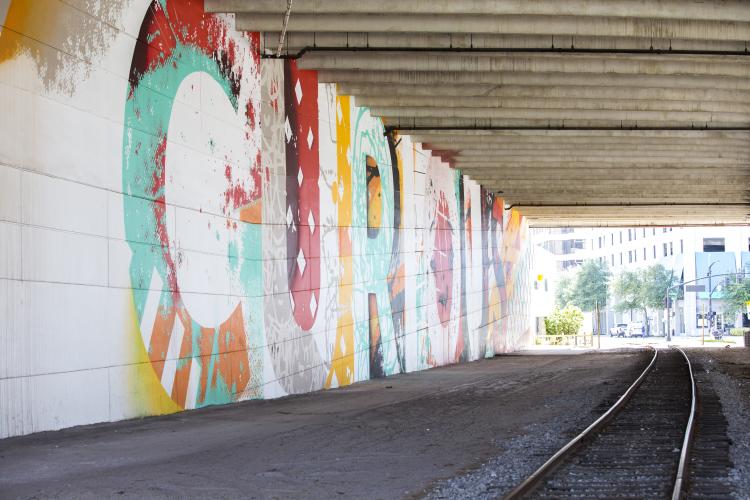 Located across from the Glazer Children's Museum in the heart of Tampa's downtown arts district, this multi‑building piece was created to inspire people of all ages to discover the creativity that surrounds them.
📍 : 800 N. Ashley Drive
🎨 : @tesone and @knownasba
PEACE AND LOVE
Because sometimes, all you need is nothing but peace and love. Check out the glow from this beautiful "peace" at the popular Sparkman Wharf.
📍 : Sparkman Wharf, 615 Channelside Drive
🎨 : @adamfu
SPARKMAN WHARF SHIPPING CONTAINERS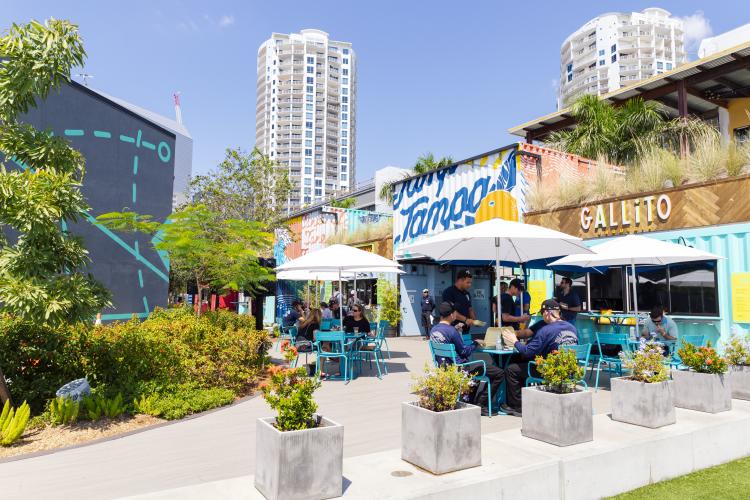 Sparkman Wharf is Tampa Bay's popular outdoor food‑hall. Restaurant concepts are located inside shipping containers that are works of art themselves, each offering a unique design and visual celebration of Tampa Bay.
📍 : Sparkman Wharf, 615 Channelside Drive
🎨 : @peprallyinc
BEGIN ANYWHERE
'Begin Anywhere' provides inspiration for all those who haven't yet taken steps toward achieving their dreams. Because it doesn't matter where or when you start. All that matters is that you start.
📍 : I‑275 and 610 E. North Street
🎨 : @tesone
RAY CHARLES & TOM BRADY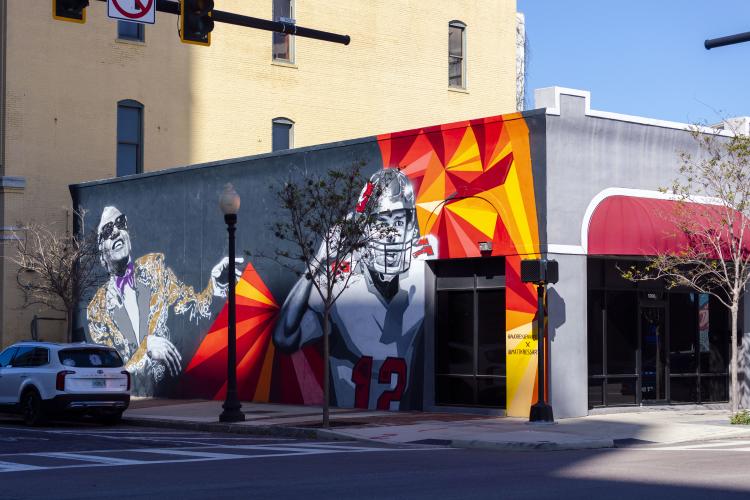 Sports, music, and art are some of the things we can all come together and enjoy. After 20 years with the New England Patriots, Tom Brady joined the Tampa Bay Buccaneers and made history by winning Super Bowl LV at home in Raymond James Stadium.
Legendary musician, Ray Charles, actually lived in Tampa, and throughout all his travels, always considered Tampa his permanent address. This Tampa Bay mural celebrates unity and the greatness of local icons.
📍 : 1000 N. Florida Ave
🎨 : @audreyjennifer and @mattkressart
ALL FOR LOVE
What do you love about Tampa Bay, FL? The "All for Love" mural features fun depictions of iconic local wildlife – like the Ybor Chickens!
📍 : 1001 N Florida Ave
🎨 : @_illsol_
KOBE & GIANNA
This mural was added following the tragic and untimely passing of Kobe Bryant and his daughter Gianna. It was created in their memory and in celebration of "Girl Dads" everywhere.
📍 : 1715 N Tampa Street
🎨 : @WARArtifex and @reda3sb
TAMPA POSTCARD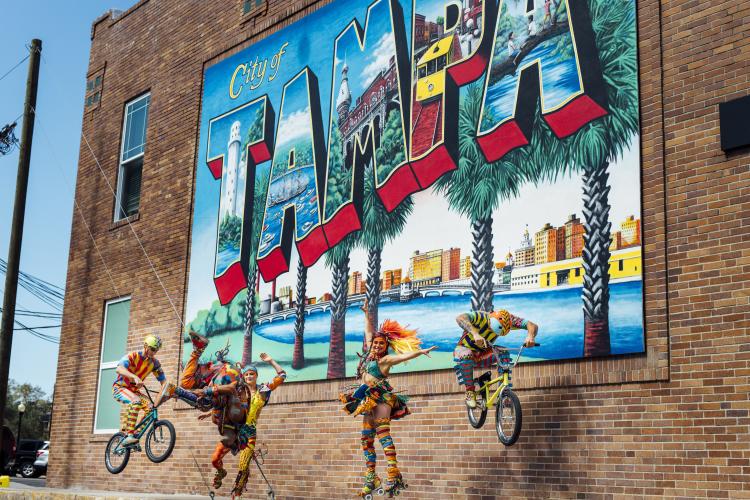 The iconic Tampa Postcard mural features several Tampa Bay icons, including the Jose Gaspar pirate ship, minarets from the University of Tampa, and the historic TECO Streetcar. If you only have time to visit just one Tampa Bay mural, this is the postcard to send home.
📍 : @PPK building, 1102 N Florida Ave
🎨 : @carlcowdeniii
VIVA YBOR MURAL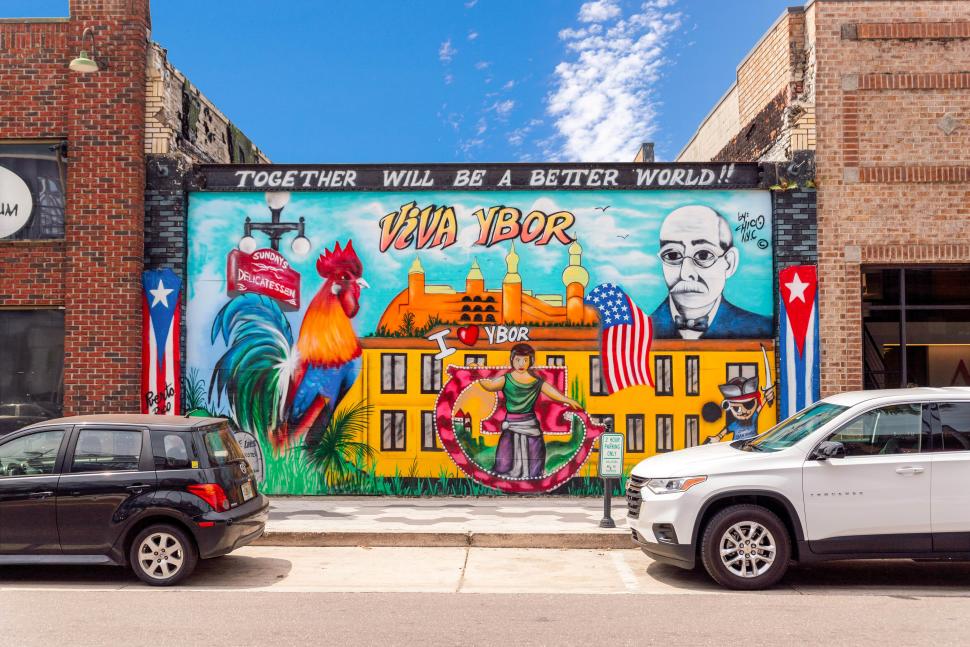 A colorful celebration of Ybor City. This mural features Ybor founder, Vincente Martinez Ybor, as well as other Ybor sights like the Historic TECO streetcar and wild chickens.
📍 : 1909 E SEVENTH AVE.
🎨 : @chicolesnyc
EVANGELINE'S FEAST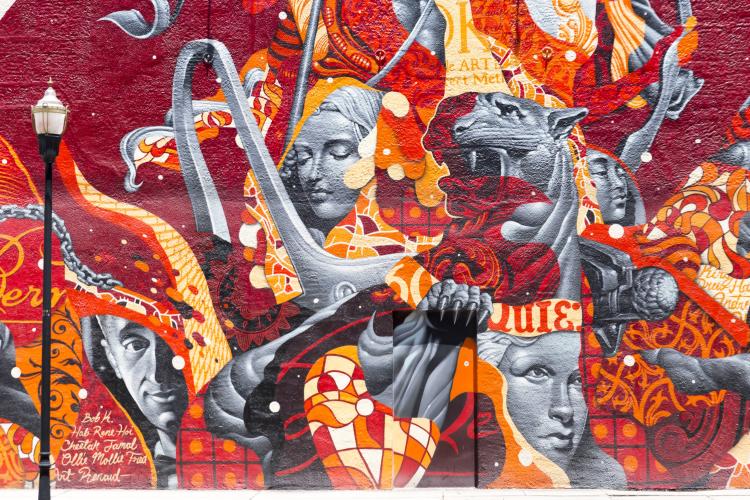 This mural is located at the wine storage building of the legendary Bern's Steakhouse on a 60 – by 30 – foot wall. After visiting the iconic steakhouse for a meal, Tristan Eaton learned the deep history of Bern's, and incorporated an image of founder, Bern Laxer, into this South Tampa mural.
📍 : 1208 S. Howard Ave
🎨 : @tristaneaton
GLAZER VISION FOUNDATION'S ONE SHARE ONE PAIR
Did you know that 1 in 4 kids struggle with healthy eyesight and 1 in 5 can't afford eye care? Next time you're visiting Armature Works, stop by the mural, share a photo or a selfie with the mural tagging @glazervisionfdn and the hashtag #OneShareOnePair and the foundation will provide a child with a free eye exam and glasses.
📍 : Armature Works, 1910 N. Ola Ave
🎨 : @peprallyinc