Orlando Attractions Update – Disney is following rival Universal's lead by introducing  surge pricing in it's USA parks 
– in other words demand-based ticket prices .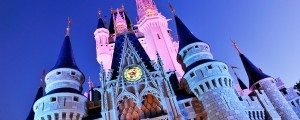 Admission now covers three tiers, called value, regular and peak, and took effect on Sunday.
A one-day ticket to Walt Disney World's Magic Kingdom will cost $105 on 'value' days, which typically include weekdays during the school year.
'Regular' days are priced at $110 and 'peak' tickets at $124, which are for the busiest holiday periods, such as spring break and peak summer dates.
At Disneyland, the cost is $95, $105 and $119 respectively.
The cost to the US theme parks could rise as much as 20% during the busiest times of year using the surge pricing system, reports Bloomberg.
The seasonal surge pricing is only applicable for one-day tickets.
The policy, Disney says, is to encourage people to visit on quieter days to avoid long bottlenecks at rides on peak dates.
"In addition to expanding our parks, we are adopting seasonal pricing on our one-day ticket to help better spread visitation throughout the year. Multi-day tickets, annual passes and visiting during non-peak periods also provide our guests with options and savings," a company statement said.