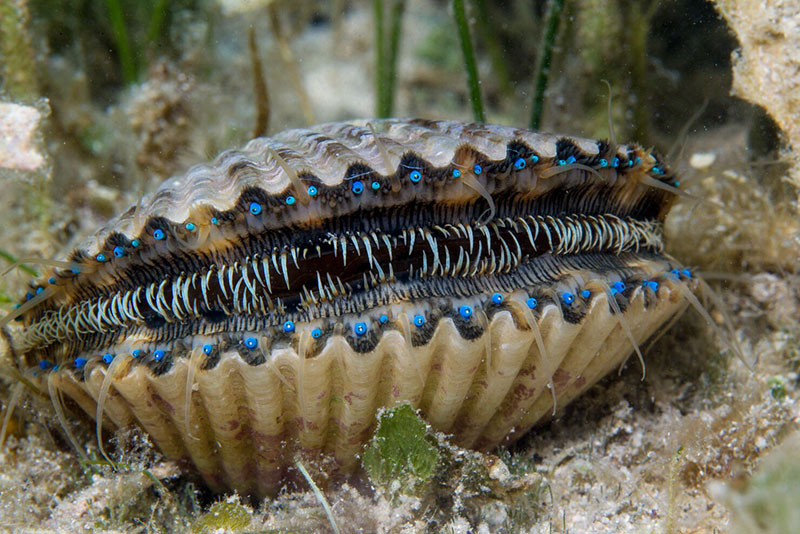 When it comes to snorkeling, Crystal River on Central Florida's Gulf Coast is famous for swimming with manatees. But from July through September, the focus shifts to Florida's Bay Scallop.
Scallops and manatees spend summer in the same place: the lush seagrass beds just offshore on this quiet stretch of Florida coastline called the Big Bend. It stretches from Apalachicola on the Florida panhandle south to Crystal River and Homosassa.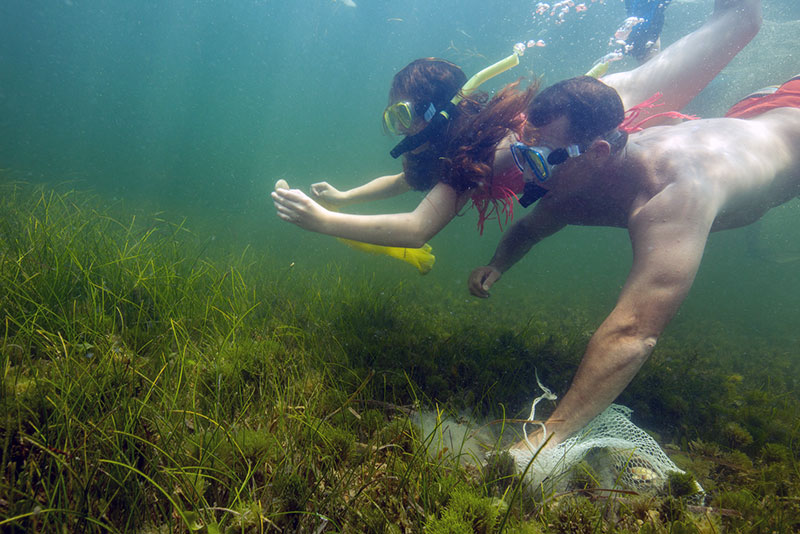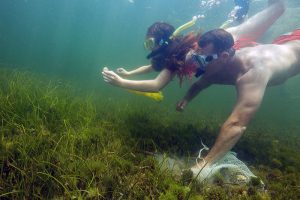 The Big Bend is part of the largest seagrass bed in North America. Think of it as a Rainforest of the Sea. Each of its 1 million acres teems with life: pods of dolphins, fish by the thousands, invertebrates like scallops and sponges in the millions and an occasional sea horse, sea Turtle or manatee passing by.
Florida bay scallops are smaller than the sea scallops know from restaurants.   You can't buy bay scallops. There is no commercial fishery.   If you want a meal of Florida's bay scallops, you'll just have to go get them yourself and last year over 172 thousand people came to Crystal River and nearby Homosassa to do just that. With mask, snorkel, fins and a mesh bag, divers plunge into warm shallow waters (4 to 6ft deep) in search of scallops hiding in the swaying grass on the sea floor.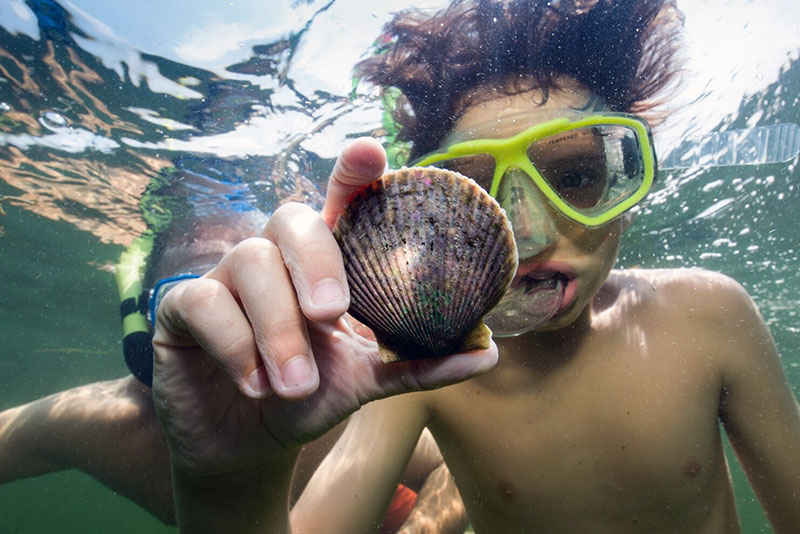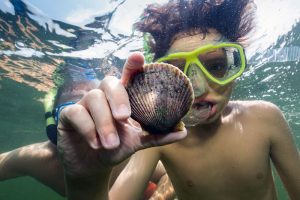 The journey begins with a breathtaking boat ride to the Gulf along incredible spring fed rivers. You get to the scallop grounds in one of three ways: your own boat, a chartered boat, or with a guide. The advantage in going with a guide is threefold as well: The guide provides the boat, your diving gear, and a license. Otherwise, you'll need to buy one.   Most importantly, a guide knows where to find scallops.   Generally, guides charge between $300 or $400 for a four hour trip for up to six people. Each person collects up to two gallons of scallops in the shell with a maximum of ten gallons per boat.
It is an incredible world beneath the surface. Colorful fish swim by, an occasional crab scoots past and sandy patches in the grass beds are filled with sponges and corals.   It may take you awhile to notice a scallop in the swaying grass but they're looking for you. Yep, scallops have eyes—dozens of iridescent blue eyes along the edge of their shells. They'll likely see you coming. When you spot one, grab quick!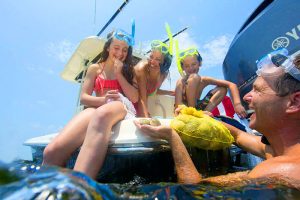 After several hours in the water, you'll work up a powerful appetite. If you're with a guide, they'll shuck the scallops for you. Next up is preparing them. Fortunately, there is a time honored tradition in this part of Florida: Cook your Catch. Over fifteen restaurants in Crystal River and Homosassa will take your shucked and cleaned scallops and prepare a delicious seafood platter with all the fixings usually for about 8 to 12 dollars. It's one of Florida's most beloved summer traditions, so dive in!