Everglades City — population 400 — is a traffic-free 50-minute drive from downtown Naples. Known as "Florida's Last Frontier," this small town is where you'll find the historic Everglades Rod & Gun Club, a combination lodge, restaurant, and bar on the Barron River.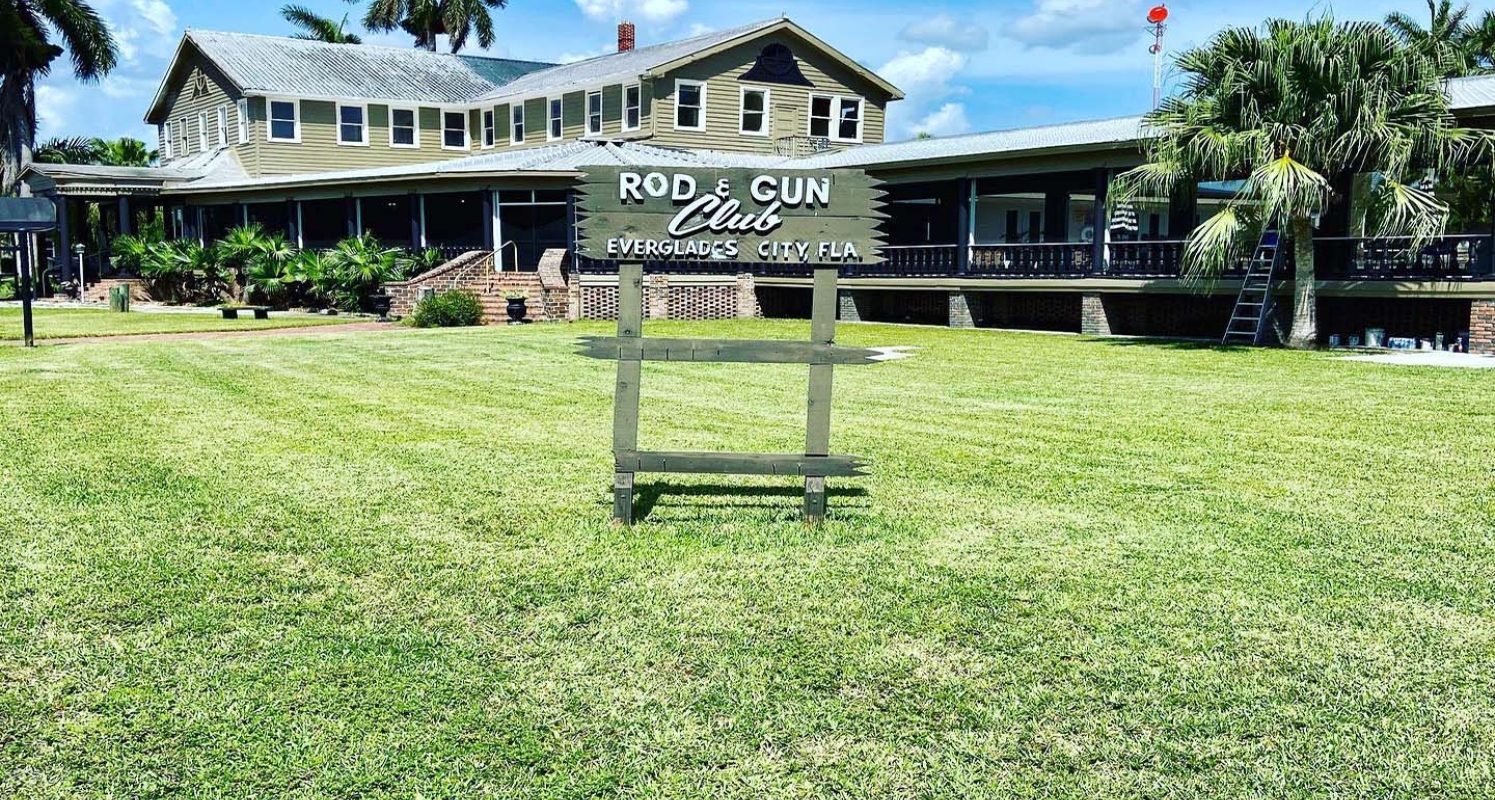 This place screams "Old Florida," mainly because it WAS Old Florida. Walk inside and it's like stepping back in time — floor-to-ceiling wooden walls festooned with taxidermy (including a gator head on the bar), old maps, fishing gear, rifles, and other memorabilia of an age long passed. The furniture is authentically antique and well stuffed. Stroll around and take it all in before heading to the veranda for drinks and water views.
A Storied History: Presidents, Celebrities & Wild Adventures
In the main lodge, it seems as if time stopped at the turn of the last century when this Florida outpost was a playground for the wealthy and well-connected.
Over the years, the Rod & Gun Club has hosted U.S. presidents FDR, Truman, Eisenhower, Nixon, and more. Celebrities who have graced the guest list include Ernest Hemingway, John Wayne, Burt Reynolds, Sally Field, Sean Connery, Mick Jagger, and Jack Nicklaus. Actors Danny Glover and Joe Pesci were here while filming of "Gone Fishing" – just one of many movies filmed in the area.
Read the well-preserved news clippings on the walls to get further details of notable visitors, and imagine bellying up beside them at the curved wooden bars.
The Rod & Gun Club dates back to the 1870s when Everglades City's founder built a home on the site. In 1922, the property was acquired by Barron Collier, the founder and namesake of Collier County (which makes up the Paradise Coast). He turned it into a private retreat for his wealthy friends and dignitaries. Photos and other memorabilia offer evidence of epic adventures in the untamed Florida wilderness.
As the 20th Century progressed, the Rod & Gun Club fell into disrepair and was ready to be condemned. Preserving Old Florida was not in vogue in the early '70s, but that didn't stop the Bowen family, Michigan natives, from purchasing the property and restoring it to its former glory. (By the way, the Bowens still own the place.)
Dining at the Rod & Gun Club: Veranda Vibes & River Views
At the club's 170-seat restaurant, you can eat indoors or out on a large screened-in veranda overlooking the narrow Barron River. The menu includes local fare – think gator nuggets and frog legs – along with seafood, steaks, pasta, and more. The restaurant also offers a "you catch 'em, we cook 'em" service, where you can have your catch broiled, blackened or fried.
Don't miss out on a signature cocktail or a slice of key lime pie for dessert. Everything tastes amazing – and the ambiance makes the dining experience one you'll never forget.
Staying Overnight at the Rod & Gun Club's Cottages
The Rod & Gun Club offers five adjacent cottages with a total of 17 units. Each one features modern amenities (like air conditioning, thankfully), as well as a screened-in porch. Other amenities at the club include a large swimming pool, a picnic area, and a helicopter landing spot. (Hey, where else would you bring your helicopter?)
The Rod & Gun Club is your ideal headquarters for enjoying all the exotic adventures the Everglades has to offer. If you're crunched for time, simply stop in for a day visit and a meal. Just remember to bring cash. The Rod & Gun Club is so old-fashioned, that they don't take credit cards. (Talk about roughing it!)
Nearby Attractions & Adventures
The club's five acres sit on the western edge of quaint Everglades City, a block away from The Museum of the Everglades.
You'll have convenient access to the famous wetlands of Everglades National Park and Big Cypress National Preserve. And you'll be just minutes away from hair-raising airboat rides, eco-tours, fishing excursions, hiking, and other activities. In less than 15 minutes you can be at Everglades Adventure Tours, where a knowledgeable guide will take you on a leisurely pole boat ride through narrow waterways full of twists and turns, under mangrove tunnels, and into the wide-open River of Grass.