There's a famous British newspaper headline from 1976 when the Old Country was locked into a summer heatwave of record proportions, and the front page recorded the occasion with the simple, and oft-repeated, phrase: Phew – What A Scorcher! So how do you stay cool? Especially in a tropical climate.
Well, Orlando has been chalking up record temperatures in recent weeks, and everyone will be happy to see cooler weather again.
There are a couple of crucial advantages over the British Isles when it comes to hot weather, of course. Florida is fully outfitted with air-conditioning (not something the UK is universally equipped with), and has some of the best water parks in the world.
Florida can also offer magnificent beaches and sea-going excursions, which all help to cool the blood when the mercury goes off the charts.
And, while one might sweat and swelter for a while, there is always an antidote somewhere close by. There are wonderful natural cool-down spots at places like Wekiva Island, Kelly Park, and Blue Spring State Park, where the opportunities to go paddling or tubing are first class, and the fun lure of Universal's Volcano Bay can practically be heard from the highway!
What all this over-heated preamble means, though, is that no matter the weather in Central Florida, you can always find an antidote, and there are some superb tours that are absolutely ideal at this time of year. That is where Real Florida Adventures comes in.
Manatee Tours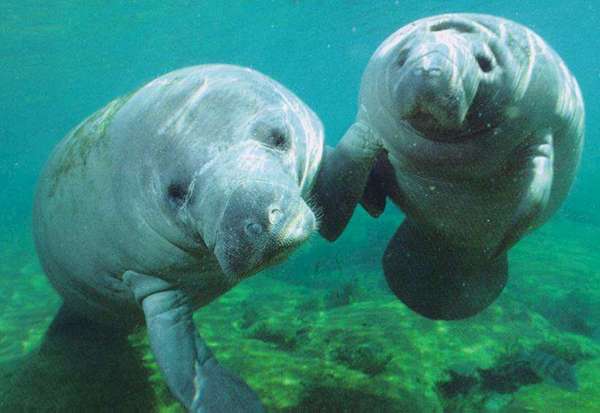 First among them is Real Florida Adventures' extra-special Manatee Snorkeling at Crystal River, where things are always a cool 72 degrees thanks to the constant supply of spring water into Kings Bay, where most of the manatee activity takes place.
Just to start with, if have never been swimming in these pristine waters, it is a major experience in its own right. The cool nature of the area and the totally tranquil state of the Bay make for a genuinely unique location, made extra special by the year-round presence of Florida's super-cute aquatic mammals.
Crystal River is aptly named for the quality of the spring water that bubbles up here, and the waterways are a real treat to explore. This is very much a wildlife exploration day out as well, as not only does the tour offer the chance to learn all about the threatened manatee, but it also features Homosassa Springs State Park, where more of Florida's fauna is on display, including the watery kind thanks to the unique Nature's Fish Bowl underwater observatory.
It all adds up to the coolest way to cool down in this long, hot summer, and a major Bucket List experience for all animal lovers.
Now, it makes for a long, very full day, lasting around 12 hours from pick-up to return home. This is why Real Florida Adventures' introduced the Half-Day version of the popular manatee experience. This alternative eight-hour option includes just the pontoon boat snorkeling trip, lunch, transportation, and, of course, your superstar tour guide!
Clearwater Beach

When it comes to keeping cool, though, one of the best ways to do that is to get out on the water and get the sea air in your face. And that's where the RFA Sea Screamer & Clearwater Beach day trip comes in.
Just heading to the magnificent Gulf Coast is good enough to drop the thermometer a degree or two, and being on the pure white sands of Clearwater Beach will certainly make you feel suitably chilled. But the real magical moment of this excursion is the Sea Screamer, Clearwater's signature 72-foot powerboat that reaches speeds of almost 40mph (which actually feels a lot faster!) and usually brings a bunch of dolphins along to jump in its wake. It is a truly eye-popping and exciting ride to take, and it has the summer benefit of cooling its riders down as the boat reaches top speed.
Of course, you can just cool down with a dip in the blue-green Gulf waters – and hang out by the Pier 60 area, which has all the beach amenities you could need – and then enjoy the included lunch practically on the sand at a local restaurant. But the SeaScreamer is one of the most unique and entertaining ways to spend some time in this part of the world. It explains why it gets such high ratings from Trip Advisor – usually in their top five attractions for Clearwater – and why Real Florida Adventures get such complimentary feedback about it.
Boggy Creek Airboat Ride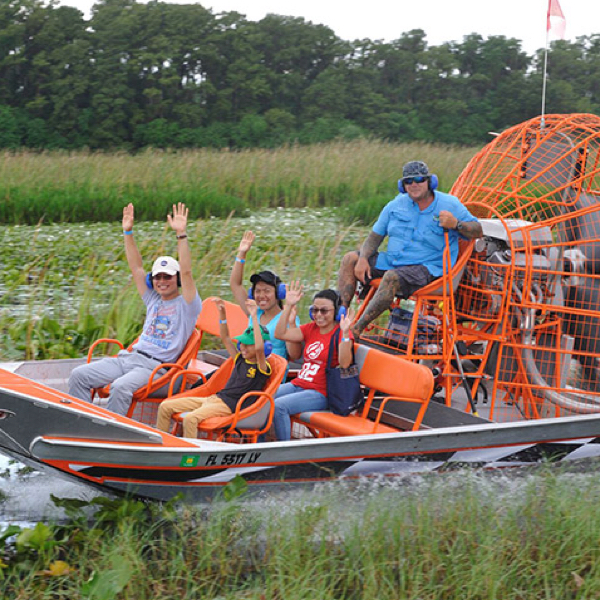 For a final option for another tour that helps to provide some respite from the summer heat, how about that uniquely Floridian experience, the airboat ride? RFA's Boggy Creek Airboat Adventure is set on beautiful Lake Toho in Kissimmee and is another guaranteed way to cool down on the water. At speeds of up to 40mph, this will really put the wind in your hair in addition to providing a cracking overview of the local ecosystems. It is a great way to start the day and is also so much more than just the headline ride.
After the airboat experience, you get to stop by the Native American Village to learn about how the indigenous peoples survived in this life-affirming wetland. Towering Chickee huts cover genuine artifacts and hand-made creations of the Native Americans, and Little Big Mountain will show you a deeply rooted appreciation for his heritage. He will bring to life traditional stories and techniques of their culture that once thrived in Central Florida.
It just goes to prove that Orlando is so much more than just a vacation destination of theme parks and attractions. It is just as much about nature, history, and culture, and you might just be surprised at how much you soak up while you're avoiding the sun this summer!
Be sure to ask about RFA's Price Match Guarantee. If you find a lower qualified price for an identical tour on another site, they will match it, no questions asked.
And don't forget to Follow RFA on Facebook, YouTube, and Instagram!