Sunny skies, low humidity, and an average temperature between 75 and 79 degrees Fahrenheit… it's safe to say that Florida is springing into a beautiful Spring on I-Drive! If you'll be joining us on I-Drive for beautiful weather and good times this month, be sure to check out these upcoming events for the perfect start to your Spring 2021! So Spring into action in I-Drive this year!
Boating Season is in Session

If you're a boat enthusiast be sure to mark your calendar to attend the Orlando Boat Show happening at the Orange County Convention Center from March 5th to the 7th! As we look forward to beautiful summer weather, you won't want to miss Central Florida's Premier Boat Show, bringing with it 60 booth vendors and 15 of Central Florida's Best Boat Dealers representing over 60 manufacturers! We're talking bowriders, pontoon boats, ski boats, cruisers, fishing boats, bass boards, deck boats, marine electronics, accessories and so much more!
There ain't no party like an I-Drive party!
If you're visiting I-drive this month to enjoy your well-earned Spring break, and you're looking for a good party, look no further! Two of our favorite Orlando attractions are still celebrating Mardi Gras this month!
Fun Spot America Get ready to experience the local favorite attraction, Fun Spot America, like never before! They're really bringing a French Quarter feel to Fun Spot with Mardi Gras celebrations that the whole family can enjoy going on through April 11th. Enjoy exciting jazz music, photo spots for you and your 'Krewe', mouthwatering Bayou Bites and Nawlins Spirits, a mysterious Backwater Bayou Escape Room, and more! Oh, and of course all of the coasters, rides, and games that await you at Fun Spot America year-round. Spring into action on I-Drive with everything they have to offer.
Universal Orlando

If you're looking for a combination of unique drinks, live entertainment, and lots of New Orleans-inspired cuisine – this is the Mardi Gras event for you!
Stand in amazement as you look at fleets of Pirate Treasure-themed, and classic Universal floats that are on display throughout the park. Get your party on with street entertainment, music, beads, and other Fat Tuesday shenanigans across the park. Then, join the excitement at the Music Plaza Stage when you head over to their outdoor courtyard to snag a selfie with one of the three floats around the stage before grabbing a table to relax with some good eats under the Orlando night sky.
But let's talk food! Universal Orlando is bringing the heat with traditional seafood entrees from New Orleans with all the favorites like crawfish, shrimp, corn on the cob, red bliss potatoes, and Andouille sausage! And why stop there? Universal Orlando will also be serving up delicious cuisine from around the globe, featuring dishes from Puerto Rico, Trinidad and Tobago, and Germany! Is there any better way to spring into action in I-Drive?
Well, maybe. Read on. There is so much to choose from.
A must-attend event for foodies!
Speaking of chef-prepared cuisine from across the globe, the next event going down on I-Drive this month that is a can't-miss for any foodie is SeaWorld Orlando's Seven Seas Festival!
Get ready for oceans of flavor as you set sail on a taste adventure at one of your favorite attractions on I-Drive! From foodies to families and everyone in between, this event has a taste for everyone! Enjoy more than 200 distinct tasty treats, and more than 50 fresh global cuisine choices to pair with over 74 wine and cocktail selections, and 75 craft beers!
Add a taste of rock, country, Latin, or 90s throwback sounds at one of their live music shows, and enjoy even more diverse entertainment and surprises at special times like Cinco de Mayo. With exquisite flavors to top off exhilarating coasters and extraordinary animals, the Seven Seas Food Festival is a voyage that will stir the soul – and warm the belly!
The foodie festivities will be going on through May 9th, with special entertainment on select dates, so get the details and make plans to add a spring to your step this March!
St. Patrick's Day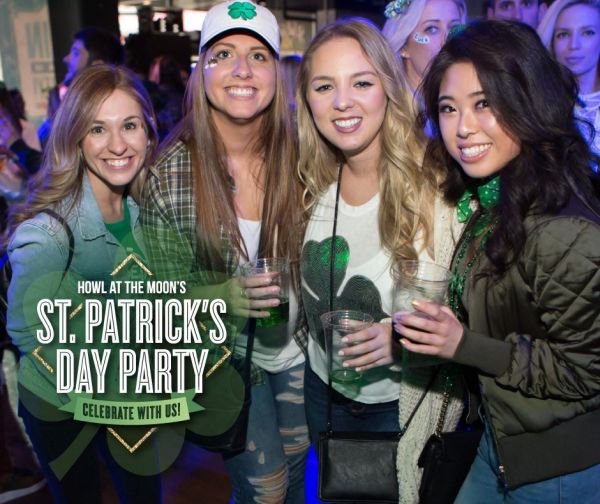 We couldn't forget about March 17th, St.Patrick's Day! And if you were looking to indulge in everything Irish, there are already a few events that have been announced to celebrate!
Howl at The Moon
Embrace your inner wolf on March 12th and 13th as the luck of the Irish shines down on you at Howl at the Moon! They'll be throwing a party full of St. Paddy's day shenanigans, and serving up green beers and Jameson shots to keep the celebrations going all night long!
Lucky Leprechaun Irish Pub
Because celebrating St. Patrick's Day at an Irish Pub is all too fitting! The party starts at The Lucky Leprechaun Irish Pub at 8 pm on March 13th! This 'pre' St. Patrick's Day party will include a traditional dinner, such as Corned Beef & Cabbage, along with other traditional Irish foods, as well as entertainment from Steve Brannon playing the best Irish songs, traditional Irish Dancing from Central Florida Irish Dance, and even Irish Trivia! It is sure to be a great time for all in attendance!
Get the details here.
The Vault 5421 at Gods & Monsters
On St. Patrick's Day at 5 pm, the most bizarre St. Paddy's Day Party will start, only in God's & Monsters VAULT 5421!
This free event will be celebrating everything Irish! Enjoy snake movies playing on the big screens, Irish pub tunes setting the tone all night, themed cocktails, and even a special scavenger hunt that will reward winners with a free shot or mocktail with their first bar purchase!
Happy Hour specials will be available from 5 pm to 8 pm, featuring 20% off all drinks; including their themed drinks specials and 100+ selections of craft and import beers, ciders, meads, wines, sakes, saketinis, cocktails, shots, and mocktails! Note that the Gods & Monsters store is all-ages friendly, however, the VAULT 5421 bar is 21 and older only after 8 pm.
Snoochies Boochies!! Mooby's Pop Up Restaurant and Bar

Tin Roof Orlando is known for having better than bar bites, cold drinks, and nightly live entertainment; as well as weekly events like trivia nights, karaoke nights, and more! But, be sure to head to Tin Roof Orlando from March 12th to the 21st to see Kevin Smith & Jay Mewes fictional fast-food restaurant, Mooby's, come to life in their green room! It's something you can only experience now if you spring into action on I-Drive.
If you're on I-Drive this month, join us as we get ready to spring into an unforgettable month on I-Drive. From events that appeal to all and out-of-this-world cuisine to parties that will get you moving and grooving and entertainment that will leave you inspired – I-Drive is the place to be this month!
See a full line-up of events going down and spring into action in I-Drive.